Hi Everyone,
Thailand has long been a destination on my "must" go to list. Having heard so many wonderful things about the country from numerous friends in the past; it was never a question of "if", rather than "when", the trip would happen. And luckily for Jeff and I, it was friends of ours who sent an email last year titled "Want to go to Southeast Asia with us?" after thoroughly researching the destinations. Less than 24 hours later we replied with an emphatic YES and began the process of finalizing our plans.
There are so many different places in a country the size of Thailand to reach, so we settled on three distinct destinations: the Golden Triangle, Chiang Mai, and Phuket and surrounding islands.
The Golden Triangle
Situated on the banks of the Mekong river, the Golden Triangle is where Thailand, Myanmar, and Laos come together. From Thailand, parts of Laos and Myanmar are literally a stone's throw away across shallow river beds. Interestingly, you cannot cross the river except at designated "Friendship" bridges where you must present your passport to gain access; we did not do any day trips but met several people who had and said it was relatively easy once they reached the bridges.
You can get to the Golden Triangle from the airport in Chiang Rai. It's about an hour drive but well worth it. This part of Thailand is extremely remote, has little pollution, and truly tranquil sunsets. The reason to visit the Golden Triangle for us, above all, was to get away from city noise and nurture ourselves in nature.
We stayed at a camp overlooking the Ruak River, a creek-sized tributary of the Mekong that separates Thailand and eastern Myanmar. This area is also inhabited by native Asian Elephants. We spent some time here visiting an elephant sanctuary, where you can bathe and feed some of the elephants rescued from poachers. They are amazingly calm and sweet animals, and they love snacking on a good mini-banana!
We also got some real r&r time in, getting a traditional Thai massage in a hut in the jungle. I nearly fell asleep several times at the attentive hands of my masseuse with the sounds of gentle breezes and calling birds in the soothing and surreal setting.
Not to be missed here is a trip to The Hall of Opium. As odd as it may sound for a day trip in this relaxing environment, the Hall of Opium is a very eye-opening museum established by the Thai Royal family that tells the story of how opium trade once gripped the entire Golden Triangle and how the local people fought back against it. It is informative, fascinating, and tells a story you likely were never aware of.
Chiang Mai
Located a 4 hours southwest of the Golden Triangle is Chiang Mai. What Chiang Mai is most known for is its many culinary delights. It was a trading crossroads between Thailand, Myanmar, and Laos for many generations, and had strong influences in cuisine from all three countries.
Between Chiang Rai and Chiang Mai, a detour you must take is to the White Temple, Wat Rong Khun. Previously a temple in disrepair, the temple began a very modern reconstruction in 1998 by the eccentric Chalermchai Kositpipa, an artist local to the area. It is still going through construction but there are many buildings already finished. The glass absolutely sparkles in the midday sun, and when you walk inside… well, I won't spoil too much, but let's just say you'll see some familiar figures on the inner-temple walls. It is a very unconventional Buddhist and Hindu temple.
Chiang Mai is a bustling cultural hub. Within Chiang Mai, an excursion not to be missed is a trip to the local night markets. We worked with a travel agency to find a local that can help navigate the many markets and vendors all around the city. The night markets have many different food and retail options. The different spices, meats, and sweets all around are amazing. Not to be missed is a meal of Khao Soi, a curry coconut noodle dish that hails from this region. This was definitely our favorite dish of the area, with some truly mind-blowing flavors I can't recommend enough!
Phuket & Surrounding Islands
Featured in our newest set of aerial images, a first time trip to Thailand could not be complete without a visit to Phuket! This tropical oasis is where all of my sky time happened, and needless to say, every turn of my lense captured something more stunning than the last.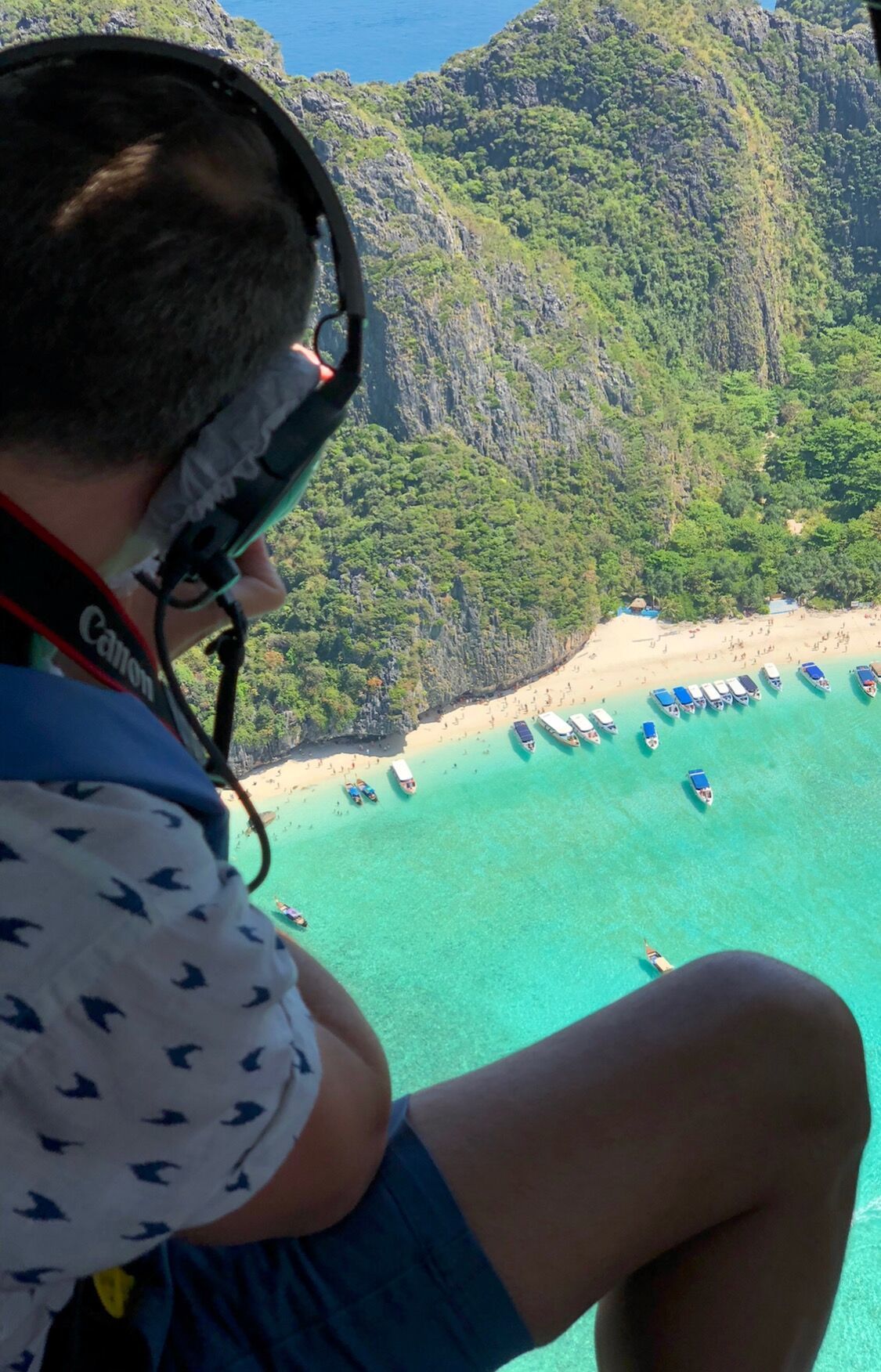 There are so many incredible, stunning beaches (Patong, Karon Noi, Liem Sing...) and islands in the Phuket region, it is hard to count. But, I am happy to share recommendations!
First of all- where to stay? Phuket itself is its own island; the smallest province in all of Thailand. Within Phuket itself there are a number of beach towns and resorts. If you stay on the island I recommend staying north near Bangtao or Pansea beach. You can splurge and stay at the amazing Aman Puri for a truly 5+ star experience.
We stayed outside of Phuket, just north of the island in the province of Phang Nga at the Aleenta. Though a little further, we enjoyed being away from the crowds, particularly on days where we did not have a guided tour.
On days with guided tours to the surrounding islands (more on that below) we had our tour guide pick us up, and though it was a little extra time in the car, we were blissfully happy to be away from the crowds.
Where to eat? If you do happen to make it to Phang Nga I cannot stress enough the importance of getting a dinner reservation to Esenzi. The most unique restaurant we went to on our trip, I don't want to ruin any surprises for you, so just trust me on this one! Here we are below with the talented chef himself, Tim Butler.
Phuket itself has some very crowded areas. The most notorious and well known beach is Patong Beach. I don't recommend staying here as it is extremely crowded, and fairly polluted, but it is worth a visit. Everyone feeling adventurous needs to check out the night scene along Bangla road, a pedestrian street that at night comes alive with bars, clubs, and a few other unsavory scenes. It's worth a brisk-walk through if you have time, but I wouldn't recommend spending too much time here. A nearby haunt that is quite hysterical is Simon Cabaret, where so-called Lady Boys will entertain you with routines sung in Thai, Chinese, Russian, and English. After the show they will meet you on the street and look you straight in the eyes asking to take pictures with them for tips!
When booking day trips to the surrounding islands, I strongly recommend booking through a trusted travel agency, ideally a private tour. We worked with Dianna Upton from Travel Beyond, who was fantastic not to mention extremely thorough. This is another reason it is a good trip to do with friends, so that you can split the cost of private tours. We saw some very crowded tour boats during our trip, and are so happy we booked private charters. Not only do you have room to breathe, but you'll also be able to go where you want to go on each trip, and do things on your own schedule.
Phang Nga Bay & Rang Yai Island
There are many islands in Phang Nga Bay, known for there vertical limestone sheer sides. The islands jut out of the water like spears into the sky. Capped with mossy greens and forests, they are iconic and immediately recognizable as Thai. You can depart on the east side of Phuket and will head north east into the bay.
Though there are many islands in the bay, the most famous is Koh Ping Kan - the "James Bond" island where the movie "The man with the Golden Gun" was filmed. This is a James Bond movie from 1974 featuring Roger Moore as Bond, in which Bond has a duel with another man using a golden gun. You can get a picture of yourself right where Bond stood during their faceoff! It is a little crowded here, so I recommend trying to get here as early in the day as possible...or take it by air and get a shot like this!
After a little light snorkeling, you can head over to Rang Yai island. This is a perfect afternoon day trip where you can drift in the aqua waters aimlessly and grab lunch from locals under a palm tree. My favorite drink on these kinds of days is what I call the "skinny coconut": a coconut opened up, with all the water still inside, with two shots of white rum added. Trust me, it is a delicious tropical vacation delight!
The Phi Phi Islands
To the south east of Phuket are the Phi Phi islands. Among these are several distinct islands, the most famous of which is Maya Bay, AKA "The Beach" from the Leonardo DiCaprio movie. This is a beautiful sight to visit but honestly, it is totally overrun with tourists unless you get there very early or stay later until after 4pm. I recommend doing one of these options otherwise you run the very real risk of being trampled by selfie-taking, loud-talking, litter-happy tourists!
You can get a great day trip here as well and see some beautiful snorkeling spots. While on our of our snorkel excursions we ran into beautiful fish as well some small reef sharks. On our last snorkel outing we actually ran into a not-so-small shark, and happily called it a day after that!
I recommend making a stop to Monkey Beach - get a few cute snaps of the local inhabitants but watch out because they will jump on you if you are not careful! They are a bit used to tourists so getting pictures from afar is a bit better in my opinion.
The Similan Islands
Off the west coast of Phang Nga (north of Phuket), in the Andaman Sea, lie the Similan Islands. After about a 45 minute boat drive, you will come to these boulder-based islands (very different than the large towering Phi Phi islands) and sparkling crystal clear blue waters. This is by the far the clearest and most beautiful water we saw on any part of our trip!
Again, a tip would be to get on the earliest boat possible, with a private charter. By going private not only can they work around the larger group tours, but they can also get there faster because the boats are lighter. You can also bring some sips and snacks and drink whatever you please. The crew is happy to accommodate you.
We did some truly amazing snorkeling here; rainbow colored reefs gave way deep blue waters. We loved diving down to look at the fish up close. The best part of our entire day, however, was when our guide got in the water with us and yelled "Turtle! Turtle!". As we rushed to swim over to him he got even more excited and yelled "TWO turtles!" And there, just about 10 feet below us, two gorgeous five foot wide turtles met up, and gave each other a little kiss! I don't know about you, but seeing turtle kisses was true vacation goals.
Needless to say, I could go on and on, but I'll leave you all with this - go to Thailand. From its tropical beaches to opulent royal palaces to tremendous nightlife and exotic food, Thailand is a trip of a lifetime. Thank you for following along with me and I hope you're enjoying the new Thailand images.
Cheers to Thailand!
xx
Gray