A very exciting addition has just been made to the GM brand, and if you haven't caught wind of it yet, let us spill the secret for you… We now offer Gray Malin puzzles and playing cards! (Complete with the prettiest GM prints, naturally.) Gray loves a good party game with friends or family, and we believe that they shouldn't be an eye-sore in the home. And if you feel the same way, then you'll love what we have in store for you today. Whether in the form of playing cards, board games, or—stay with us on this one—even bingo, we're all about the kind of games that you aren't embarrassed to leave out before and after playing them. So keep scrolling for our roundup of 10 stylish games that double as décor…
First up, our very own puzzle patterned after the snowy slopes of Aspen, Colorado and Whistler, Canada. Not only are both of Gray's new puzzles double-sided (for double the fun, obviously), but each one also comes together to form one of Gray's prints. And let's be honest, what is more chic than a puzzle that ends as a stunning fine art photography print? Don't worry, if the snow isn't your thing, then let us direct you to The Beach Puzzle… You're welcome!
We've had a thing for acrylic décor for a while, and this deco stacking set would be the perfect addition to any space. We love its barely-there aesthetic—can't you just imagine it adding a chic touch to a side table or bookshelf somewhere?
We're biased when it comes to this backgammon table… Gray has this very piece in his own home, and it is easily one of our favorite accessories. We love the preppy yet up-scale vibe it adds to any room, and it is just as functional as it is beautiful.
We think the bottom line here is this—if a game is made of marble, it's a good bet it will look chic mixed with your décor. We love the sleek style of this tabletop bowling set. With a neutral color palette like this one, it will easily pair with any décor style and be a game that you'll never be embarrassed to leave out.
There's nothing like a classic game of poker, and you'll be glad to have this stylish set on hand. The box looks very Jonathan-Adler-meets-Goyard, don't you think?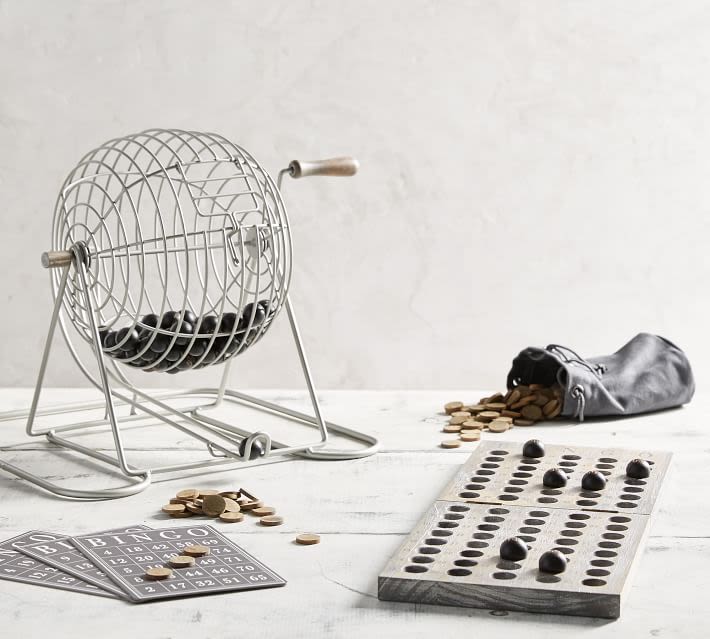 Ok, we'll admit Bingo isn't necessarily our first choice when it comes to party games, but with a set this stylish, how can you resist? The vintage vibe of this game would blend well with so many different spaces, whether eclectic, traditional, or farmhouse chic.
If you're not a backgammon lover, Oomph Home also makes this stunning chess table (that also comes with checkers pieces). Did we mention it comes in an array of colors, and can even be made in a custom color to match your space? And on top of that (literally), Oomph offers the option to add a lucite top to convert your table from game time to day time.
When it comes to Dominos, we can say this is hands-down the chicest set we've ever seen. The ivory colored tiles are enough to keep us interested, but that luxe shagreen box… How can we say no? (What can we say—a Dominos set from Saks is guaranteed to be chic.)
If your space leans more toward a rustic, modern, or masculine aesthetic, this tic tac toe set would be perfect for your coffee table. We love that it's a game suitable for anyone of any age, so no matter who your guests are, they're sure to find some entertainment in this stylish game when they take a seat.
Rounding out our list is Gray's brand new Parker playing cards. This whimsical series was practically begging to be made into a real-life game, and now it is! We love these prints on our walls, and now we can add them to our table, too. (And so can you…)
Which of these games would you add to your décor?
You really can't go wrong with any of them, if you ask us… But if we had to choose a favorite, we highly recommend the new Gray Malin puzzles and playing cards. We can't help it!
Xx Team GM
Photos: (Header) Kim Scodro Interiors, GrayMalin.com