Looking for a new corner of your home to refresh? What about your bar cart? For this week's Start With Art feature, interior designer Meg Young thought out of the box and used a beautiful rattan bar cart as an opportunity to show off her style. Keep scrolling to get inspired by this beautiful beachy vignette.
Hi everyone, My name is Meg Young. My background is in public relations, but interior design has been a passion of mine since I was young. My family bought a fixer-upper beach house down the shore in New Jersey when I was in high school and I helped them to transform the 70s style home (brown shag carpets and all) into a modern and bright coastal escape. I loved that process and realized I had a knack for design. I chose a more corporate career path with public relations, but throughout my 13 year-long PR career I did design projects on the side for friends, family, and with my own personal homes. I often thought about doing something in the design-world full-time, but it felt daunting to change lanes so far into my career. In late 2019, my former PR client and friend, Kate Somerville, hired me to decorate her iconic skin Clinic on Melrose Place for the holiday season. It was while transforming the historic Hollywood townhouse that I decided to take the leap and make a career in design full-time. I paused my PR business and launched Cailíní Coastal. What began as design services quickly morphed into an e-commerce shop that offers beautifully made and unique coastal-inspired home décor and accents. The pieces I sell aren't things you'll find at mainstream stores, but rather items that you would find at a chic local beach boutique or through a designer…except with Cailíní Coastal, no designer is required!
How would you define your interior design style?
All-American coastal blending the styles of both coasts I've called home. My design style marries the classic, elegance of the east coast with the laid-back, airy esthetic of the California coast.
I already own several Gray Malin pieces (I'm a fan!) and I wanted something that would complement my existing collection of Gray's more coastal art. When Gray released his Palm Beach collection a couple of years ago, I was immediately drawn to the pieces. I love this collection's retro style and use of pastel colors. It really captures the glamour of Palm Beach.

Lady in Lilly stood out to me with the chicly dressed woman and her retro pink car, flanked by these amazing palm trees. The photo has a feminine flair that I love.
What did you pick out as the most important elements of the print to incorporate into the space?
This is a fun, feminine piece of art and I wanted to style it in a place where I could add some of those same elements. I had recently purchased a side cart from Serena & Lily and when I saw this photo I knew exactly that's where it was going. Most of my art is hanging on a wall, but I like to mix it up and style some leaning against a wall. Once I had selected the art, I designed the accessories for the rest of the vignette, starting with the largest pieces. I chose Cailíní Coastal's vibrant Amalfi Mirror - which has a beautiful blue and white bone inlay design - for the wall to add color. I wanted to play up the tropical style of this photo using accents like our Bahama Sea Fan and a large piece of coral. I selected feminine and pink touches to complement the photo using our Wave Bowl filled with blush hued Sea Glass Beads set on top of our Surf Like a Girl Book.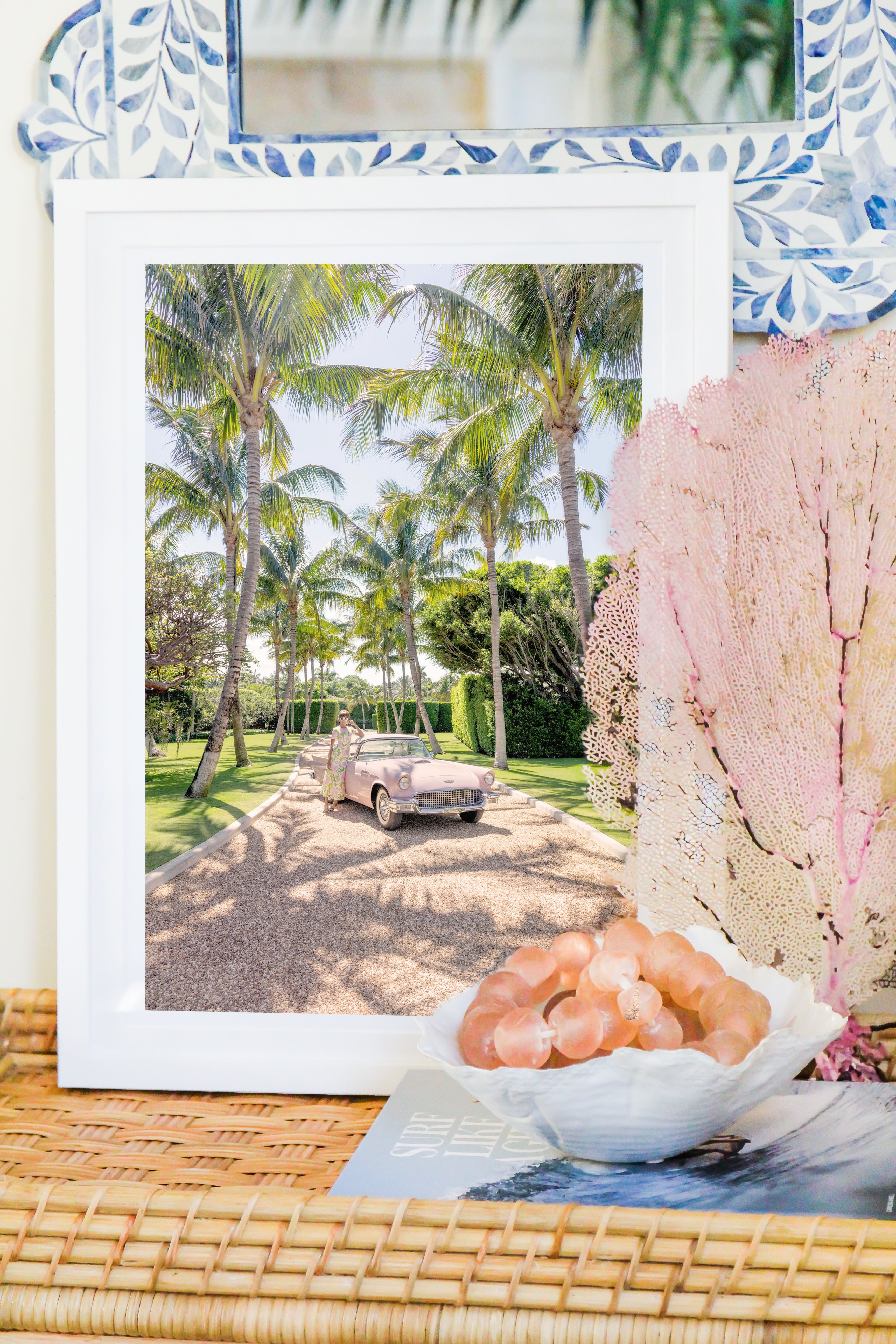 What's one piece of advice you'd give to someone who wants to design a space and start with art?
Art is one of the most transformational decorative accents in a room. Art is also incredibly personal. Take your time to find a piece that you're drawn to personally. Quality art is an investment and it's something that you can have for decades, so choose a piece that has meaning to you. One of the things that I love most about Gray's work is that it's easy to find a piece you connect with. Since many of his photos are of destinations, there is a high likelihood one of them will resonate with you – whether it's where you grew up or live, a special place you traveled to, or somewhere you dream of visiting. These photographs evoke memories and feelings that you can take with you, home to home, for years and years to come.
Feeling inspired? Pick up your own piece of art and get ready to start decorating on graymalin.com. Don't forget to keep with the latest from Meg on her Instagram and website.
Cheers!
Team GM
{"slides":[{"label":"Explore Meredith Hanson's Coastal Dream Home","url":"/lifestyle/explore-meredith-hansons-coastal-dream-home","image":"https://res.cloudinary.com/gray-malin/image/upload/c_scale,w_1000,q_50,f_auto/gray-malin/blog_posts/hero_images/000/002/029/original/Image_5.jpg?updated=1660255950"},{"label":"Kelly Stone's Colorful Office","url":"/lifestyle/kelly-stones-colorful-office","image":"https://res.cloudinary.com/gray-malin/image/upload/c_scale,w_1000,q_50,f_auto/gray-malin/blog_posts/hero_images/000/002/028/original/0jpg.jpg?updated=1657303932"},{"label":"Gray's Lake Home Renovation - The Mudroom and Laundry Room","url":"/lifestyle/gray-s-lake-home-renovation-the-mudroom-and-laundry-room","image":"https://res.cloudinary.com/gray-malin/image/upload/c_scale,w_1000,q_50,f_auto/gray-malin/blog_posts/hero_images/000/001/641/original/mudroomhead.jpg?updated=1592074161"},{"label":"Tour Gray's Lake Home Renovation","url":"/lifestyle/tour-gray-s-lake-michigan-home","image":"https://res.cloudinary.com/gray-malin/image/upload/c_scale,w_1000,q_50,f_auto/gray-malin/blog_posts/hero_images/000/001/634/original/0a-rainbowridge.jpg?updated=1592009339"},{"label":"Christen Joy's Colorful University Apartment Design","url":"/lifestyle/christen-joy-s-colorful-university-apartment-design","image":"https://res.cloudinary.com/gray-malin/image/upload/c_scale,w_1000,q_50,f_auto/gray-malin/blog_posts/hero_images/000/002/024/original/IMAGE_2.jpg?updated=1651554607"},{"label":"Tour Sarah Levy's Los Angeles Home","url":"/lifestyle/tour-sarah-levy-s-los-angeles-home","image":"https://res.cloudinary.com/gray-malin/image/upload/c_scale,w_1000,q_50,f_auto/gray-malin/blog_posts/hero_images/000/001/490/original/0-Sarah_Levy-11.jpg?updated=1574806365"},{"label":"Andrea Denes's Blissful Chicago Home","url":"/lifestyle/andrea-denes-s-blissful-chicago-home","image":"https://res.cloudinary.com/gray-malin/image/upload/c_scale,w_1000,q_50,f_auto/gray-malin/blog_posts/hero_images/000/001/487/original/00-header.jpg?updated=1574797181"},{"label":"The Sisters Suite by Serena and Lily and Palm Beach Lately at The Colony","url":"/lifestyle/the-sisters-suite-by-serena-and-lily-and-palm-beach-lately-at-the-colony","image":"https://res.cloudinary.com/gray-malin/image/upload/c_scale,w_1000,q_50,f_auto/gray-malin/blog_posts/hero_images/000/001/517/original/1-PB_lately-1.jpg?updated=1578610731"}],"label":"Have You Seen?"}
{"id":null,"number":null,"item_total":"0.0","total":"0.0","ship_total":"0.0","state":"cart","adjustment_total":"0.0","user_id":null,"created_at":null,"updated_at":null,"completed_at":null,"payment_total":"0.0","shipment_state":null,"payment_state":null,"email":null,"special_instructions":null,"channel":"spree","included_tax_total":"0.0","additional_tax_total":"0.0","display_included_tax_total":"$0.00","display_additional_tax_total":"$0.00","tax_total":"0.0","currency":"USD","considered_risky":false,"canceler_id":null,"display_item_total":"$0.00","total_quantity":0,"display_total":"$0.00","display_ship_total":"$0.00","display_tax_total":"$0.00","display_adjustment_total":"$0.00","token":null,"checkout_steps":["address","delivery","complete"],"bill_address":null,"ship_address":null,"line_items":[],"payments":[],"shipments":[],"adjustments":[],"credit_cards":[],"promotions":[],"total_shipment_cost":"$0.00","permissions":{"can_update":false},"use_shipping_for_billing":true,"use_new_ship_address":true,"use_new_bill_address":false,"selected_ship_address":null,"selected_bill_address":null,"display_completed_at":null,"item_count":0,"subtotal_minus_promos":"$0.00","coupon_codes":[],"includes_framed_items":false,"contains_subscription":false}
This site uses cookies to allow better navigation. By closing this banner, scrolling this page or clicking any of its elements, you are giving consent to all cookies. To learn more and to change your preferences please see our Cookies Policy.