As the seasons change, who wouldn't want it to feel like summer year-round? Natalie Konstant of Konstant Home recently refreshed her nursery by starting with art! She used our Retro Beach Club, Miami print to add some sunshine to the room and today, she's telling us all about her process. Keep reading for Natalie's tips and tricks…
As the daughter of an architect, I was fortunate to be exposed to this world from a young age. I was taught to appreciate thoughtful design and to understand the importance of proportion and scale. I became fascinated with how architecture and interior design worked together to enhance our life experiences and I knew I wanted to be a part of that. I do not simply design pretty rooms, I create experiences.
How would you define your interior design style?
I strive to be versatile, as my clients are unique and I strongly believe that their homes should be a reflection of them and their lifestyles. That said, I have a very clean and restrained aesthetic that comes through in my designs. I place a strong emphasis on the integration of architecture and interiors, which ultimately creates sophisticated and timeless spaces.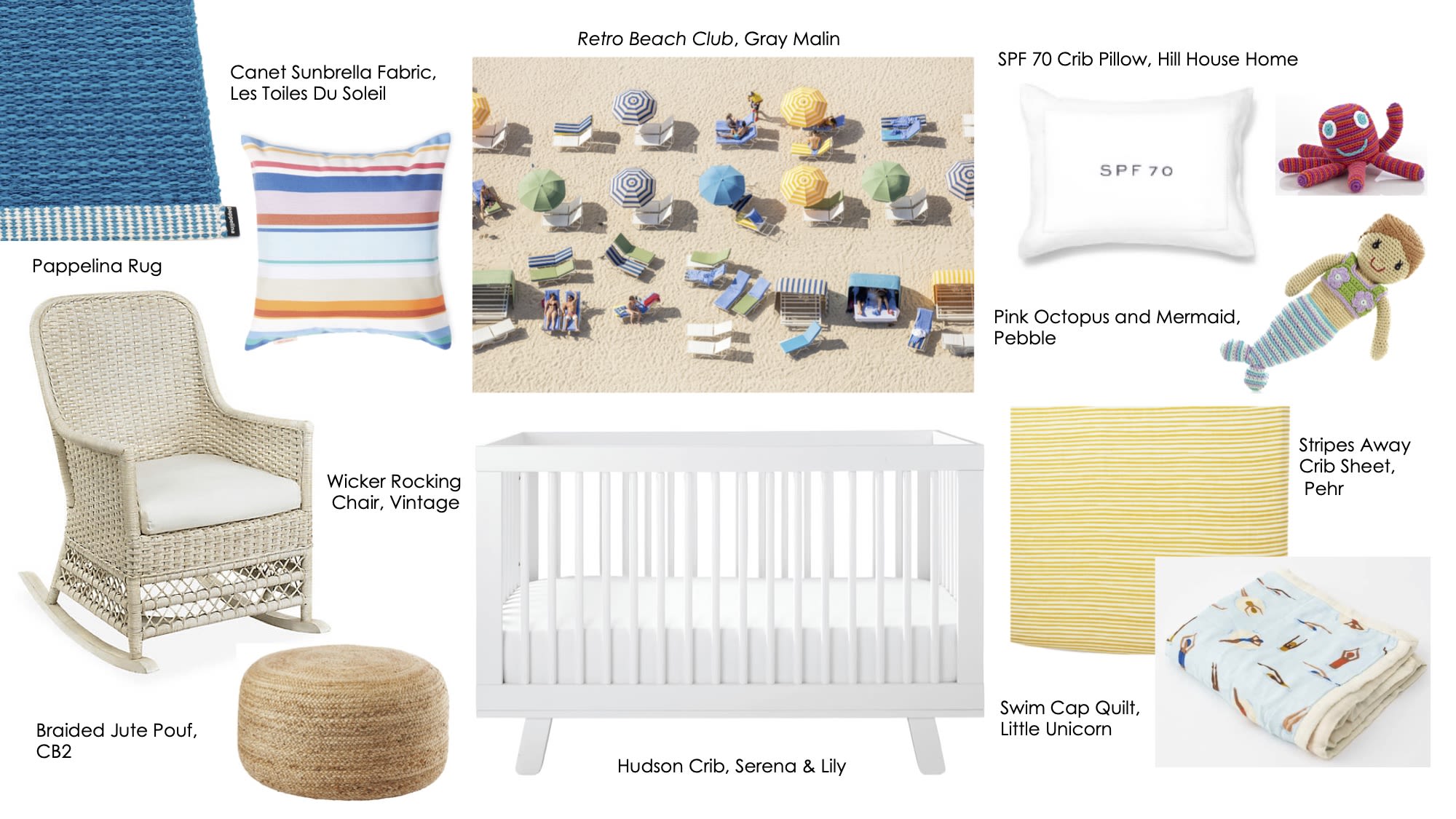 The Retro Beach Club, Miami is perfect for this Florida nursery. This piece reminds me of a young child. When I think of a young child I think of heightened interest, great imagination, and a beautiful mess, all of which this piece has. The birds-eye view creating a fairytale-like sense of perspective that draws you in. One can't help but wonder about the lives of the small detailed figures—Who are they? What's their story? The lack of color coordination and order in a beach setting ultimately capturing imperfect perfection.
What did you pick out as the most important elements of the print to incorporate into the space?
This piece brings so much life to the space, that I did not want to create any distractions that would keep one from taking a closer look and having that same experience I had. So with that, I took a more minimalistic, functional approach to my design, while still playing with color and texture. I chose a blue Papellina rug that compliments the blue color of the beach umbrellas and is made of 100% non-toxic PVC, so it is extremely durable and kid-friendly! The braided jute pouf creates a juxtaposition between itself and the natural gradation in the sand. Not to mention, it can be used as a footrest for the rocking chair. The contemporary lines of the Hudson crib reminding me of the architecture in Miami, and the yellow striped crib sheet would make any tummy sleeper feel like they were taking their nap under the umbrellas.
What's one piece of advice you'd give to someone who wants to design a space and start with art?
It is really all about the narrative and how the piece relates to other aspects of the design. When you start with a piece of artwork, let it guide you throughout the selection process. Ask yourself, how does the piece make me feel? For example, if it brings you a sense of calm, use serene color tones and soft textures. What do I love about it? If your answer is the vibrant colors, then create a more neutral space ensuring that be the focal point. The idea is to create a space that complements and enhances that experience.
So, who else is feeling inspired to bring home endless summer? Bring home the beach with Gray's À la Plage series, or explore our summer favorites in our curated shop. Keep up to date with Natalie and get inspired by her amazing design projects on her website and by following her on Instagram.
Cheers!
Team GM
{"slides":[{"label":"Gray's Holiday Home Tour 2021","url":"/lifestyle/gray-s-holiday-home-tour-2021","image":"https://res.cloudinary.com/gray-malin/image/upload/c_scale,w_1000,q_50,f_auto/gray-malin/blog_posts/hero_images/000/001/945/original/Holiday_Home_Tour19.jpg?updated=1637510540"},{"label":"Inside Gray's California Home","url":"/lifestyle/inside-gray-s-california-home","image":"https://res.cloudinary.com/gray-malin/image/upload/c_scale,w_1000,q_50,f_auto/gray-malin/blog_posts/hero_images/000/001/238/original/grays-front-of-house-7-edit.jpg?updated=1554495773"},{"label":"Marie Flanigan's Office Design","url":"/lifestyle/marie-flanigan-s-office-design","image":"https://res.cloudinary.com/gray-malin/image/upload/c_scale,w_1000,q_50,f_auto/gray-malin/blog_posts/hero_images/000/001/939/original/NOYB_Guest_House_Living_Room_-_day_trip_copy_(1)_(1).jpg?updated=1630440789"},{"label":"Jamie Chung's California Chic Style","url":"/lifestyle/jamie-chung-s-california-chic-styleni0AJ2c","image":"https://res.cloudinary.com/gray-malin/image/upload/c_scale,w_1000,q_50,f_auto/gray-malin/blog_posts/hero_images/000/001/938/original/20210731_GRAYMALIN_Shot1b_copy_(1).jpg?updated=1630435138"},{"label":"Tour Gray's Lake Home Renovation","url":"/lifestyle/tour-gray-s-lake-michigan-home","image":"https://res.cloudinary.com/gray-malin/image/upload/c_scale,w_1000,q_50,f_auto/gray-malin/blog_posts/hero_images/000/001/634/original/0a-rainbowridge.jpg?updated=1592009339"},{"label":"Andrea Denes's Blissful Chicago Home","url":"/lifestyle/andrea-denes-s-blissful-chicago-home","image":"https://res.cloudinary.com/gray-malin/image/upload/c_scale,w_1000,q_50,f_auto/gray-malin/blog_posts/hero_images/000/001/487/original/00-header.jpg?updated=1574797181"},{"label":"Tour Sarah Levy's Los Angeles Home","url":"/lifestyle/tour-sarah-levy-s-los-angeles-home","image":"https://res.cloudinary.com/gray-malin/image/upload/c_scale,w_1000,q_50,f_auto/gray-malin/blog_posts/hero_images/000/001/490/original/0-Sarah_Levy-11.jpg?updated=1574806365"},{"label":"Lake Michigan Renovation, The Final Reveal","url":"/lifestyle/lake-michigan-renovation-the-final-reveal","image":"https://res.cloudinary.com/gray-malin/image/upload/c_scale,w_1000,q_50,f_auto/gray-malin/blog_posts/hero_images/000/001/299/original/Rainbow_Ridge-9-grand_saline.jpg?updated=1624650373"}],"label":"Have You Seen?"}
{"id":null,"number":null,"item_total":"0.0","total":"0.0","ship_total":"0.0","state":"cart","adjustment_total":"0.0","user_id":null,"created_at":null,"updated_at":null,"completed_at":null,"payment_total":"0.0","shipment_state":null,"payment_state":null,"email":null,"special_instructions":null,"channel":"spree","included_tax_total":"0.0","additional_tax_total":"0.0","display_included_tax_total":"$0.00","display_additional_tax_total":"$0.00","tax_total":"0.0","currency":"USD","considered_risky":false,"canceler_id":null,"display_item_total":"$0.00","total_quantity":0,"display_total":"$0.00","display_ship_total":"$0.00","display_tax_total":"$0.00","display_adjustment_total":"$0.00","token":null,"checkout_steps":["address","delivery","complete"],"bill_address":null,"ship_address":null,"line_items":[],"payments":[],"shipments":[],"adjustments":[],"credit_cards":[],"promotions":[],"total_shipment_cost":"$0.00","permissions":{"can_update":false},"use_shipping_for_billing":true,"use_new_ship_address":true,"use_new_bill_address":false,"selected_ship_address":null,"selected_bill_address":null,"display_completed_at":null,"item_count":0,"subtotal_minus_promos":"$0.00","coupon_codes":[],"includes_framed_items":false,"contains_subscription":false}
This site uses cookies to allow better navigation. By closing this banner, scrolling this page or clicking any of its elements, you are giving consent to all cookies. To learn more and to change your preferences please see our Cookies Policy.