If you ask us, few things are as satisfying as a cup of hot cocoa on a cool fall day. There's just something about whipping up a comforting sip like hot chocolate that allows you to put your responsibilities aside for a moment and enjoy the season. Don't you agree? Okay, so you know after a raving review like that, that we are fanatics when it comes to our hot cocoa. And while we're always game for a warm cup of the classic sip, we're also up for a variation that has a little more of a kick… if you know what we mean.
We're combining our love of fall flavors and our love of a good cocktail today, and sharing our latest creation with you below: our favorite spiked pumpkin hot chocolate. This recipe combines the best of both worlds, and considering we're on the West Coast where fall makes a (very) slow entrance, this sip is undoubtedly helping us escape to a place where autumn is in full swing.
With that said, keep scrolling for the best hot cocoa recipe you'll try this season, and be prepared for an escape to your happy (autumn) place…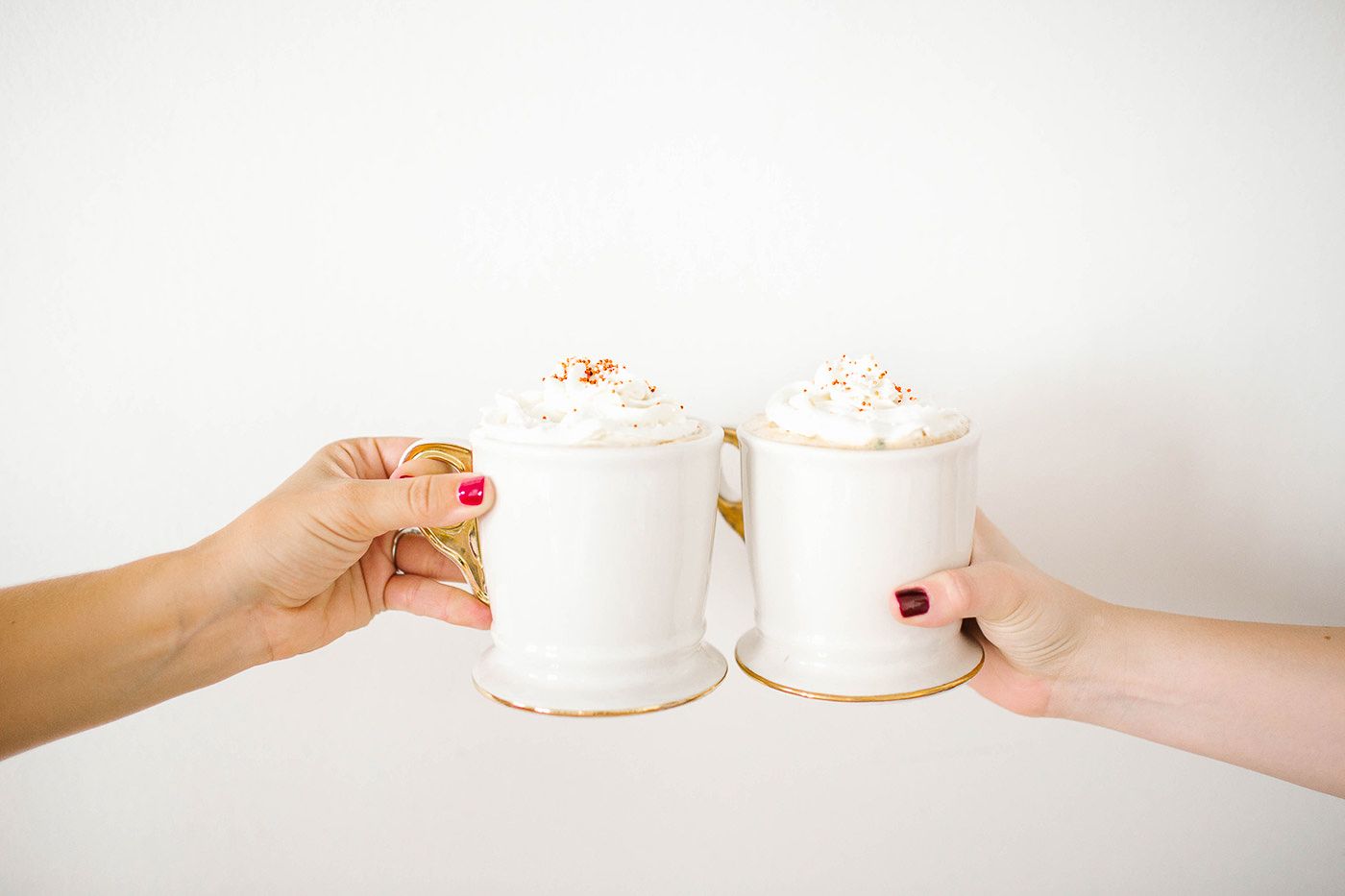 Ingredients:
For One Cup of Hot Cocoa
1 cup almond milk (vanilla or original)
¼ cup pumpkin purée
1 Tbsp powder hot cocoa mix
¼ tsp cinnamon
pinch pink Himalayan salt
2 oz. (6 Tbsp) Bailey's or Kahlua
whipped cream
sprinkles (optional)
large, microwaveable mug
Directions:
1. Start by adding ¼ cup canned pumpkin purée to the bottom of your mug.
2. Add one tablespoon of cocoa powder, followed by one pinch of pink Himalayan salt, and ¼ teaspoon cinnamon.
3. Add one tablespoon of almond milk to your mug, and mix the ingredients with a fork until smoothly combined.
4. Add ¼ cup more almond milk and mix again until smooth.
5. Finally, add the rest of your almond milk, mix one more time, and microwave for about one minute and thirty seconds (depending on the power of your microwave).
6. After you've removed your mug from the microwave, add in 6 tablespoons of Bailey's and stir more final time. Tip: If the Bailey's cools down your cocoa too much, pop it back in the microwave for 15 seconds at a time until you've reached your desired temperature.
7. Top with a hearty dollop of whipped cream and few sprinkles before serving. Enjoy!
There you have it! Will you be making this boozy hot cocoa at home?
We know we'll be whipping up a batch or two at our next get together… or maybe just for a night at home, because why not? ;)
Cheers!
Xx Team GM
{"slides":[{"label":"Monthly Giveaway","url":"/lifestyle/monthly-giveaway","image":"https://res.cloudinary.com/gray-malin/image/upload/c_scale,w_1000,q_50,f_auto/gray-malin/blog_posts/hero_images/000/001/931/original/gift-card.jpg?updated=1623345902"},{"label":"Favorite Summer Products","url":"/lifestyle/favorite-summer-products","image":"https://res.cloudinary.com/gray-malin/image/upload/c_scale,w_1000,q_50,f_auto/gray-malin/blog_posts/hero_images/000/001/930/original/0.jpg?updated=1622832438"},{"label":"Escape to Paradise with Free Phone Backgrounds","url":"/lifestyle/escape-to-paradise-with-free-phone-backgrounds","image":"https://res.cloudinary.com/gray-malin/image/upload/c_scale,w_1000,q_50,f_auto/gray-malin/blog_posts/hero_images/000/001/878/original/0-mauna_kea_backgrounds.jpg?updated=1615512064"},{"label":"Guess These New Bon Voyage Icons","url":"/lifestyle/guess-these-new-bon-voyage-icons","image":"https://res.cloudinary.com/gray-malin/image/upload/c_scale,w_1000,q_50,f_auto/gray-malin/blog_posts/hero_images/000/001/873/original/BV_Inroom-3-square.jpg?updated=1614039357"},{"label":"Gray's Peppermintini Recipe","url":"/lifestyle/gray-s-peppermintini-recipe","image":"https://res.cloudinary.com/gray-malin/image/upload/c_scale,w_1000,q_50,f_auto/gray-malin/blog_posts/hero_images/000/001/812/original/0-Peppermintini-9.jpg?updated=1607647194"},{"label":"Gray's Favorite Gifts to Give and Receive ","url":"/lifestyle/gray-s-favorite-gifts-to-give-and-receive","image":"https://res.cloudinary.com/gray-malin/image/upload/c_scale,w_1000,q_50,f_auto/gray-malin/blog_posts/hero_images/000/001/810/original/0-Home_Tour_Detail_Shot-54_copy.jpg?updated=1607392494"},{"label":"Gray's Favorite Websites For Holiday Gifting","url":"/lifestyle/gray-s-favorite-websites-for-holiday-gifting","image":"https://res.cloudinary.com/gray-malin/image/upload/c_scale,w_1000,q_50,f_auto/gray-malin/blog_posts/hero_images/000/001/809/original/0-Lake_Arrowhead_Holiday_Inroom-9_no_bow.jpg?updated=1607117546"},{"label":"Gray's Gift Guide","url":"/lifestyle/gray-s-gift-guide","image":"https://res.cloudinary.com/gray-malin/image/upload/c_scale,w_1000,q_50,f_auto/gray-malin/blog_posts/hero_images/000/001/808/original/0-Gray_in_Car_copy.jpg?updated=1607124786"}],"label":"Have You Seen?"}
{"id":null,"number":null,"item_total":"0.0","total":"0.0","ship_total":"0.0","state":"cart","adjustment_total":"0.0","user_id":null,"created_at":null,"updated_at":null,"completed_at":null,"payment_total":"0.0","shipment_state":null,"payment_state":null,"email":null,"special_instructions":null,"channel":"spree","included_tax_total":"0.0","additional_tax_total":"0.0","display_included_tax_total":"$0.00","display_additional_tax_total":"$0.00","tax_total":"0.0","currency":"USD","considered_risky":false,"canceler_id":null,"display_item_total":"$0.00","total_quantity":0,"display_total":"$0.00","display_ship_total":"$0.00","display_tax_total":"$0.00","display_adjustment_total":"$0.00","token":null,"checkout_steps":["address","delivery","complete"],"bill_address":null,"ship_address":null,"line_items":[],"payments":[],"shipments":[],"adjustments":[],"credit_cards":[],"promotions":[],"total_shipment_cost":"$0.00","permissions":{"can_update":false},"use_shipping_for_billing":true,"use_new_ship_address":true,"use_new_bill_address":false,"selected_ship_address":null,"selected_bill_address":null,"display_completed_at":null,"item_count":0,"subtotal_minus_promos":"$0.00","coupon_codes":[],"includes_framed_items":false,"contains_subscription":false}
This site uses cookies to allow better navigation. By closing this banner, scrolling this page or clicking any of its elements, you are giving consent to all cookies. To learn more and to change your preferences please see our Cookies Policy.