Hi Everyone,
Wow, it's been an amazing week reliving this once in a lifetime trip with you all. Picking up not far from where we left off, I'm beginning this final leg on our first full day on the Amalfi Coast.
Day 14, June 27th
Enjoying the bright morning sky out on our patio, we packed our day bags for a trip along the Amalfi coast. We ventured through many stairs of the steep town down to the main spiaggia (or beach) to find our captain. Since it was a Saturday the beach was already starting to fill up as we walked out and and met Massimo, our captain. Born and raised in Positano, he was middle-aged man as tan as you can imagine and welcomed us on board our boat, 'The Princess'. After a brief introduction, Massimo was certainly surprised to find out we weren't just going on a joy ride along the coast, but rather an adventurous photo shoot—we weren't the average clientele you could say.
Due to the wind he suggested we head down to the furthest point along the Amalfi coast and work our way back towards Positano. Taking in more beautiful views of Positano from the water, we began our journey slowly along the coast where I could observe each beach club and restaurant we passed deciding if it was somewhere we should stop for me to document on the way back.
Slathering on the sunscreen Jeff and I laid out on the front of the boat to work on our Italian tans. Looking up at the steep cliffs filled with terraced rows of lemons and olives never got old—it just kept getting better.
We passed luxury yachts, Cliffside mansions, world-famous hotels, and glitzy beach clubs before arriving to the furthermost towns of Maori and Minori. Hopping off at the main dock, we found great vantage points over the beach—both towns had the most gorgeous bright green umbrellas. We walked together back to the dock and headed off to the next towns: Amalfi and Atrani.
Atrani Diptych - La Dolce Vita Collection
Though incredibly famous, Amalfi actually has quite a small beach in comparison to Positano and therefore everyone is tightly packed together. Though it may not be ideal for the average sunbather, it's really great for me! Jeff and I walked out along the central dock and couldn't believe how many people were lined up along the rocky beach—it was packed! We took it all in before walking along the beach above the beach clubs. One had beautiful candy cane colored red and white umbrellas that looked like swirly meringues from above.
Amalfi Candy Cane Umbrellas
Amalfi Swimmers
However, my favorite part of Amalfi is the free-beach at the end which was packed with people laying out on their towels along the rocks and swimming in the sea. We walked up the coastal road high above this beach and found amazing views looking down on the bustling scene—I was in heaven!
Amalfi Sunbathers
Continuing up the road we walked about a quarter mile over to the town of Atrani which has a beautiful curved black rock beach packed with umbrellas. Though not as famous as Amalfi, it's just as stunning and has an old building towering above the beach and is beautiful in the afternoon sun atop the colorful umbrellas below.
Heading back to the boat we took in the views of Amalfi one last time before waving to Massimo out on the marina that we were ready to go. As we hopped back on board the Princess, a bride was boarding a gorgeous wooden navy boat with her groom and photographer—such a perfect day for an Amalfi Coast wedding.
Moving along we came to a restaurant and beach club named Lido Capo di Conca . Massimo said we weren't allowed to stop but I persisted as this spot had La Dolce Vita written all over it. Hopping off solo, I climbed up above the club and found gorgeous views of the sunbathers on the decks and rocks contrasted against the famous coast—I was so happy because this was the type of spot full of moments I live to document.
Our last major stop was at Praihana Beach in the town of Praiano. Though I had been before, it was even better than I remembered. This narrow beach sits within a steep cliff so only half of it is lit with sun at a time. A brightly colored variety of old boats are tucked away on one side and a beach club on the other.
Boarding the Princess for the last hour of the day, we headed to go cliff jumping and enjoy the last hour of the boat ride basking in the sunshine. Massimo told us that he used to cliff jump in the same spot as a boy. You could get a sense from him that there was so much value to the coastline that most tourists would never understand and I completely empathized with him—it's a magical world here.
Tomorrow we are heading back on the boat for a second expedition so we left some things on board before being dropped back in Positano. As we hiked up the 400 steps through the winding streets back up to our hotel we couldn't help but laugh at the rude awakening—from luxury boat ride to sweaty climb up the mountain! For dinner we went to one of my favorite restaurants, Max.
We sat on the patio and chatted over a lovely candle-lit dinner. A neighboring table had a large yellow Labrador sprawled out on the floor and it almost felt like home having the dog resting by our feet. My homemade lasagna was heavenly and worth every bite as we once again hiked back up the hill burning off at least a little bit of our delicious dinner.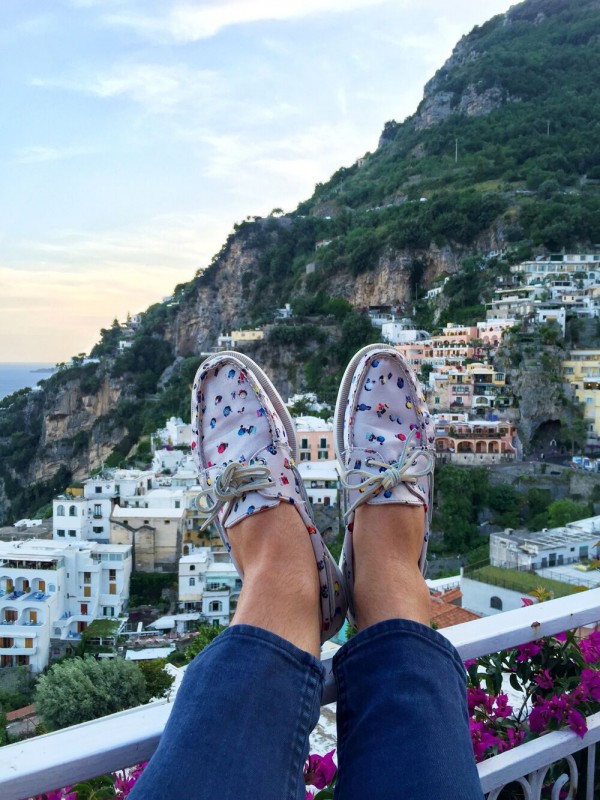 Day 15, June 28th
To our dismay, we awoke to the sound of light rain on our balcony. It appeared that a small storm was passing through but there was an ominous layer of grey clouds hovering over the coast. Today we are set to go to Capri, about a thirty-minute boat ride from Positano. The weather said it would be sunny so we kept out optimism while we packed our day bags and headed down the windy streets to the beach. Boarding the Princess, Massimo told us the weather wasn't going to be good but boy was he wrong. As we started our ride over to Capri we sat out on the front of the boat where the sun began breaking through the clouds. Looking back at the cloud covered Amalfi Coast, we sped into bright sunlight as we arrived to the beautiful towering cliffs of Capri.
Though totally overrun with tourists, Capri is a small slice of heaven on earth. The volcanic island is incredibly steep and only has a few beach clubs which are set on the rocks with very small- almost non-existent beaches. The island has numerous natural stone arches and dozens of magic sparkling caves that attract people from all over the world. Taking in the enchanting views by boat is highly recommended for a more peaceful and calm experience since it gives you the feeling of space and privacy. However, the views from Capri itself are arguably just as special in a completely different way.
La Fontelina Umbrella Capri Diptych
Arriving at one of my all-time favorite beach clubs, La Fontelina we sat in the restaurant overlooking the navy umbrellas scattered on the rocks and ordered two cappuccinos. The beauty in this beach club is the incredibly delicious food, ritzy clientele and the views over the famous Faraglioni rocks. Taking a stroll up a small pathway along the side of the cliff I found a stunning vantage point through the trees looking down on the neighboring beach club, Da Luigi which has yellow umbrellas. The view from above allowed for the sunshine to illuminate the crystal blue waters along the shore. Climbing a bit further I found the same vantage point through some trees over Fontelina and snapped some images that made my inner La Dolce Vita heart flutter.
La Fontelina Umbrellas
The sun was intensifying as we headed back out onto the boat and continued to the Marina Piccola, one of two ports on the island. Here we found tiny beaches packed with sunbathers—literally every single inch of the rocky shore was covered with a beach towel. The vibrant scene was fun to watch as explored a little further up into the marina and found more beautiful views of the two towering Faraglioni rocks out in the bay.
Back on board we couldn't believe it was already 1:30pm so we continued alongside the island towards the other major beach club, Lido Faro. As we came around the classic pink lighthouse we began to hear the screams and laughter of children jumping in the sea from Lido Faro.
Lido Faro
Examining the colorful beach club from the boat, the famous spot mostly visited by locales is set in a small cove on the far side of the island, Anacapri. Since there was no access allowed by boat, we had to drive for another twenty minutes to the large marina and find a taxi—little did we realize that accessing this perfect slice of La Dolce Vita heaven was going to be like a trip through the TV show the Amazing Race.
Pulling into the marina is like pulling into a migraine- there are so many boats, some huge and some small (like ours) coming and going. Massimo told us we only had one hour before a large boat was docking taking up the entire pier so we quickly hopped off and began our 'sprint' to find a taxi to get us over Lido Faro.
Scrambling through a sea of tourists we found the taxi stand just in time before a giant ferry dumped a slew of vacationers off who were just as clueless as we were. All of the cabs in Capri are convertible style which seems really fun—right? Well we certainly thought so until we came to the reality that Capri has the tiniest streets ever and taking a car around is like a real-life video game where you could be thrown from the vehicle at any moment. Weaving up the minuscule streets often having to stop completely to allow for oncoming traffic to pass was nauseating but as began to approach the top of Ana Capri the views were worth the struggle. Explaining to the driver we didn't have a lot of time he put his foot down on the peddle and got us to end of the road—Lido Faro as fast as possible.
Da Luigi Beach Club, Capri
Since it was a Sunday, the beach club was packed with tons of locales and tourists alike and I couldn't be happier. We first walked up by the light house and found sweeping views of the entire scene. Since this spot was so difficult to get to on the island you could tell that everyone here loved this spot and was celebrating and sharing in the sheer of joy of La Dolce Vita.
Entering the beach club we both watched in wonder. I couldn't believe we were inside the photograph experiencing all the sounds and sights of what I could feel was a timeless moment—every part of it was sheer magic. Snapping away, I felt like I was only able to scratch the surface before Jeff reminded me we had to leave to get back to Massimo in time.
Jumping back on the boat we told Massimo we needed to take a break! Capri was nice but it was stressful. We found a nice cove to take our well-deserved swim—the cool water never felt so refreshing. Massimo prepared two Aperol spritz and some snacks for us and we laid out on the front of the boat soaking up the sun as we slowly started our ride back towards Positano—there was one more stop to make in a small town named Nerrano.
Earlier this year I was fortunate to meet an American-Italian traveler writer who told me all about her favorite spots in Italy. Out of all the wonderful spots to visit her absolute favorite was the magical beach town of Nerrano. She drew me a map which I remembered very well and it depicted a seafood restaurant in the center of the beach. She drew an X and said the corner table by the window is 'Pavia's happy place'.
Approaching the beach it was clear which restaurant she had described and we hopped off the boat and snapped some images of the quaint beach umbrellas floating along the shore. Walking up the steps I couldn't believe it-she was sitting exactly where she said she would be! We asked the hostess to send over a bottle of wine and say it was from a 'friend'—as soon as they gave it to her we popped out and came over to say hello! It was such a fun surprise for all of us and we joined Pavia and her dear friends for a glass of wine catching up briefly before hopping back onto the boat.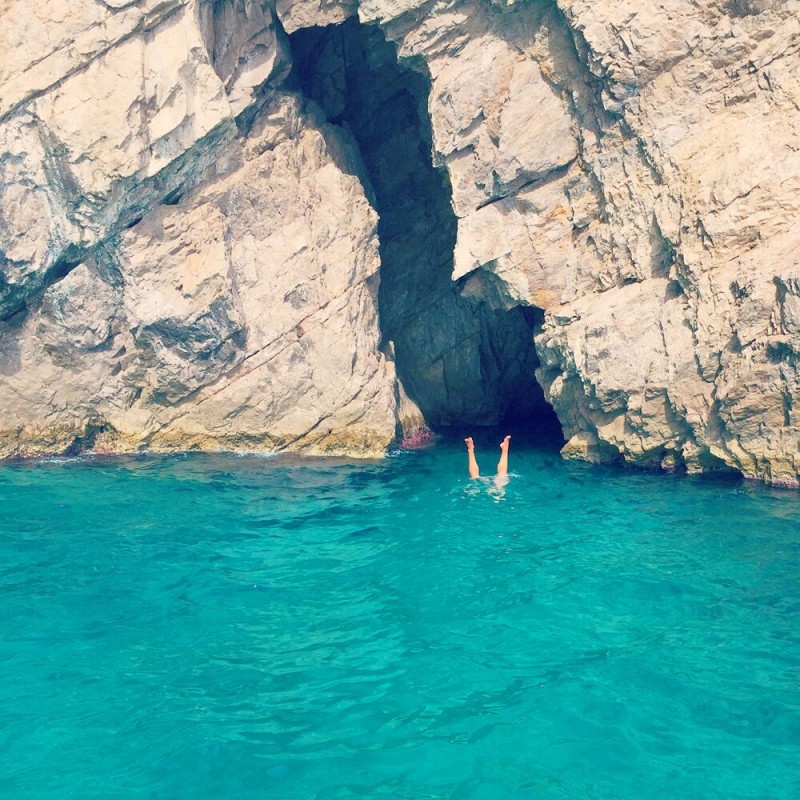 Taking in one last swim before arriving in Positano we said our goodbyes to our great captain, Massimo and set up the 400 steps and crashed into the bed of our hotel room. We went for dinner at a little restaurant down the street and watched the dusk settle out on the sea before retiring early for some much needed rest.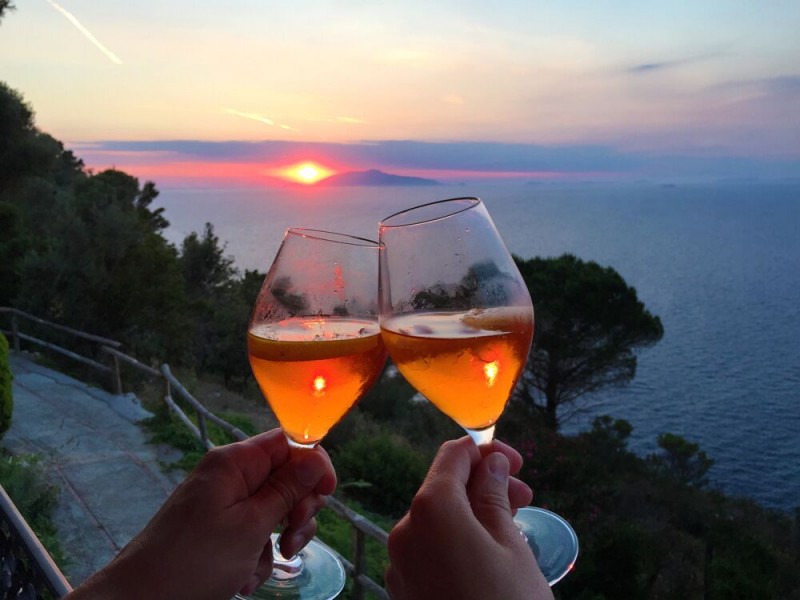 Cheers! I hope you have enjoyed taking a trip down memory lane with me. If you want to see more images from La Dolce Vita, you can see them all, here.
xx
GM