Hi Everyone,
The secret is out! Rhode Island, the smallest state in the country, is home to some of the most beautiful beaches along the Atlantic Ocean. I had the pleasure of visiting for the first time over the 4th of July holiday last month, and today, I am excited to share all of my travel trips as well as brand new beach aerials of Rhode Island.
Speaking of its coastline, did you know that Rhode Island has approximately 400 miles of it? I can certainly understand why it's called The Ocean State. Ranging from grassy dunes to rocky bluffs, the beaches of Rhode Island truly mesmerized me, not to mention I loved the distinctly New England character the state itself serves up to visitors and locals, alike.
To begin this travel guide, I am going to start with everyone's favorite summer destination – the beach!
BEST BEACHES OF Rhode Island
For Surfing: If you like to surf or simply enjoy watching those who do, Narragansett Beach is the surfing beach in Rhode Island. It is my understanding that the average wave swell is around 4 feet, which is great for experienced surfers as well as good ones to learn on, too.
For an Island Experience: A quick 30 minute ferry ride will land you on Block Island and in pure beach bliss. Hop on a bike or rent a moped to check out beaches like: Ballard's Beach, Crescent Beach and Mansion Beach.
For the Beach Scene: Rhode Island is chalk full of fancy see and be seen beaches. Varying from historic mansions overlooking the sands to one beach, in particular, that gained worldwide recognition due to my favorite pop star, Taylor Swift, taking up residency.
WHERE TO STAY
There are plenty of lovely places to stay in Rhode Island. However, I must admit I didn't do much research, as I already knew that Gurney's Newport was where I wanted to stay. Having had wonderful experiences with Gurney's Montauk, I was thrilled to see that they also had a presence in Newport.
Located on Goat Island, the hotel has 360-degree water views, making it ideal for gazing at any point of the day. There are also two adorable goats who live on property, too! Their names are William and Cornelius, and they live in a replica of Marble House, one of the famed Newport mansions.
WHERE TO EAT & DRINK
Clarke Cooke House: Another slice out of history, the Clarke Cooke House is located on Bannister's Wharf. Enjoy some classic New England fare, then head out into the evening for a cocktail or two. I recommend The White Horse, which happens to be the oldest bar in America.
Castle Hill Inn: If only for a glass of wine and a snack, a seat on the Castle Hill Lawn will transport you to glamorous times of yesteryear, where you may have had the chance to cheers glasses with the likes of Grace Kelly.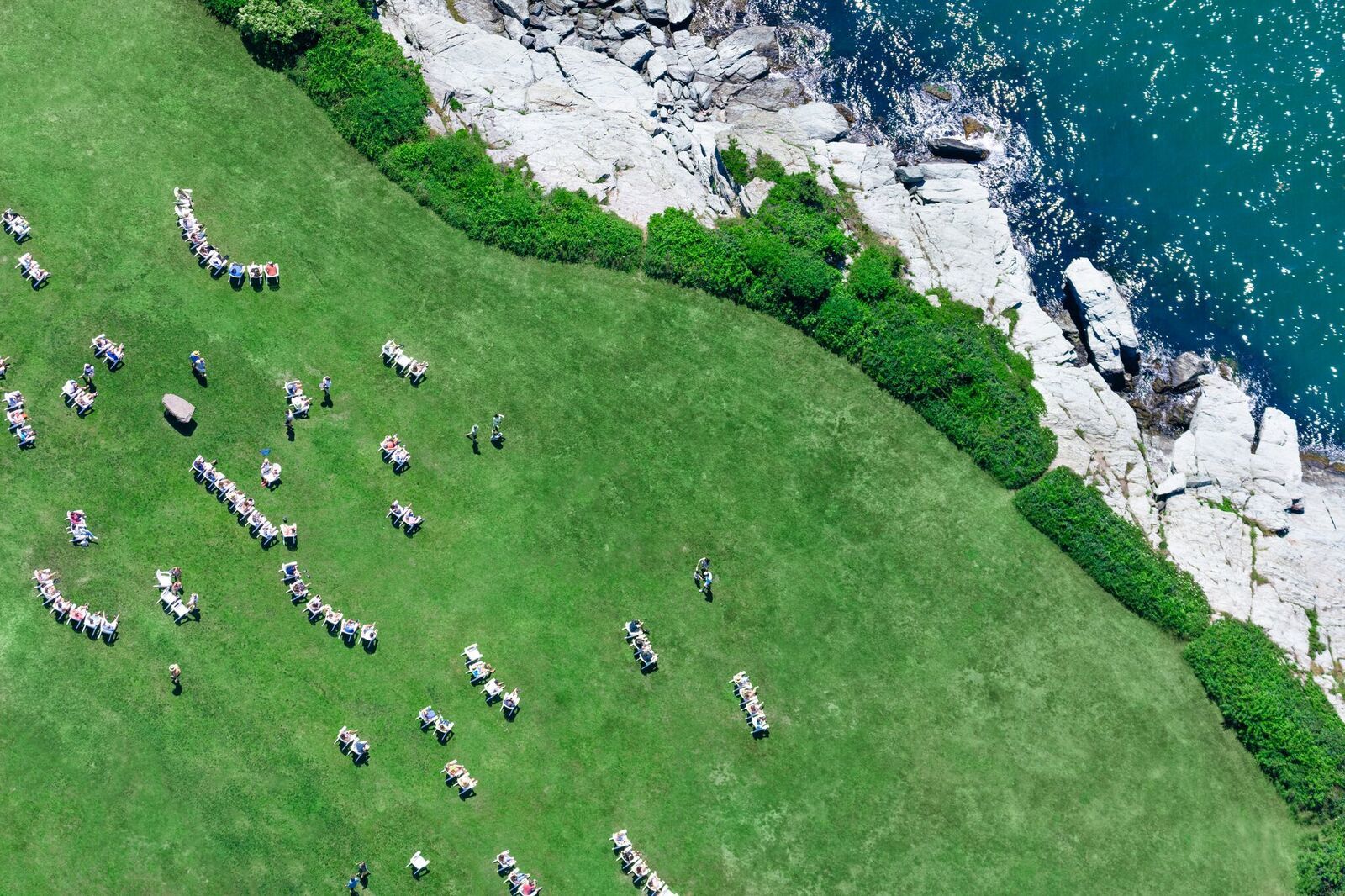 THINGS TO DO
Aside from a day at the beach, there is plenty to do during your visit to Rhode Island, like:
Newport Mansions: As noted, there is a lot of history as well as a lot of wealth in Rhode Island. To really grasp this fact, there are numerous tours to take of famous summer "cottages." The Breakers was my favorite. Stay tuned for more on this subject, as there really are quite a few to cover.
Go Sailing: I love getting out of the water. It is always such a treat to go sailing, especially when visiting somewhere new. We used America's Cup Charters for our day out and were excited to learn that we were in a sailboat that participated in America's Cup Race.
Go Shopping: The ample shopping options in Rhode Island is proof that size does not matter when it comes to this favorite pasttime. For true New England craftsmanship, I really enjoyed poking around in Kiel James Patrick.
And, there you have it? Are you ready to plan your beach getaway to Rhode Island? To see more of the Rhode Island beach aerials, check out the GM shop and also, keep a look out for my thorough guide on all things Rhode Island mansions later this week.
Cheers,
xx
Gray
Header Image + the rest of the photos are mine, except for pictures of the adorable goats and Scarpetta's outside seating, which are courtesy of Gurney's Newport.