Happy FREE framing week, everyone! In case you haven't heard, one of our best sales of the year is back and we're here to help tailor your shopping experience a bit, right here on the blog. We know how it is—it can definitely be overwhelming selecting just a handful of favorite prints from the hundreds of options in the GM shop. And we haven't even talked about the task of narrowing those favorites down to one or two to add to your shopping basket… But let's be honest, there's no shame in walking away with three or four! ;)
But when it comes to finding THE one for your space, we totally get that a variety of factors come into play—one of the most important being color. So, from pinks to blues to citrus hues, we've broken it all down by a few notable color schemes below. But this is just the beginning… see more prints by color from this post, poke around the GM shop for allll the prints you can handle, or shop by style here! Moving along…
BLUES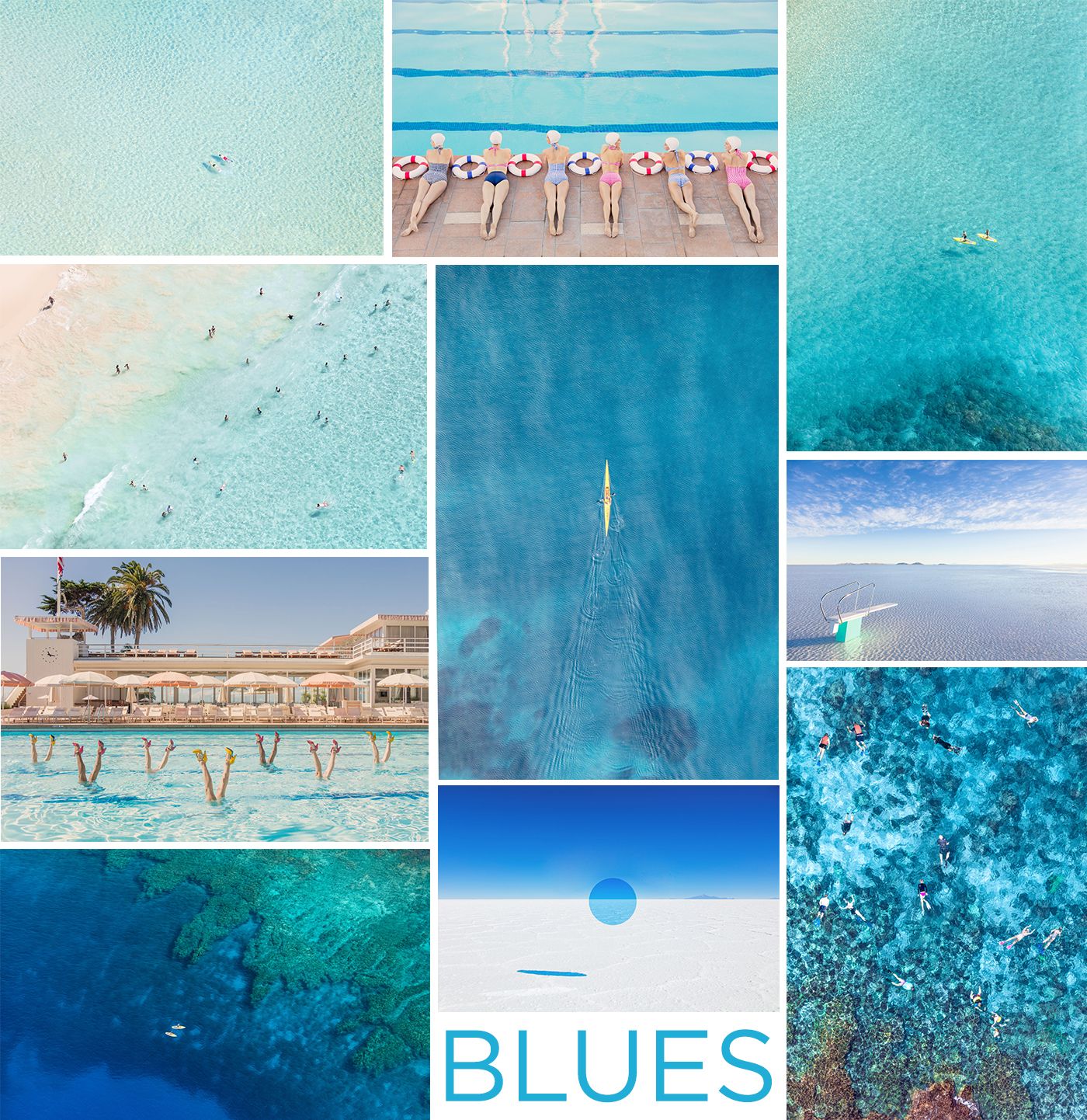 Top left to bottom right:
The Snorkelers, Hawaii | Swim Club II | Pine Trees Surfing Beach | Magic Sands Beach | The Outrigger, Maui | The Diving Board | Pool Party | Deep Sea Paddle Boarders | Light Blue Circle | Honaunau Bay Snorkelers, Vertical
CITRUS
Top left to bottom right:
Duck Balloons | Bananas I | Out of Office | Lemonade Stand | Rivabella Orange and Yellow Umbrellas | Yellow Sheep | Three Squares | Sunbathing Beauties | South Beach
GREENS
Top left to bottom right:
Sixty Nine Beach, Hawaii | Green and Blue Striped Sailboat | The Waves of Capetown | Hamptons Surfers Vertical | Central Park Lawn | Central Park | Two of Hearts | The Gardener | Barcelona Surfer
PINKS
Top left to bottom right:
Miami Pink Umbrellas | Lounging Ladies | Two Cowboys | The City Girl | Pink Sheep | Two Llamas with Pink Balloons | Hot Pink Loungers | The Cabana | Coral Casino Beach & Cabana Club, Horizontal | Sweet Tooth
What color scheme is your favorite?
No matter what your cup of tea is, you're bound to find something you love right here. Besides, with free framing in full swing, what's holding you back? Don't hesitate because there's only a few short days of free framing left…
To shop all Gray Malin prints in even more colorways, head to the GM shop HERE.
Happy shopping!
Xx Team GM
Photos: Gray Malin
{"slides":[{"label":"Collector's Edition, ITALY","url":"/lifestyle/collector-s-edition-italy","image":"https://res.cloudinary.com/gray-malin/image/upload/c_scale,w_1000,q_50/gray-malin/blog_posts/hero_images/000/001/241/original/Italy_Collector's_Edition.jpg?updated=1554857056"},{"label":"Gray's ITALY Book Tour","url":"/lifestyle/gray-s-italy-book-tour","image":"https://res.cloudinary.com/gray-malin/image/upload/c_scale,w_1000,q_50/gray-malin/blog_posts/hero_images/000/001/242/original/italy-book-tour-announcement.jpg?updated=1555034179"},{"label":"Gray's Top 10 Travel Coffee Table Books to Add to Your Collection","url":"/lifestyle/gray-s-top-10-travel-coffee-table-books-to-add-to-your-collection","image":"https://res.cloudinary.com/gray-malin/image/upload/c_scale,w_1000,q_50/gray-malin/blog_posts/hero_images/000/001/236/original/Stacked_books-6.jpg?updated=1554941757"},{"label":"10 Prints for the Abstract Art Lover","url":"/lifestyle/10-prints-for-the-abstract-art-lover","image":"https://res.cloudinary.com/gray-malin/image/upload/c_scale,w_1000,q_50/gray-malin/blog_posts/hero_images/000/001/231/original/0-_Mirror_I.jpg?updated=1553879234"},{"label":"What We're Carrying in Our New Spring Pouches","url":"/lifestyle/what-we-re-carrying-in-our-new-spring-pouches","image":"https://res.cloudinary.com/gray-malin/image/upload/c_scale,w_1000,q_50/gray-malin/blog_posts/hero_images/000/001/226/original/spring_2019_leather_pouch.jpg?updated=1553617022"},{"label":"Splendid x Gray Malin Launch Event","url":"/lifestyle/splendid-x-gray-malin-launch-event","image":"https://res.cloudinary.com/gray-malin/image/upload/c_scale,w_1000,q_50/gray-malin/blog_posts/hero_images/000/001/224/original/Spendid_x_Gray_Malin_Launch_Event.jpg?updated=1553216911"},{"label":"Splendid x Gray Malin Spring Collection","url":"/lifestyle/splendid-x-gray-malin-spring-collection","image":"https://res.cloudinary.com/gray-malin/image/upload/c_scale,w_1000,q_50/gray-malin/blog_posts/hero_images/000/001/186/original/Splendid_Spring_Select-10.jpg?updated=1552331916"},{"label":"5 Inspiring Women Entrepreneurs ","url":"/lifestyle/5-entrepreneur-women-who-inspire-us","image":"https://res.cloudinary.com/gray-malin/image/upload/c_scale,w_1000,q_50/gray-malin/blog_posts/hero_images/000/001/184/original/Beach_Ball_Splash__Coral_Casino.jpg?updated=1552073678"}],"label":"Have You Seen?"}
{"id":null,"number":null,"item_total":"0.0","total":"0.0","ship_total":"0.0","state":"cart","adjustment_total":"0.0","user_id":null,"created_at":null,"updated_at":null,"completed_at":null,"payment_total":"0.0","shipment_state":null,"payment_state":null,"email":null,"special_instructions":null,"channel":"spree","included_tax_total":"0.0","additional_tax_total":"0.0","display_included_tax_total":"$0.00","display_additional_tax_total":"$0.00","tax_total":"0.0","currency":"USD","considered_risky":false,"canceler_id":null,"display_item_total":"$0.00","total_quantity":0,"display_total":"$0.00","display_ship_total":"$0.00","display_tax_total":"$0.00","display_adjustment_total":"$0.00","token":null,"checkout_steps":["address","delivery","complete"],"bill_address":null,"ship_address":null,"line_items":[],"payments":[],"shipments":[],"adjustments":[],"credit_cards":[],"promotions":[],"total_shipment_cost":"$0.00","permissions":{"can_update":false},"use_shipping_for_billing":true,"use_new_ship_address":true,"use_new_bill_address":false,"selected_ship_address":null,"selected_bill_address":null,"display_completed_at":null,"item_count":0,"subtotal_minus_promos":"$0.00","coupon_codes":[]}
This site uses cookies to allow better navigation. By closing this banner, scrolling this page or clicking any of its elements, you are giving consent to all cookies. To learn more and to change your preferences please see our Cookies Policy.