Hi Everyone!
One of my favorite parts of being an author is going on a book tour and I have been working on a series of special virtual experiences so I can tour with you in partnership with Zoom! Using your existing Zoom account, we will be able to flip through the book together while I share exciting videos and behind the scenes stories from some of my favorite images that you simply will not believe!
Each free event will be a captivating experience with a unique topic and a different friend of the brand co-hosting the event with me! Join us each week during the month of May for a 30 minute long visual conversation filled with endless inspiration and the opportunity to travel to all seven continents through my lens.
Here is the full schedule of events - join one or all four! They are totally free, just make sure to RSVP here.
May 4th at 7PM EST with Katherine Schwarzenegger Pratt - RSVP here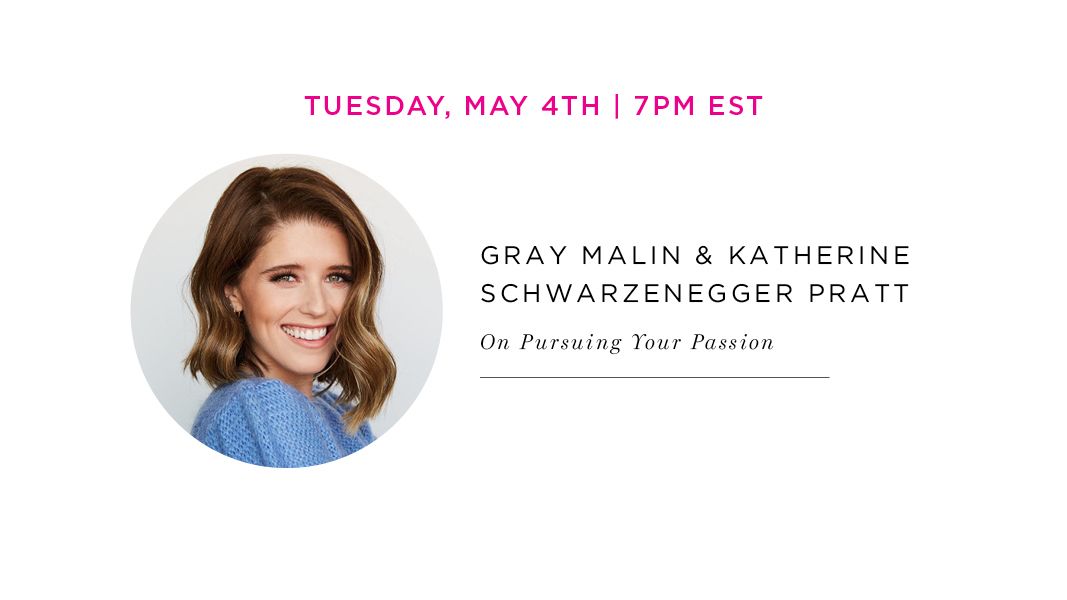 May 11th at 7PM EST with Lauren Conrad - RSVP here
May 20th at 7PM EST with Schitt's Creek's Sarah Levy - RSVP here
May 25th at 7PM EST with his husband Jeff Richardson - RSVP here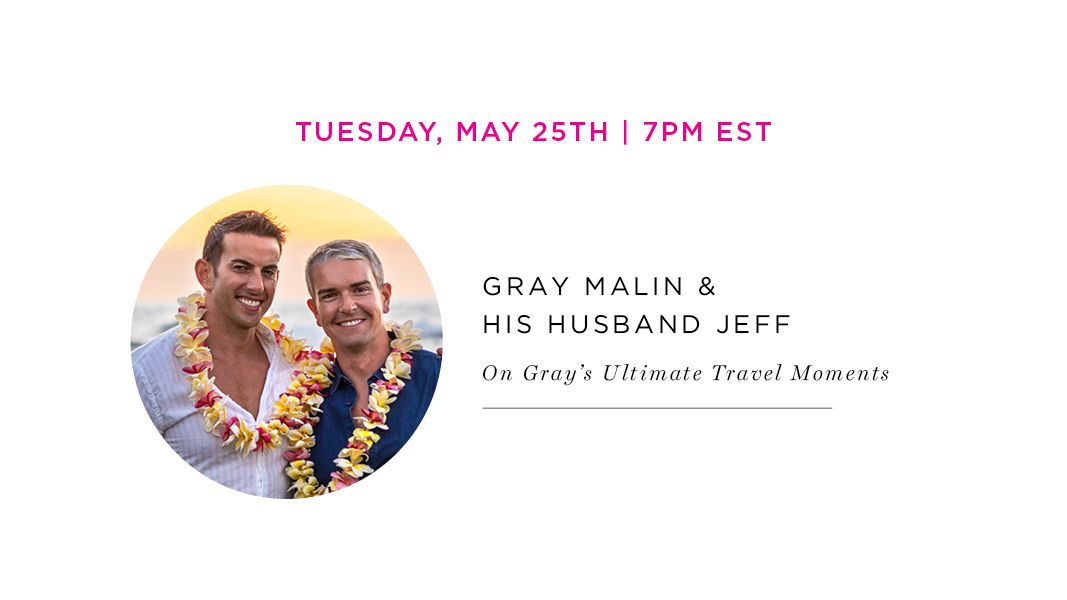 I can't wait to see you very soon!
Cheers!
Xx
Gray
{"slides":[{"label":"Summer's Hottest Accessory is Back: Supergoop! x Gray Malin Everyday Getaway Kit","url":"/lifestyle/summers-hottest-accessory-is-back-supergoop-x-gray-malin-everyday-getaway-kit","image":"https://res.cloudinary.com/gray-malin/image/upload/c_scale,w_1000,q_50,f_auto/gray-malin/blog_posts/hero_images/000/002/025/original/supergoop-may-2022-gray-malin-collaboraton-bag-open_(1).jpg?updated=1651929416"},{"label":"Introducing Gray Malin x illesteva Sunglasses","url":"/lifestyle/introducing-gray-malin-x-illesteva-sunglasses","image":"https://res.cloudinary.com/gray-malin/image/upload/c_scale,w_1000,q_50,f_auto/gray-malin/blog_posts/hero_images/000/002/023/original/blog_number_0.jpeg?updated=1650979072"},{"label":"The Making of Dogs at the Parker","url":"/lifestyle/behind-the-scenes-the-making-of-dogs-at-the-parker","image":"https://res.cloudinary.com/gray-malin/image/upload/c_scale,w_1000,q_50,f_auto/gray-malin/blog_posts/hero_images/000/002/022/original/0.jpg?updated=1650054774"},{"label":"Introducing New Summer Collection NEST New York x Gray Malin","url":"/lifestyle/introducing-new-summer-collection-nest-new-york-x-gray-malin","image":"https://res.cloudinary.com/gray-malin/image/upload/c_scale,w_1000,q_50,f_auto/gray-malin/blog_posts/hero_images/000/002/021/original/0.jpg?updated=1649702723"},{"label":"Gray Malin on Nantucket","url":"/lifestyle/gray-malin-on-nantucket","image":"https://res.cloudinary.com/gray-malin/image/upload/c_scale,w_1000,q_50,f_auto/gray-malin/blog_posts/hero_images/000/002/020/original/0.jpg?updated=1647451777"},{"label":"Introducing Snow Beach AspenX Gray Malin ","url":"/lifestyle/introducing-snow-beach-aspenx-gray-malin","image":"https://res.cloudinary.com/gray-malin/image/upload/c_scale,w_1000,q_50,f_auto/gray-malin/blog_posts/hero_images/000/001/987/original/1.jpg?updated=1645053743"},{"label":"Introducing My New Furniture Collection","url":"/lifestyle/introducing-my-new-furniture-collection","image":"https://res.cloudinary.com/gray-malin/image/upload/c_scale,w_1000,q_50,f_auto/gray-malin/blog_posts/hero_images/000/001/986/original/0.jpg?updated=1643761358"},{"label":"Introducing the Four Seasons Resorts Hawaii x Gray Malin Partnership ","url":"/lifestyle/introducing-the-four-seasons-resorts-hawaii-x-gray-malin-partnership","image":"https://res.cloudinary.com/gray-malin/image/upload/c_scale,w_1000,q_50,f_auto/gray-malin/blog_posts/hero_images/000/001/985/original/0_copy.jpg?updated=1643689090"}],"label":"Have You Seen?"}
{"id":null,"number":null,"item_total":"0.0","total":"0.0","ship_total":"0.0","state":"cart","adjustment_total":"0.0","user_id":null,"created_at":null,"updated_at":null,"completed_at":null,"payment_total":"0.0","shipment_state":null,"payment_state":null,"email":null,"special_instructions":null,"channel":"spree","included_tax_total":"0.0","additional_tax_total":"0.0","display_included_tax_total":"$0.00","display_additional_tax_total":"$0.00","tax_total":"0.0","currency":"USD","considered_risky":false,"canceler_id":null,"display_item_total":"$0.00","total_quantity":0,"display_total":"$0.00","display_ship_total":"$0.00","display_tax_total":"$0.00","display_adjustment_total":"$0.00","token":null,"checkout_steps":["address","delivery","complete"],"bill_address":null,"ship_address":null,"line_items":[],"payments":[],"shipments":[],"adjustments":[],"credit_cards":[],"promotions":[],"total_shipment_cost":"$0.00","permissions":{"can_update":false},"use_shipping_for_billing":true,"use_new_ship_address":true,"use_new_bill_address":false,"selected_ship_address":null,"selected_bill_address":null,"display_completed_at":null,"item_count":0,"subtotal_minus_promos":"$0.00","coupon_codes":[],"includes_framed_items":false,"contains_subscription":false}
This site uses cookies to allow better navigation. By closing this banner, scrolling this page or clicking any of its elements, you are giving consent to all cookies. To learn more and to change your preferences please see our Cookies Policy.