Hi Everyone,
As many of you may know, the Prada Marfa series is near and dear to my heart. As a Dallas native, I looked to Marfa, a famous arts town located in West Texas, as the subject of my first series; specifically, I was drawn to the Prada store art installation that has become a pop icon art piece. Using mules, cowboys, models and a little imagination, I brought this unique series of Prada Marfa prints to life.
To celebrate the continued success of this collection, I thought it'd be fun to take a trip down memory lane with some of my favorite clients and friends who've chosen Prada Marfa for their homes.
First up, Amy Havins of the famed lifestyle blog, Dallas Wardrobe, dreamy Dallas home.
She and her husband are both from Texas so the Prada Marfa series fits perfectly into their southwestern home. The Dawn print, which is hanging in their living room, was their first Gray Malin piece; they got it as a gift for their very first 'married Christmas,' so it is special to them for many reasons.
Up next is a total blast from my past, El Shane and I met at the flea market where I first sold Prada Marfa! She got in touch this year and asked that I sign her print, which I happily agreed to do. She has her Mule print hanging in the entry way to her home in West Hollywood.
It was an obvious choice for El Shane as she explains "It made no sense and perfect sense at the same time. This piece is at the entryway of my foyer and has always been a conversation starter for all of my guests."
And then of course, I will always love seeing images from my former neighbor Danelle's home. Her and her husband have their Two Cowboys hanging prominently in their bedroom.
They also have this fantastic diptych from the A la Montagne collection in their guest house.
Another favorite of mine, Amy Berry's use of her print in her laundry room. This room deserves some chicness too, no?
"The Prada Marfa was a happy addition to the laundry room. I'm from Texas, so no explanation needed there." Well said, Amy.
Moving along to a long time friend and early supporter, Mel and her Venice beach bungalow.
When first entering Mel's home, she explained that "We changed the interior to be more of a open concept and free flowing, and Gray's work throughout our home compliments that style. His pieces punctuate space in an undeniable way." Mel chose two 11.5" x 17" prints from Prada Marfa, Hitchhiker and Dawn, to greet everyone who enters this Venice Beach family's home.
As you make your way upstairs, what do we see at the top? Another 11.5" x 17" print from Prada Marfa, Two Cowboys. I love that she and her family connected with the series!
*Side note - Two Cowboys is also a favorite of mine to give as a wedding gift. With wedding season in full swing right now, many people ask me what I suggest as a gift. I say this particular print because Two Cowboys balances the masculinity of the cowboys with the femininity of the Prada installation. This art installation is timeless and there's nothing better than receiving a wedding gift that will last a lifetime.
From the a beach bungalow in Venice Beach to this beautiful Manhattan apartment, the Prada Marfa collection makes itself right at home.
"The photographs transform the bathroom into a room, simply put. They make the room comfortable and somehow conversational for us. In fact, we do most of our talking, planning, and catching-up in the bathroom."
Read more about my friends Mark and Morgan's home, here.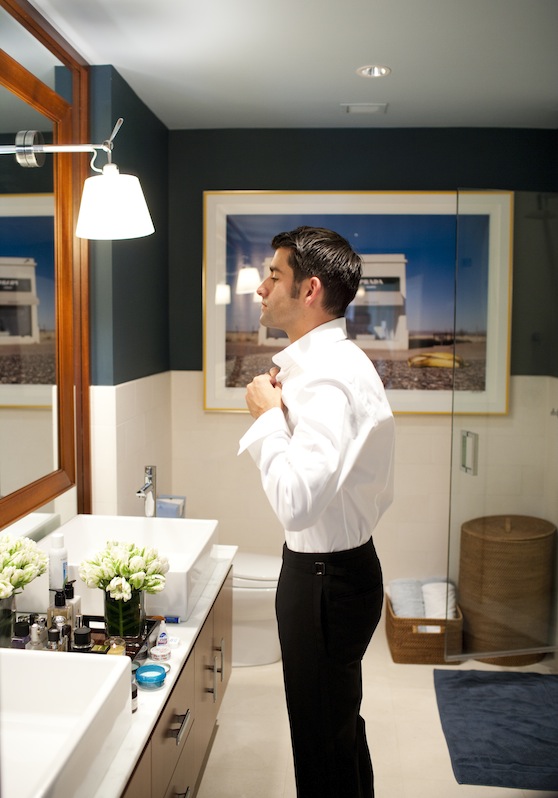 To see more homes decorated with Prada Marfa, take a look at:
J.W.K Style *featured image
OH! And, please enjoy the SALE...today only!
xx
GM