It's been a little over a week since my book BEACHES made its official debut, and the past nine days have basically been one big 'pinch me' moment. This book was a dream of mine, and I still have to remind myself that it's real. I honestly get a little teary eyed when I think about it! For the past week, I've been traveling from city to city, doing a series of book launch parties and signings. This book was five years in the making, and it meant so much to me to get to fête the launch with friends, family, and fans. For those of you that couldn't be there in person, I wanted to share a few photos from my L.A., Dallas, and Miami book events. Hopefully it will make you feel like you were right there with me…
LOS ANGELES @ ERIC BUTERBAUGH
The first stop on the tour was L.A., home of the Gray Malin headquarters. The L.A. event took place at Eric Buterbaugh Florals. Here I am with my husband, Jeff…
Orlando Soria of Hommemaker and Homepolish stopped by as well as one of my favorite DIY'ers Erica of P.S. I Made This...
So did Emily Schuman of a little blog called Cupcakes and Cashmere (you might have heard of it)…
I also was thrilled to have the designer of the book in attendance, the talented and super chic, Michelle Kim along with so many other amazing friends.
Courtney of Always Judging and crew showing off the book.
Kelly Mindell of Studio DIY, who you've seen here and her talented photographer husband, Jeff.
I always love seeing my dear friends Kelly Lee of Kelly Golightly and her husband Fred Moser. They've always been there to support me...
And the list goes on, I truly felt so loved by my adopted city of LA! Here's a sweet hug shared with Marianna Hewitt…Thanks to my friends and amazing bloggers Devon Dyer of Devon Rachel and Kimberly Pesch of eat.sleep.wear for joining in on the fun…
Me with the lovely Dana Ashmore of Gratitude Collaborative and her husband, actor Shawn Ashmore…
And then with the man himself, Eric Buterbaugh, whose beautiful space was the perfect location for my L.A. party...I was so excited that he was able to join.
More fun shots with friends new and old...
Jumping for joy with Ellen of Hedley & Bennett
These giant BEACHES balloons made for the perfect Instagram area during the party. Phones were out snapping pics the whole time...
And most of all, it was so fun to sip our favorite, Veuve Clicquot, and celebrate with all of "Team GM" who helped make this project a success…
After the L.A. launch party, I headed to my hometown, Dallas, TX, for a party and signing…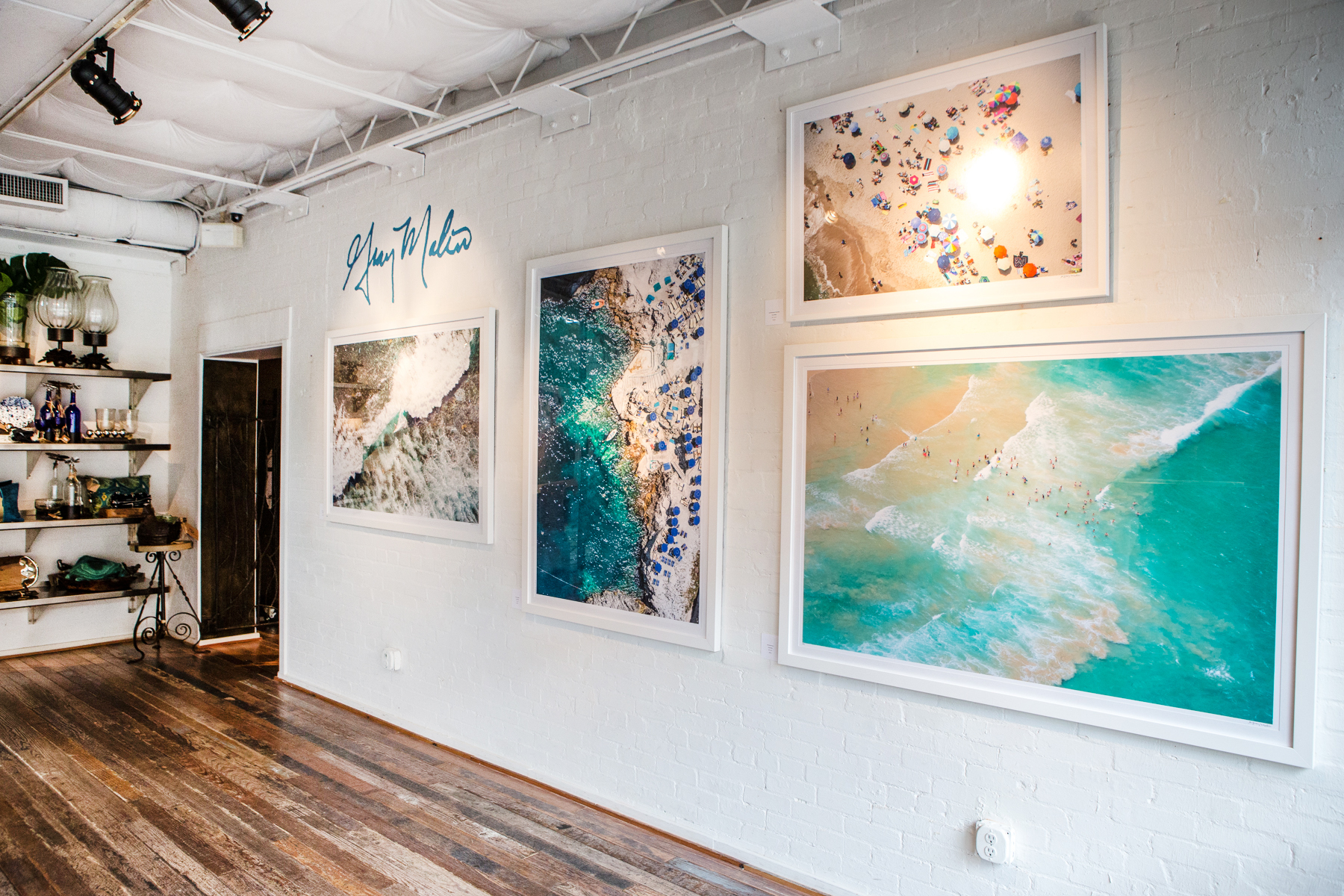 We threw my Dallas party at a space called Forty Five Ten, which is a luxury boutique in a super cool historic building. The team here have always been so supportive of my work, so it was truly the perfect location to begin the tour. With its white brick walls, hardwood floors, and the perfect touches of decor in all the right places...
Kicking the party off with Forty Five Ten's own, Meghan Looney, she walked me through all of the fun in store for the night! I really wanted to roll out the royal treatment for my hometown and Forty Five Ten did not disappoint! We had fun sunnies with the book cover printed on them for the guests to wear…
And we served tray-passed mini lobster rolls…
And, the stylish crew behind Whispering Angel. Chris Potestio, on the far right, really brought out the sips for Dallas, which allowed us to rosé the night away.
So many friends stopped by, including Amy Havins of the blog Dallas Wardrobe… (You might remember the home tour we did with her a little while back. I love how she styled her Prada Marfa print!). And Courtney Kerr was there too…
I had fun chatting with Jane Aldridge of Sea of Shoes… And editor extraordinaire Taylor Tomasi Hill…
And I loved meeting Mackenzie Horan, the talented mind behind the blog and online shop Design Darling...
The lovely ladies of The Perennial Style on the left and dear friends on the right and below.
The night was a complete success and I couldn't have been happier to kick of the official tour in Dallas at Forty Five Ten. After calling it a night, I jetted over to Miami the next morning to toast to the book launch in The Magic City…
I still get excited every time I see my artwork framed and hanging on the walls…
If you live in Miami or are ever visiting, be sure to stop in this beautiful flagship store. They have a permanent installation of prints from my Art Decor Miami and A la Plage series.
I had such a blast celebrating with everyone there. We set up the signing on the roof top deck, yes...they have one and we enjoyed more sips from Veuve while I signed away. I didn't get quite as many photographs this time but if you follow me on Snapchat (@graymalin), you definitely saw lots of behind the scenes from this night. My friend Christian, on the right below, did me the special favor of not only coming in from Aruba but also being my personal social media person for the event.
To all that were able to make it out last week, thank you again for your support and smiles. Then for all of you following along, thank you for joining me in this recap of the most whirlwind of weeks! Lastly, I do have two more book tour stops coming up. If you happen to be in Chicago tonight or in the Hamptons over Memorial Day, I'd love to meet you. Click here for more details.
Will I see you at one of my next book tour stops? I hope everyone is loving the book and enjoyed this peek at the parties. Xx Gray P.S. If you haven't already picked up a copy, you can buy BEACHES wherever books are sold or snag a special gold collectors edition (signed and numbered by yours truly) from GrayMalin.com. Photos: Los Angeles - Matt Winkelmeyer for Getty Images Dallas - Bruno Miami - Thanks again Christian!