First things first… cheers to the first day of summer! We've been waiting for this day for what seems like forever, and we're thrilled that it's officially here. While the weather in L.A. has been warm and sunny for some time now, we finally have an excuse to hang by the pool a liiiittle longer—preferably with cocktail in hand.
Speaking of cocktails, we can't wait to share the ones we've been whipping up recently with you all. We've put together the entire how-to below, so stay with us. (Trust us, you'll be glad you did!) With tropical getaways on the brain, we couldn't help but blend up a few of our favorite ingredients that remind us of the islands. Specifically, fresh pineapple with a kick of dark rum. But that's just the beginning—keep scrolling for the full recipe, and get ready to add this sip to your next pool day menu…
Ingredients:
For the cocktail…
1 ripe pineapple, peeled and cored

4 oz. dark rum (optional; may be omitted for a virgin cocktail)

4 oz. homemade ginger simple syrup

coconut La Croix sparkling water

fresh lime
For the ginger simple syrup…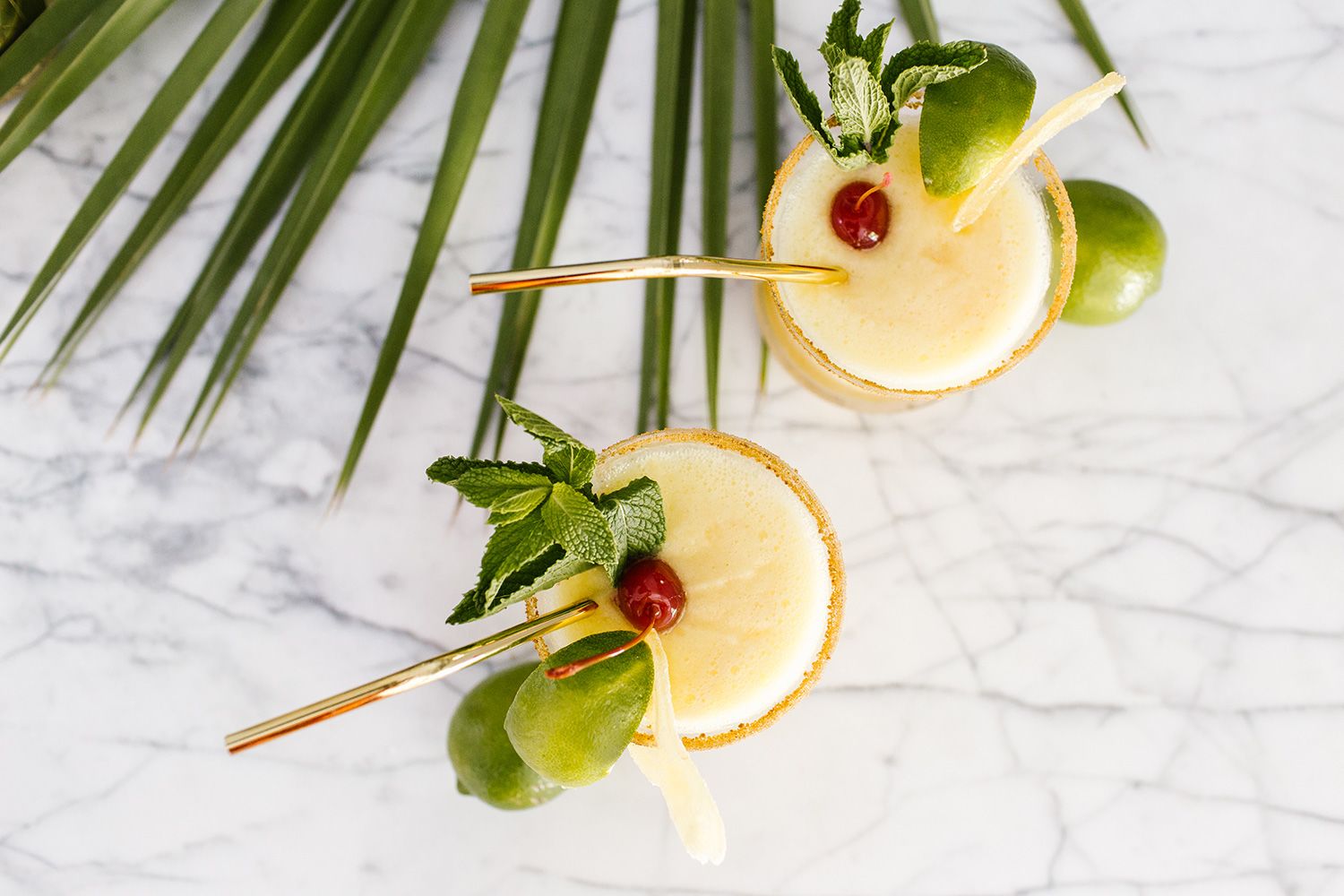 For the garnish…
The How-To: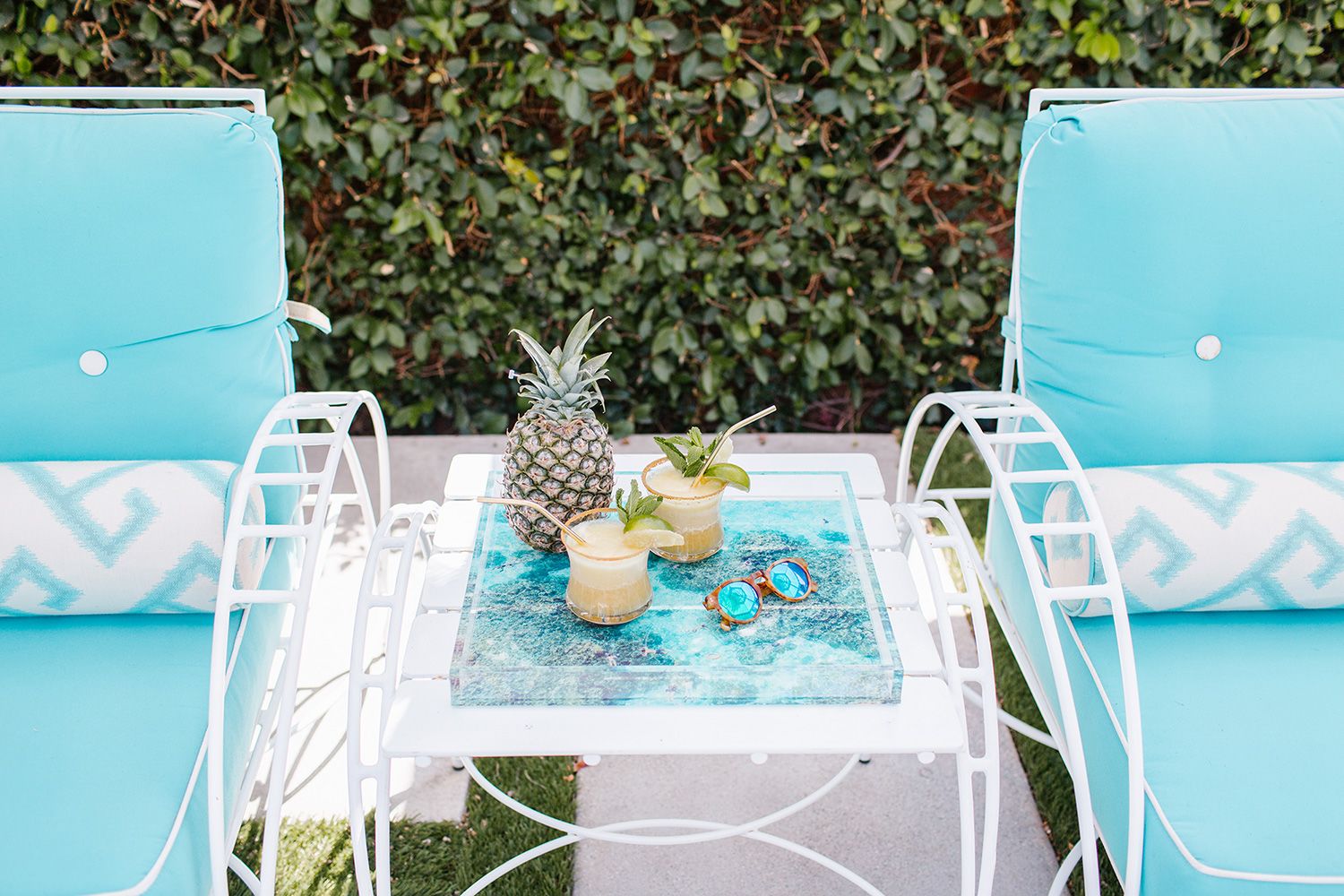 1. Begin by making your ginger simple syrup. To do this, put your sugar and water in a saucepan over medium heat until the sugar is dissolved.
2. Chop ginger into smaller pieces, then turn heat to low and add to saucepan. Simmer the mixture for about 10 minutes.
3. After you have removed your pan from the stove, strain out the ginger pieces and set simple syrup aside. (Note: To save any extra syrup for later, pour in a sealed container and store in fridge for up to a week.)
4. After your syrup is made, slice up four cups of fresh pineapple (make sure it is cored), and add to blender with a cup of ice. Feel free to pour in any extra pineapple juice to help liquefy your mixture!
5. Before you pour your pineapple purée into your glasses, make sure to first coat the rims with your coconut sugar. Pour sugar into a shallow dish (make sure there is an adequate amount in the dish to be able to dip your glasses).
6. Wet a paper towel, and moisten the rims of your glasses with water. (This can also be done with fresh lime juice if you want an extra kick as you sip!) Turn your glasses upside down and dip rim into sugar, turning until coated evenly.
7. Next, pour your pineapple mixture into your low ball glasses, about ¾ of the way full. Fill the rest of your glass with coconut La Croix sparkling water.
8. Add a teaspoon of your homemade simple syrup, and stir well.
9. Cut your fresh lime in half, and squeeze about a teaspoon of fresh lime juice into each drink. Set aside the rest of your lime wedges for garnish.
10. Add 1 ½ oz. dark rum (or one shot glass worth) into each glass. Adjust to your preference (or leave out completely) depending on how boozy you want your cocktails to be! They're also delicious as pineapple ginger slushes, sans alcohol.
11. Stir all ingredients one more time, mixing well. Garnish with lime wedges, mint, crystallized ginger, and maraschino cherries (if you're feeling extra tropical).
12. Head to the pool and drink up!
What do you think? Are you dying to try this recipe this summer?
Trust us, it does not disappoint. You can catch us poolside with these drinks in hand starting today…
And if you don't have a pool of your own, don't worry—one of Gray's pool prints pairs just as well with this sip. Shop them right HERE.
Cheers!
Xx Team GM
Photos: Jessi Burrone for GrayMalin.com