We've sifted through the GM shop for the perfect print for our space more times than we can count, and we know that finding THE one is no easy feat. That said, some walls call for even more than one single print—so how do you go about finding the perfect pair? Whether you're on the hunt for artwork that will look like they were made for each other hanging side-by-side on your wall, or you're looking for those last few pieces to complete your gallery wall, we've got you covered.
After all, you can't argue with the fact that two prints are better than one. ;) Find 10 of our current favorite print pairings below, and make sure to add-to-cart before they sell out…
1. Skinny Dip + Ipanema Beach Umbrellas
2. Two Cowboys + Polka Dot Llama I
3. Beach Day, St. Tropez + Sicily
4. Butterflies + Sale
5. White Cabanas, Italy + The Surfer, Rio de Janeiro
6. Sunrise + Byron Bay Waves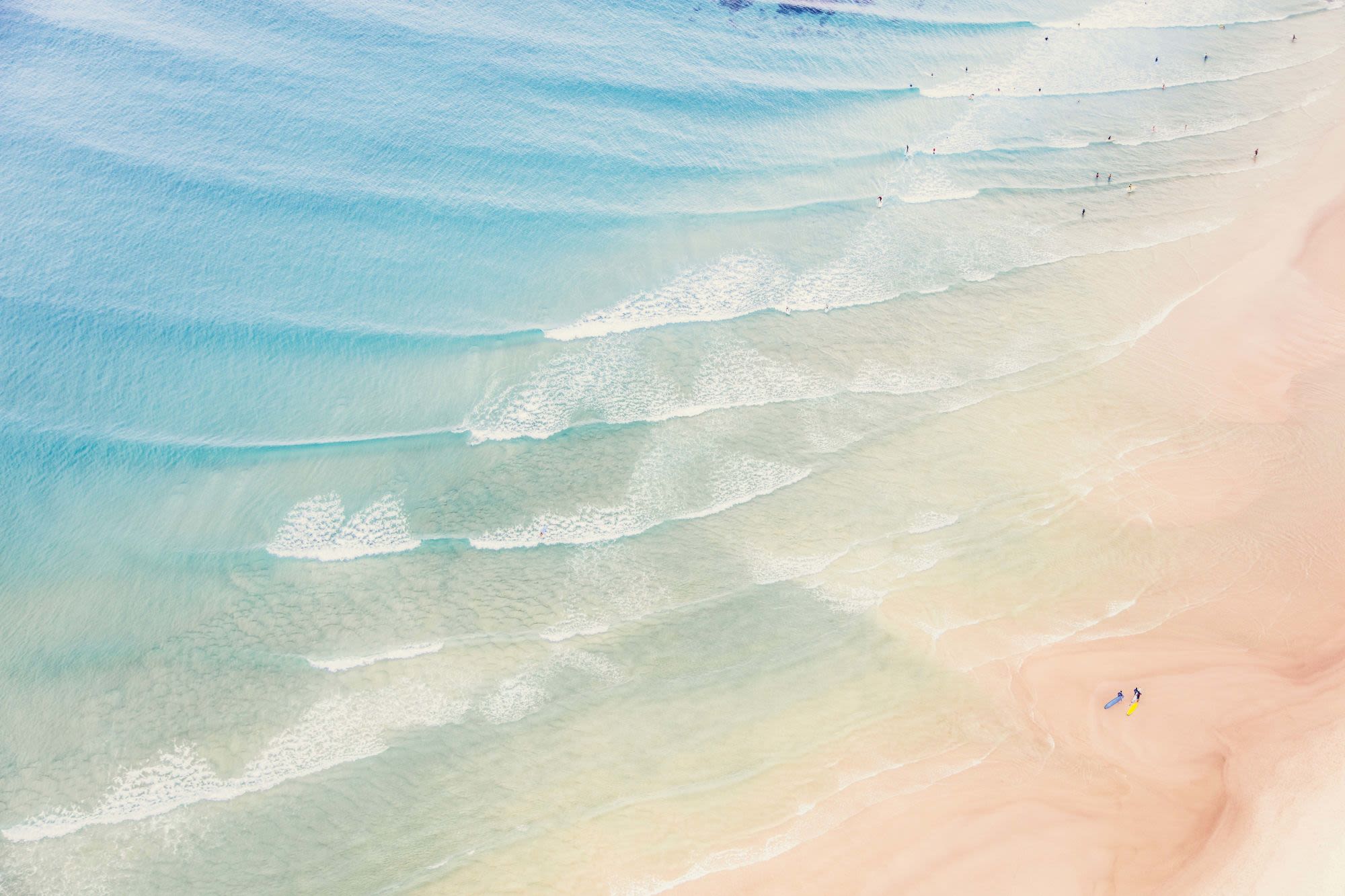 7. Retro Miami Beach Club, Diagonal + Palm Beach Loungers
8. Queenscliff Beach + Day Trip, Bora Bora
9. Coogee Wave + Manly Beach Sunbathers
10. Jetties Beach II, Nantucket + The Sailboat, Martha's Vineyard
What two GM prints would you pair together?
Shop all prints here, then head to our interiors section of the blog for more styling inspo.
Xx Team GM
Photos: (Header & First) Chriselle Lim, Gray Malin
{"slides":[{"label":"Summer's Hottest Accessory is Back: Supergoop! x Gray Malin Everyday Getaway Kit","url":"/lifestyle/summers-hottest-accessory-is-back-supergoop-x-gray-malin-everyday-getaway-kit","image":"https://res.cloudinary.com/gray-malin/image/upload/c_scale,w_1000,q_50,f_auto/gray-malin/blog_posts/hero_images/000/002/025/original/supergoop-may-2022-gray-malin-collaboraton-bag-open_(1).jpg?updated=1651929416"},{"label":"Introducing Gray Malin x illesteva Sunglasses","url":"/lifestyle/introducing-gray-malin-x-illesteva-sunglasses","image":"https://res.cloudinary.com/gray-malin/image/upload/c_scale,w_1000,q_50,f_auto/gray-malin/blog_posts/hero_images/000/002/023/original/blog_number_0.jpeg?updated=1650979072"},{"label":"The Making of Dogs at the Parker","url":"/lifestyle/behind-the-scenes-the-making-of-dogs-at-the-parker","image":"https://res.cloudinary.com/gray-malin/image/upload/c_scale,w_1000,q_50,f_auto/gray-malin/blog_posts/hero_images/000/002/022/original/0.jpg?updated=1650054774"},{"label":"Introducing New Summer Collection NEST New York x Gray Malin","url":"/lifestyle/introducing-new-summer-collection-nest-new-york-x-gray-malin","image":"https://res.cloudinary.com/gray-malin/image/upload/c_scale,w_1000,q_50,f_auto/gray-malin/blog_posts/hero_images/000/002/021/original/0.jpg?updated=1649702723"},{"label":"Gray Malin on Nantucket","url":"/lifestyle/gray-malin-on-nantucket","image":"https://res.cloudinary.com/gray-malin/image/upload/c_scale,w_1000,q_50,f_auto/gray-malin/blog_posts/hero_images/000/002/020/original/0.jpg?updated=1647451777"},{"label":"Introducing Snow Beach AspenX Gray Malin ","url":"/lifestyle/introducing-snow-beach-aspenx-gray-malin","image":"https://res.cloudinary.com/gray-malin/image/upload/c_scale,w_1000,q_50,f_auto/gray-malin/blog_posts/hero_images/000/001/987/original/1.jpg?updated=1645053743"},{"label":"Introducing My New Furniture Collection","url":"/lifestyle/introducing-my-new-furniture-collection","image":"https://res.cloudinary.com/gray-malin/image/upload/c_scale,w_1000,q_50,f_auto/gray-malin/blog_posts/hero_images/000/001/986/original/0.jpg?updated=1643761358"},{"label":"Introducing the Four Seasons Resorts Hawaii x Gray Malin Partnership ","url":"/lifestyle/introducing-the-four-seasons-resorts-hawaii-x-gray-malin-partnership","image":"https://res.cloudinary.com/gray-malin/image/upload/c_scale,w_1000,q_50,f_auto/gray-malin/blog_posts/hero_images/000/001/985/original/0_copy.jpg?updated=1643689090"}],"label":"Have You Seen?"}
{"id":null,"number":null,"item_total":"0.0","total":"0.0","ship_total":"0.0","state":"cart","adjustment_total":"0.0","user_id":null,"created_at":null,"updated_at":null,"completed_at":null,"payment_total":"0.0","shipment_state":null,"payment_state":null,"email":null,"special_instructions":null,"channel":"spree","included_tax_total":"0.0","additional_tax_total":"0.0","display_included_tax_total":"$0.00","display_additional_tax_total":"$0.00","tax_total":"0.0","currency":"USD","considered_risky":false,"canceler_id":null,"display_item_total":"$0.00","total_quantity":0,"display_total":"$0.00","display_ship_total":"$0.00","display_tax_total":"$0.00","display_adjustment_total":"$0.00","token":null,"checkout_steps":["address","delivery","complete"],"bill_address":null,"ship_address":null,"line_items":[],"payments":[],"shipments":[],"adjustments":[],"credit_cards":[],"promotions":[],"total_shipment_cost":"$0.00","permissions":{"can_update":false},"use_shipping_for_billing":true,"use_new_ship_address":true,"use_new_bill_address":false,"selected_ship_address":null,"selected_bill_address":null,"display_completed_at":null,"item_count":0,"subtotal_minus_promos":"$0.00","coupon_codes":[],"includes_framed_items":false,"contains_subscription":false}
This site uses cookies to allow better navigation. By closing this banner, scrolling this page or clicking any of its elements, you are giving consent to all cookies. To learn more and to change your preferences please see our Cookies Policy.