There's no end to the obsession we have with learning to live like the French do. (As a matter of fact, we even shared a French girl's guide to a day at the beach last summer…) There's just something about the effortlessness and laidback luxury of the French lifestyle that makes us want to ditch our American wardrobes and décor, and start anew. Okay, so it may not be plausible to totally overhaul our life to live like the French, but a few pieces of French inspired décor can't hurt. Not to mention, Valentine's Day is just around the corner, and there's something innately romantic about French style, don't you think? With that in mind, we're breaking down our latest favorite trend when it comes to our décor—Parisian inspired interiors. Here is how to add a bit of Parisian flair to your bedroom, living room, and dining room… Because who doesn't want that embrace that cool French vibe in every room of the house?

Tip #1: Layer statement pieces with neutrals.
While the French are certainly not strangers to pattern mixing, they always ground their bold pieces with natural textiles and organic shapes. So don't be afraid to pick out that boldly patterned sofa you fell head over heels for… But make sure to pair it with a cool, neutral rug, and a rattan coffee table or side table to keep it down-to-earth.
Tip #2: Mind your lighting.
The light fixtures in a room are never an afterthought in chic French interiors, so they shouldn't be an afterthought in your space either. Every piece of the puzzle has personality—including your chandelier, sconces, or table lamps.
For the Living Room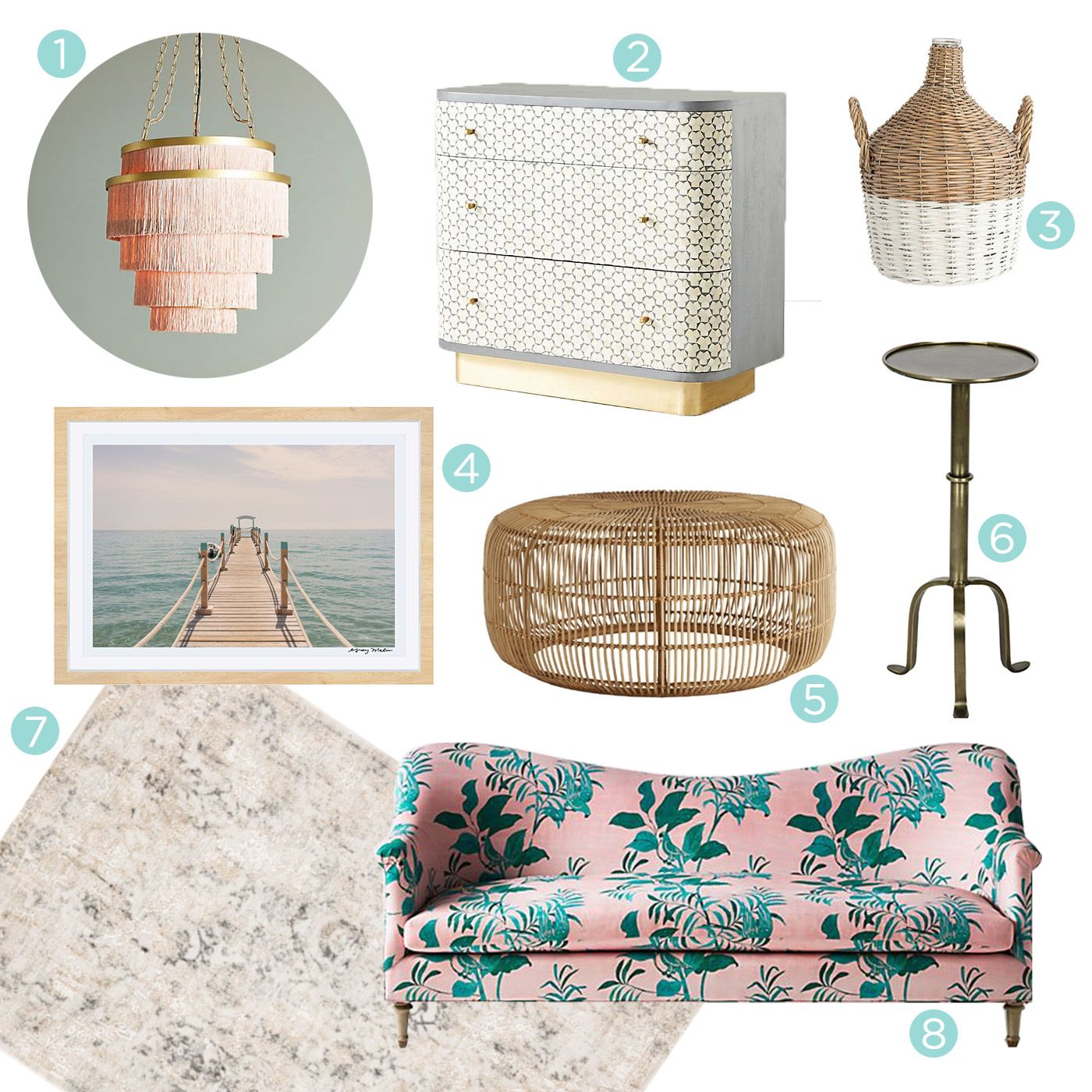 1. Aloha Fringe Chandelier, $698 | 2. Targua Three-Drawer Dresser, $999 | 3. Dipped Wicker Demijohn Bottle, $40 | 4. The Dock, St. Tropez Print, $299+ | 5. Zephire Coffee Table, Rattan, $1,278 | 6. Sivan Side Table, $531 | 7. Caroline Rug, $72+ | 8. Paule Marrot Pied-A-Terre Sofa, $2,598+
Tip #3: Nature-inspired pieces are always a good idea.
It seems like the French are one with the outdoors (in the chicest way possible), and that should shine through in your interiors. Think whimsical patterned wallpaper, beachy artwork, and bistro chairs that make you feel like you're dining al fresco every time you sit down for a meal.
Tip #4: Small-scale patterns are your best friend.
(And never be afraid to mix them!) If there's one thing that reminds us of French interiors, it is how several patterned pieces seem to flow seamlessly together. Do this in your own space by pairing different patterns in similar or complementary color schemes.
For the Dining Room/Kitchen
1. Paule Marrot Squirrel Wallpaper, $148 | 2. Lightbearer Sconce, $498 | 3. Nikki Beach, St. Tropez Print, $299+ | 4. Seaford Pedestal Dining Table, $1,298 | 5. Seraphina Cheese Board, $72 | 6. Brita Dining Chair, $352 | 7. Emele Rug, $548+ | 8. Paule Marrot Butterfly Pitcher, $48 | 9. Savon De Marseille Hand Soap, $30
Tip #5: It's all about the brass.
No matter how casual a space is, French style seems to always embody a level of luxury, partly due to how well they add just a touch of gold or brass. In our opinion, it's easiest to incorporate metal finishes in the form of lighting choices, but feel free to incorporate it anywhere from your crown molding, to mirrors, to the legs of your furniture. (Better yet? Add a touch of crystal for an even more high-end vibe.)
Tip 6: Always incorporate something earthy.
While much of French décor is about the luxury, don't forget to juxtapose your "fancy" pieces with vintage items, found objects, and made-by-hand accents. Ask yourself this—does it look like you found it at an open-air flea market in the South of France? If the answer is yes, then add it to your space.
For the Bedroom
1. The View, South of France Print, $299+ | 2. Willow Leaf Flush Mount, $328 | 3. Distressed Terracotta Vases, $12 | 4. Paule Marrot Amoret Swivel Chair, $1,398 | 5. Scroll Vine Inlay Six-Drawer Dresser, $2,998 | 6. Pari Rattan Daybed, $998 | 7. Dalmatian Pillow, $35 | 8. Monroe Velvet Round Pillow, $39 | 9. Old Pharmacy Floor Lamp, $359 | 10. Naylee Rug, $398+
Are you as inspired by Parisian interiors as we are?
We hope you found some pieces to love here, and don't forget to browse all of Gray's work from the French Riviera to add that laidback luxury to your own space.
Xx Team GM
Photos: Bailey McCarthy of Biscuit Home, Gray Malin