Hi Everyone,
Last year, I had the pleasure of doing a fabulous book signing in the stunning Hive Palm Beach. It was such an amazing time meeting so many smiling faces, including the dazzling sister duo behind Palm Beach Lately. Typical of a fun event, we only had so much time to chat, but we did exchange information as I definitely wanted to keep in touch. Luckily, I didn't have to wait long as I heard from the gals just a few short weeks later. It turned out that they were parlaying their success with Palm Beach Lately into a perfectly curated vacation rental, which they donned the Pineapple Pad. Much to my delight, they were interested in incorporating one of my Palm Beach aerials into the decor, and the rest as they say...is history. Today, I am excited to share their story as well as the adorable Palm Beach vacation rental they created for visitors to enjoy. Let's go!
Please tell us about yourselves and Palm Beach Lately?
We are sisters, Beth and Danielle, and we are the co-founders of the lifestyle brand, Palm Beach Lately! We are locals, born and raised here, and felt there was a missing voice for the younger generation that was starting to do some creative, new projects. We wanted a fresh place to share them, so 7 years ago we created our sunny blog out of our love for the Palm Beach lifestyle. Our passions have always been fashion, home, and travel, and we enjoy featuring our favorite fashion and home brands, as well as fun things to do both on the island and at some of our favorite destinations like the Bahamas, the Florida coastline, Nantucket, and Sea Island. We also recently launched our first vacation rental in Palm Beach called the Pineapple Pad with our friends from the lifestyle management boutique, The Enjoy Company!
The Pineapple Pad is such a great idea! What inspired it and how did you approach decorating it?
We love dreaming up new ideas, and one that had been on our minds for many years was a vacation rental. We thought this idea would be a great extension of our love for Palm Beach and blends our love for fashion, home, and travel in our own signature style perfectly. It has been such a dream come true seeing the Pineapple Pad come to life!
We wanted it to be a beautiful blend of old-meets-new Palm Beach and for guests to really feel like local Palm Beachers during their stay. Guests can enjoy some of our favorite fashion and home brands, as well as little luxuries like a pair of pink bikes, Beautycounter toiletries and so much more!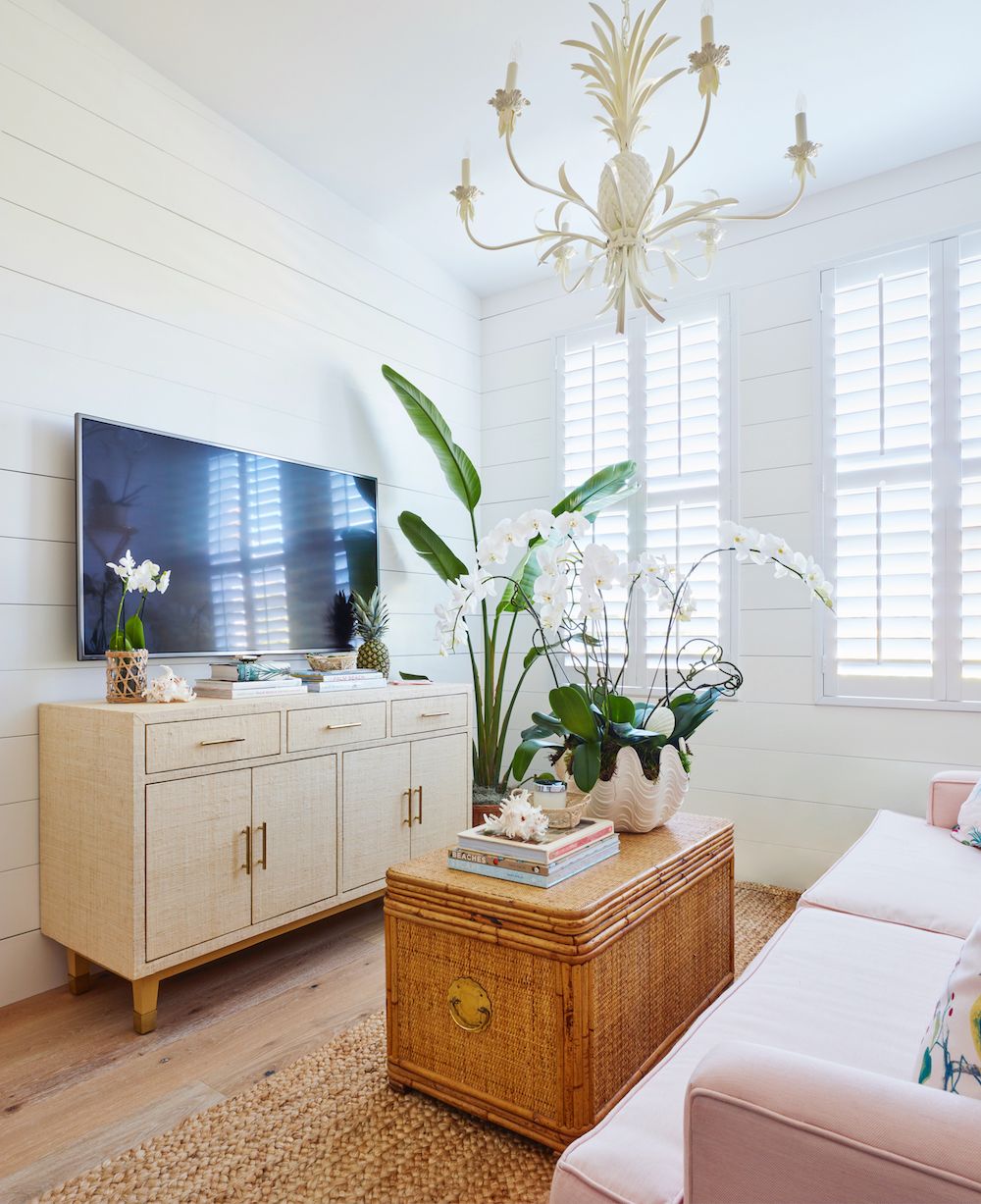 When it came to designing the bedroom space, we knew we didn't want to put a television on the wall. Rather, we really want our guests to relax so decided to go with a beautiful picture of the beach as it would be both refreshing and peaceful.
We also wanted the photo to be a local shot, so when we spotted Gray's "Palm Beach Loungers", we knew it was the perfect fit!
Could you both describe your home decorating style?
Beth - Our home décor has transitioned over the years. We started with more black, white, blush and gold and have been incorporating more wicker, rattan, and shells. I love textures so we have a wood and boxwood wall. We also have been bringing more of the outdoors in with white birds of paradise trees and lots of orchids in shell cache pots and baskets.
Danielle - Working on so many styling projects for the blog over the past several years has really helped me cultivate my style. I think the most beautiful spaces have the right balance of elegance, simplicity and a charming history that tells a story. I also really love designs that play up their location, so my home is definitely a refreshing spin on iconic Palm Beach style. I have a pair of pink and white striped awnings in our kitchen, a blush chesterfield sofa in the living room, lots of fun wicker and rattan pieces and accessories, and fresh florals and palms.
Lastly, what about the Gray Malin lifestyle brand do you connect with?
We love the whimsical, playful spirit of the Gray Malin lifestyle brand. There is this happy, don't take life too seriously feeling that makes us smile. We also love how adventurous and creative he is to get the shots. Gray is very talented, and we love watching the brand grow!
Love it! Thank you, Danielle & Beth, for sharing Pineapple Pad with us! For anyone planning a trip to Palm Beach, I think you may have found where you're staying, PineapplePadPB, and who to follow, Palm Beach Lately, for all the best local tips.
Cheers,
Gray
First Photo of Beth & Danielle by heatherholtphoto
Interior Shots by SheaChristine and BrantleyPhotography