With Valentine's Day and President's Day just a couple of weeks away, I've been reminiscing on some of my favorite getaways to take over a long weekend. Of course, it can be difficult to skip town on a weekend if you're trying to go too far, but depending on your home base, I have a few three-day weekend ideas that would be perfect for the upcoming holidays. First and foremost, the key to planning the perfect three-day weekend getaway is picking a slightly more mellow spot. Pick a destination that you know you can explore and thoroughly enjoy in just 72 hours, rather than ambitiously choosing a big, bustling city that would normally require a longer stay to get the full experience. Second, stick close to home.
At the end of the day, it's all about what kind of getaway you're going for. Whether you're aiming for romantic, laidback, or adventurous, there is an option for everyone, and each can be totally fulfilling in just a few days! Don't believe me yet? Keep scrolling to see which quick getaways have been my faves, then pack your bags and explore them for yourself…
PALM SPRINGS
When I think of getting away for the weekend, Palm Springs is a no-brainer. I've been a long-time fan of the destination, and for good reason. Not only is it an eclectic vacation spot suited for exploration and some unique photo-ops, but it is also perfect for kicking back and lounging in the sun. It truly is a whimsical location, filled with stunning design, interesting architecture, and mouth-watering food and drinks. With a combination like that, how can you go wrong? And of course, I can't mention Palm Springs without making a nod to one of my favorite stays, The Parker Hotel. If you want the full 411 on what to do, eat, and see in Palm Springs, visit our city guide here.
MONTAUK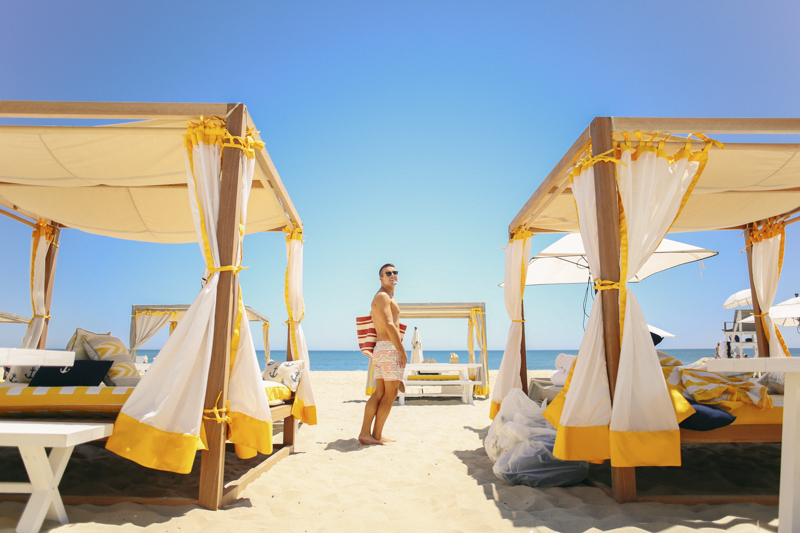 Not only did I have the fun opportunity to display some of my art in the beautifully unique Surf Lodge in Montauk, but the location itself is one for the books. Montauk, on the very Eastern tip of Long Island, is chock-full of breezy beaches, bright colors, and quaint buildings. Plus, there is no shortage of yummy brunch spots, and inviting shops lining Main Street. Basically, it has everything you need to enjoy a quick stay away from home, and you'll undoubtedly leave already wanting to go back. Even in the off-season, you can still enjoy gazing at the chilly but beautiful beaches and get some great deals on accommodations since it's not as crowded. To see more of this destination, explore my Montauk travel guide.
MARTHA'S VINEYARD
Martha's Vineyard is such a unique vacation spot, that you can't regret spending a few days here. I have family roots here, so for me it's a blast to tour the town seeing all the places I've heard so many stories about. Plus, this beautiful spot is actually an island just off of Massachusetts, so you feel like you're far enough removed to really get that "vacation feel." The location is the definition of idyllic—you'll truly feel like you're visiting a home away from home! Stroll the streets on foot (or on bike) to see the cutest cottages and shops, then stop for some delectable fish fare and catch a view of the lighthouse. To get the full scoop on Martha's Vineyard, visit my city guide here, and don't forget to take a peek at my collection of aerials from the area.
PARK CITY
Park City, Utah (just about an hour East of Salt Lake City) is one of the greatest places for all of you out there who can't get enough of those blankets of snow. During the winter months, Park City is a beautiful, yet intimate ski resort filled with fun activity on the slopes, and a bustling nightlife on Main Street. (Not to mention all that snow looks pretty great ) Winter snow or summer sun, Park City is packed with things to do, regardless of the season. During the summer, coast down the mountain on the Alpine Slide; during the fall, take a scenic drive to enjoy the changing leaves all throughout the mountains; and during the winter, bundle up by the fire with your love, or carve up the slopes!
LAKE MICHIGAN
Last, but most certainly not least, I love getting away to my family's lake house on Lake Michigan. I have spent countless summers and weekends bonding with family and friends here, and it will always be one of my favorite getaways! There's nothing like taking advantage of a long weekend to spend time at a place with sentimental value, and our lake house is that place for me. But don't worry, even if it's your first time visiting the area, I promise you'll still find plenty of adventure and relaxation on the lake.
No matter where you choose to spend your V-Day or President's Day weekend this year, I hope you get some quality time with those you love! And if you choose to travel, I promise any one of these destinations will not disappoint. What are some of your favorite places to get away to for a quick weekend?
Happy exploring,
Xx GM
Photos: Gray Malin