Hi Everyone,
Over the past few months, we've shared the news, traveled on the moon and showered with the best of them to celebrate our new little ones. I must admit, though that of all the things we've done for preparation of their arrival, I've enjoyed decorating their rooms the most with my friend and interior designer, Amy Berry. And today, I'm so ready to share, a sneak peek of their nurseries as well as a full reveal of their playroom. The full reveal of the nurseries will be featured in the March issue of House Beautiful where we will be covering everything from the furniture to the wallpaper, down to the most attention to detail accents that I love the most! Don't worry, though. We're going to cover a lot today that will satisfy even the most interior design reveal fans out there!
THE HALLWAY
To begin, I want you to imagine walking up the stairs. At the top, there is a special hallway with the master bedroom on one side and a set of Jack and Jill style bedrooms on the other. Considering we're having twins, this layout was especially advantageous.
In the middle is a cute little 'book nook', a laundry room and the staircase to our roof deck. I like to think ofthe nook as the beginning of the kid zone as you make your way from our master bedroom to the twin's rooms.
On a whim, we decided to hang a small framed Artist in Residence atop the bookcase. It was not part of the original plan but some of the best parts of decorating are the spontaneous ideas that just work!
PEANUT BUTTER'S NURSERY
![](https://res.cloudinary.com/gray-malin/image/upload/c_scale/gray-malin/blog-uploads/boy far out 1.JPG-aCVeQSk)
I'll start with Peanut Butter's nursery, which will also double as their shared room for the first six or more months. With twins, it is recommended that they sleep in the same room during the first year, as they are comforted by each others presence as well as it helps get them on the same sleep schedule. Hence, for this room, we went slightly gender neutral in the decor, yet it'll easily transition into just his room, once it's time for Jelly to go solo in her room.
From feminine girl's rooms to cozy boy's rooms, the Gray Malin at the Parker series has been an effortless choice for nursery artwork since its release, in 2015. With that said, it should be no surprise that I've always hoped to decorate with it for my own children's rooms. The only difficult part was choosing which ones to go with, but I'm very pleased with the five we eventually landed on.
For above the crib, it's everyone's favorite gentle giant, Always Welcome at the Parker II, which is a new personal favorite. Did you know that the elephant I photographed at the Parker Hotel is also the star of the movie, Water for Elephants with Reese Witherspoon?
Then for the gallery wall, we decided on four small prints that had a touch of greenery for cohesiveness, in addition to helping draw in the greenery of the outdoors. The four prints each feature a different animal: Party Animal (top, left), Afternoon Croquet (top, right), Hide & Seek (bottom, left) and Set Point (bottom, right). I think that all five of these prints will effortlessly grow with the twins as well as work their way into a variety of other decorative spots in the house.
Before we cross over to Jelly's room, I wanted to point out a very sweet detail that was added to both of their rooms. The trim running along the outer lines of each room may look like it's simply part of the wallpaper, but it is actually ribbon that we had specially cut and installed.
JELLY'S NURSERY
Crossing the hallway into Jelly's room, I'm sure you'll see an immediate contrast between the two.
![](https://res.cloudinary.com/gray-malin/image/upload/c_scale/gray-malin/blog-uploads/far out girls.JPG-Kz41rw4)
It is incredibly serendipitous that arguably two of my most glamorous series, Coral Casino and Beverly Hills Hotel, were released within the past year, as I couldn't imagine decorating our little girl's room with anything else.
For those of you who are currently in the planning phase of decorating your girl's nursery, I hope you find some genuine inspiration in the framed prints selected for Jelly's room.
![](https://res.cloudinary.com/gray-malin/image/upload/c_scale/gray-malin/blog-uploads/girl - bhh vert.JPG-fVb6vhk)
Considering many wonderful adults have been ordering these prints for themselves, I am confident Jelly will grow effortlessly into them as her style and decor taste matures.
THE PLAYROOM
One of the numerous perks to working with an interior designer is that sometimes they see something that would have never occurred to you. Case in point, the twin's playroom is an office space downstairs that we hadn't been using very often. Being a Mom herself, Amy was quick to point out that Jeff and I would want a place downstairs for the kids to change diapers, keep toys and offer some privacy without having to go up and down the stairs.
And just like that, the room had its purpose. Working with Serena & Lily, Amy and I transformed the room into something playful yet sophisticated.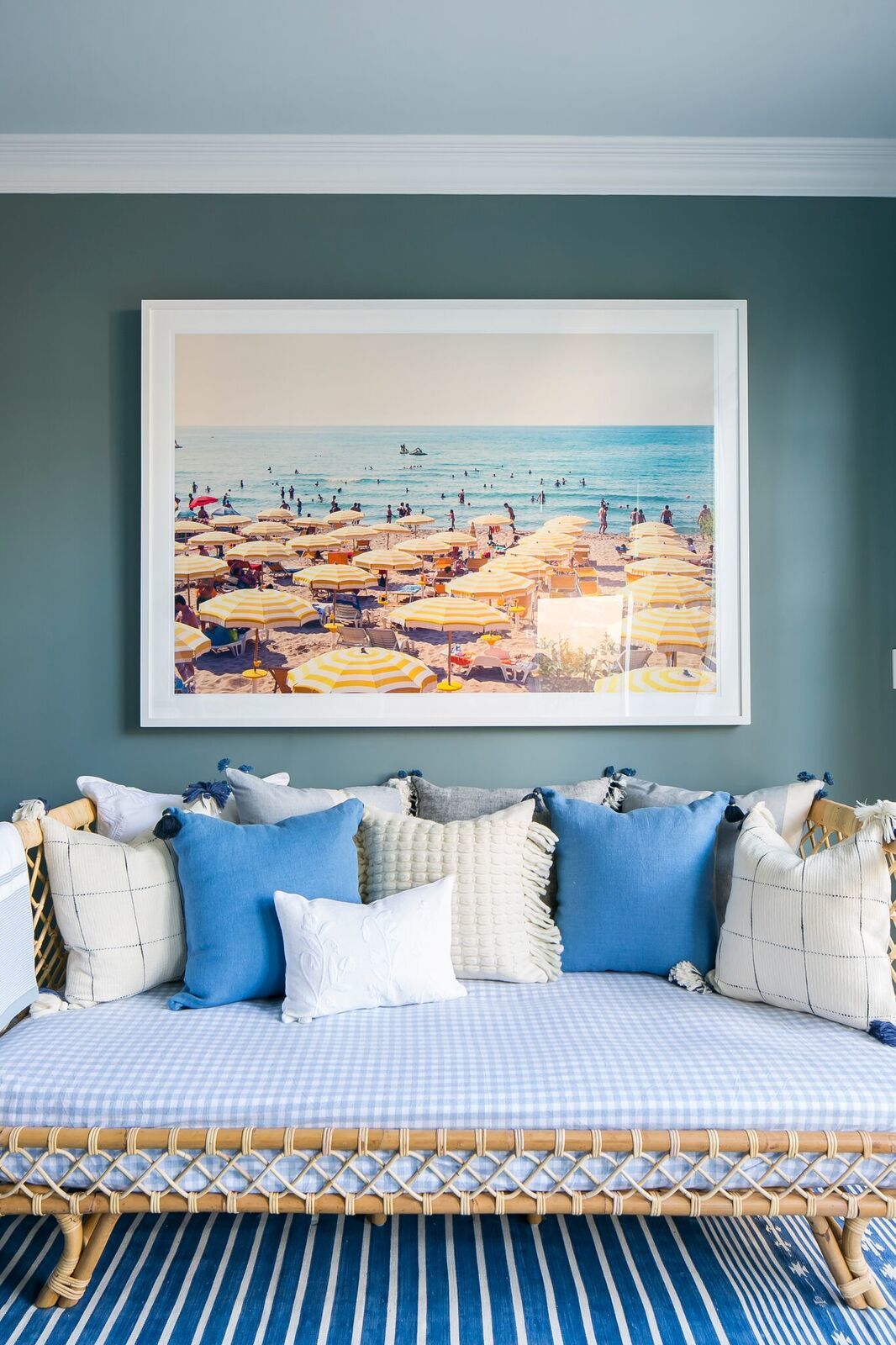 We were lucky enough to get our hands on the brand new Farrow & Ball paint color, Du Nimes. Its medium blue shade was the perfect base for the room. It really makes the bright white changing table pop and ties the adorable felted wall animals with the pop of yellow in the large Cefalù beach framed print above the daybed.
![](https://res.cloudinary.com/gray-malin/image/upload/c_scale/gray-malin/blog-uploads/changing table.JPG-HYUMRPY)
I'm looking forward to spending a lot of time in this comfy chair flipping through Beaches as well as reading to the twins from Be Our Guest!
And, there you have it! I truly hope you enjoyed seeing the artwork that was chosen for the twin's nurseries, as well as taking a deeper look into their playroom. It has been a complete joy designing these rooms and now, the only thing left is for them to get put to use. Thank you all who have shared in this experience...I can't wait to introduce you to our precious bundles of joy! More to come in the March issue of House Beautiful…
Cheers,
Xx
GM
Photography by Ryan Garvin
Have you seen?
Start with Art - Mary Beth Wagner Interiors
Valentine's Day Drink Stirrers
Valentine's Day Drink Stirrers