Hi Everyone,
Welcome to the Gray Malin Flower Shop! I'm so excited to be launching my collection of handmade faux florals in collaboration with Diane James Home. If you remember, earlier last year I shared a post with you all about how much I loved having faux florals throughout my home. Over time, that love only grew and it inspired me to work with them to create an entire collection inspired by my artwork and home decor style.
Each arrangement is handmade to perfection so that your favorite flowers will bloom all year long. The collection includes 10 different arrangements for you to choose from. Whether you want a small bud for your nightstand, a grand arrangement for your entryway, or a pop of color for your coffee table, there is certainly something in this collection for everyone. Today, I thought I'd highlight some of my favorite pieces of the collection and give you a glimpse into how I've styled them in my own home.
I can't get over how beautiful this pink and white peony arrangement is. The cane detailing on the vase makes the whole arrangement feel very elevated and adds nice texture to it. This piece is perfect for a larger coffee table, especially if you're looking to bring more color into the space. I love this piece so much, we made it in a mini size too!
This double orchid is such a show stopper. I styled it on the side table next to my front door and I love how the white flowers pop against the colorful art I have hanging behind it.
There's something so serene to me about having flowers on my night stand and this bud vase is the perfect piece to keep there. I love how it's the first thing I see in the morning and the last thing I see before I go to bed.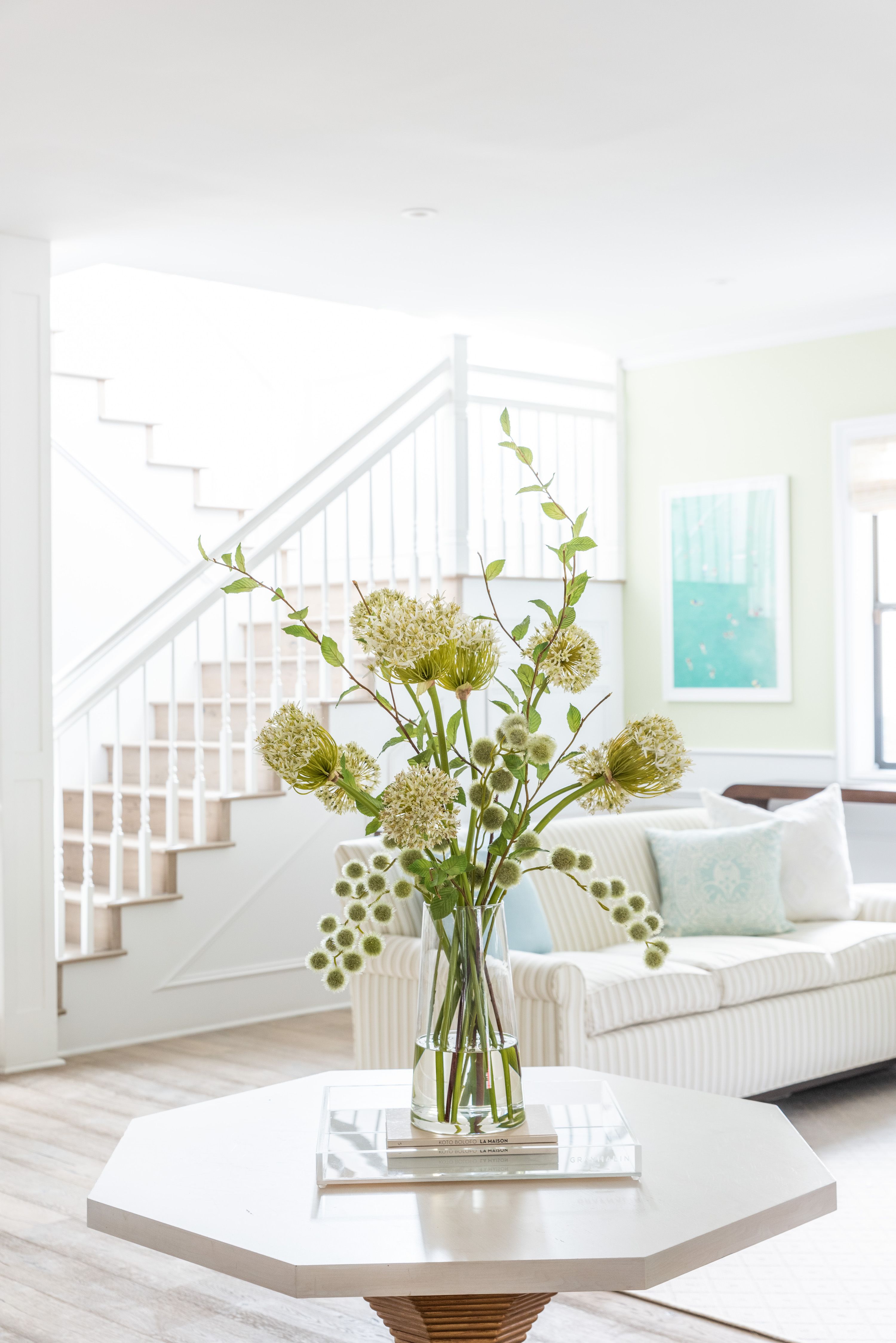 I love having a grand floral arrangement in my front entryway so your greeted by it as soon as you walk in the door and this beautiful green and white piece makes the perfect statement.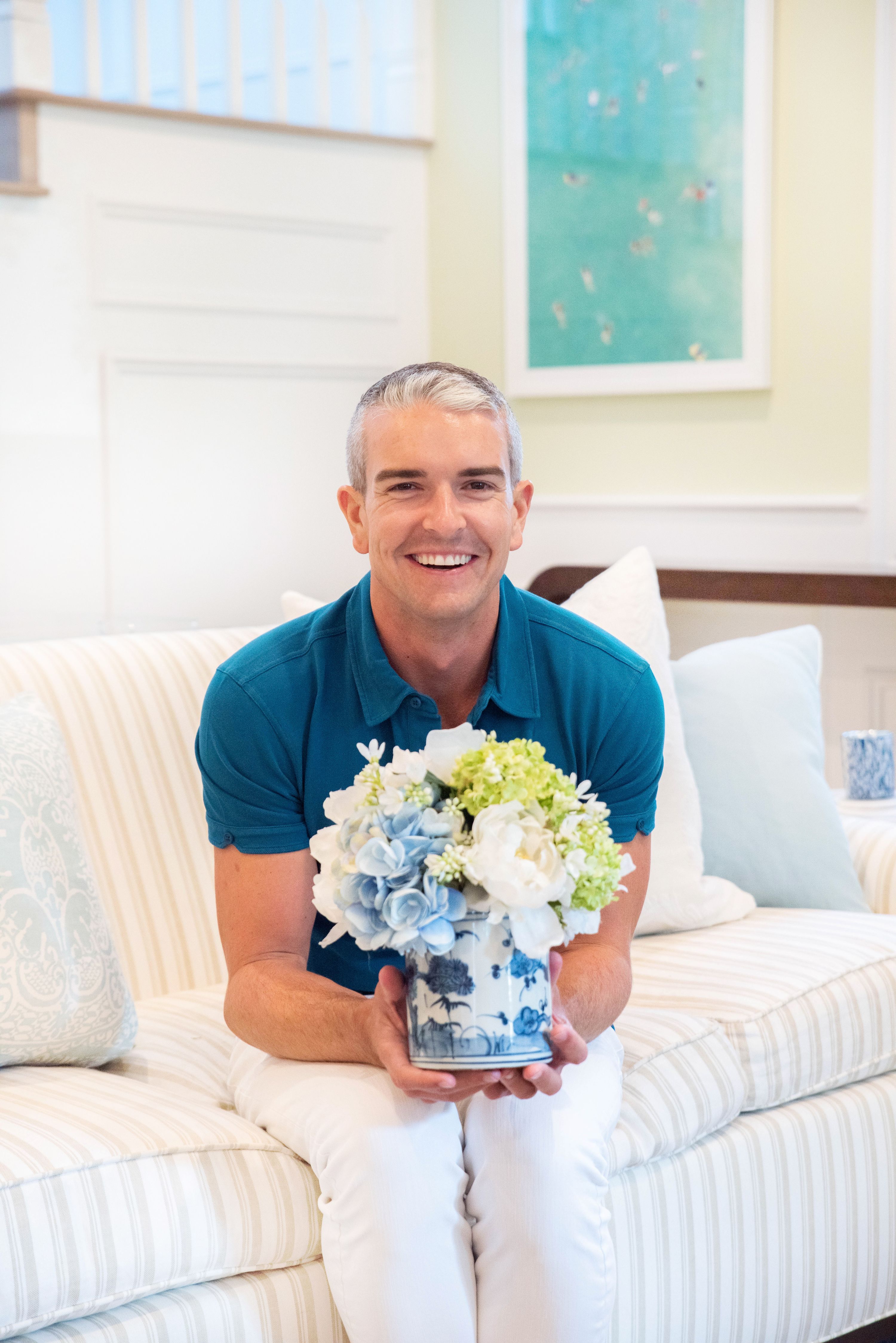 If you're new to the world of faux florals, I love them because they are so low maintenance. No changing the water, no trimming the stems, and no mess if it accidentally gets knocked over. I promise, once you go faux there's no going back!
I invite you to head over to my website to explore the entire collection and find the perfect piece for your home.
Cheers!
Xx
Gray
{"slides":[{"label":"New Beach Totes","url":"/lifestyle/new-beach-totes","image":"https://res.cloudinary.com/gray-malin/image/upload/c_scale,w_1000,q_50,f_auto/gray-malin/blog_posts/hero_images/000/001/926/original/0_-_Tote_Bag.jpg?updated=1620882995"},{"label":"10 Parker Prints You Need Now","url":"/lifestyle/10-parker-prints-you-need-now","image":"https://res.cloudinary.com/gray-malin/image/upload/c_scale,w_1000,q_50,f_auto/gray-malin/blog_posts/hero_images/000/001/923/original/0-Free_Framing2268-parker.jpg?updated=1619483591"},{"label":"Ride in Style with Gray Malin x Alto","url":"/lifestyle/ride-in-style-with-gray-malin-x-alto","image":"/images/missing.jpg"},{"label":"Gray Malin Virtual Book Tour","url":"/lifestyle/read-all-about-it-gray-malin-virtual-book-tour","image":"https://res.cloudinary.com/gray-malin/image/upload/c_scale,w_1000,q_50,f_auto/gray-malin/blog_posts/hero_images/000/001/924/original/Blog_Banner-new_crop.jpg?updated=1619743001"},{"label":"Introducing Gray Malin x Supergoop! ","url":"/lifestyle/introducing-gray-malin-x-supergoop","image":"https://res.cloudinary.com/gray-malin/image/upload/c_scale,w_1000,q_50,f_auto/gray-malin/blog_posts/hero_images/000/001/921/original/0-SUPERGOOP_GRAYMALIN_03_SGKIT_PRINTBACKDROP_FINAL_JENNA_GANG_v4.jpg?updated=1619476149"},{"label":"Introducing the Gray Malin App + How to Use It","url":"/lifestyle/introducing-the-gray-malin-app-how-to-use-it","image":"https://res.cloudinary.com/gray-malin/image/upload/c_scale,w_1000,q_50,f_auto/gray-malin/blog_posts/hero_images/000/001/888/original/0-0App_Launch-11-web_asset.jpg?updated=1618947736"},{"label":"Introducing New Games For Summer","url":"/lifestyle/introducing-new-games-for-summer","image":"https://res.cloudinary.com/gray-malin/image/upload/c_scale,w_1000,q_50,f_auto/gray-malin/blog_posts/hero_images/000/001/887/original/Games_Lifestyle-27.jpg?updated=1618533802"},{"label":"Discover Gray Malin Collector's Edition","url":"/lifestyle/discover-gray-malin-collector-s-edition","image":"https://res.cloudinary.com/gray-malin/image/upload/c_scale,w_1000,q_50,f_auto/gray-malin/blog_posts/hero_images/000/001/886/original/0-Collectors_Edition-23.jpg?updated=1617673131"}],"label":"Have You Seen?"}
{"id":null,"number":null,"item_total":"0.0","total":"0.0","ship_total":"0.0","state":"cart","adjustment_total":"0.0","user_id":null,"created_at":null,"updated_at":null,"completed_at":null,"payment_total":"0.0","shipment_state":null,"payment_state":null,"email":null,"special_instructions":null,"channel":"spree","included_tax_total":"0.0","additional_tax_total":"0.0","display_included_tax_total":"$0.00","display_additional_tax_total":"$0.00","tax_total":"0.0","currency":"USD","considered_risky":false,"canceler_id":null,"display_item_total":"$0.00","total_quantity":0,"display_total":"$0.00","display_ship_total":"$0.00","display_tax_total":"$0.00","display_adjustment_total":"$0.00","token":null,"checkout_steps":["address","delivery","complete"],"bill_address":null,"ship_address":null,"line_items":[],"payments":[],"shipments":[],"adjustments":[],"credit_cards":[],"promotions":[],"total_shipment_cost":"$0.00","permissions":{"can_update":false},"use_shipping_for_billing":true,"use_new_ship_address":true,"use_new_bill_address":false,"selected_ship_address":null,"selected_bill_address":null,"display_completed_at":null,"item_count":0,"subtotal_minus_promos":"$0.00","coupon_codes":[],"includes_framed_items":false,"contains_subscription":false}
This site uses cookies to allow better navigation. By closing this banner, scrolling this page or clicking any of its elements, you are giving consent to all cookies. To learn more and to change your preferences please see our Cookies Policy.