Hi Everyone,
The addition of twins to our family has certainly taught me A LOT in just the past few months. But aside from the life lessons in general, I've also had the opportunity to shop for baby gear for the first time ever, and discover what items have been serious life-savers after welcoming twins. That said, if you're anything like me, then choosing baby gear walks a fine line between form and function—obviously the items need to do their job, but it doesn't hurt if they're also chic.
So whether you're on the hunt for luxury baby gear to buy for your own babies or you're compiling your baby registry checklist for others to gift you, I can promise you won't regret taking a peek at these products below. I've used a handful of them personally since Max and Dove came into our lives, and don't know where I would be without them. And the other half? Well, let's just say I'm adding them to my shopping cart and bringing them home ASAP, because this is truly the most luxurious baby gear out there…
If you follow any new mom or dad on Instagram, then you've probably seen this modern and innovative bassinet. It's so sleek on the outside, but that's just the beginning. It's equipped with a "5-second swaddle" that keeps baby on their back all night long, built-in white noise, soft rain, and womb sounds to calm your baby, and even rocks gently back and forth to soothe your infant.
You would never know from the looks of it that this is a diaper bag. It's structured, super functional, and roomy enough for everything you can imagine—insulated pocket for snacks and bottles included!
Wave is a very special combination of luxury and innovation, designed to give your newborn the very best comfort and protection, yet future-proofed for a second baby – all in one package. Considering we had two at the same time, this sleek yet highly functional stroller was a must add to our registry. Furthermore, the tailored fabric set is nicely padded and creates a beautiful, polished look. The twins' have already enjoyed many cozy stroller rides in his & her Wave Bassinets.
I mean… Do I even need to explain this one? I'm pretty sure there is no cuter bath wrap on the market than this one from Hermés in the same style as their iconic Avalon blanket.
Can you believe this baby play center turns into a toddler activity table? I would have never guessed. It includes a leather seat for baby in the center and turns 360-degrees for easy movement and interaction as your baby learns to sit up and be mobile.
A baby bouncer is something that will be a constant in both yours and your baby's daily lives, so it's worth doing the research and getting the best. The 4moms® mamaRoo®4 infant seat bounces up and down and sways from side to side, just like you do when comforting your babies. I can say with the utmost certainty that it has been a lifesaver in more ways than one!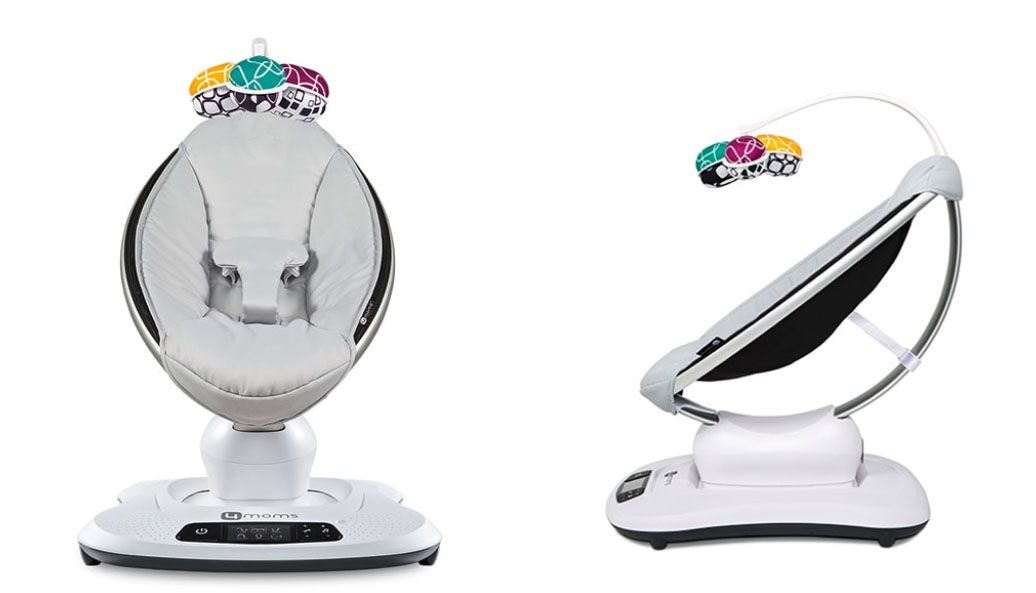 I'm filing this one under baby products I didn't know I needed… This sterilizer is actually registered with the FDA as a medical device and can dry, sterilize, and remove odors from just about anything. (And since babies put anything and everything into their mouth, this is much needed!)
If we're being honest, lots of baby high chairs are bulky and not pretty. I love that this one is so sleek and minimalistic, and it also converts into a toddler chair so you can put it to use for quite a few years.
Looking for another stroller suggestion? Well, not only is this one of the chicest strollers I've seen (yes, it even has full-grain leather details!) but it also allows all kinds of configurations to push around up to three children, which is obviously a must with twins or when you have more than one stroller bound child.
There's literally nothing cuter than a Peter Pan collar on an infant. This onesie might be a splurge, but it's one of those things that any parent would hold onto and "aww" over even years after their baby is grown.
As mentioned, the baby bouncer is something that will be out in your space often, so it's worth finding one that doesn't detract from your existing décor. This stylish little rocker comes in so many different colors, so you can find the perfect one for your space.
This adorable whale shaped bathtub grows with your baby through three stages and offers Smart Sling™ support. The sling locks into two ergonomic positions: higher for full-body support and lower for seated support. Therefore, you're guaranteed an excellent product combined with countless cute bath time moments.
As seen in our twins' playroom, these felted wall animals from Serena & Lily are too cute for words and effortlessly bring cheer to any children's room.
My team gifted each of the twins a pair of adorable Hermés booties a few months before they were born, and they are still one of my favorite gifts to this day. Babies grow out of clothing quickly, but a pair of booties like these is truly something that can become an heirloom to pass down through generations, and will always remind you of how tiny your baby once was!
What's luxury baby gear would you add to your dream registry?
I'm sure I'll keep finding more things to add to my wish list with every stage the twins go through. I'm sure you parents out there can relate. ;)
xx
Gray
Photos: Ryan Garvin for Gray Malin