Hi Everyone,
As you can probably guess, a big part of working in the business of fine art photography is dealing with design and décor to create an overall aesthetic that inspires your audience (and myself as the photographer!). Since my prints are framed and hung on the walls of bedrooms, living rooms, bathrooms, laundry rooms and even hotels, it's only natural that interior décor is an area of interest for me—one that directly relates to my day-to-day work.
That said, one of the joys of my job is taking my work and reinventing it to see how it can fit into different spaces for customers, clients, and even spaces of my own, like my home and studio. Just like how I LOVE sharing how creative you all get when working my artwork into your own décor style, I have personally found a handful of online shops that I find myself frequenting for inspiration as well as a new piece or two of furniture and décor accessories.
I have a long running relationship with these 10 décor companies below. If you love the aesthetic of my brand, then I think these shops are for you, too! Now, for the love of online shopping, please enjoy…
An obvious #1, my favorite place to stock up on artwork is from my own studio! I mean, the studio itself is decked out in prints from nearly all of my series—from my humble beginnings to where I am today—and my house is about 90% decorated with my work as well. What can I say, there's truly something for everyone in the GM shop, and it's a great way to give yourself a little escape no matter where you are. By the way, did you know that we have a Shop by Room feature on the site? I really love it because it helps making a selection less overwhelming. It's also broken down by decorating style, too, so whether your Transitional, Contemporary or something else completely...there's something for you to connect to!
A long-time favorite of mine, Serena & Lily continues to be one of my go-to shops for classic, quality pieces and prep-meets-coastal décor. They even helped me makeover our guest room when we were in our first home, and I always loved the rattan beds paired with Girl in Pink, Bora Bora and Man in Red Shorts, Bora Bora. Plus, it's where we purchased the raffia dressers that Jeff and I have in our bedroom, and they also make incredible outdoor furniture, rugs, and accessories that are a must for entertaining.
I absolutely love CB2 for its modern and eclectic design. I'm always able to find all sorts of super fun pieces here, from blush lounge chairs you can find in the GM studio, to this amazing llama with disco boots that reminds me a little bit of the whimsy of the llamas from Far Far Away. Haha! I'm obsessed with it.
Yes… Neiman Marcus is about so much more than just clothes, bags, and shoes! Not only have I had fun collaborating with Neiman Marcus in the past to offer special edition prints and products to customers, but I also love the luxury décor and tabletop accessories they offer both in-store and online. Plus, it never hurts that they carry tons of items by Juliska, one of my all-time favorite brands for entertaining accessories.
You know I love a good, bold décor piece to add some color to a room, and Oomph is my go-to place for these accents. They have the best selection of colorful pieces that still look high-end and chic, and they even offer bespoke design services to tailor their items to fit your space and style perfectly.
Lulu & Georgia always seems to be bursting at the seams with must-have décor. You won't find anything "basic" at this shop—what I love about their company is that everything seems so unique and adds a special touch to any room. They have an amazing selection of rugs, and I especially love all of their palm leaf accents… Would you expect anything less from me?
This one is all in the name—Beautiful Bed Co. literally does make some of the most beautiful beds in both wooden and upholstered (and combination) styles. But don't take the name too literally! They actually make tons of other bedroom furniture for both adult and kids rooms. I love this company for a master bedroom, and you all may or may not be seeing a bed frame from this shop when I eventually makeover our master bedroom… but you'll just have to wait to see to know for sure. ;)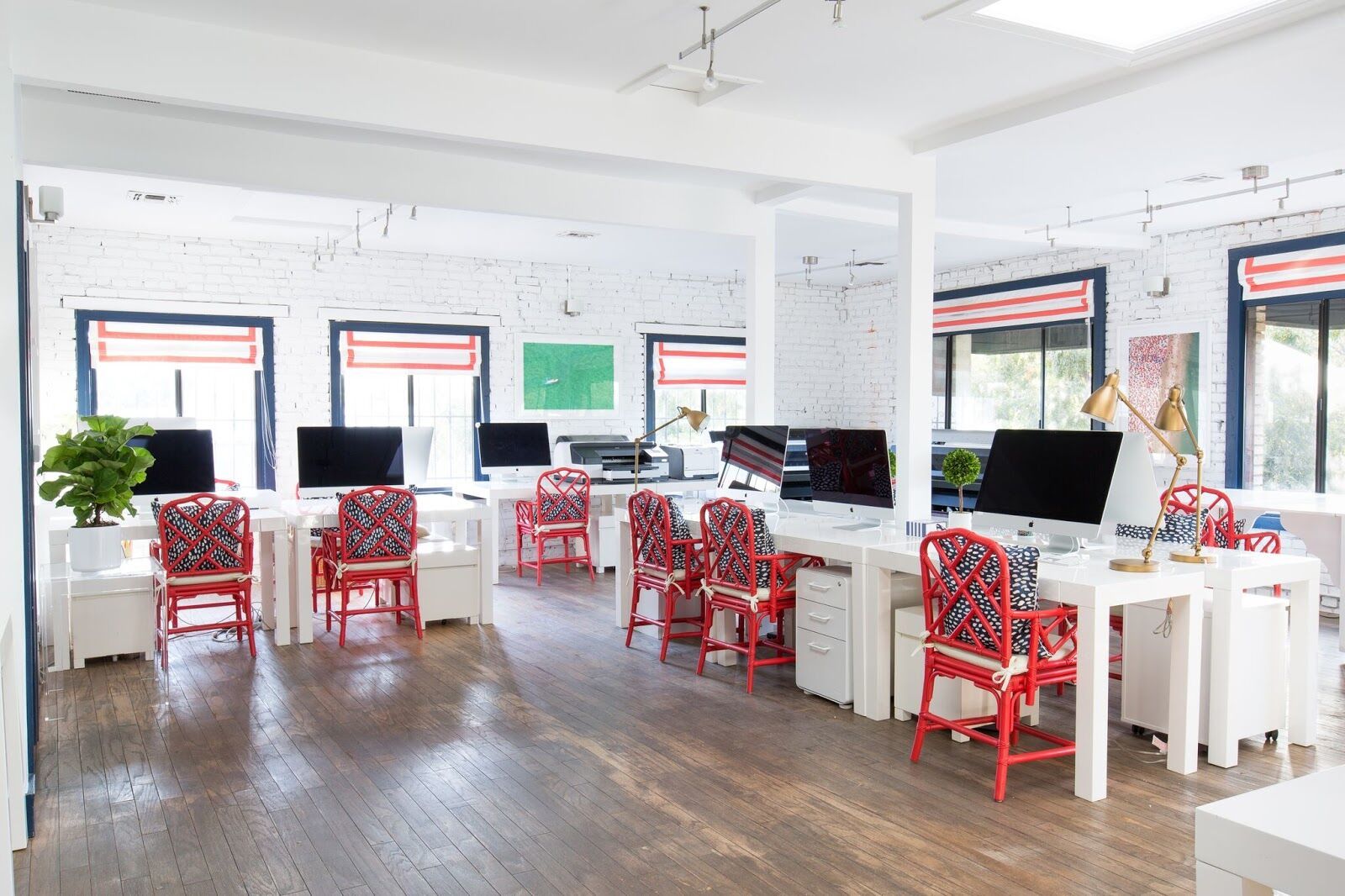 Surprisingly enough, when we gave our studio a little makeover one of my absolute favorite things about it were these eye-catching coral chairs from Ballard Designs (which are on sale right now!). After seeing these, I immediately did a deeper search on their website to find more pieces for the studio, because I loved these so much! Their brand offers European-inspired home furnishings, and I personally love the way their pieces add a unique touch to the modern framework in our studio.
I recently discovered this décor brand, and it's to-die-for. They offer everything from sideboards and desks, to seating and tables, and the best part is that all CEH label pieces can be made custom with your preference of fabric and dimensions to fit your space. Plus, they offer bespoke services so you can bring one-of-a-kind designs to life! They really do it all.
A crucial part of any well-decorated home is the kitchen and dining room! To this day, Williams Sonoma is still a foolproof place to get quality kitchen appliances, and they also have a ton of great bar cart essentials, classic kitchen towels, pretty cookware and more. While these pieces might not exactly be front and center in your home, they surely play a part in creating a warm and inviting abode.
Are you in love with any of these shops like I am?
I hope you found at least one or two new shops to try next time you redecorate… They might just become your new favorite!
Cheers,
xx
GM
Photos: GrayMalin.com and Header, first & sixth by Laurel & Wolf