Hi Everyone,
I know we're well into our 30% Off ALL Prints sale right now, but I can't resist to take a pause and showcase this mother of two's adorable decor style! Please allow me to introduce you to Meg Young, whom I met via my tremendous experience with all things Kate Somerville. Not long after we met, Meg became pregnant with her first little one, Riley. Then no sooner had I congratulated her on her healthy baby girl, Meg announced she was pregnant with baby number two! Needless to say, I was overjoyed for Meg and her husband's growing family! Knowing she was already a collector of my work, I was excited to learn that she planned on expanding it even further to decorate for both Riley and baby Emmy, who was born earlier this year. Without much further ado, let's visit Meg and see how she's doing it all...
Meg, won't you please tell us a little about yourself?
I am a wife and mom to Irish twin girls, Riley & Emmy, and a sweet golden-doodle, named George. I moved to LA from New York City 6 years ago, seeking better weather and a more laidback lifestyle. I live with my family in Manhattan Beach - a charming beach town just south of LA that reminds me so much of my East Coast roots with all the Cape Cod and Nantucket style homes. I try to take advantage of the amazing weather as much as possible. We spend a lot of time outdoors and really enjoy living by the beach. An ideal weekend day with my family includes riding bikes downtown to the beach, lunch and ice cream, then coming home to swim. It feels like endless summer living here!
Could you give us an overview of what your business is all about?
I've been a beauty publicist for 11 years. I had always worked for companies, both on the agency side, as well as in-house for brands. Shortly after I found out I was pregnant with baby #2 (#1 was only 3.5 months old), I decided I needed more flexibility in terms of when and where I worked. So, at 7 months pregnant I left my corporate job this year to start my own PR & Influencer Marketing consultancy. Meg Young Media Group specializes in prestige beauty, crafting and driving the PR strategy for brands like Kate Somerville Skincare, Jouer Cosmetics and Lancer Skincare. The goal of my business is to work with a small and select roster of great brands that I am passionate about, and people I truly enjoy working with, to offer in-house quality service.
Sounds like it's been a busy year! What are the challenges as well as the joys of being an entrepreneur? How do you juggle being a mom, wife and business owner?
As an entrepreneur, I miss the energy and camaraderie of working in a big office environment, but the tradeoff is that I get to see my kiddos throughout the day. That beats even the most amazing co-worker! I had thought working for myself would be easier, but that is not necessarily the case. I have flexibility in my schedule which is amazing, but I work just as many hours (if not more!) than I did before. The difference now is that I can work when and where I want.

Balance?! I am still seeking that balance! Kudos to the working parents who do find the balance…and please give me your advice! I'm an A-type personality and having children has quickly made me realize that everything can not be perfect all the time, and that that's OK.

I try to focus on work during certain hours (generally 8:30 am – 5:30 pm) and turn it off and give 100% to my family during the off hours. I also try to carve out time for one activity during the work week that I can do with my girls, like a class or trip to the pier. If I'm never able to do that, that defeats the whole purpose I left my corporate job. Then I maximize the heck of our family time on the weekends!
Will you tell us more about your style when it comes to decorating your home/dream space?
I've always loved interior design. Making a home feel warm and inviting, while also reflecting my personal style is something I really enjoy. I would call our home décor style "elegant coastal," because it's polished, but beachy. A lot of my inspiration comes from Aerin Lauder's Hamptons home. It's bright and light in shades of blue and white, with loads of chinoiserie, always fresh hydrangea around, and way too many pieces of coral. We live a mile from the ocean, so I wanted our home to have a beach house feel.
Did you approach decorating the girl's rooms different from the rest of the house?
We have five of Gray's prints in our home. They are all very different and each fit the room they're in. Both of the girls' prints are fun and a little whimsical. For Riley's (my eldest) nursey I was inspired by a photo I found of a pied-a-terre in Paris. It was so beautiful and feminine and very neutral with a white and cream palette. Coincidently, Gray released his Ladurée print while I was pregnant with her and in the midst of designing the nursey. It was the perfect fit for her feminine, Parisian vibe.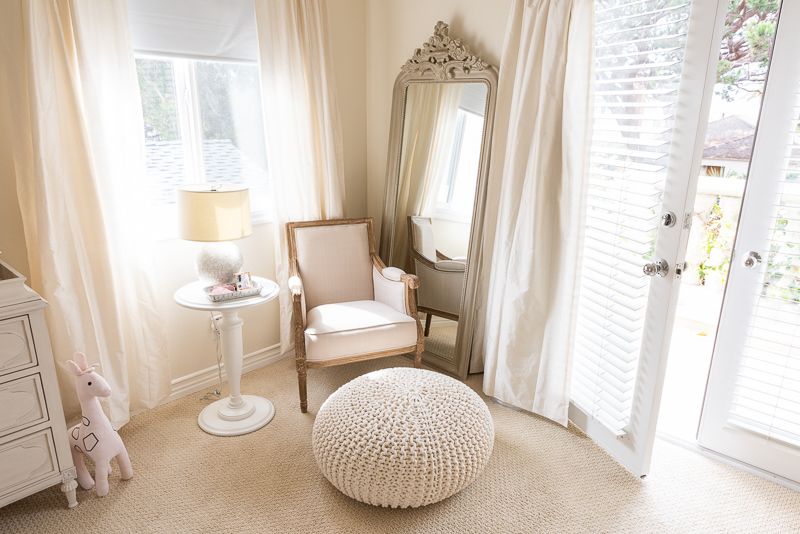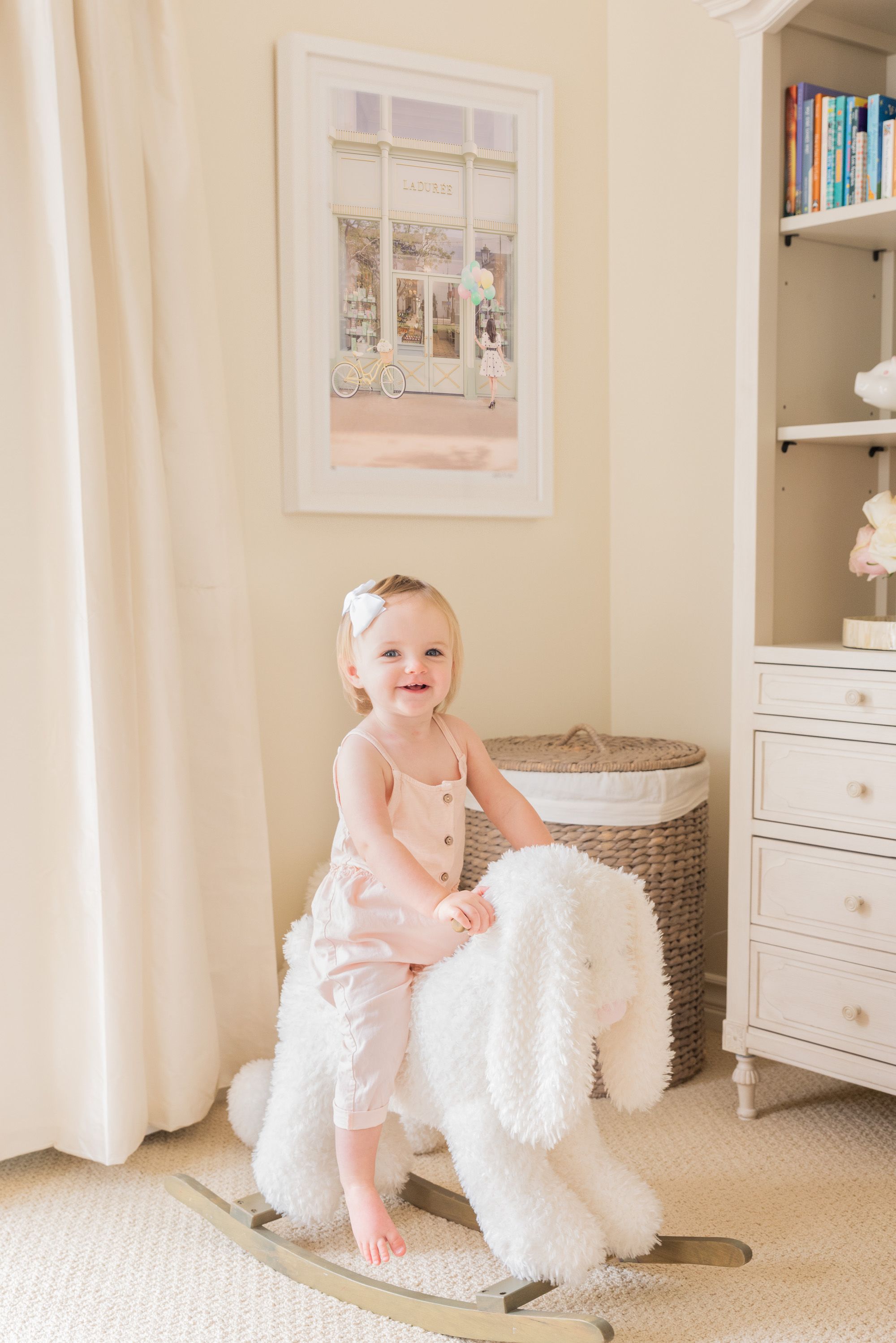 For Emmy's room, I wanted to stick to the feminine theme, but add a little more color. I went with a beautiful soft pink wall color (Benjamin Moore's Pink Bliss) which I selected to compliment the Party Pig photo. I added a little more glamour in Emmy's room with an antiqued mirrored dresser and accents. I hung a canopy over her crib to add a princess-like touch.

I love Gray's Parker Collection for a nursery. I thought the Party Pig was perfect for a little girl's room because of all the pink hues. I have a massive sweet tooth, so I loved the little piglet surrounded by jars of candy. I decided to paint the walls of Emmy's nursery a soft pink to compliment the pink of the photo.
Did you do anything different with the second nursery than the first? Anything, in particular, you did for both?
I loved Riley's nursery so much that I actually found it hard to make Emmy's different. In fact, they actually have the same crib, just in different colors. Overall I think their rooms are different, but complimentary.

One very special consistency is a framed photo of my mother, whom I lost when I was young. I want my girls to know that their grandma is their guardian angel and watching over them always, so I have a photo of her on each of their nightstands. I also have amethyst (healing/serenity) and rose quartz (the love stone) in their rooms. I'm not convinced they do much of anything, but they're pretty and I like what they stand for.
That is beautiful, Meg. Okay, one last question, what do you connect to the most with the Gray Malin lifestyle brand?
There's a sense of escapism and magic that comes with Gray's photos. I discovered his photos years ago when they were only beach aerials. I loved the ability they have to transport you to another destination. When I first discovered Gray's prints I was still living in NY, so I loved the beach prints to bring me somewhere warm and tropical. Six years later and living in LA, I love all his New York photos because they make me feel like home.

As for Riley, she loves the Party Pig photo. Every time she goes into Emmy's room she point up at it! We may have to trade photos before Emmy is old enough to know.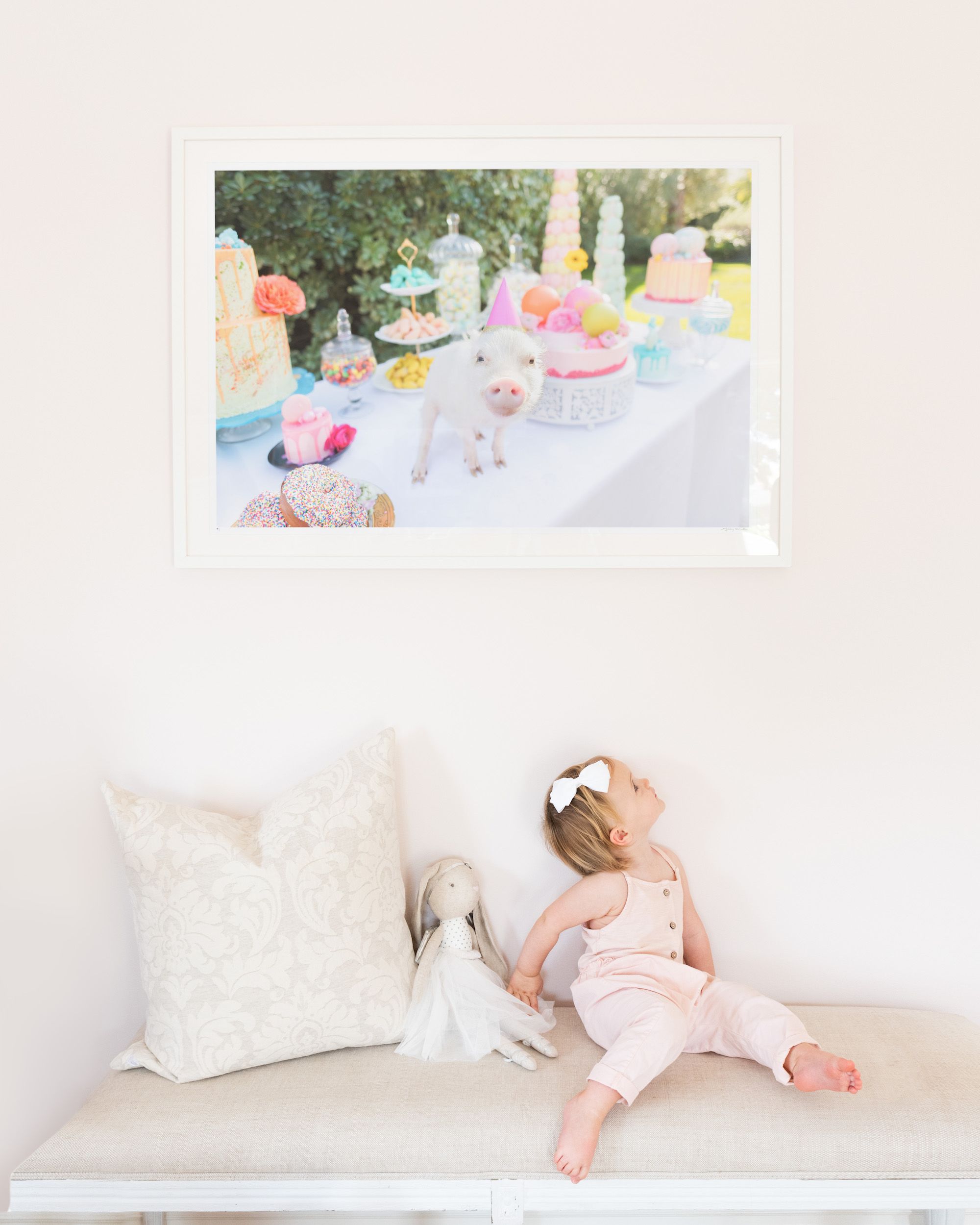 OMG! I love it! Yes, she may need to make a switch with Emmy. But I have to say, I think that's a pretty cool option for two sisters to rotate artwork like the way they would a piece of clothing. Well, thank you, Meg, for sharing your precious little one's rooms! It was a pure joy seeing how you decorated both girl's rooms, and I am sure you've inspired a reader or two following along.
If you're loving what Meg has done with her home, head to the GM Shop to take advantage of our 30% Off ALL Prints Site Wide...right now.
Cheers,
xx
GM