Hi Everyone,
Today's reveal is our master bedroom and bath, and I must admit this is the largest personal design project I have ever taken on. Working with Homepolish Interior Designer, Shana Wardle of Sloane & Studio Interiors, was quite the experience. Considering it was the master bedroom and a place where I spend a considerable amount of time, I decided to go all out on this project. It definitely was not easy but often the greater the challenge, the bigger the reward!
In this particular case, I can wholeheartedly say that the effort that was put into each and every inch of this room was 100% worth it. Let's start from the beginning, shall we?
BEFORE
The master bedroom looked more like a gallery space or a yoga studio, than a cozy bedroom when we first moved in. With twice the amount of square footage as our previous bedroom, I had a blank canvas to work with and an infinite amount of directions to go in.
It wasn't just the bedroom, either. Our new bedroom also came with a larger bathroom, which I am certainly not complaining about! I truly loved the entire space the first time I set eyes on it, but I'm not going to lie - decorating the master bedroom and bath was more daunting than it was exciting….at first.
THE INTERIOR DESIGNER PROCESS
I felt at ease going into it as I knew from past experience that Homepolish was going to connect me with the perfect designer for the job. After reviewing a few options, I landed on Shana and our first meeting was scheduled, soon thereafter.
For anyone who hasn't worked with an interior designer or service before, here's a quick idea of what to be ready to discuss:
Project Scope: In my case, it was the master bedroom and bath.
The Budget: I had an amount in mind, which I shared with Shana, as transparency is the most time efficient way to work with your designer.
Timeline: In regard to timing, I wanted it to be done within six months from the start date.
Style Preferences: Light, white & minimalist? Boho & colorful? It's time to pull up that Pinterest board, bring out those magazine tears and share it all with your designer because this is when they learn about your style. They'll absorb all of this information and translate it into your new living space.
The Specifics: For this project, it included furniture, lighting, paint, wallpaper, window dressings, rugs and of course, artwork.
The Logistics: By this, I mean the specifics that should be accounted for within the budget, as well as the timeline. For example, we had our bed frame custom made, which meant that things like ordering, payment and delivery schedule all needed to be considered, in order for expectations to be managed. *Just in case it doesn't go without saying, at this point in the process, you're both just doing your best to give an educated guess on these answer
Up next, the designer takes all of this information and translates it into a proposal and mood board. This is crucial as it's their opportunity to visually show you their takeaway from the first meeting. Shana's proposal included multiple renderings of the room, showcasing her suggestions such as the following:
Color Palette
Patterns & Texture Selections
Furniture
Lighting Fixtures & Window Treatments
Artwork
From there, it's all about….
TURNING INSPIRATION INTO REALITY
When Shana and I really got into the research and revision process, I was fresh off a trip to Lyford Cay and Harbour Island in the Bahamas. During the trip, I stayed at The Dunmore, which is known for its chic beach cottages. Inspired, I wanted to bottle that experience and combine it with some of my other favorite coastal towns like the Hamptons and Nantucket but did not want it to feel too much like one place, in particular. Rather, I preferred for the room's coastal vibe to evoke a universal appeal that 'the beach' does for us all.
Aside from talking geographical idiosyncrasies, I was quick to inform her of my desire to incorporate patterns…lots of them, for a rich textured feel. In my mind, the interior design of this room would be understated, yet deliver a major wow factor. In Shana's words...
"Gray is a storyteller, so before even meeting him, my goal was to create a room that felt warm, inviting and full of micro-moments. Thus, I was so excited to hear him say - patterns please! He knew he wanted to juxtapose various patterns from a similar color-family, and the room had blue written all over it in my mind."
As mentioned, the timeline was six months, which sounds like a lot but let me tell you, it went by fast! We began at the very beginning of the year, in January and the final touches were added by June. When you live in sunny Los Angeles and you move into a new house, your friends and family will definitely be visiting and you'll want to be ready for them!
It was down to the wire but in the end, the room was complete...just in time for a visit from my husband's family.
THE AFTER || OUR MASTER BEDROOM & BATH REVEAL
Okay, I think it's best to try to imagine you're actually walking into the room with me, so let's go!
Immediately to your left, we layered a collage of small framed prints from my La Dolce Vista series atop the newly installed bamboo wallpaper. Typically, I prefer to hang framed artwork symmetrically. However, I really like this twist on a gallery wall.

Up next, your eyes will be drawn to the navy hued fireplace accented with the medium framed Wooden Boat, Portofino print and the welcoming lounge area.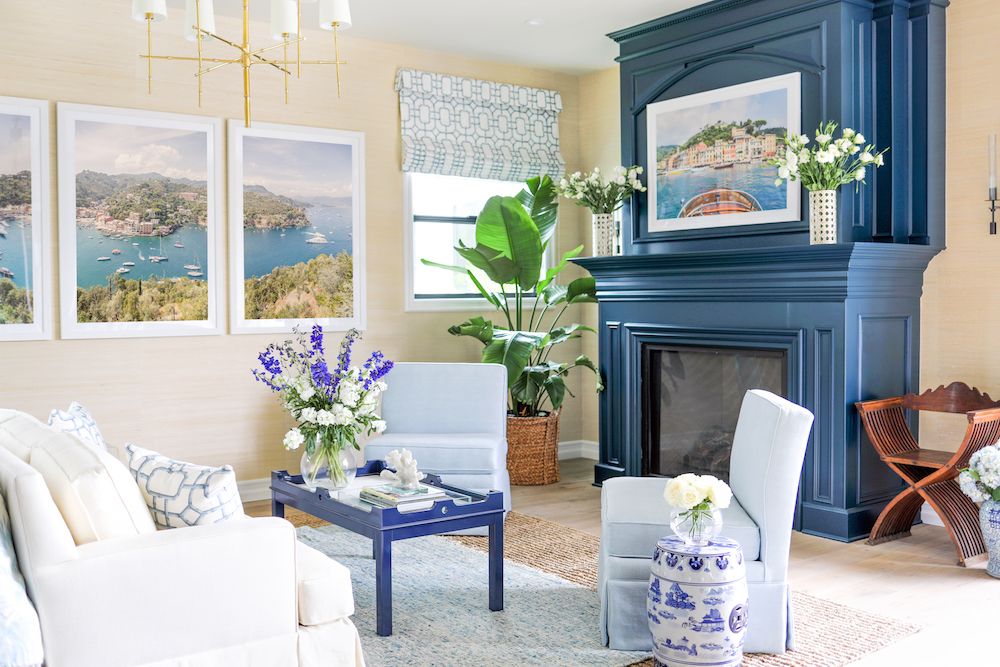 "When we started out the room felt large and almost bare, and by incorporating a staple Farrow & Ball "Hague Blue" color on the fireplace, the room immediately had an anchor."
I couldn't agree more with Shana, as I felt progress as soon as it was complete. Up next, we kept our focus on the surrounding walls and accent moments. After debating between a few options, we landed on the Serena & Lily's grasscloth wallcovering paired with a stunning fabric high-hung custom window coverings and brass bedroom chandelier. Both of these items added instant warmth to the room, making it feel more welcoming and home-like.
When we first moved in, we did not have a bed frame, so it was at the top of my list of furniture pieces. Due to the size of the room and its high ceilings, Shana and I agreed that the bed needed to command attention, as well as pair nicely with oversized furniture pieces, in order to really fill the space. Speaking of filling the space, doesn't this triptych from my La Dolce Vita series, really compliment the design of the space?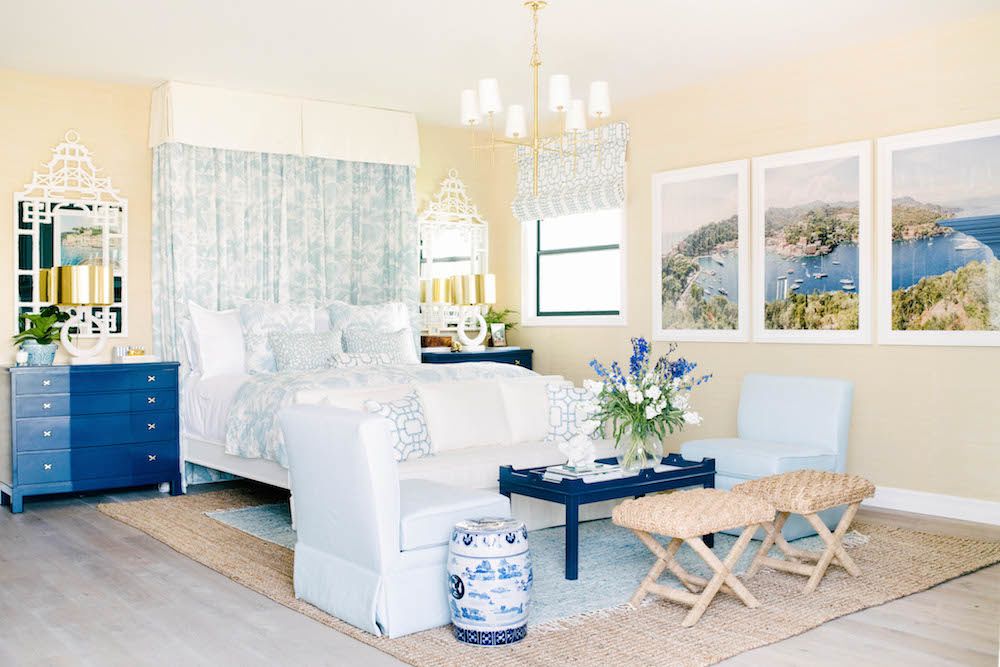 I discovered The Beautiful Bed Company via Instagram when I created my mood board for this room. After doing a little more research, I fell in love with the handcrafted beds. The customization made it ideal to create exactly what I wanted, which ended up being the King Louis bed in white. Then, Shana custom upholstered the backing canopy in Kravet Flamands Ciel Fabric, which really created a larger than life presence in the room.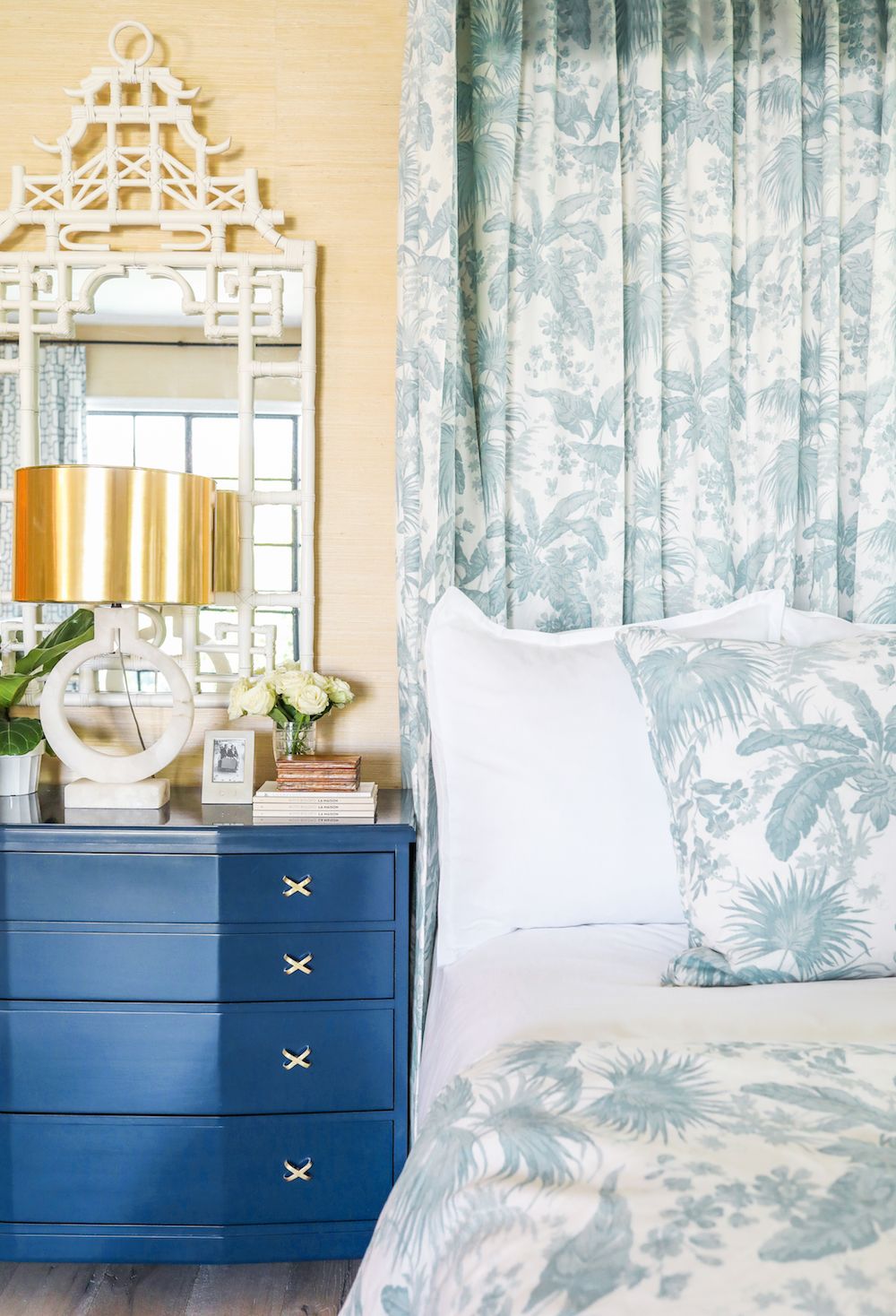 Oomph chests were used as nightstands bookending with bamboo mirrors by Wisteria and lamps by Serena and Lily. All three of these brands are represented in other rooms in the house, which I feel brings a continuous flow throughout our home's overall design.
On the opposing wall is a phenomenal white lacquer credenza with custom grasscloth paneled doors by Dallas based furniture brand, The CEH (The Collected Eclectic Home). The adorable husband and wife team, who own and operate The CEH, actually drove these two pieces all the way from Dallas! It was really nice to meet and have them see the space in person, especially after collaborating so closely on the customization of these pieces.
I love furniture pieces that are both functional, as well as offer moments of sentiment. Shana worked with The CEH to customize this etagere bookshelf to match the height of the room. Once it was delivered, I had a lot of fun decorating it with a variety of new and old keepsakes.
Ready for what's next? Let's open these double doors and head into the master bathroom…
As you'll immediately notice, Shana seamlessly transitioned from the grasscloth wall covering to the bamboo wallpaper that greets you as you walk into the master bathroom. The wallpaper provides an effortless connection to the bedroom, as it's also seen in the bedding, window coverings and accent pillows.
Just like the bedroom, the transformation of the bathroom is a night and day comparison, in that it's now so rich in texture as well as relaxed with the soft water color palette. Along with the relaxed window covering, we added a baby blue light fixture from a consummate favorite, oomph.
The final touch? A medium framed print from one of the most peaceful and secluded beaches I've ever had the pleasure to visit, Whitehaven Beach in the Whitsunday Islands of Australia.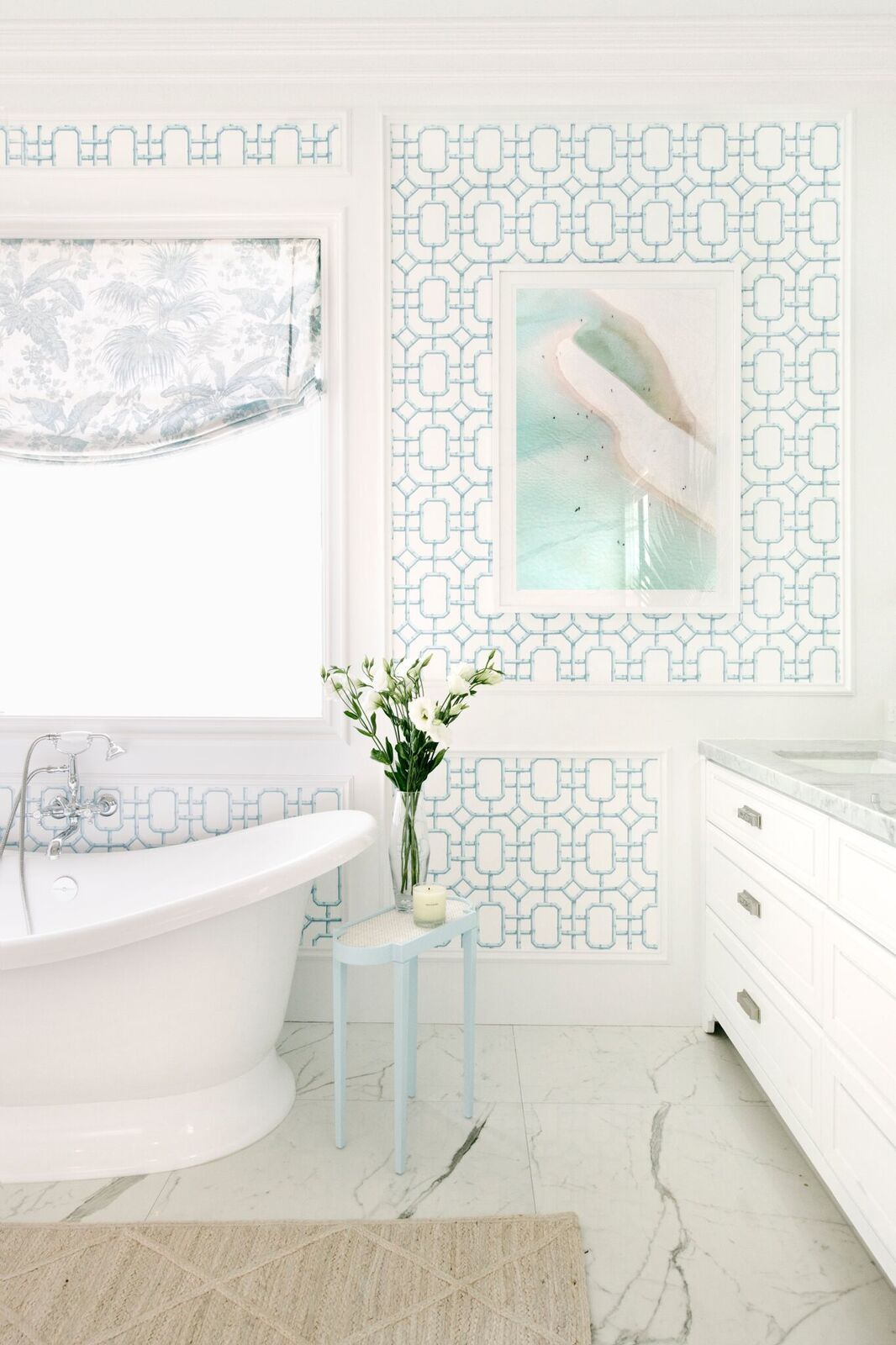 As we exit the bathroom, let's take a left to head out of the room but not without first passing by our walk-in closet. It's picture perfect, don't you think? I promise...it always looks like this, too. (I wish!).
And, there you have it! Are you inspired to design a room in your home, now? Needless to say, I recommend Homepolish and their talented designers for the job! They know how to match you with the right designer for your project and help make dreams come true.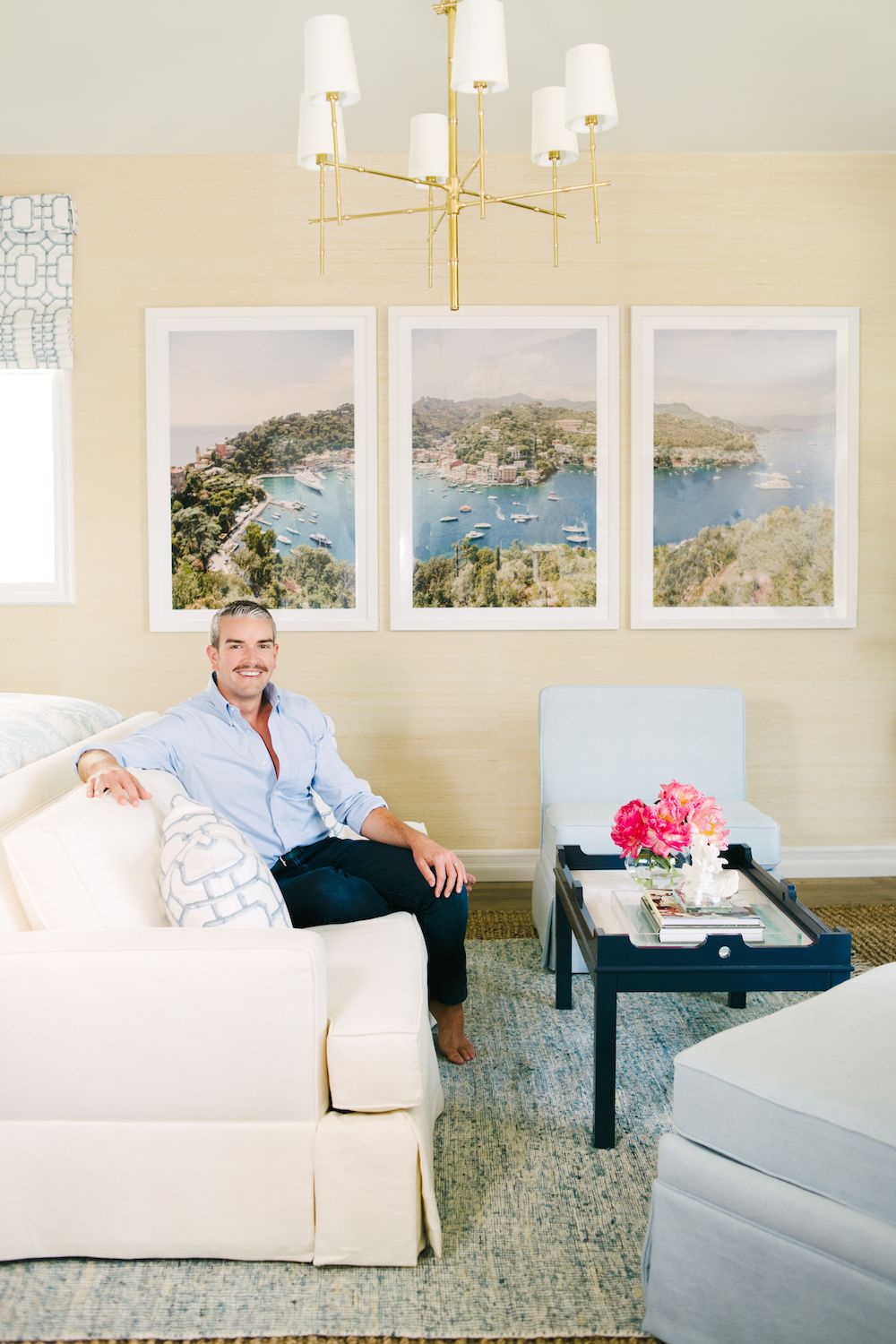 It was no small feat completing this room, and I couldn't have done it without the talent of Shana, so huge thanks to her and to Homepolish for the introduction! As always, and most importantly, thank you all so much for following along with me in this amazing design reveal. To learn more about everything used in it, look no further than below and to see all of my reveals, thus far at Gray's Home. Last but not least, I highly recommend reading more the room at Homepolish, The Magazine.
Cheers,
Xx
Gray
Special thanks to: Lauren Pressey Photography for capturing these stunning interior photographs for Homepolish.
Shop the Post...
BEDROOM:
Artwork: Gray Malin | Bed: Beautiful Bed Co. Lovely Louis Bed w/o Footboard in white, upholstered with Kravet Rippledrop in Ultramarine | Canopy: Custom Sloane & Studio Interiors Canopy in Kravet Flamands Ciel Fabric | Etegere/Bookshelf: The CEH, Custom Designed with Sloane & Studio Interiors | Credenza/Buffet: The CEH, Seaside Grasscloth & Lacquer Buffet | Credenza Lamp(s): One King's Lane | Nightstand Chests: Oomph, Manhattan Chest in Club Navy | Nightstand Lamps: Serena & Lily Alabaster Ring | Nightstand Lamps Shades: Anthropologie | Bamboo Mirrors: Wisteria, Pagoda Mirror in White | Bedroom Chandelier: Serena & Lily, Atwell Chandelier in Brass | Window Coverings: Kravet, Bambu Fret in Ciel Fabric | Sofa: Sloane & Studio Interiors in Lee Jofa Fabric | Slipper Chairs: Custom Sloane & Studio Interiors in Otis Textiles "Loyola Steel Blue" Fabric | Jute Rug: Kravet | Woven Layering Rug: Serena & Lily, Lerala Rug in Blue | Sheet Set & White Coverlet: Serena & Lily | Duvet Throw: Custom Sloane & Studio Interiors in Kravet Flamands Ciel Fabric | Square Sham Throw Pillows: Kravet, Flamands Ciel Fabric | Breakfast Pillows: Kravet, Lynx Dot.15 Fabric | Bolster: Kravet, Bambu Fret in Ciel Fabric | Coffee Table: Oomph, Fenwick Coffee Table in Club Navy w/ Beach Shagreen Top | Jute X Benches: Serena & Lily, Costa X-Bench | Fireplace & Interior Bedroom Door Paint: Farrow & Ball in Hague Blue | Bedroom Main Grasscloth Wallpaper: Serena & Lily in Sand | Bedroom Entry Bamboo Wallpaper: Kravet Bambu Fret in Ciel | Blue & White Chinese Porcelain Side Table: Antique | Wooden Fireplace Accent Chair: Antique | Wicker Credenza Tray: Serena & Lily, Bedford Tray | Select Accessories: Jonathan Adler, Vintage, etc.
BATHROOM:
Artwork: Gray Malin | Bamboo Wallpaper: Kravet, Bambu Fret in Ciel | Tiny Tub Accent Table: Oomph, Tini ii in Hinting Blue | Chandelier: Oomph, Savannah Chandelier in Hinting Blue | X-Jute Rug: Serena & Lily, Diamond Jute in | Relaxed Roman Shade: Sloane & Studio Interiors in Kravet Flamands Ciel Fabric | Bath Towels: Serena & Lily, Laurel Bath Collection in Sky