Hi Everyone,
Have you had the chance to shop our Free Framing and Shipping event yet? This week, you can bring home your dream print framed and shipped for free! To help inspire your art choice, today we're touring the Palm Beach home of LoveShackFancy's Founder, Rebecca Cohen. These photos are what feminine, floral dreams are made of. Enjoy!
Hi Rebecca, Thank you so much for sharing your home with us! For those who aren't familiar, do will you please tell us a little about yourself?
I'm a born and raised New Yorker. I live between the West Village and the Hamptons with my husband, girls and our puppy, Lou Lou. However during the pandemic we fell in love with the Palm Beach lifestyle while opening our Palm Beach store and have been spending more and more time here. Discovering new corners and experiences around the world is my absolute favorite, along with hunting for treasures in flea markets, and hosting loved ones.
Could you tell us a little bit more about LoveShackFancy and what your role in the brand looks like?
LoveShackFancy is an expression of all the things I love and it's constantly evolving. I'm involved in every element from the moldings in our new stores to the neckline and trims of our collection to the inspiration behind every shoot that creates the world of!
When did you launch LoveShackFancy and what inspired you to start it?
We launched in 2013 after searching for ethereal, vintage-feeling, feminine bridesmaid dresses for my wedding. When I couldn't find what I craved, I ended up making the dresses myself, and next thing I knew LoveShackFancy was born. I still can't believe where this journey has led us as a brand; it was totally unexpected.
Can you give us some background information on your home? What has been your inspiration behind the design?
Bringing in quintessential Palm Beach elements, we transformed our home into a true Palm Beach escape with vintage wicker pieces, custom floral-printed furniture and floral wallpaper. To make the house as authentic to the island as possible, we sourced local pieces along with a few amazing treasures from around the world. Each room an ohmage to the Palm Beach lifestyle, we created mini vignettes, such as a dreamy blue-hued dining room filled with our La Vie En Rose linens, blue and white china plus custom LoveShackFancy fabric wrapped chairs, and a floral-covered sofa in the living room with matching curtains.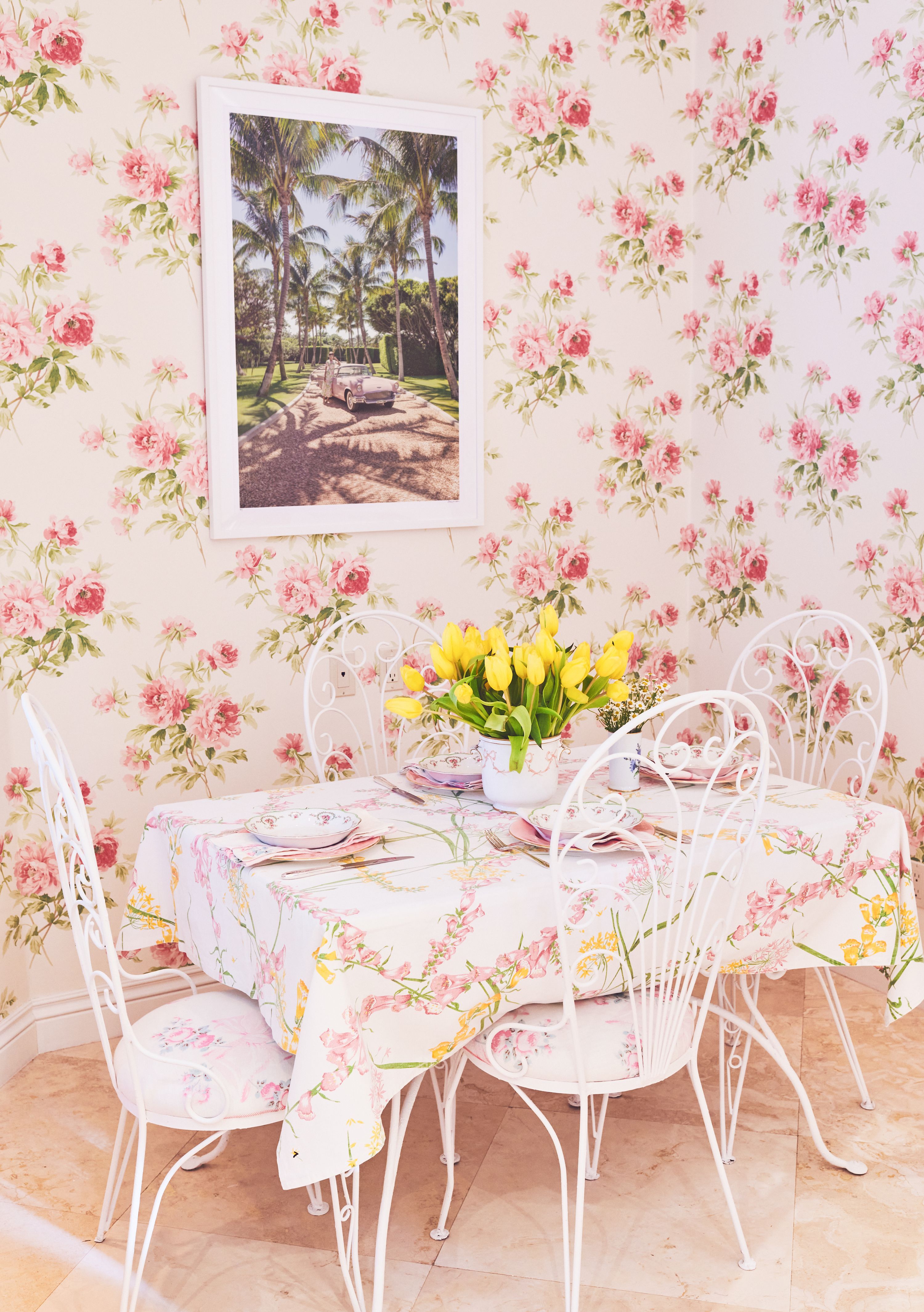 How would you describe your interior decor style?
More is more is more. I love traveling and taking inspiration from wherever I go.
How do you balance your home life while running a business?
Everything is intertwined, especially as we're working from home. I'm always with my girls and always working! They love it all and are the best little assistants ever.
When were you first introduced to the GM brand? What was your first piece?
I absolutely fell in love with the Gray Malin when I saw the Christmas tree installation at the Royal Poinciana Plaza during our LoveShackFancy Palm Beach store opening. It was just so beyond fun to see all the printed surfboards and it felt perfect for a Palm Beach Christmas.
How did you choose the photographs you decided to feature in your home?
We wanted to celebrate the quintessential Palm Beach old-school lifestyle from the art to wallpaper to the furniture we used throughout our house.
What about the Gray Malin lifestyle brand do you connect with?
It's a celebration of life, travel, and color.
This home instantly makes me think of Spring days in the garden and boho glamour. Rebecca, Thank you so much for sharing your space with us!
Don't forget to take advantage of Free Framing and Shipping on graymalin.com.
Cheers!
Xx
Gray
{"slides":[{"label":"Christen Joy's Colorful University Apartment Design","url":"/lifestyle/christen-joy-s-colorful-university-apartment-design","image":"https://res.cloudinary.com/gray-malin/image/upload/c_scale,w_1000,q_50,f_auto/gray-malin/blog_posts/hero_images/000/002/024/original/IMAGE_2.jpg?updated=1651554607"},{"label":"Tour Sarah Levy's Los Angeles Home","url":"/lifestyle/tour-sarah-levy-s-los-angeles-home","image":"https://res.cloudinary.com/gray-malin/image/upload/c_scale,w_1000,q_50,f_auto/gray-malin/blog_posts/hero_images/000/001/490/original/0-Sarah_Levy-11.jpg?updated=1574806365"},{"label":"Andrea Denes's Blissful Chicago Home","url":"/lifestyle/andrea-denes-s-blissful-chicago-home","image":"https://res.cloudinary.com/gray-malin/image/upload/c_scale,w_1000,q_50,f_auto/gray-malin/blog_posts/hero_images/000/001/487/original/00-header.jpg?updated=1574797181"},{"label":"The Sisters Suite by Serena and Lily and Palm Beach Lately at The Colony","url":"/lifestyle/the-sisters-suite-by-serena-and-lily-and-palm-beach-lately-at-the-colony","image":"https://res.cloudinary.com/gray-malin/image/upload/c_scale,w_1000,q_50,f_auto/gray-malin/blog_posts/hero_images/000/001/517/original/1-PB_lately-1.jpg?updated=1578610731"},{"label":"Michelle Berdan's Laid Back Home by the Beach","url":"/lifestyle/michelle-berdan","image":"https://res.cloudinary.com/gray-malin/image/upload/c_scale,w_1000,q_50,f_auto/gray-malin/blog_posts/hero_images/000/001/884/original/0-Michelle_Madsen-10_copy.jpg?updated=1617066488"},{"label":"Instant Refresh","url":"/lifestyle/instant-refresh","image":"https://res.cloudinary.com/gray-malin/image/upload/c_scale,w_1000,q_50,f_auto/gray-malin/blog_posts/hero_images/000/001/984/original/Rainbow_Ridge-1.jpg?updated=1643241774"},{"label":"Amy Tangerine's Vibrant Mid-Century Modern Los Angeles Home","url":"/lifestyle/amy-tan-s-vibrant-mid-century-modern-los-angeles-home","image":"https://res.cloudinary.com/gray-malin/image/upload/c_scale,w_1000,q_50,f_auto/gray-malin/blog_posts/hero_images/000/001/948/original/0.jpg?updated=1638900812"},{"label":"Gray's Holiday Home Tour 2021","url":"/lifestyle/gray-s-holiday-home-tour-2021","image":"https://res.cloudinary.com/gray-malin/image/upload/c_scale,w_1000,q_50,f_auto/gray-malin/blog_posts/hero_images/000/001/945/original/Holiday_Home_Tour19.jpg?updated=1637510540"}],"label":"Have You Seen?"}
{"id":null,"number":null,"item_total":"0.0","total":"0.0","ship_total":"0.0","state":"cart","adjustment_total":"0.0","user_id":null,"created_at":null,"updated_at":null,"completed_at":null,"payment_total":"0.0","shipment_state":null,"payment_state":null,"email":null,"special_instructions":null,"channel":"spree","included_tax_total":"0.0","additional_tax_total":"0.0","display_included_tax_total":"$0.00","display_additional_tax_total":"$0.00","tax_total":"0.0","currency":"USD","considered_risky":false,"canceler_id":null,"display_item_total":"$0.00","total_quantity":0,"display_total":"$0.00","display_ship_total":"$0.00","display_tax_total":"$0.00","display_adjustment_total":"$0.00","token":null,"checkout_steps":["address","delivery","complete"],"bill_address":null,"ship_address":null,"line_items":[],"payments":[],"shipments":[],"adjustments":[],"credit_cards":[],"promotions":[],"total_shipment_cost":"$0.00","permissions":{"can_update":false},"use_shipping_for_billing":true,"use_new_ship_address":true,"use_new_bill_address":false,"selected_ship_address":null,"selected_bill_address":null,"display_completed_at":null,"item_count":0,"subtotal_minus_promos":"$0.00","coupon_codes":[],"includes_framed_items":false,"contains_subscription":false}
This site uses cookies to allow better navigation. By closing this banner, scrolling this page or clicking any of its elements, you are giving consent to all cookies. To learn more and to change your preferences please see our Cookies Policy.