Hi everyone,
If you didn't already know, today marks the first day of our Free Framing and Shipping promotion on graymalin.com. For a limited time, you can get your dream print delivered ready-to-hang to your door. The best part? To brighten up all of your quarantine days, we're giving you a complimentary beach puzzle with any art purchase. Hooray! To celebrate the beginning of Free Framing, we're featuring the home of Lindsay Surowitz. You may know her on instagram as @weeknightbite where she shares delicious recipes, nutrition tips, and her advice for a healthy lifestyle. Her home is so dreamy and fresh! It makes me want to update my own home for Spring. I could go on, but I know you're all dying to get to the tour, so, Lindsay, take it away!
Hi Lindsay, thanks so much for sharing your home with us. Would you mind starting out by telling us a little bit about yourself?
Hi! I'm Lindsay, I'm a blogger and nutritionist living in San Diego. I spend a lot of time cooking, going to dog beach with my husband and our goldendoodle Penny, wandering the farmers market, hanging out with my family, and traveling. Life has totally changed as of a couple of months ago with the addition of our baby boy, Noah! Now it's a whole lot of playtime and snuggles with my sweet boy.
Your career is pretty multi-faceted, could you tell us more about what you do?
I started Weeknight Bite in 2012 as a creative outlet while I worked in the insurance industry. To be honest, I had no idea what I was doing at that time. I made a free logo online, created my website, and launched it with just one recipe! Despite being totally clueless in the beginning, it ended up turning into something I absolutely loved. I'd race home from work and spend the rest of the night working on recipes and putting together blog posts and videos. At the time, it was all quick and easy weeknight meals that anyone could throw together after work. Since then, Weeknight Bite has changed and evolved so much, and now it's a little bit of everything - tons of healthy recipes, nutrition and wellness tips, lifestyle, and some baby/mama content, too!

After a few years of running my blog, I realized that while I loved recipe development and writing, a huge passion of mine was the nutrition side of things! I was constantly researching different ingredients and ways I could make my recipes healthier. I decided to go back to school for nutrition in 2016 and then added a whole nutrition side to my business. Now aside from the blogging part of my business where I develop recipes and work with healthy brands that fit within the Weeknight Bite lifestyle, I also run quarterly online group coaching programs called Back to Basics, where I teach women how to create a healthy, balanced, and delicious lifestyle that lasts. I really feel like "being healthy" has become far too complicated, and I love bringing things back to the basics and showing people how easy it can be to live a healthy life while still truly living (traveling, going out to restaurants, and enjoying themselves)!

I love my job and feel so lucky that I was able to create a business that has so many different aspects to it, allowing me to challenge my creativity while also fulfilling my desire to help others. Now that I have a baby, it's also a huge bonus that it's a flexible career that I can do from home (in my office with my Gray Malin Coogee Beach print right behind my desk!). I feel really grateful that I look forward to my work week and the days rarely feel repetitive (which was not the case in my former insurance career!). It hasn't always been easy or smooth, and there were so many times that I doubted myself, but I'm so proud of my career path and I've learned so much along the way!
Your home is so fabulous. Can you tell us more about it?
Living in San Diego pretty close to the beach, I wanted my home to reflect a laid back, comfortable, and fresh California Coastal vibe. The house itself is pretty traditional in style, 4 bedrooms and an office, but with some renovations that were made in 2016, the floor plan is super open, airy, and bright, which makes it ideal for entertaining - something I love to do!
Do you think your personal fashion style aligns with your interior decor style? If so, how?
I've never really thought about that, but yes I think it does! Both my personal style and interior decor style are pretty classic, relaxed, casual, beachy, and a little bit feminine without being fussy. When I'm not in cozy loungewear, I'm usually in an airy sundress or blue jeans and neutrals, which is a similar palette to my home decor!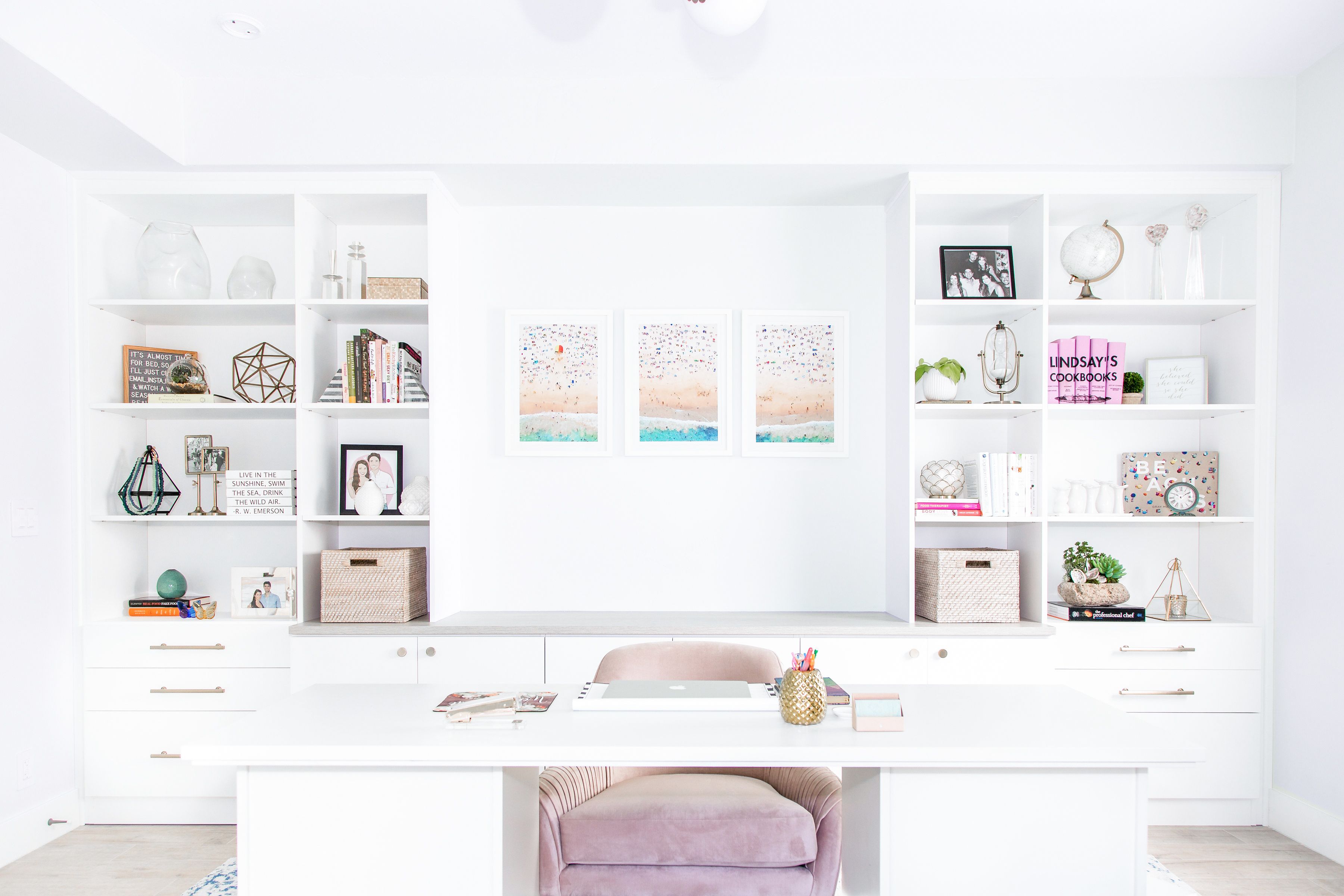 When were you first introduced to the GM brand? What was your first piece?
I've loved your photography for YEARS! I always wanted one of your pieces, but the first thing I bought was your Beaches book. I'd flip through it all the time and imagine having a large print hanging on my wall, which became a reality when my best friend bought me the Coogee Beach triptych for my 30th birthday! Talk about the perfect present! That was a really special one for both of us because we studied abroad together in college in Sydney, and our balcony looked out right onto that exact beach!! Dreamy, right!? I love having those prints in my office - it sets a happy, relaxed vibe for that room and also reminds me of all the amazing memories we made there!
As the collection grew, what was the thinking behind each selection?
If I could pick one place to travel over and over, it would be Italy. It holds a special place in my heart after going to cooking school there and traveling there with my husband. The food, the history, the gorgeous scenery, the wine...did I mention the food!? It's just my happy place! So it was really a no-brainer when it came to picking out our next pieces. We have a small Lido di Conca print which reminds us of a trip a couple years ago when we took a small wooden boat around the Amalfi coast while drinking wine and attempting to speak Italian to our guide - just a blissful trip! When we saw the Atrani print, we knew that one would be perfect for our living room, and for our travel wishlist!
What about the Gray Malin lifestyle brand do you connect with the most?
I love that it inspires wanderlust and immediately transports you to a vacation state-of-mind. It's happy and aspirational and playful - something we could all use a little more of in our lives!
Thank you so much for inviting us into your home, Lindsay! I love the bright white decor and refreshing feel throughout your space and I'm so inspired by how you styled my art. I hope you're all feeling inspired too! You can bring some fresh art into your home right now with our Free Framing and Shipping promotion on the site. And for an added bonus, receive a complimentary beach puzzle with any art purchase!
Cheers!
Xx
Gray
Photography via Angelica Marie Photography and Kristen Schellenberg