Hi friends!
I am sure you probably already know that Aspen is a very special place to me. There are so many elements of this dreamy ski town that have inspired me to create imagery -  from aerial ski images taken from up above the picturesque mountains in my À la Montagne series, to my vintage inspired Gray Malin in Aspen series, to my most recent Dogs of Aspen series, I couldn't be happier to bring this once-in-a lifetime immersive experience to one of my favorite mountain tops. It has been so rewarding seeing the visuals I envisioned come to life through my collaboration with the ASPENX team! Snow Beach is truly an artistic vision, and I hope this special activation inspires you all, just as much as Aspen has for me.
The inspiration for Snow Beach first came to me when I was visiting Aspen in 2020 - I wanted to explore the idea of having a beach club atop an incredible mountain vista in Aspen, combining my aerial beach and ski images along with my vintage styled signature shots. Naturally, I pitched the idea to The Little Nell to see if we could partner on a one-of-a-kind immersive experience with the help of their expertise in exceptional service and all things Aspen related. They loved the idea, and it was perfectly timed with the launch of AspenX, the new premium retail and experiential brand from Aspen Skiing Company, so we began to ideate what a more concrete vision of Snow Beach could look like. 
I went to Miami in the fall of 2021 and walked the entire stretch of South Beach to study the execution of the many beach clubs, carefully noting how they were designed, the way they were assembled and the elements that made a beach club essentially a beach club. I began to draw up ideas for how Snow Beach could be designed from a structural standpoint, and the ways in which my art could be translated into the experience. 
What I came up with was a setting that draws inspiration from decades past, celebrating the culture and tradition of ski season, aspirational luxury, and vintage glamor that Aspen has perfected, along with components of classic beach clubs that work together to create the ideal après-ski destination. Curating an entire world of Gray Malin, I designed the cabanas, chaise-lounges and chairs, and included special touches like a lifeguard tower and surfboards, as well as my Gray Malin pillows and trays adorned with my artwork, allowing a fully immersive experience where guests could literally step into one of my photographs.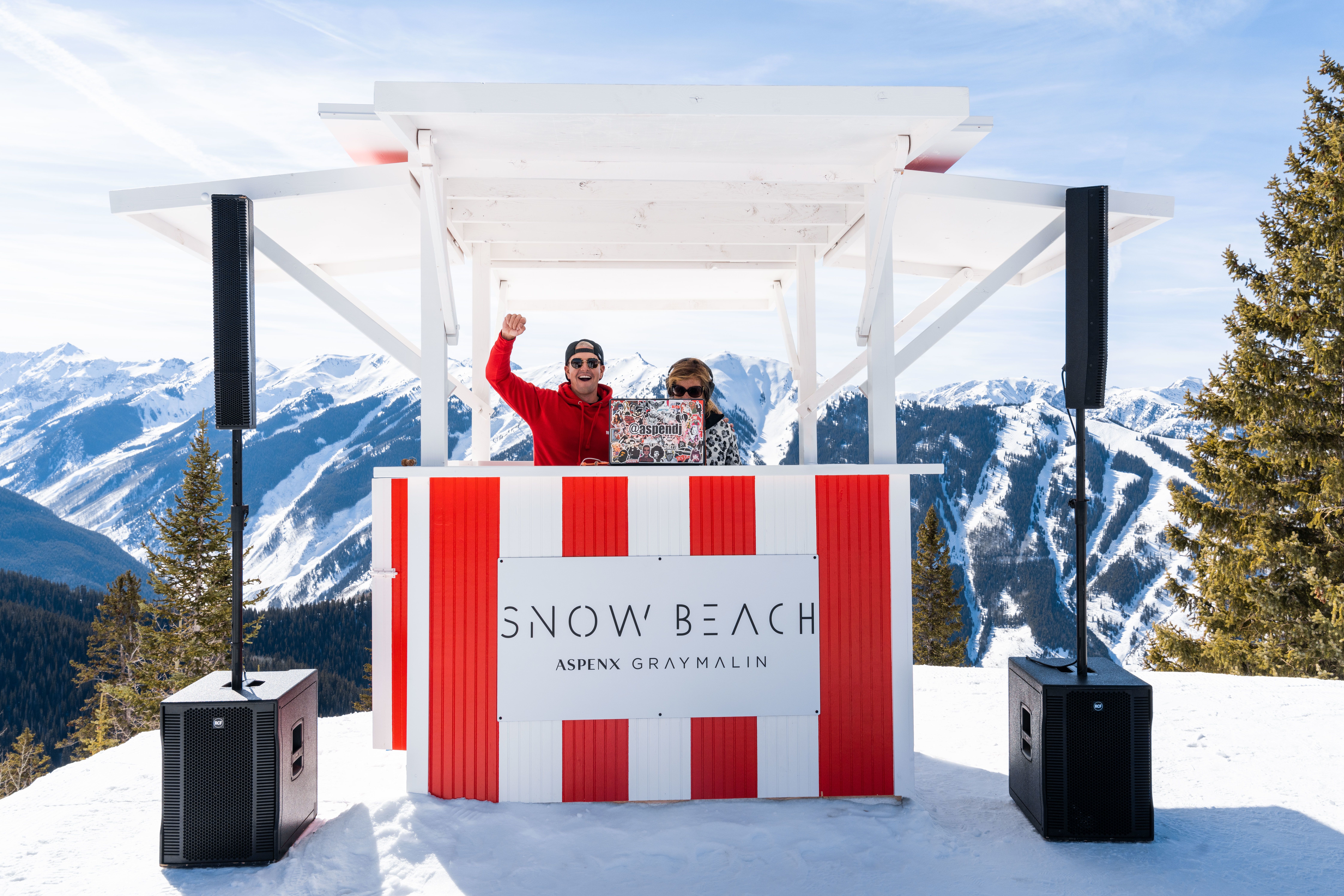 Positioned on one of the most beautiful vistas atop Aspen Mountain, Snow Beach will have 360 degree sun-filled sweeping views where guests can relax and enjoy the good life. They can sit in striped cabanas, revel in the vintage-esque glamor, listen to a live DJ, play games, dance, take pictures and experience five star service with food and beverage that includes caviar selections, sliced Jamón Ibérico, individual black truffle pizzas, champagne and much more! I want everyone who visits Snow Beach to have an unforgettable experience where they can create long lasting memories and take their own unique "Gray Malin" inspired pictures. 
Opening President's Day weekend, Snow Beach will run for six weeks this season - snag your ticket today on AspenX.com. Reservation options include single lounge chairs with the purchase of half a bottle of champagne or rosé, a cabana for two with a bottle of champagne or rosé, or a cabana for six with three bottles of champagne or rosé. 
Don't miss out on this one-of-a-kind, dream-worthy experience!
Cheers! 
XX
Gray
Have you seen?
Best of Kids Party Invitations
Get Our New "I Am Busy" Straw Free With Your Print Purchase
A Luggage Tag for Every Destination