Hi Everyone!
Recently, I had the pleasure of visiting with Miss Whitney Port in the Gray Malin studio. As I'm sure many of you already know, Whitney is a woman's contemporary fashion designer of her namesake line Whitney Eve. She and her sisters have been long time supporters of my work, so it felt only right to add some Gray Malin to her design studio. I naturally invited her in for a special studio visit in order to select just the right print for her new space.
One of the first things I asked her about was what she considered her interior decorating style to be, which she answered with "I love LOTS of color and mixing a lot of different textures. My style is very California Casual mixed with Tropical Chic," which I can obviously (totally) appreciate!
After much deliberating, "I looooove all of the beach scenes. They give you this feeling of freedom and vacation that transports you to a dreamy exotic place," she landed on Pink Umbrellas from my aerial photography series Art Deco Miami...
She went on to explain her choice, "The pale pink and nude tones in the specific painting I chose felt very reflective of my style and my clothing line as well as the vibe of the office." I love that she really gave her decision some thought and feel very flattered that it reflects her personal as well as the Whitney Eve aesthetic.
After a quick signature, we sent Whitney's print off to Simply Framed, and then a few weeks later I popped in to see the final result.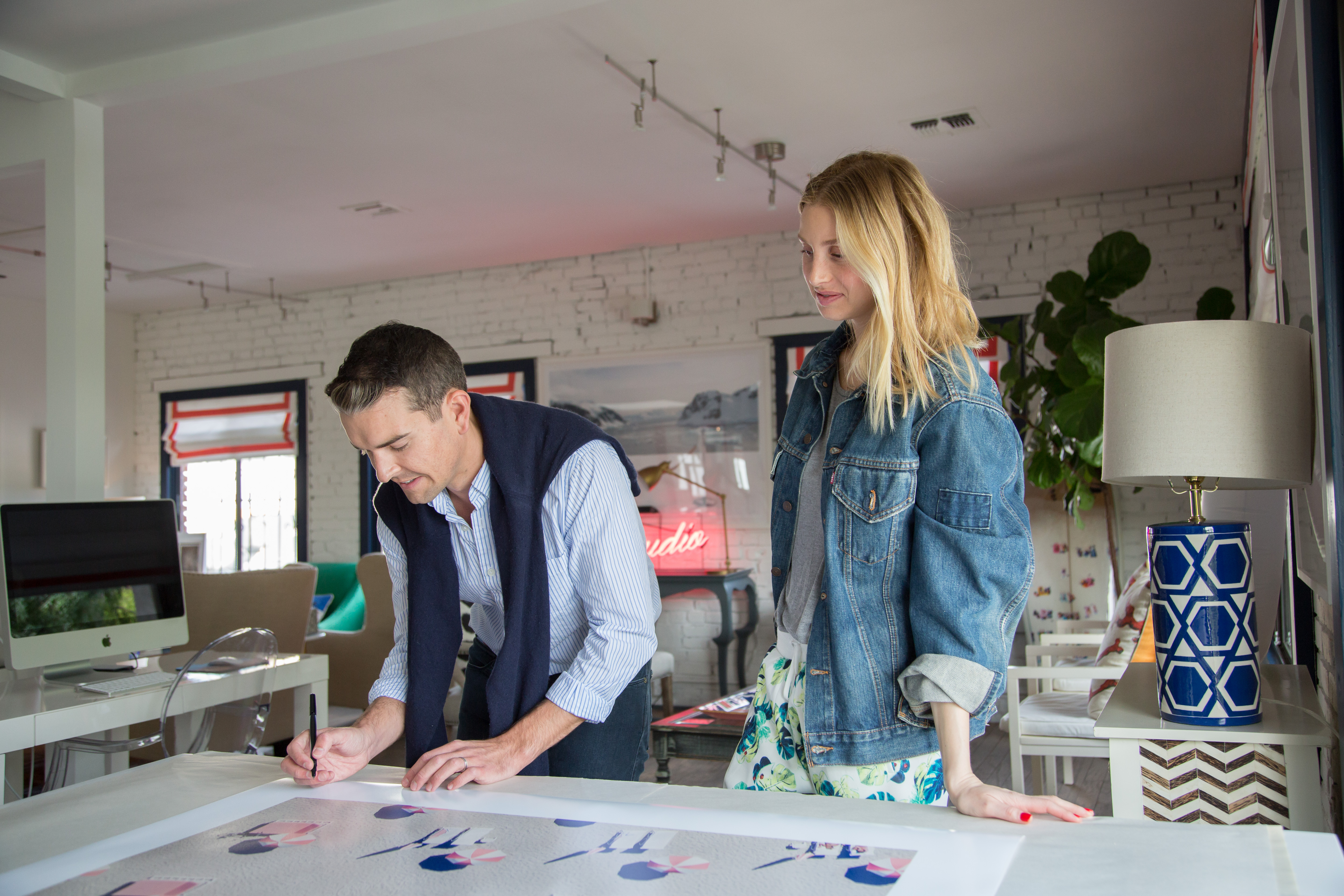 It was so fun to see Whitney again and tour the Whitney Eve design studio.
As we strolled through the space, we caught up for a bit and chatted about favorite places to vacation. Big Sur, California is her top vacation destination so far and coincidently, I was there for Easter weekend. Whitney, I could not agree more on how beautiful this sliver of the world truly is!
Naturally, I poked around a bit and I must say the space was pretty much exactly how I'd decorate it, if I were a fashion designer!
I love her use of color, prints, and textures. Visiting Whitney in her studio reminded me of something she told me in mine regarding how she connects to my work, she said "It's your love of color and a lifestyle you wish you could obtain, those are what keep me coming back for more!!!"
Well Whitney, all I can say is, when will you be coming out with menswear?? I'm in!
Thanks so much to Whitney for stopping into the Gray Malin studios, inviting me into Whitney Eve, and most importantly for giving Pink Umbrellas a beautiful home!
And, as always, thank you for following along, and also take a look at this very fun interview I did with Whitney for her site!
Cheers,
xx
GM