Hey Everyone!
Today's spotlight is on Miami based Interior Designer, Melida Williams, who has over 12 years of experience working on residential and hospitality projects from South Florida to South America.Lets take a look inside her latest project, a Pied-à-Terre (aka small living space, typically a second home) in Miami, which embodies South Beach Decor but with a little help from a couple beaches "down under."
Her design style has been described as modern, classic, and a little bit bohemian which explains why she "loves the idea of luxury mixed in with everyday living." Melida says she first came across Gray Malin Photography while on a late night Pinterest binge. "I fell in love with the composition, colors and the overall vibe of his photography", she states, "I couldn't wait to install one of his pieces in a project."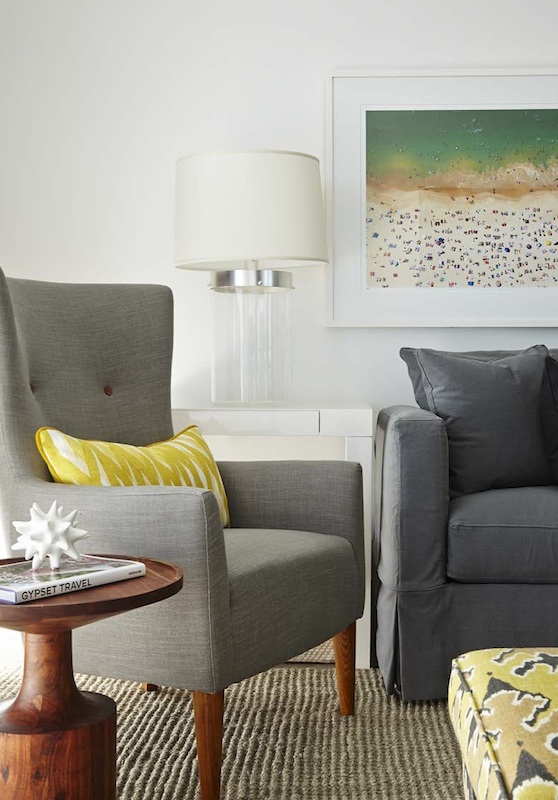 She soon after found an opportunity to use two pieces from the A La Plage Collection, Bondi Beach Surfers 2 and Coogee Beach (Horizontal). They offered that South Beach Decor style yet transported her client to beaches on the other side of the world.
Melida expresses, "I felt Gray Malin's Bondi images just had the right vibe for the space. It was the unexpected pop's of color I needed." She connects with this series because it reminds her of weekends and having a good time. "I really love the lifestyle concept of Gray's photography because it's laid back and joyful. You can't help but smile when looking at the images."
For South Beach decor, she likes to focus on neutral colors with pops of color in wall art photography and accent pieces, as demonstrated with the decorative throw pillow and bench. Using these two large scale beach photographs side by side, a great design moment was created in the space. As for other accents, Melida suggests her favorite coffee table book "Tom Ford.""I'm a classic girl, so I am still in love with the simplicity of the book." She goes on to say, "I always incorporate color in my projects so this little touch of black always works with the space. I'm guilty of always using it for my residential projects."
"In my opinion, the Sydney photography makes the space come alive... and give the feel of a vacation!" That sense of vacation is important to Melida. She loves to travel to places such as Rio, Dublin, Barcelona, but nothing quite compares to her all time favorite place to visit, Paris. J'adore! While France may be home to her favorite city, Germany and Belgium are at the top of her list of places to visit. "Since I live in Miami and it's always warm, I dream of visiting places with a different climate and vibe."
Thanks to Melida for giving us a look inside her recent residential project and insight on how utilizing large beach photographs side by side can be the perfect accent to any living room. Especially ones with a neutral color scheme.
Photos Courtesy of Brantley Photography
Cheers!
xx
GM
{"slides":[{"label":"Start With Art - Styling Snowy Art with Katherine Melvin","url":"/lifestyle/start-with-art-styling-snowy-art-with-katherine-melvin","image":"https://res.cloudinary.com/gray-malin/image/upload/c_scale,w_1000,q_50,f_auto/gray-malin/blog_posts/hero_images/000/001/749/original/0-Katherine_Melvin-1.jpg?updated=1602633892"},{"label":"See Jennifer Lake's New England Inspired Powder Bathroom","url":"/lifestyle/see-jennifer-lake-s-new-england-inspired-powder-bathroom","image":"https://res.cloudinary.com/gray-malin/image/upload/c_scale,w_1000,q_50,f_auto/gray-malin/blog_posts/hero_images/000/001/747/original/0-jennifer-lake-gray-malin-14_copy.jpg?updated=1602192874"},{"label":"Start with Art - Blue and White Bliss with Audrey Ferdyn","url":"/lifestyle/start-with-art-blue-and-white-bliss-with-audrey-ferdyn","image":"https://res.cloudinary.com/gray-malin/image/upload/c_scale,w_1000,q_50,f_auto/gray-malin/blog_posts/hero_images/000/001/746/original/0-IMG_4496.jpg?updated=1602022564"},{"label":"Start With Art - Creating a Statement-Making Bar Cart With Kelly Stone","url":"/lifestyle/start-with-art-creating-a-statement-making-bar-cart-with-kelly-stone","image":"https://res.cloudinary.com/gray-malin/image/upload/c_scale,w_1000,q_50,f_auto/gray-malin/blog_posts/hero_images/000/001/687/original/0-Kelly_Stone-2.jpg?updated=1595099289"},{"label":"Start with Art - Creating a Polished Bathroom with Amber Sokolowski","url":"/lifestyle/start-with-art-creating-a-polished-bathroom-with-amber-sokolowski","image":"https://res.cloudinary.com/gray-malin/image/upload/c_scale,w_1000,q_50,f_auto/gray-malin/blog_posts/hero_images/000/001/739/original/0-Amber_Sokolowki-9.jpg?updated=1600217658"},{"label":"Start with Art - Designing a Home Office Space with Kara Vacca","url":"/lifestyle/designing-a-home-office-space-with-kara-vacca","image":"https://res.cloudinary.com/gray-malin/image/upload/c_scale,w_1000,q_50,f_auto/gray-malin/blog_posts/hero_images/000/001/705/original/0-Kara_Vacca-5.jpg?updated=1599609473"},{"label":"Start With Art - Creating a Dreamy Workspace with Megan Hopp","url":"/lifestyle/start-with-art-creating-a-dreamy-workspace-with-megan-hopp","image":"https://res.cloudinary.com/gray-malin/image/upload/c_scale,w_1000,q_50,f_auto/gray-malin/blog_posts/hero_images/000/001/701/original/0-Megan_Hopp-4.jpg?updated=1599000143"},{"label":"Start with Art - Designing a Kids Room with Bailey Austin","url":"/lifestyle/start-with-art-designing-a-kids-room-with-bailey-austin","image":"https://res.cloudinary.com/gray-malin/image/upload/c_scale,w_1000,q_50,f_auto/gray-malin/blog_posts/hero_images/000/001/700/original/0-Bailey_Austin-1.jpg?updated=1598390393"}],"label":"Have You Seen?"}
{"id":null,"number":null,"item_total":"0.0","total":"0.0","ship_total":"0.0","state":"cart","adjustment_total":"0.0","user_id":null,"created_at":null,"updated_at":null,"completed_at":null,"payment_total":"0.0","shipment_state":null,"payment_state":null,"email":null,"special_instructions":null,"channel":"spree","included_tax_total":"0.0","additional_tax_total":"0.0","display_included_tax_total":"$0.00","display_additional_tax_total":"$0.00","tax_total":"0.0","currency":"USD","considered_risky":false,"canceler_id":null,"display_item_total":"$0.00","total_quantity":0,"display_total":"$0.00","display_ship_total":"$0.00","display_tax_total":"$0.00","display_adjustment_total":"$0.00","token":null,"checkout_steps":["address","delivery","complete"],"bill_address":null,"ship_address":null,"line_items":[],"payments":[],"shipments":[],"adjustments":[],"credit_cards":[],"promotions":[],"total_shipment_cost":"$0.00","permissions":{"can_update":false},"use_shipping_for_billing":true,"use_new_ship_address":true,"use_new_bill_address":false,"selected_ship_address":null,"selected_bill_address":null,"display_completed_at":null,"item_count":0,"subtotal_minus_promos":"$0.00","coupon_codes":[],"includes_framed_items":false}
This site uses cookies to allow better navigation. By closing this banner, scrolling this page or clicking any of its elements, you are giving consent to all cookies. To learn more and to change your preferences please see our Cookies Policy.