Hi Everyone,
You all first met Ellen Bennett of the creator of the incredible Hedley & Bennett apron waaaay back in October when we released our slightly naughty collaboration the Gray Malin x Hedley & Bennett Nude Beach Apron.
Well. In case it doesn't go without saying, Ellen has a great sense of humor as well as a cheeky sense of style, which is evident in our Nude Beach apron as well as her very cool and eclectic home.
Considering we're hosting our second annual "50 Shades of Gray" today, it was the perfect time to show off how Ellen's decorated with her medium framed print of Barcelona Nude Beach.
Seeing that she chose to hang it above her bed, it naturally begged for the question...
How do you like having naked beach goers hanging above you while you sleep?
"hahaha WELL I happen to totally love everything from the pops of color on the umbrellas to the white sandy beach feel it gives the room... plus its kind of amazing that the little naked people totally catch you off guard and I think thats what I love, its a shocker but in a happy, cheeky kind of a way."
Excellent answer! I have it hanging in my guest bathroom. The idea that it catches one off guard is one of my favorites parts about it, too.I loved shooting in Barcelona. It's such a great city.
Curious, I asked Ellen if she had been and if there were any special memories around it, to which she exclaimed ~
"I have and you know what... it was f**ing amazing. The freedom that people had there was quite shocking in a good way. It wasn't even a nude beach yet you could tell people felt such a sense of comfort in their own skin that women, big, small, skinny or tall, would be laying out topless without a care in the world and no one even blinked. I think there tends to be a lot of attention on ones body but seeing that really made me have a new found appreciation for not really giving a crap and just being you... so now I have badass little naked men and women on one hell of a fun picture our room and the bushy palm tree in the room really helps beachify the whole place. ;)"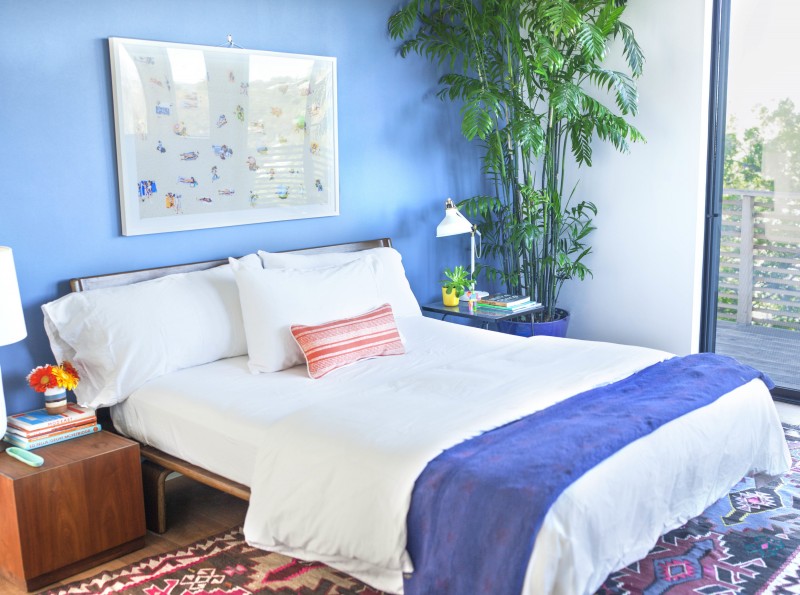 Chatting more about her decorating style, Ellen had this to say about her approach..
"Definitely very playful as though a stylish little kid was decorating a big kids house. Theres tons of really grown up elements like a Bertazzoni stove but that happens to be yellow or Eames chairs but that happen to be green so its dignified in a way but yet still a little kooky and behind it all I want to make spaces feel very welcoming as if you were getting a big hug from the room."
Haha! I definetly feel a big hug whenever I'm in her house and no surprise, her favorite room is the kitchen.
"It's open, airy, full of light and it has everything I love in there from the colorful heath octagon tiles we got to the italian coral lights we hunted down for months before finding. Its my happy spot and since I come from a culinary industry background pre my H&B days, its where I get to go back to my roots and cook up a storm whenever the hell I want."
Speaking from experience, I would gladly join in for Ellen's cooking in her happy place or perhaps in the extension of it..her glorious backyard.
Thank you so much for joining us in Ellen's home and I hope you enjoy a little bit of cheeky fun today, too!
xx GM
{"slides":[{"label":"4 Ways to Fill an Oversized Wall (That Don't Include a Gallery Wall)","url":"/lifestyle/4-ways-to-fill-an-oversized-wall-that-dont-include-a-gallery-wall","image":"https://res.cloudinary.com/gray-malin/image/upload/c_scale,w_1000,q_50/gray-malin/blog_posts/hero_images/000/001/281/original/ShayCochrane_GrayMalin_Framebridge_(1).jpg?updated=1559250202"},{"label":"La Dolce Vita Prints That Look Great In Kids' Rooms","url":"/lifestyle/la-dolce-vita-prints-that-look-great-in-kids-rooms","image":"https://res.cloudinary.com/gray-malin/image/upload/c_scale,w_1000,q_50/gray-malin/blog_posts/hero_images/000/001/276/original/00_Header.jpg?updated=1558469764"},{"label":"Ashley of The Style Editrix","url":"/lifestyle/ashley-of-the-style-editrix","image":"https://res.cloudinary.com/gray-malin/image/upload/c_scale,w_1000,q_50/gray-malin/blog_posts/hero_images/000/001/278/original/AshleySE-11.jpg?updated=1558549098"},{"label":"How to Do the Italian Interiors Look without Going Overboard","url":"/lifestyle/how-to-do-the-italian-interiors-look-without-going-overboard","image":"https://res.cloudinary.com/gray-malin/image/upload/c_scale,w_1000,q_50/gray-malin/blog_posts/hero_images/000/001/274/original/1-_The_View__Amalfi_Coast.jpg?updated=1558465678"},{"label":"Best in Show at Salone del Mobile","url":"/lifestyle/best-in-show-at-salone-del-mobile","image":"https://res.cloudinary.com/gray-malin/image/upload/c_scale,w_1000,q_50/gray-malin/blog_posts/hero_images/000/001/271/original/1-_HEADER.jpg?updated=1558384407"},{"label":"How to Make a Formal Dining Room Fun, According to an Interior Designer","url":"/lifestyle/tips-tricks-how-to-make-a-formal-dining-room-fun-according-to-an-interior-designer","image":"https://res.cloudinary.com/gray-malin/image/upload/c_scale,w_1000,q_50/gray-malin/blog_posts/hero_images/000/001/267/original/1--Dining_Room_3_005_EDIT.jpg?updated=1557869152"},{"label":" How to Bring Beach Club Vibes to Your Own Backyard","url":"/lifestyle/how-to-bring-beach-club-vibes-to-your-own-backyard","image":"https://res.cloudinary.com/gray-malin/image/upload/c_scale,w_1000,q_50/gray-malin/blog_posts/hero_images/000/001/264/original/00_Header.jpg?updated=1557534533"},{"label":"5 Interior Design Trends That are Making a Comeback","url":"/lifestyle/5-interior-design-trends-that-are-making-a-comeback","image":"https://res.cloudinary.com/gray-malin/image/upload/c_scale,w_1000,q_50/gray-malin/blog_posts/hero_images/000/001/254/original/1-_Guest_bedroom-10_preview.jpg?updated=1555721052"}],"label":"Have You Seen?"}
{"id":null,"number":null,"item_total":"0.0","total":"0.0","ship_total":"0.0","state":"cart","adjustment_total":"0.0","user_id":null,"created_at":null,"updated_at":null,"completed_at":null,"payment_total":"0.0","shipment_state":null,"payment_state":null,"email":null,"special_instructions":null,"channel":"spree","included_tax_total":"0.0","additional_tax_total":"0.0","display_included_tax_total":"$0.00","display_additional_tax_total":"$0.00","tax_total":"0.0","currency":"USD","considered_risky":false,"canceler_id":null,"display_item_total":"$0.00","total_quantity":0,"display_total":"$0.00","display_ship_total":"$0.00","display_tax_total":"$0.00","display_adjustment_total":"$0.00","token":null,"checkout_steps":["address","delivery","complete"],"bill_address":null,"ship_address":null,"line_items":[],"payments":[],"shipments":[],"adjustments":[],"credit_cards":[],"promotions":[],"total_shipment_cost":"$0.00","permissions":{"can_update":false},"use_shipping_for_billing":true,"use_new_ship_address":true,"use_new_bill_address":false,"selected_ship_address":null,"selected_bill_address":null,"display_completed_at":null,"item_count":0,"subtotal_minus_promos":"$0.00","coupon_codes":[]}
This site uses cookies to allow better navigation. By closing this banner, scrolling this page or clicking any of its elements, you are giving consent to all cookies. To learn more and to change your preferences please see our Cookies Policy.