Hi Everyone!
Super excited to feature Ashley Rose of the lifestyle blog, Sugar & Cloth, as today's Inspiration Spotlight. I absolutely love her aesthetic and if you don't know already, this woman definitely knows her way around a macaroon!
Ashley Rose, won't you tell us a little bit more?
"I'm the founder and editor of Sugar & Cloth, an award-winning DIY lifestyle blog based in Houston, Texas. When I'm not DIY'ing or whipping up something sweet for the blog, you can usually catch Jared (my boyfriend and resident photographer) and I trying out of all the new foodie spots around town, or Netflix binging with our cats (thank you Taylor Swift for trying to make cats cool again!)."
Stepping into her Houston studio, it's quick to see we share a love for a pop of color in our decor! I was thrilled to see how she decorated with her two small framed prints from the Gray Malin at the Parker collection.
"I tend to always gravitate towards bright spaces with pops of color and a retro flare. Our studio is a great example of that, though we do spend an abnormal amount of time mopping the white floors and bleaching the white tabletops, ha!"
Welcome to the Parker and Lemonade Stand certainly add some pop and flare to her picture perfect kitchen, also known as where Ashley Rose creates some magical bites for her guests and readers!
"The Gray Malin at The Parker series is my dream aesthetic in a nutshell, and it fits perfectly into our studio decor! Not to mention they make for a colorful, fun pick me up on dreary days."
Whether it's in your home or work space, one of the best parts of decorating with a small framed print, is you have the option to move it around on a whim.
Talking shop, Ashley Rose told me a little bit about what connects her to the brand..
"Aside from considering Gray to have the ultimate dream job, I love the originality and feeling of dreaminess that resonates in his work. The unique subjects are something we strive for with Sugar & Cloth, and we're all about bringing a little unexpected fun to the room, too!"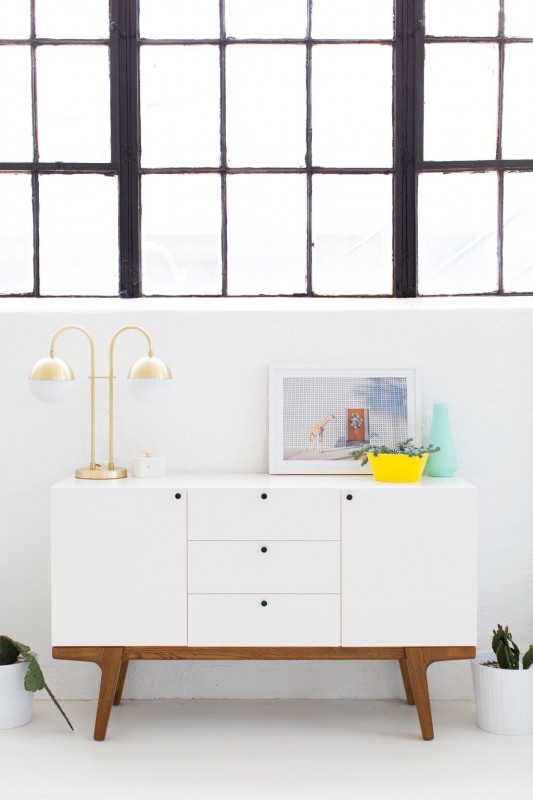 The feeling is mutual Ashley Rose! Speaking of unexpected fun, I'm especially loving this recent post, considering it's all about my favorite holiday, Halloween. The costume ideas are already swirling!
Until then though, I hope that Ashley Rose gave you all some studio (or whatever you may call your office), decorating ideas on how to give yourself an escape even while you're working away! Check out our Office Escape Shop for some more ideas!
Thanks so much to Ashley Rose and to Jared for the great photos, and as always to you all for following along!
xx
GM