Hi Everyone,
Iceland. Where to begin, other than to say, Iceland is a country unlike any other. I can't remember exactly when this country got on my 'must visit' list but it undoubtedly had something to do with numerous Instagram friends posting epic travel photos while visiting this magical country. Sooner or later, I knew I'd make my way to this Nordic island.
About a year ago, I began to conceptualize a new series to be shot against the dramatic natural wonders of Iceland's landscape. This tiny country with a population of just 300,000 boasts at minimum of 10,000 waterfalls as well as commanding glaciers and geysers. As I delved deeper into varying ideas, I was contacted by a vodka brand. It wasn't just any vodka though, it was Reyka Vodka...THE Icelandic vodka. They were interested in hosting me on a trip to this historically rich country; this, of course, included endless tastes of their delicious spirit and tour of the distillery. Needless to say, they had my attention, especially considering how serendipitous their timing was.
Fast forward to last month, I traveled, along with three Team GM members, to Iceland. Over the course of five days, I shot a new series (to be released later this year) AND had lots of fun with the folks from Reyka. It's always best to experience a new place with someone who knows all of the ends and outs, right? Well, Reyka did not disappoint when it came to providing an incredible insider's guide to Iceland, and today...I'll be sharing my new wealth of knowledge with you!
First..hop on a plane, and then wake up in Iceland.
THE MUST DO'S
The Golden Circle
The Golden Circle is a popular route for visitors that include the Gullfoss waterfall, Geysir, and Thingvellir National Park. For our group, we did it first thing off the plane, as it was the best way to maximize our time. The park sits in a fractured valley caused by the separation of 2 tectonic plates, with rocky cliffs that are hauntingly beautiful. Fun Fact: I don't watch the show but for those of you who are fans of Game of Thrones, this rugged landscape is featured in numerous episodes.
Up next, The Great Geysir. It was VERY cold outside with bone chilling winds but getting to see this natural wonder blow was worth the chill!
Along the way, there are a multiple farms along the road full of the iconic Icelandic horses. In fact, we actually stayed at one of these farms, Geysir Hestar, for the first three evenings of the trip. Therefore, the tour concluded at our new temporary home.
Unique to the country, Icelandic horses are small but hardy animals. They're also incredibly sweet and not intimidated by human interaction. According to our first guide, it's very normal for tourists to pull to the side of the road and snap photos of these captivating animals. Luckily for me and the team, we got to spend lots of time with them!
Walking Tour of Reykjavik
The walking tour of Reykjavik, the country's capital, was definitely a highlight of the trip. Our guide was a native Icelander, which seemed to be the norm rather than a rarity. The tour began in front on Iceland's oldest tree, the Silfurreynir Tree. Planted in 1884, it was in a square with business buildings around it. From the novice point of view, it would not have caught my attention, but it was an interesting start to the tour.
Over the past few days and now as I walked along the tour, the quirky charm of the Icelandic people actualized itself to me. Perhaps, it's from living on an island that is isolated from much of the world, but I observed the Icelandic people to have an idiosyncratic world view, a fun disposition and an overall, great sense of humor about their home. For example, did you know at almost half of the Icelandic population (at least) humors the idea of elves? It's true, in fact, here is a rock that our tour guide himself, claimed to have experienced an interaction with an elf. To learn more about it, this article by The Atlantic is a pretty awesome read. Can't make this stuff up!
They are also heavily invested in the arts, and there is a beautiful opera house to prove it.
The Icelandic Opera took nearly thirty years to complete, and I think it's safe to say - it was worth the wait. The exterior and interior has a stunningly distinctive colored glass facade, which creates rainbows along the floor. From here, we moved along to the Centre Reykiavik, where we came along this interesting statue as well as a photo moment or two. Translated to English, the name of this statue is 'Nameless Official,' and it's meant to represent everyone who works to keep the system going without being recognized or acknowledged for it.
For the final leg of the tour, we headed up through the bustling streets towards Hallgrímskirkja. That's an easy one to pronounce, no? Kidding, of course, the language is completely foreign to the average on-looker. This destination, though is that of the largest church in Iceland. One can see it from the distance as your approach, so it certainly casts a wide presence in the city. Along the way, though I simply had to stop for a quick snap in front of this wall...for obvious reasons.
Okay, back to the church..
And that concludes the walking tour..
Reyka Distillery
Okay, full disclosure, this isn't open to the public. But! I have to share my experience because it's really too cool not to!
Located about an hour out of Reykjavik, Reyka's distillery is an unassuming building. Inside, though it is home to their precious vodka , which is crafted in a very unique way. Considering Iceland is a land of volcanoes and glaciers, it's no surprise that Reyka uses glacial spring water, lava rock filtration, geo-thermal energy and this very rare Carter-Head Still..as seen below. Don't worry, I didn't know what it was either.
While there, I learned that Iceland's glacial spring water is among the cleanest water in the world and provides the base of Reyka Vodka. This wasn't a surprise to me, as I had been drinking the delicious water right from the faucent the entire time I'd been in the country.
They, then, use lava rocks as a natural and efficient filtration system. The lava rocks have zero tolerance for impurities and are easily attainable in Iceland's many lava rock fields. This rare Carter-Head Still is the first and only one of its kind used to distill vodka, which further removes impurities. The distillery is powered by the steam from nearby hot springs. This geo-thermal energy is captured deep in the earth and supplies power without adding contaminates to the vodka or the world. Pretty impressive, right?
Cheers!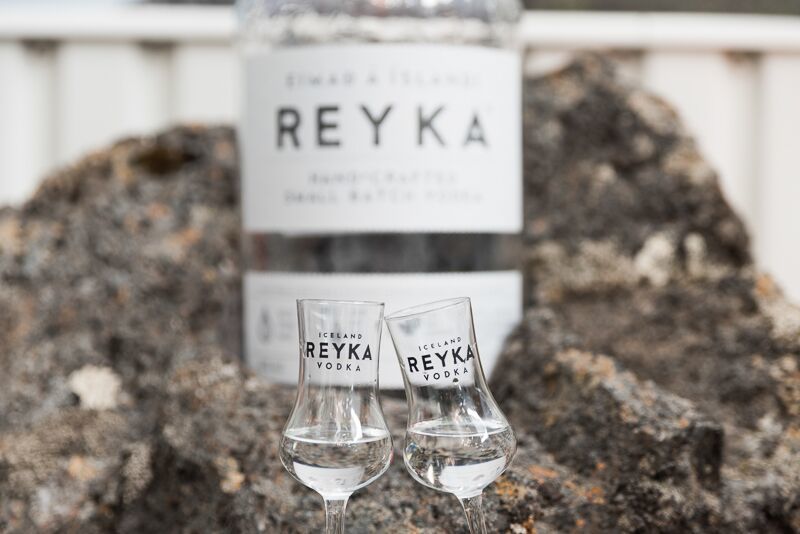 The Blue Lagoon
Last but certainly not least, I must INSIST that if/when you visit Iceland, you simply must go to The Blue Lagoon. I'll admit, I thought for sure it was going to be more of a tourist trap than anything else, but it exceeded any and all expectations! If you have the time, the Blue Lagoon Tour is well worth it, as you learn so much about this very special place. And, yes - they believe in elves here, too!
The main attraction, of course, is the lagoon itself. Once you find your way through the changing room and out to the lagoon entrance, ease into the soothing water and simply begin to take in the amazingness that is happening around you.
After acclimating a bit, wade your way over to the Silica Bar. This is the white facemask that you've probably seen in Instagram posts. The mask is delivered at the Silica bar, located in the lagoon; they literally just scope a ladle of it and plop it in your hands. It's amazing!
It can be applied as much as you want to the face and body, before leaving it on for at least 5 minutes. When you wash it off, the softness of your skin is undeniable.
Once you're officially a prune, it's time to make your way to the sauna and/or steam room, before rinsing off and heading home. Insider tip, go to the Blue Lagoon either on your way to the airport or upon first arriving to Iceland. I did it on the way home, and I couldn't have been more relaxed as I boarded my flight back to the states.
Special thanks to the folks at Rekya for showing me such an incredible experience, Iceland and Reyka Vodka are officially personal favorites of mine! And, as always, thank you all for following along! Stay tuned for more from Iceland..
Cheers,
xx
GM