Before we begin, I need you, dear reader, to understand that I am writing this blog post on my own free will about my personal vacation that I paid for as a regular guest. I had such an incredibly exceptional experience that was so special, I felt compelled to write about—please be kind to my vulnerability in opening up and sharing this with you. To be clear, this was not a gifted or sponsored trip, and neither is the post.
When I think of vacation in Hawaii, I usually think of the simple pleasures: hanging out at the beach, sipping frozen cocktails, sightseeing, and being on island time with lots of luaus and leis. At least this has been my experience from most of my past trips to the islands along with some nature hikes, helicopter rides, and cultural tourism along the way.
What I never thought of doing in Hawaii, much less anywhere else, was taking time to really get away both mentally and physically. Lāna'i presented a unique opportunity; not only was it the most remote touristic island with a myriad of amenities, but it also features a newly reimagined resort in the mountains, far above the beach, that focuses on wellness and mindfulness at the Four Seasons Lāna'i at Koele, a Sensei Retreat.
Perched on the mountain about 20 minutes from the popular Four Seasons Resort Lāna'i located near the sandy beach of Hulopo'e, the recently opened Koele resort is truly unique in that it offers an all-inclusive, personally tailored wellness journey. In fact, this is the very first Four Seasons all-inclusive wellness retreat.
When I first booked the trip I did not fully understand what the resort featured since there are sparse marketing details about it online; it has only been in a soft-open stage since mid-November. However, based on the strong recommendation of a friend that is an avid freelance writer on wellness herself, she convinced us with firsthand experiences of the personal treatments we would receive as part of our all-inclusive wellness journey and convinced us that this was truly one of a kind.
Before we go any further, I have to thank my husband's parents because they offered to come out to spend time with our kids, which afforded us a few days away from home. When we first brainstormed where to go we decided on our favorite Hawaiian hotel, the Mauna Kea. However, we couldn't stop thinking about this all-inclusive wellness hotel on Lāna'i, an island we had never been to. We didn't know what to expect other than we'd enjoy private airfare to and from Honolulu (on luxe planes of the new Lāna'i Air), multiple spa treatments, all-inclusive fitness classes and fresh, composed meals from the world-famous Nobu. I think what sealed the deal and allowed us to take the leap of faith was the fact that it happened to be during my birthday and you can always use your birthday as an excuse to treat yourself to something!
With our minds made, when we went to peruse and book on the website we were taken aback at the $4,500 a night per couple fixed price ($2,250 per person per night). The first thought to come across our minds was: how can we justify this cost? We have been on an all-inclusive safari in Africa for roughly half that amount per-night and that was extravagant. Well, after our retreat, and the immaculate 5-star (or more) service we received, I felt compelled to break it down so anyone reading this blog post can understand how one could justify this cost.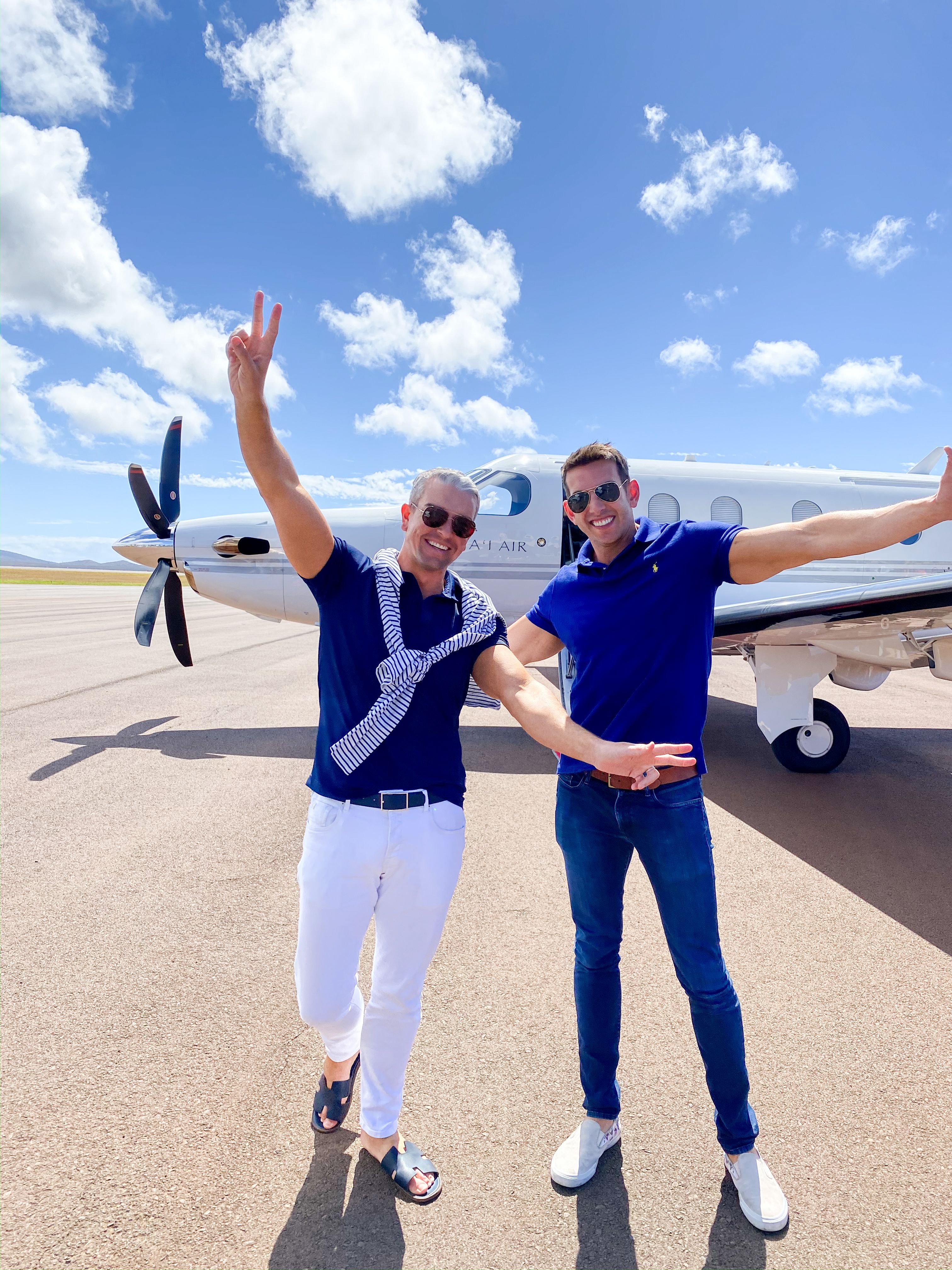 Lāna'i is unique in that it is privately owned by billionaire Larry Ellison (with a few exceptions, such as the beaches which are public in the state). Mr. Ellison worked to develop the Sensei wellness program with Dr. David Agus. Over the past five years, Mr. Ellison has given the smaller Four Seasons in the mountains (formerly known as 'The Lodge') a total renovation. What was once a more traditional dark wood property with a golf course has now become an awe-inspiring retreat with fresh neutrals, calming grasscloth, and minimalist design. Mr. Ellison also has an impressive private art collection (rumored to be valued at around one billion dollars) and he has designed this property with art at the top of mind. Upon arrival, you pull up to eight larger than life Botero sculptures and soon discover dozens and dozens of incredible pieces of art and sculpture throughout the property. You are dropped off at the hotel in a Tesla (Mr. Ellison sits on their board) after your flight on Lāna'i Air (the private airline that shuttles guests in from Honolulu started by- you guessed it- Larry Ellison). The old golf course is currently under a yearslong transformation process where it will become an art sculpture park, featuring the impressive collection of Mr. Ellison, exclusively for guests at Koele to enjoy (so we were told while visiting).
The inclusive dining experience at Koele is an art unto itself. Dr. Agus has worked closely with nutritionists and Nobu Matsihusa, the founder of Nobu to create a unique menu with lighter options that still maintain the classics but with a feel-good portioned twist at Nobu Sensei, the hotel's restaurant. This is the only hotel in the world to offer breakfast, lunch, and dinner designed by Nobu. Many of the vegetables are grown on a new hydroponic farm next to the airport. The ultimate goal for the farm is to grow all of the produce utilized at the Koele resort and even export crops from Lanai to support opportunities, outside of hospitality, for the island's 3,000 permanent residents. Dr. Agus and Mr. Ellison have also partnered to start Sensei, a health company based in Santa Monica that breaks down wellness into three categories: movement, nourishment and rest. This is the first Sensei Retreat resort, but we were told it will not be the last.
Here's what you get as part of this package at the Sensei Retreat at Koele compared to the Four Seasons beach resort. The prices in parentheses are roughly the equivalent prices at the beach resort, which is not all-inclusive and is paid per component
Private VIP air transfer to and from Honolulu to Lanai ($1,000 comparatively paid for, each way for two people, when staying at the beach resort)

Private car transfer to and from the resort (roughly $300 each way)

Room and Board (average of $1,500 per night)

Spa treatments daily (roughly $600-$800 a day for two)

One on one Sensei guided sessions (not available at the beach resort, but with personalized sessions with master-degree senseis, roughly $300 a session)

Unlimited food and beverage (including all premium alcohol at each meal- roughly $1,000-$1,500 daily
Here is an example of my curated activities by day:
Day 1 (Arrival)
1:00-3:00 PM - Couples Massage Experience
4:00-5:00 PM - Sensei Guide Session 1:1
5:30-6:45 PM - Restorative Sound Journey
Day 2
6:30-8:30 AM - Ridge Hike at Great Hall
9:00-11:00 AM - Thermal Body Mapping Experience
11:00AM-12:00PM - Nutrition 1:1
1:30-4:30 PM - Lanai Adventure Park: Challenge Course, Adventure Course & Zipline
5:00-6:00 PM - Hale Time
Day 3
9:00-9:30 AM - Daily Warm-Up
9:45-11:00AM - Yoga 1:1
11:30 AM-2:00 PM - Beach Snorkel Excursion with Picnic Lunch
2:30-4:30 PM - Featured Experience: Nourish Massage
4:30-7:30 PM - Sunset Sail
Day 4 (Departure)
9:00-11:00 AM Featured Experience: Move-Aquatic Bodywork Massage
11:00 AM-12:00 PM - Getting Started with Meditation
12:00-12:30 PM - Sensei Guided Session 1:1
In the end, that total cost is not that much different when you stay individually at the beach resort. However, when staying at the resort rather than the retreat, you do not get to enjoy the one-on-one dedicated staff. While we were booked almost solidly each day from on-on-one yoga, to sunset hikes, to daily treatments in one of the ten Hales (a private spa oasis with outdoor shower, waterfall, and swimming pools, indoor soaking tub, treatment tables, infrared sauna, and steam room) with specialized, technologically advanced treatments, you were surrounded by a staff with an unparalleled level of sophistication and genuine feeling of exclusivity...
While the resort is certainly not in everyone's price range, the ultimate take-away is that it was well worth the price. Jeff and I both came out feeling rejuvenated, relaxed, and present with each other. The constant question at the resort from the staff is what is your intention? Across the spectrum of nutrition, relaxation, and fitness, the overarching theme of holistic wellness really struck as at the end. There were many experiences from the typical 90-minute massages to the extremely atypical aqua therapy (look it up) and one-on-one meditation sessions.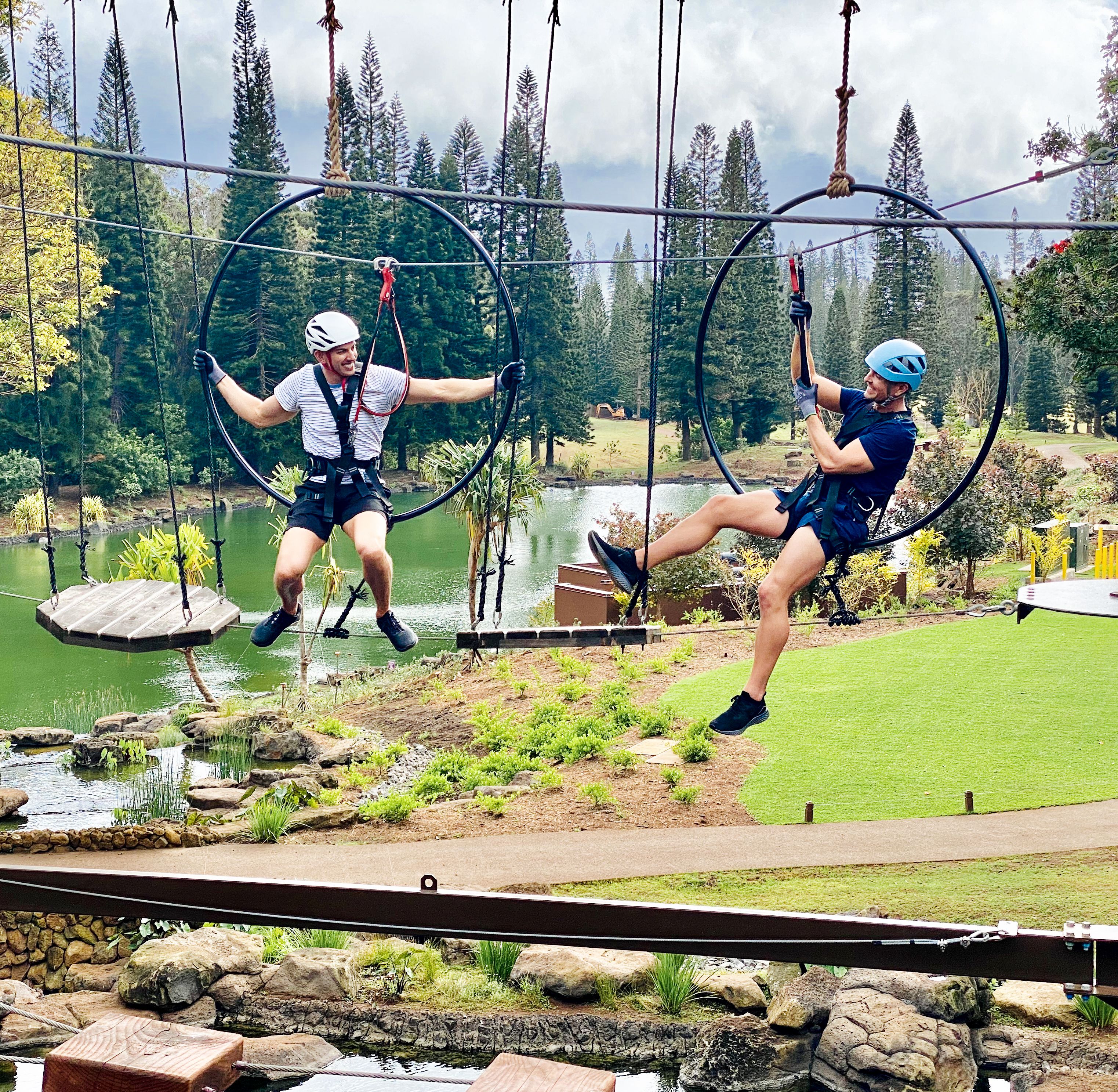 There were also challenges we encountered at the Lanai Adventure Park next door, including rope courses that had us 40 feet in the air in the Cook Pine trees, and a two-tiered adventure tower with 70 obstacles that tested our physical and emotional stamina. We also enjoyed some typically relaxing Hawaii vacation activities like a sunset sail and some truly beautiful snorkeling (the hotel will shuttle you to and from the sister property at the beach in a private Tesla, all-inclusive). But in just four short days, we can say that not only did we get our money's worth, but we felt more connected, grounded, and knowledgeable about how to maintain wellness in our everyday lives than ever before. Also, after returning home our Sensei's sent us a follow-up email covering all the notes that were discussed during our treatments and sessions along with links to suggestions to improve our wellness in our everyday lives.
Pricey? Yes. Moving? Deeply. Recommended? 100%.
This is a totally un-endorsed post. There were no freebies or asks to come up with this content. But as someone who has partaken in a real fitness journey the last few years, the wellness component and this deeply moving trip with its lessons could not go unmentioned.
Cheers!
Xx
G