The Art of Having Fun
Sips & Snacks: How to Throw an Easy Cape Cod Clambake
With Labor Day quickly approaching, it's time to start planning all your end of summer parties! It's easy to fall back on a typical backyard barbeque, but we think a backyard clambake is way more fun. Now, we hear you, a clambake sounds pretty daunting, but don't worry, it's so much easier than it sounds. We teamed up with our friend Nicole Jackson of To Taste to give you all the tips to throw the easiest clambake ever and the recipes that will have your friends begging for you to share them.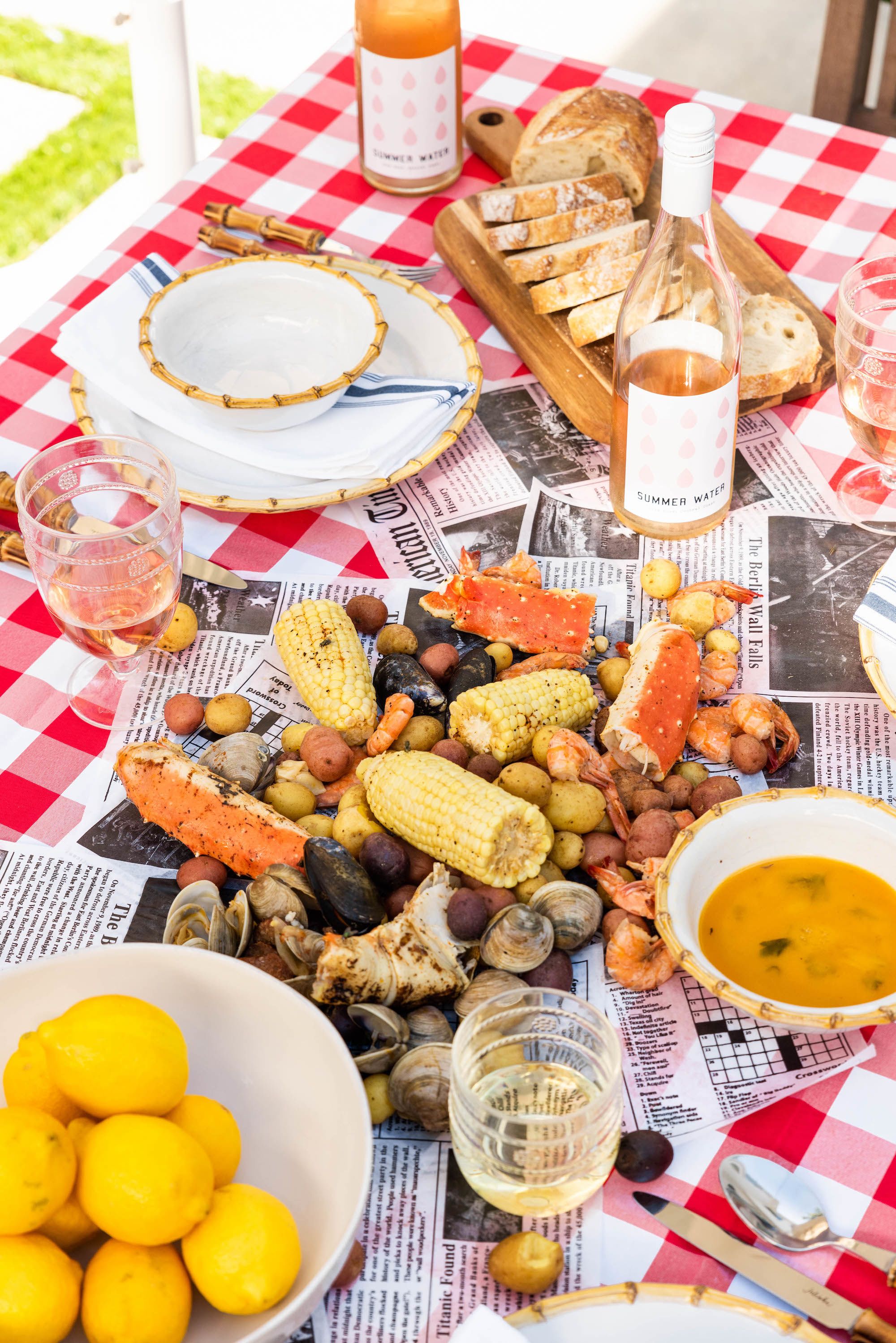 Finding the Right Recipes
For those of you how are confused about how to actually go about making the clambake (don't worry we were too) Nicole has put together the yummiest recipes ever with easy step-by-step instructions on her website To Taste. For our Kitchen Clambake, we used an assortment of different shellfish (shrimp, clams, mussels, and crab legs) and paired it with kielbasa, which added a lot of extra flavor. For dessert, Nicole whipped up the most delicious Bourbon Blueberry Pie! Although the alcohol burns off in the baking process, the Bourbon adds a delicious hint of vanilla and smoky flavor. The best part? After the prep time, it only took around 30 minutes for everything to cook.
Click here for the Kitchen Clambake recipe.
Click here for the Bourbon Blueberry Pie recipe.
Setting the Table
When it comes to setting the table for your clambake, we recommend keeping things pretty simple. All you need is a table cloth (anything other than white as it could get easily stained), some newspaper, and some cute dishes and glassware. As far as the newspaper is concerned, we found some great food-safe wax paper with a cool newspaper design. If you've never been to a clambake before, you should know that, traditionally, the seafood is dumped onto the table and everyone just picks at it with their hands. The wax paper/newspaper comes in handy to keep this part of it as clean as possible.
What to Drink
The whole point behind a party like this is to keep things casual! For our clambake we opted for rosé and vinho verde, but it would have been just as good with your favorite beer too. If you want to get really adventurous, you could always try making your own custom cocktail.
When to Throw the Party
When deciding when to host your party, there are two things to consider: the weather and the best time of year for seafood. Summer is a great time of year for both, you can sit outside with no jacket on and indulge. However, clambakes are just as great in the fall! The weather is a little bit more crisp, so you'll need a jacket, but the fish is in its prime and you can get fancy by throwing some lobster into your clambake too if you want.
Easier than you thought right? Now it's time to head to the grocery store, pick up your ingredients, and start cooking! Obviously, the clambake was inspired by our recent release of photos from Cape Cod. If you have already seen them, you can check them out and shop here.
Xx
Team GM
Have you seen?
5 Quick & Healthy Soups to Reset Your Clean Eating
Nutritionist Approved Wines
Nutritionist Approved Wines
3 Cocktail Recipes Inspired by Our Favorite Pop Culture Icons