As much as we all love the holidays, it can be a little overwhelming. It's so refreshing to be able to put away the decorations after a long holiday season and start anew. Today, Gillian Segal of Gillian Segal Design is back on the blog to talk about her favorite ways to reset after the holidays, and how you can really refresh your space in the new year. From décor to self-care tips, keep reading to see how Gillian is prepping for the new decade ahead…
Like many people, counting down for the holidays has me dreaming of eggnog lattes in Starbucks Christmas cups, the smell of a fresh fir tree in the house, and all the special Hanukkah treats like latkes and doughnuts. However, after what feels like 6 weeks full of feasting, gift exchanging and toasting, I am always relieved and grateful to take down the holiday décor and start fresh for the year ahead… and maybe lose a few pounds in the process! In all seriousness, as a designer, I am a huge believer that we are influenced by our space, so resetting your home for 2020 is a great way to set your intentions for a positive and successful year ahead. Here are my three favorite ways to reset your home after the holidays, so that you can join me in creating a positive environment for 2020…
Photo by Tracey Ayton Photography
1. Do a (Very) Early Spring Cleaning!
It's amazing how quickly we accumulate junk. As little knick-knacks accumulate on countertops and bookshelves, we quickly become accustomed to what our space looks like with the clutter. Whenever we style a space for clients, our first step is to remove all items from bookshelves and surfaces and only re-introduce essential pieces. While I'm no Marie Kondo (I just can't be THAT much of a minimalist), I do believe it's important to select items that have meaning or bring you joy. This process of editing is something I do even in my own home once every season, and I'm always surprised by how many things I have accumulated that don't contribute anything to my life or home.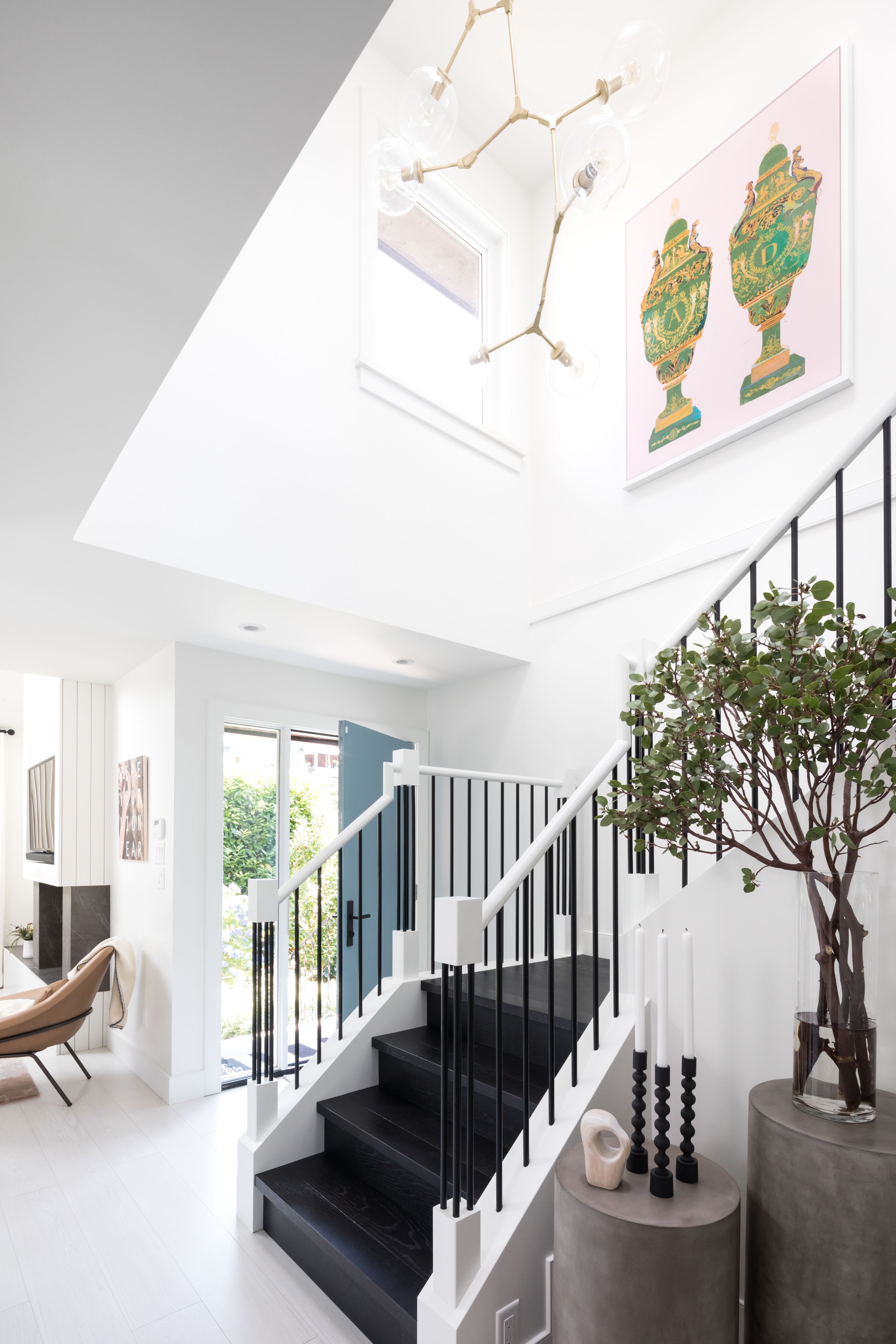 Photo by Ema Peter Photography
2. Invest in Art
While January 1st isn't always the best time to consider spending (ahem, patiently waiting for holiday credit card bills to arrive), I still suggest putting "buy a great piece of art" on your list for 2020. "Great" does not always mean expensive, but when clients talk to me about feeling overwhelmed with starting an art collection or finding it difficult to set money aside, I suggest investing in one piece a year. I have practiced this since my husband and I bought our first condo. Not only is it a great way to create a collection, but it also transforms and gives new life to your space. (Budget tip: if new art just isn't in the cards for you this year, swapping the locations of current pieces in your space can have a transformative effect, so try switching things up this way!)
3. Treat Yourself: The Home Self-Care Edition
Some of my favourite self-care routines and habits really start in the home. My modest "home gym" (a.k.a. a small 6' x 8' mat complete with a treadmill, some free weights, and a bench) has become the most incredible tool for my husband and I to stay fit while juggling our careers and parenthood. Even this small corner of our space has been decorated with art, mirrors and lighting that I love, to keep me motivated to go downstairs and feel like I am getting a (very chic) gym experience.
Some other self-care favourites? Investing in great new towels (my personal favourite are the soft and luxurious Missoni Home towels or new bedding. Also on my "Treat Myself List" for 2020 are Slip Silk pillowcases—not only do they look gorgeous and make you feel like you are diving into a hotel bed each night, but the silk also helps to keep your hair shiny and strong and prevent breakouts for your skin—what more can a girl ask for? One of my last home hacks for self-care is a great diffuser with a variety of essential oils. I like the Vitruvi diffusers and right now am going through a major Frankincense and lavender phase. Making even a small corner feel like a retreat in your own home with a few self-care essentials is a great way to recalibrate and get prepared for a fabulous year ahead.
What did you think of Gillian's resetting tips?
Follow Gillian on Instagram here, and check out more of her work here. And to shop the Gray prints featured in this post, head over to the GM shop!
Xx Team GM
Photos: Ema Peter Photography, Tracey Ayton Photography, Gray Malin