With the many interior design trends floating around the Web as of late, it can be hard to nail down exactly how to pull off the ones that catch your eye. But don't fret—we're breaking down one of the trends that has been our radar for some time now, and we think you'll be just as intrigued by it as we are. We've been keen on the acrylic décor trend since Gray first released his oh-so-chic luxury trays and coasters, and we haven't fallen out of love since. And the best part is, aside from there is free shipping on Gray's acrylic products this week, but also this trend doesn't seem to be going anywhere anytime soon! We love the subtle hint of glam acrylic accessories and furniture add to a space, and we've rounded up a few of our favorites below for you to shop right here on the blog. (You're welcome!) Whether you've been dying for those perfect acrylic counter stools, bookcase, or something a little more unique (hi, canopy bed frame…) then you're in the right place. Keep scrolling for our quick how-to on pulling off acrylic décor in your own home…
A Few Tips to Start…
1. Don't Go Acrylic-Crazy: The beauty of acrylic décor is that it is relatively seamless and discreet—it can make as little or as big of a statement as you want it to. That said, don't go acrylic-crazy and add too many pieces to one room. One oversized piece, or one to three smaller pieces is a safe bet for an effortless look that doesn't feel overdone. Trust us, just an accent here or there will make a bigger impact than you think.
2. Play with Scale: When selecting multiple acrylic pieces for a single space, make sure to vary your choices in size so your décor doesn't look like carbon copies of one another. (This also helps to avoid that outdated "matching bedroom set" look.) Add a long console table to one wall, a medium-sized accent chair in the opposite corner, and an acrylic serving tray to top off your coffee table… you get the idea.
3. Mix Your Materials: Just because you're drawn to acrylic décor, doesn't mean it has to be only made of acrylic. In fact, some of our favorite pieces aren't solid acrylic; they are mixed with linen and velvet upholstery, prints, and metal accents like brass and nickel. The bottom line? Acrylic décor doesn't have to be invisible!
Now that we got that out of the way, shop some of our favorite acrylic décor pieces for every space from the living room to the kitchen below…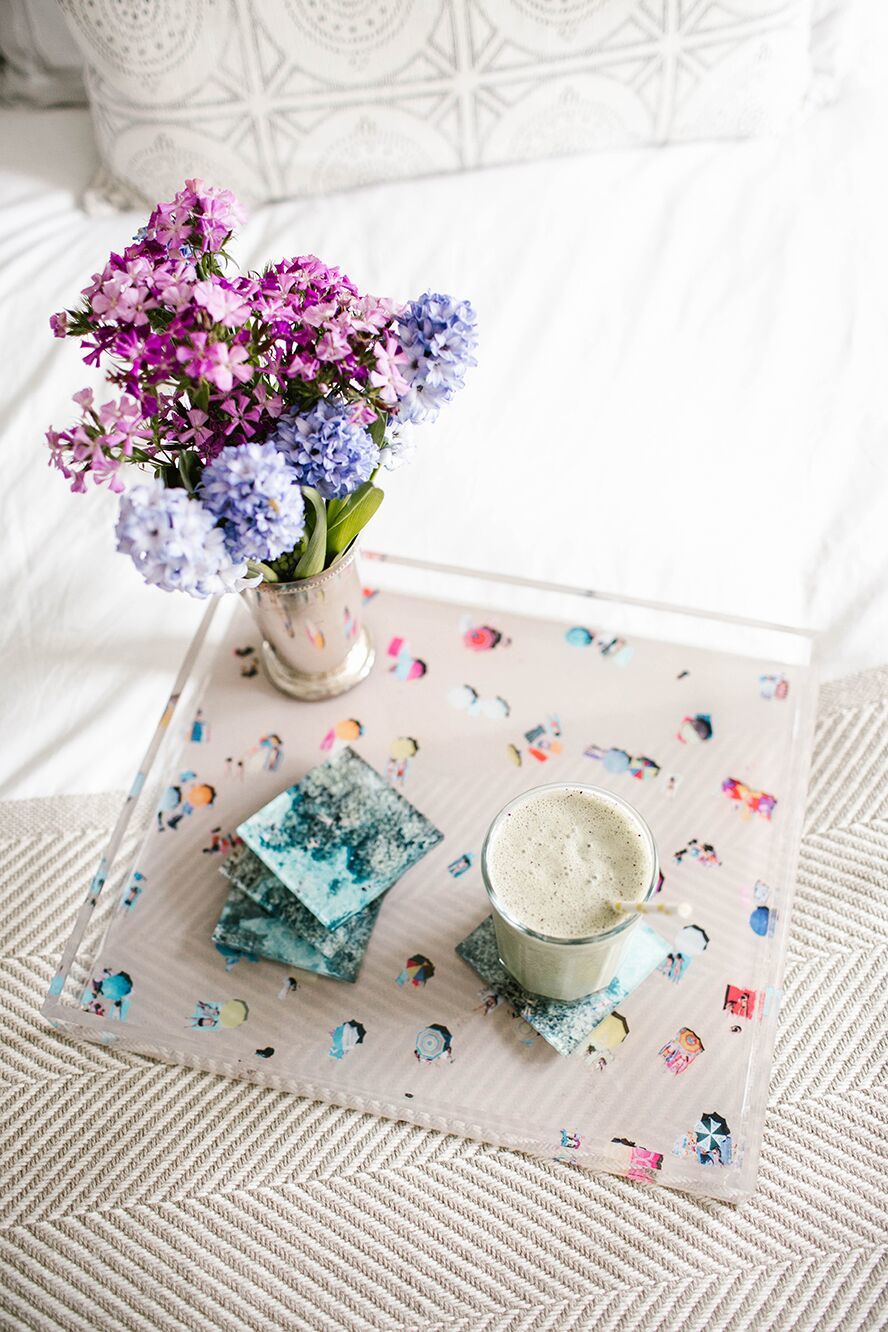 For the Bedroom
1. Quincy Medium Sputnik Pendant, $3,149 | 2. Acrylic Canopy Bed, Queen, $1,999 | 3. Serena Velvet/Lucite Chair, $519 | 4. The Reef Tray, $295 | 5. New Field Side Table, $999 | 6. Tall Acrylic Box w/ Crystal Geode Lid, $99
For the Living Room
1. Enzo Cocktail Ottoman, Linen/Acrylic, $2,865 | 2. Antonio Acrylic Chair w/ Pillow, $439 | 3. Jonathan Adler Jacques Mirror, $1,250 | 4. The Blue & White Umbrellas Tray, $355 | 5. Havenhurst Acrylic Etagère, $1,549 | 6. Mod Large Locker, $899
For the Dining Room/Kitchen
1. Koryn Dining Table, $1,055 | 2. Drake Narrow Chandelier, $695 | 3. Peekaboo 56" Acrylic Console Table, $699 | 4. Julien Acrylic Bar Cart, $1,915 | 5. The East Hampton Tray, $295 | 6. Vapor 24" Acrylic Counter Stool, $189
Which of these acrylic pieces are your favorite? Will you be adding any to your home?
Out of all the current interior design trends happening right now, we have to say this is one of our faves. Start by shopping all acrylic serving trays HERE and enjoy FREE SHIPPING. ;)
Xx Team GM
Photos: (Header) Daniela Benloulou Interiors, 2. GrayMalin.com