Good news… In case you haven't heard, Gray just released brand new images from dreamy Park City. If we had it our way, we'd be skiing down those idyllic white slopes right now… but until we do, we'll just share a few of our tried-and-true tips for planning the perfect snowy getaway with you all, so you can hit the slopes ASAP.
We love a tropical getaway as much as the next person, but we have to say, there's something undeniably serene about cozying up in a cabin nestled in the mountains. If you're nodding your head in agreement but simply don't know where to start your plans, don't fret just yet! For all you need to know about what to what to pack, where to stay, and what to do for play on your next snowy vacation, just keep that page scrolling…
What to Pack
Before you jet off to conquer the slopes, planning what you'll pack should be at the top of your to-do list. While most people are generally already prepared for a tropical vacation with summer threads, sandals, and a bathing suit, packing for the snowy mountains is an entirely different game. We have to say, there's nothing more satisfying than pulling out your chicest winter wear for a getaway in the mountains, but that expensive parka must keep you warm, and those fur-lined boots have got to be waterproof. (Did we mention layering is key?) Get a head start by shopping some of our favorite fashionable but functional essentials below:
1. Women's Velvet-Lined Puffer Coat, $365 | 2. Madewell Skrallan Cuffed Wool Beanie, $26.25 | 3. Portolano Cashmere-Lined Napa Leather Gloves, $155 | 4. Women's Sorel Sneakchic Alpine Waterproof Bootie, $159.95 | 5. Patagonia Men's Down Snap-T Pullover, $199 | 6. Vince Boxy Mock Neck Cashmere Sweater, $395 | 7. Il Borgo Men's Chunky Knit Cashmere Scarf, $575 | 8. UGG Men's Shearling-Trim Hat & Gloves Set, $225 | 9. Men's Combined Parka, $375 | 10. Men's Wool Blanket Jacket, $207
Where to Lodge
One of the best things about a snowy getaway is the variety options to choose from for your stay. Whether you opt to stay at a luxury mountain resort lodge, or book something a little more off the beaten path, you can totally have a five-star experience no matter how close you are to the epicenter of the excitement. Depending on what destination you're heading off to, many locations offer top-of-the-line stays like the Montage Deer Valley (featuerd above) Four Seasons in Jackson Hole, The Little Nell Aspen, and Whiteface Lodge Lake Placid. Let's just say you can't go wrong with a pick like these—after a few days kicking back with these accommodations (hello, fur rugs, fireplaces, champagne and hot tubs…), you'll come away feeling more refreshed (and pampered) than ever.
On the other hand, we can get just as excited about a secluded cabin in the mountains as we do about a luxury resort, and there are plenty to choose from! Ranging from single rooms to entire homes, Airbnb is our go-to for finding the perfect little (or not-so-little) cabin to cozy up in, at a variety of price points. You can book an entire chalet in Lake Tahoe, or a quaint little reclaimed wood studio in Montana—whatever suits your trip. Or, if you want a more standardized option, Wyndham Vacation Rentals offers condos in a dozen locations, from Aspen to Whistler.
What to Do
When you're heading to a mountain escape, you can be sure of two things: almost every snowy destination will offer opportunities for both adventure and some much needed R&R. Of course, every getaway will be a little bit different depending on your interests, but here are some ideas we never tire of when we escape to the mountains…
If You're Going Out:
Cruise main street. If you want to get out but don't want to become one with nature quite yet, spend some time exploring main street with your group. In most cases, you'll find a slew of one-of-a-kind boutiques, unique bites, and quaint sights that will make for the perfect photo opp.
Hit the slopes. Whether your idea of "hitting the slopes" is back country skiing, doing snowboarding tricks down the mountain, or keeping it simple with sledding, spending some time actually in the snow is an absolute must. You could even try something new and go snowshoeing, or get really adventurous and hop on a snowmobile for a little adrenaline rush.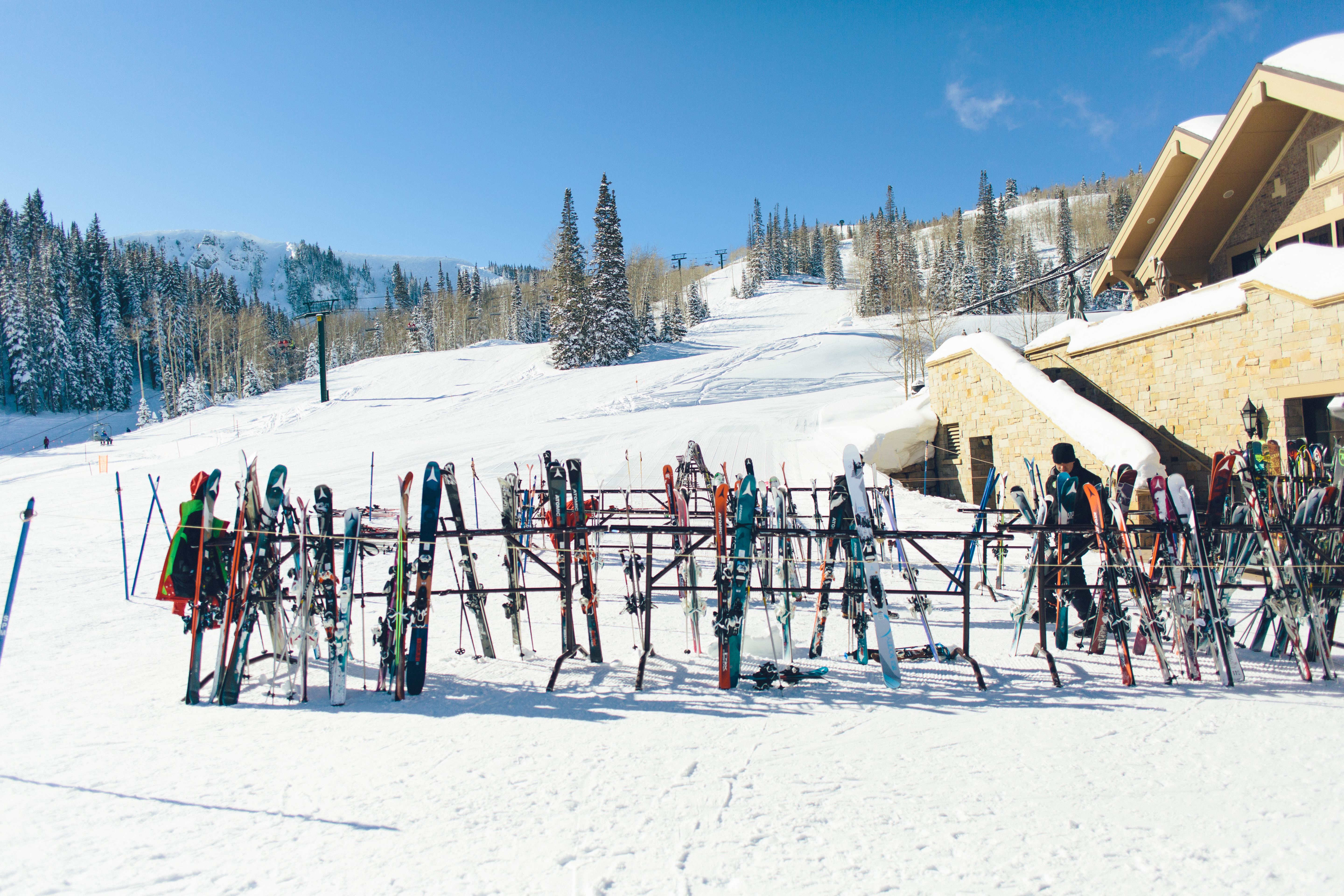 Hit the ice. There's nothing more romantic than skating hand-in-hand across the ice with your love, and a snowy getaway is the perfect time to do just that. Or, you could just spend the time laughing at each other's slips and slides across the ice. Either way, ice skating never disappoints on a snowy vacay.
See the snow from above. So you've checked snowboarding, skiing, and sledding off your list, and want to spend your last afternoon kicking back—but still want to get out of the room. Change your perspective (literally) and take a laidback gondola ride up the mountain. Not only will you get to see the pristine slopes from a bird's eye view, but you could even stop for lunch or champagne at the top of the mountain. Cheers!
If You're Staying In:
Retire by the fire. We've never met someone who isn't a fan of a crackling fire, and when you're tucked away in the mountains, the scene just doesn't seem complete without one.
Take a spa day. There's something so naturally serene about a quiet snowfall, and taking a spa day at the lodge is the perfect way to unwind when it's really coming down outside. Besides, after a long day on the slopes, your body needs a little TLC. You deserve it, right?
Drink all the hot beverages. Hot chocolate, spiked cocoa, coffee, cider… you name it. If it's a steaming sip that we can curl up with in a robe by the fireplace, we're all about it.
Bust out the board games. If you're the type that loves a good game with friends (but don't get nearly enough free time to indulge), this is your chance to take full advantage. Some rented cabins may even already have their closets stocked with cards and games for guests! And if you're really snowed in with a fun crowd, we're not opposed to making them a drinking game…
Where are you going to take your next snowy getaway? We're thinking Park City sounds pretty great right about now…
Happy travels!
Xx Team GM
Photos: Gray Malin