Once you've scheduled your time off of work, found someone to watch your pets and water your houseplants, you've packed and repacked your suitcase, and you're ready to jet-off, ticket in hand, it only makes sense to maximize every minute of vacation time. And with so much of the world to see, why limit yourself to just one destination? Rather than spending hours poring over train routes and travel times, we did the work for you, and rounded up the best multi-city trips to take, and everything to visit along the way. You can't set off without your passport, so you'll want to scoop up one of these brand-new passport cases to go with you newly planned itinerary. Whatever style you prefer, there's a case to keep your passport safe, secure, and easy to spot at the bottom of your carry-on. So, all you have to do is pick the place you'd most like to go (we heard Italy is pretty nice this time of year…) and get ready for a magical experience. Keep scrolling to see our favorite places for a multi-city trip…
Italy
Time Needed: 10-14 days
Suggested Routes: Florence + Venice + Cinque Terre OR Rome + Capri + Amalfi Coast
If we're being honest, you could spend a month in Italy and still just scratch the surface of everything this stunning (and extremely photogenic) country has to offer, but you can still see all the highlights in two weeks.
If it's your first time visiting, Rome and Florence are must-sees. While touristy, the cultural and historical impact these cities have had is incomparable, and they're also just plain beautiful! However, for the sake of soaking up them up, rather than rushing through, we recommend sticking to one, with an overnight trip to either Venice or Capri, then heading to either Cinque Terre or the Amalfi coast for the second half of your trip. Either way, you'll experience amazing food, beautifully preserved historic sights, and gorgeous beaches.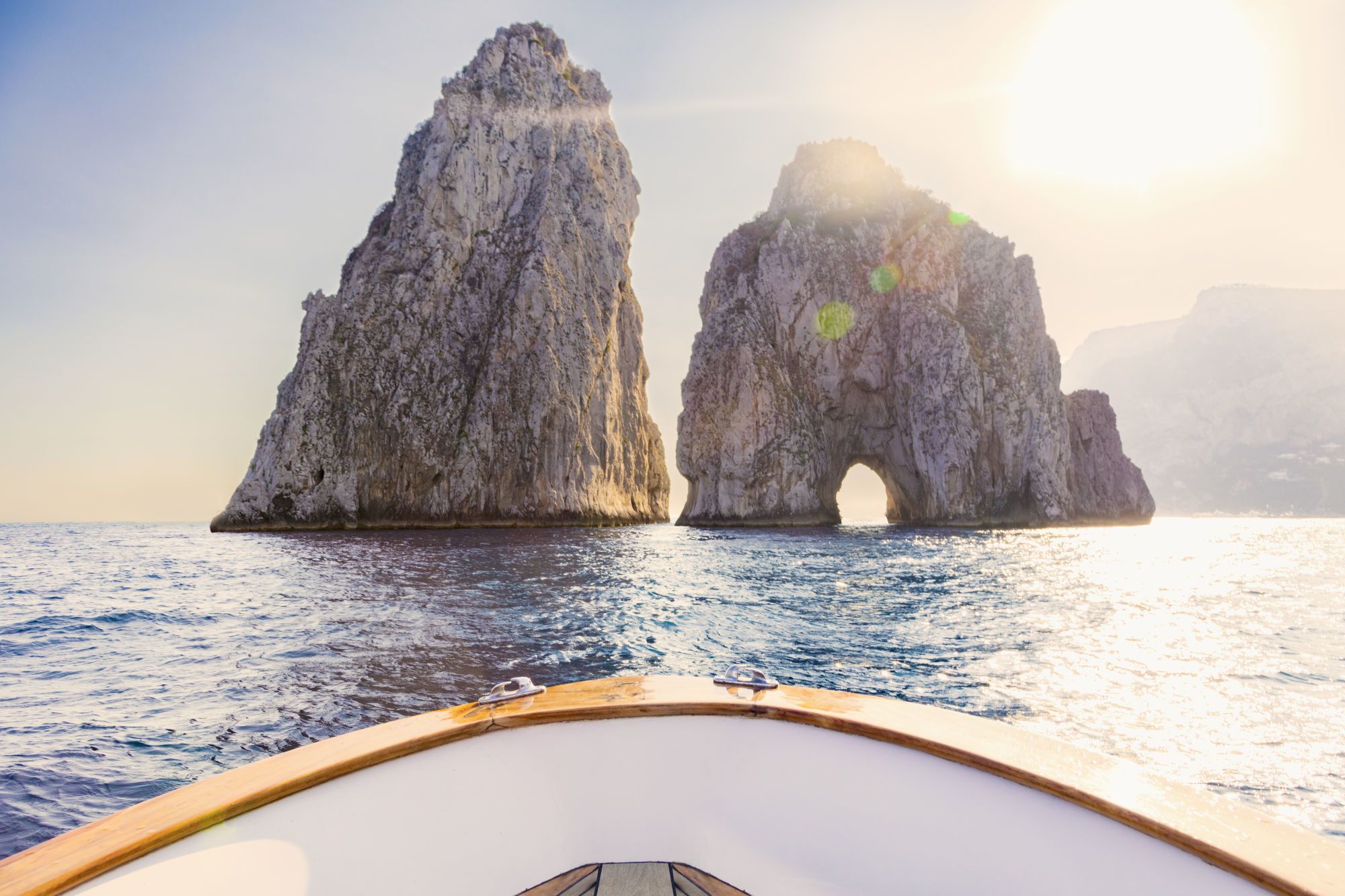 Wondering how we chose this route? Cinque Terre lies on the northern coast of Italy, which makes it more easily accessible from Florence, in just under two hours by train. The Amalfi Coast, on the southern side, can also be accessed from Rome in about two hours via train. Similarly, both Venice and Capri are a little over two hours from Florence and Rome. While these last two areas are beautiful and worth a visit, their small size means they tend to feel more crowded, so spend just a couple days there before heading on to the coastline.
Summer tends to be packed with tourists and can be sweltering, so we recommend traveling during the shoulder seasons, in April and May or September and October. The weather will still be beautiful but you won't be competing with summer vacation crowds.
Next, consider the type of trip you prefer. If you're looking for ultimate convenience and will spend most meals eating out in the cities, a hotel is a great choice. However, if you're traveling with kids or prefer to have breakfasts at home, an Airbnb might be a better option. Look at these before you book your tickets to ensure that the areas you're traveling to have accommodations you'll love—nothing is worse than getting stuck in a hotel miles away from the city center.
Finally, book your tickets and start getting excited for your trip! If you need more tips and tricks, check out Gray's road trip diaries here, here, and here, and find all of our Italy recommendations right this way.
Greek Isles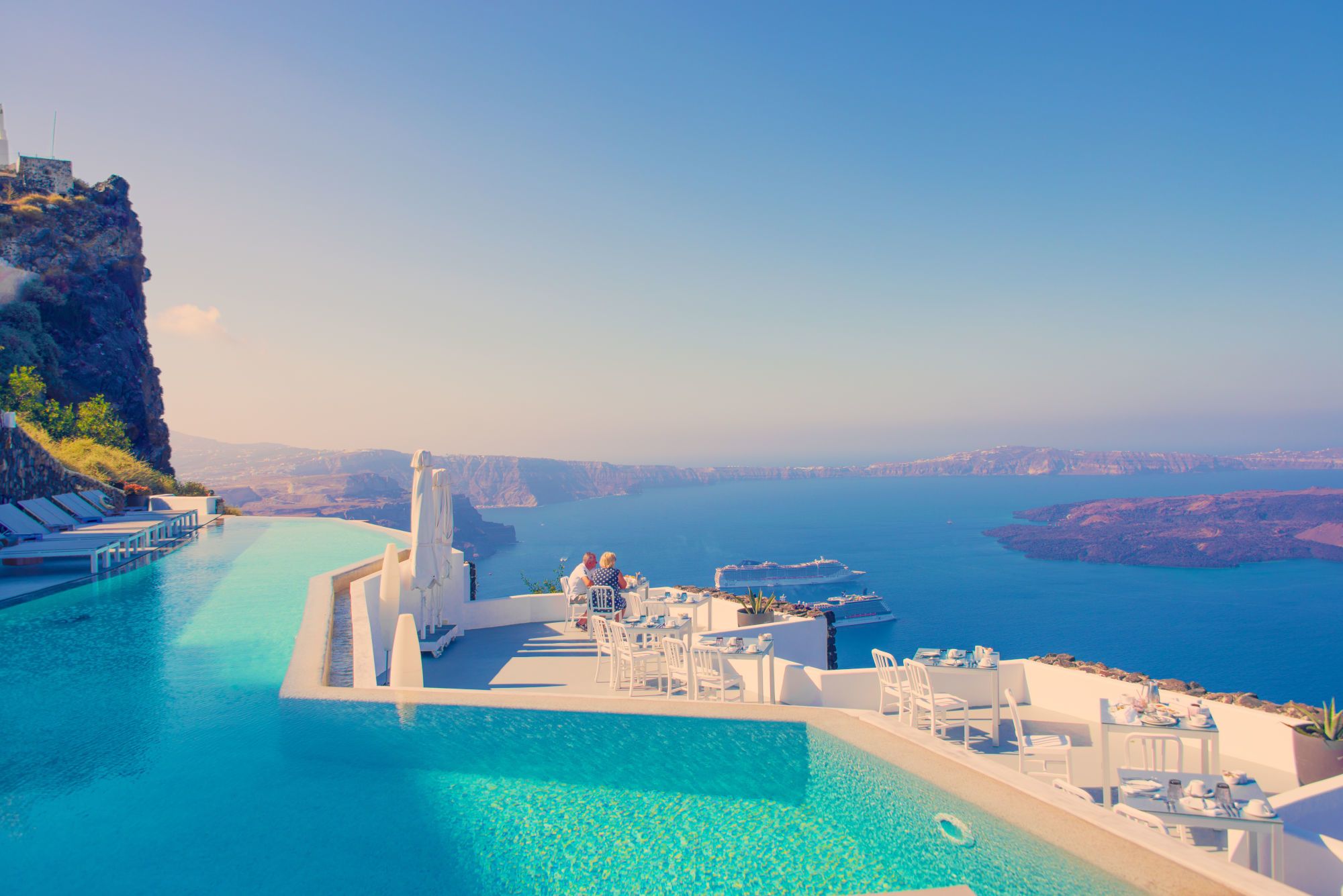 Time Needed: 10 days
Suggested Route: Santorini + Mykonos + Paros + Naxos
While island hopping may sound intimidating at first, it couldn't be easier to get around these neighboring towns. Fly into Santorini and spend a few days soaking up the beautiful white and blue architecture, the unbeatable Greek food (kopanisti cheese is a must) and the gorgeous sunsets, then catch one of the daily hydrofoils to Mykonos.
This town is known for its nightlife, so after you've rested and recovered from your jetlag on Santorini, you can dive into the action… or spend a quiet night with some wine watching the boats, which also sounds pretty great to us. After Mykonos, Naxos is just a hop, skip and an hour and a half hour ferry ride away. Once there, visit the ruins of the Temple of Apollo (you'll probably see the iconic arch that's still standing as your ferry pulls in), wander the winding streets of the old town, and unwind on the Agios Prokopios beach. Round your trip out with another hour and half ferry ride to Paros, where the crowds are much smaller, the pace is slower, and you can soak up that last bit of Mediterranean sunshine before your journey home.
While June or September have perfect beach weather with smaller crowds, carefully consider your destinations when choosing your departure dates. Some islands, like Santorini, tend to mostly close down in the winter months, so make sure you don't leave too late to catch these hotspots at their peak. And if you have a few extra days to spare, consider flying out of Athens for one last look at true history.
Spain & Portugal
Time Needed: 10 days
Suggested Route: Barcelona + Lisbon + Porto
If you're in the mood for delicious tapas, fresh seafood, and some of the best wines you've tasted (with plenty of hills to walk them off!), Spain and Portugal have all that and more. These two countries are nestled side by side on the end of the European continent, and they have the balmy weather and Mediterranean lifestyle to show for it.
Start your trip off in Portugal, where bacalhau (a salted cod dish) and fresh pastéis de nata (custard tarts) abound. This city is known for its beautiful weather almost year-round, but March to May and September through October offer the best mix of sunny skies and tourist free streets. This city is small, so when the summer holidays start, the influx of people can make a big difference.
From Lisbon, journey by train to the sleepy city of Porto, about three hours away. Spend a couple of days soaking up the region's award-winning Port wine and strolling through the streets… and resting up. You'll need it before you head to Barcelona, for the third and final leg of the trip.
Once in Barcelona, be prepared to stay out later, walk further, and eat more food (and drink more sangria) than you thought possible. This city is vibrant and full of innovative restaurants and museums, so you'll want to maximize your days there to see all it has to offer. Check out this guide for a rundown of what to see (and what to skip) in this busy city, and take our advice: make a reservation in advance for La Sagrada Familia and for Parc Guell—and show up on time! These tourist hotspots fill up fast and you will be turned away if you miss your time slot.
East Coast
Time Needed: 7-10 days
Suggested Route: Boston + Cape Cod + Nantucket + Green Mountain National Forest
If you're not quite ready to cross the ocean, there's plenty to see right here in the United States, and the East Coast is packed with cities and towns worth adding to a fall road trip (changing leaves, anyone?). Start off in historic Boston, where you'll want to spend at least a day exploring the sites of Revolutionary War battles and taking in the charming old city's culture. Then, drive a couple hours down the state to Cape Cod, where fall is in full swing. The crisp air and fresh produce make this the perfect time to test out a bike ride along the coast, followed up by a meal at one of the many award-winning restaurants nearby.
After soaking up the oceanside beauty, make your way to Nantucket, via the two-hour ferry that connects the two outposts. With fewer tourists in September and October ( the population drops by nearly 40,000 after Labor Day!) you'll have free reign to explore the quintessential East Coast oasis. And if you love food, get ready for some of the best meals, at off-season prices. With fresh cranberries, scallops, apples and more coming into season, this is the time to eat to your heart's content.
Finally, for a stunning dose of true fall colors, drive up to the border of Vermont, about four and a half hours away, to see the leaves on full display at Green Mountain National Forest. If you're coming from a place where palm trees are more common than fiery leaves in the autumn, this is a truly special way to start the season.
Which one of these trips would you choose?
Find more tips, tricks, and guides right here, and shop all of our brand-new passport cases before your next adventure!
Xx Team GM
Photos: Gray Malin