Gallery walls are kind of our thing, in case you hadn't heard. Here at Team GM, we love pairing and mixing prints of all different sizes to create a balanced and cohesive art wall. With Gray's new limited-edition release of our sought-after minis this week, we thought that we'd share our favorite tips and tricks on how to mix print sizes, so that your walls can be their best selves (just like you). Even if you're just looking to match up a few prints in a small corner of your home or are planning to create an entire landscape of mixed-sized prints across your living room, these tips will definitely point you in the right direction. Scroll through to see our best tricks…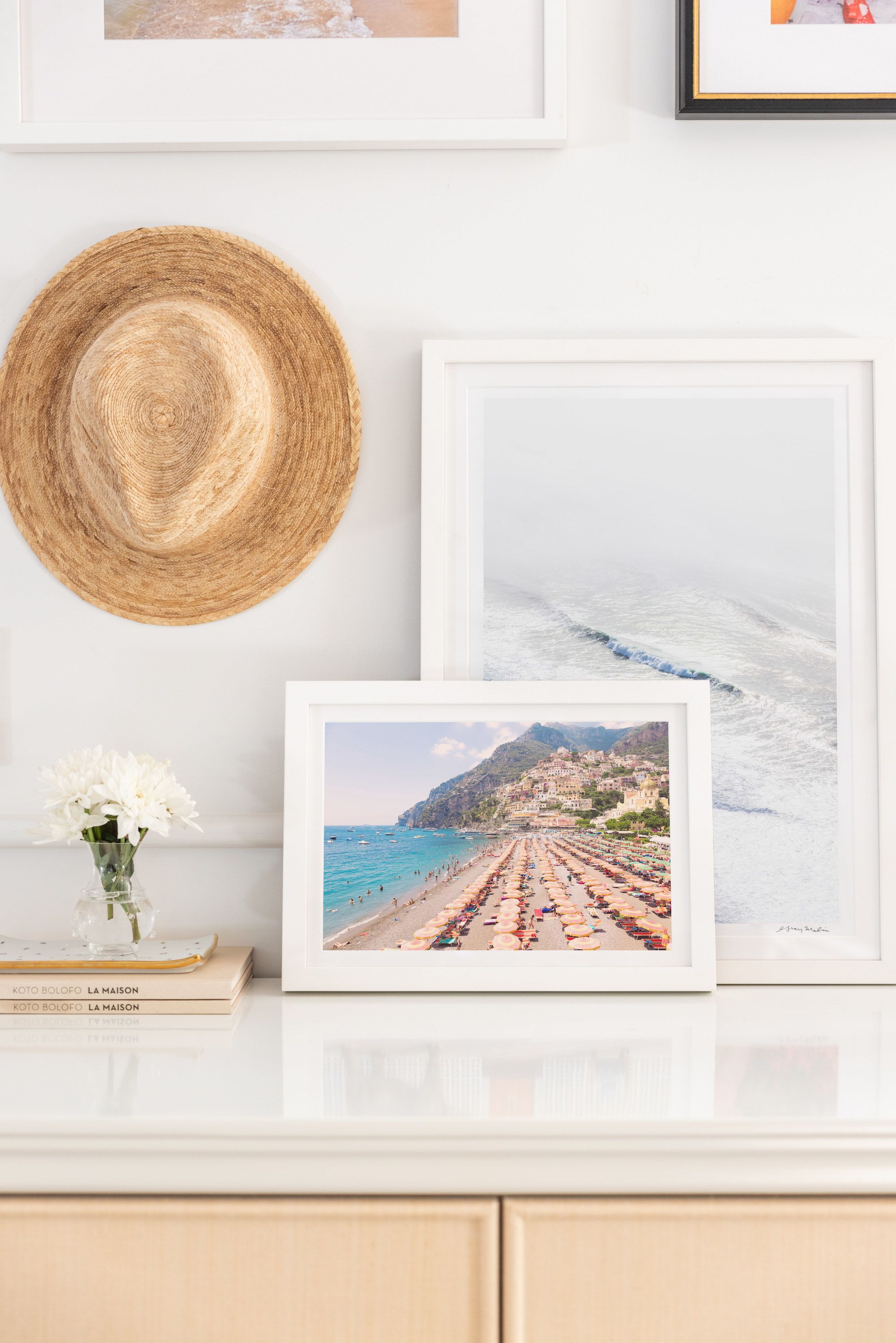 Pick a Mood and Theme
If you're not sure where to start, picking a mood and overall theme for your print mix is the best place to begin. That way, you have a base to fall back on if you get a little lost in the process. Your theme could be anything from art deco to vintage to a beachy aesthetic; the sky is your limit! After picking a theme, choose what kind of mood you're looking for. You could have a light and tranquil or even bold and glamorous vibe. Once you've decided on your base, it makes creating a balanced gallery wall that much easier.
Have a Complementary Color Scheme
Make sure that the colors in your prints highlight your overall aesthetic. Look for prints and frames that will match the theme and mood of your home. If you want a relaxed and light color scheme for your beachy vibe, go for neutral colors like whites, natural woods, and light blues. For a more glamorous look, try incorporating darker blues and blacks with golds and bolder colors.
Choose One Central Piece to Draw From
This is where your quest for a perfect mixed-size art wall can get a little difficult. Successfully balanced gallery walls usually have one piece of art that the rest complement and connect to your theme. It's the anchor with which your other prints connect to. Starting with a larger-sized art piece is the easiest way to arrange your other prints and build out your print-mix. Try using your favorite large print as the base to draw from, and build from there.
Pair Your Extra-Large Prints with Smaller Ones
To really have a mixed, yet cohesive wall, focus on pairing your very large prints with your small or mini ones next to one another. This contrast in sizes provides an oddly-balanced look. Then, try and surround these prints with medium-sized ones to fill in the gaps.
Use Different Frame Textures & Materials
To have a really unique and stand-out mix, incorporating different frame textures, materials, and finishes can really brighten your prints. While you can use one frame material and finish for all of your prints, mixing it up can turn your wall up a notch. Using materials like wood, metal, or acrylic with matte, glossy, or brushed finishes can give your print-mix an added textural component that's visually striking. Or, if you want the mix of sizes to be the center focus, choose one frame color for all of your prints, and let the contrast in sizes speak for themselves!
Pair the Same Print Sizes with One Another Here and There
While it's always better to place contrasting print sizes next to one another, it never hurts to pair a couple of the same print sizes with one another, especially if the prints themselves are similar and on the smaller side. We're all for having a varied print mix, but it is beneficial to have a couple of similar prints from time to time to keep things interesting and add an unexpected twist.
How do you plan to style your mixed prints?
Don't forget to shop Gray's limited-edition minis, which you can find in the GM shop!