We're mad about mixing patterns lately, and Gray's new bedroom is giving us all the design inspo we need! We can't get enough of this modern-meets-traditional look, and with the interesting mix of patterns, there's not a boring moment in this space. That said, we decided to take a note from Gray's very own abode, and give you all the skinny on how to mix patterns like the pros below. And believe it or not, it's actually as easy as one, two, three! You'll see what we mean. ;) So keep that page scrolling to learn how to mix patterns in a living room, bedroom, and beyond…
1. Mix at least three patterns.
When it comes to design, almost all things work in collections of three—including different patterns! Repeating the same pattern (or patterns that are too similar) over and over creates a messy and cluttered look, instead of a harmonious one. Instead, select three patterns with themes that complement one another, such as a floral, a stripe, and a subtle plaid or dot motif. Of course, these are just naming a few! There are so many patterns to choose from, and so many can work together. Bonus Tip: When in doubt, mix organic, flowing patterns with more rigid and structured ones, such as hand-dyed indigo with a structured stripe.
Here's a few pieces for the bedroom…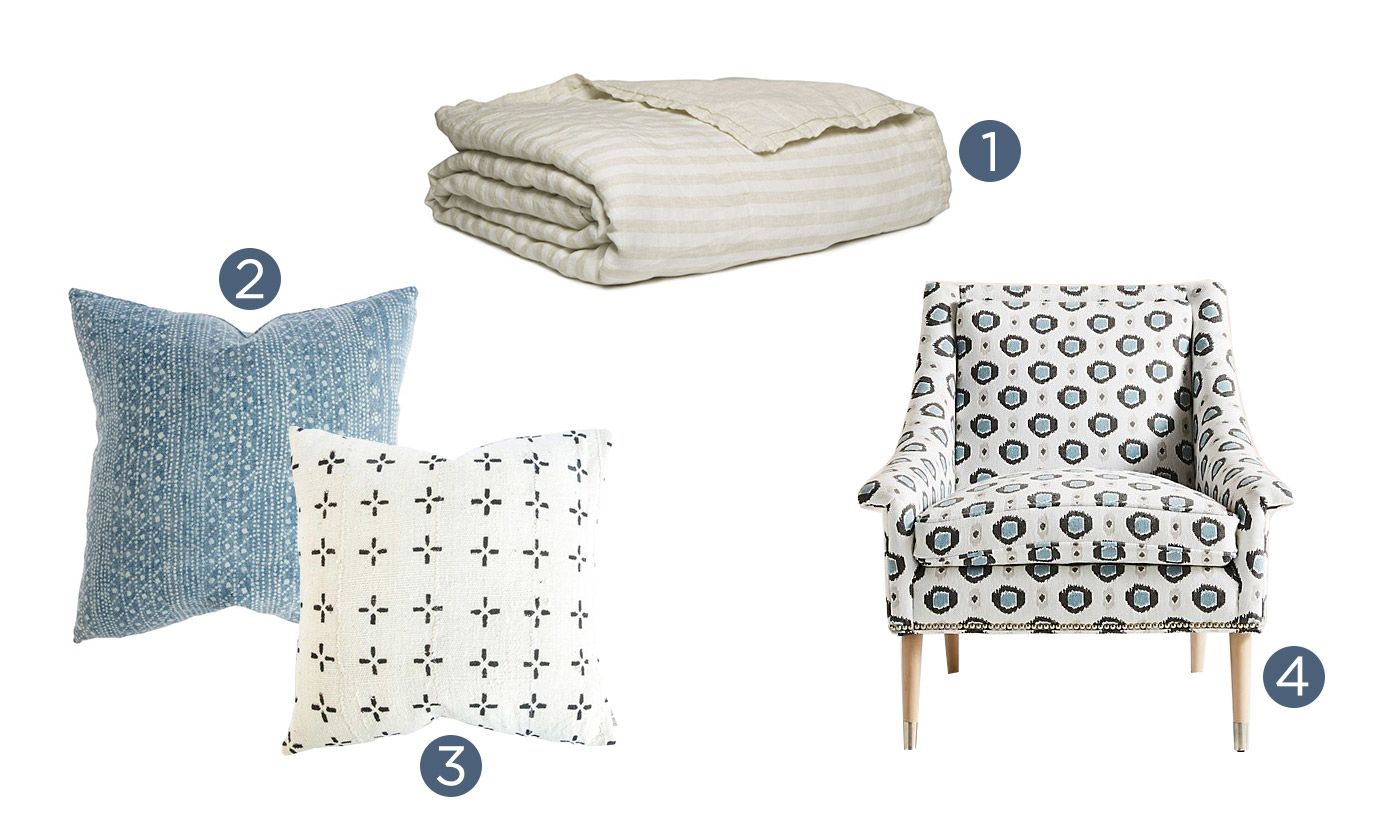 1. Parachute Striped Linen Quilt, $279-$299 | 2. Junie Pillow, $200 | 3. Indra Pillow, $140 | 4. Rikke Woven Tillie Chair, $1,298
2. Vary your patterns in scale.
Now that you're mixing at least three patterns, it's important to remember to vary the size of those prints between pieces. For instance, if your first pattern of choice is a small-scale floral print, make sure to pair it with a different, larger-scale pattern (such as a stripe or gingham) for contrast and visual balance. Then, add in a third, medium-scale pattern that complements the other two in both color and style. Simple geometric patterns almost always work well, but don't be afraid to repeat a pattern, as long as they are varying in scale (i.e. one large floral and one micro-floral print).
Here's a quick bathroom combo for example…
1. Aland Stripe Cotton Rug, $40 | 2. XL Whimsical Hamper – Yellow Herringbone, $218 | 3. Agneta Shower Curtain, $88
3. Coordinate colors in your patterns.
Just because you've chosen something like a bright, bold orange stripe for your first pattern, doesn't mean you have to have orange in every other pattern you use. When it comes to picking your second pattern (and third, and so forth), refer back to your basic color theory. If you're not borrowing touches of orange from your first pattern, make sure that your second pattern is in a complementary color (across the color wheel from your first color), such as blue. Or, go with analogous colors (next to each other on the color wheel) if you want less contrast.
Here's how to do this in the living room…
1. Tulum Rug, $298-$1,498 | 2. Banana Palm Pillow, $68 | 3. Lyle Pillow, $166 | 4. WHIT Striped Willoughby Sofa, $2,998
4. Distribute the visual "weight" throughout the room.
If you're still wondering how to mix patterns in interior design, another foolproof tip is to avoid piling all your patterns on one side of the room—this can make a concentrated area feel too "heavy." Instead, if you mix a couple of patterns on one side of the room, make sure the third pattern lives on the opposite side of the room to create visual balance.
Voila! Do you have any tips on how to mix patterns?
We hope you found some of these useful, and that next time you go to mix patterns in your home, you knock it out of the park. We know you will!
Xx Team GM
Photos: Jessi Burrone for GrayMalin.com, Mrs. Lilien