In case you missed it, a very exciting collaboration was announced last week: brand new AWAY x Gray Malin Luggage! We're still all googly-eyed over these new pieces we've added to our collection of travel essentials, but we have to admit that (in addition to them being stunning), we never cease to be amazed by how functional they are. The best part? We can even fit everything on our packing list into our favorite little carry-on… Yep, you heard that right!
To help demonstrate, the lovely Jessica Sturdy of Bows & Sequins has shared pictures of her latest getaway with her brand new Coral carry-on.
Of course, we couldn't resist scooping up this AWAY x Gray Malin luggage in all three sizes so we're prepared for any kind of getaway, but this carry-on has proved to be useful for more than just a day trip, or packing easy-to-reach items on the plane. But whether you're packing your AWAY bag or another carry-on, we're here to prove that you can pack for your entire trip and fit it in the overhead bin. Don't believe us just yet? Keep scrolling for our top tips on how to master the art of packing, and fit all of your luggage in a carry-on…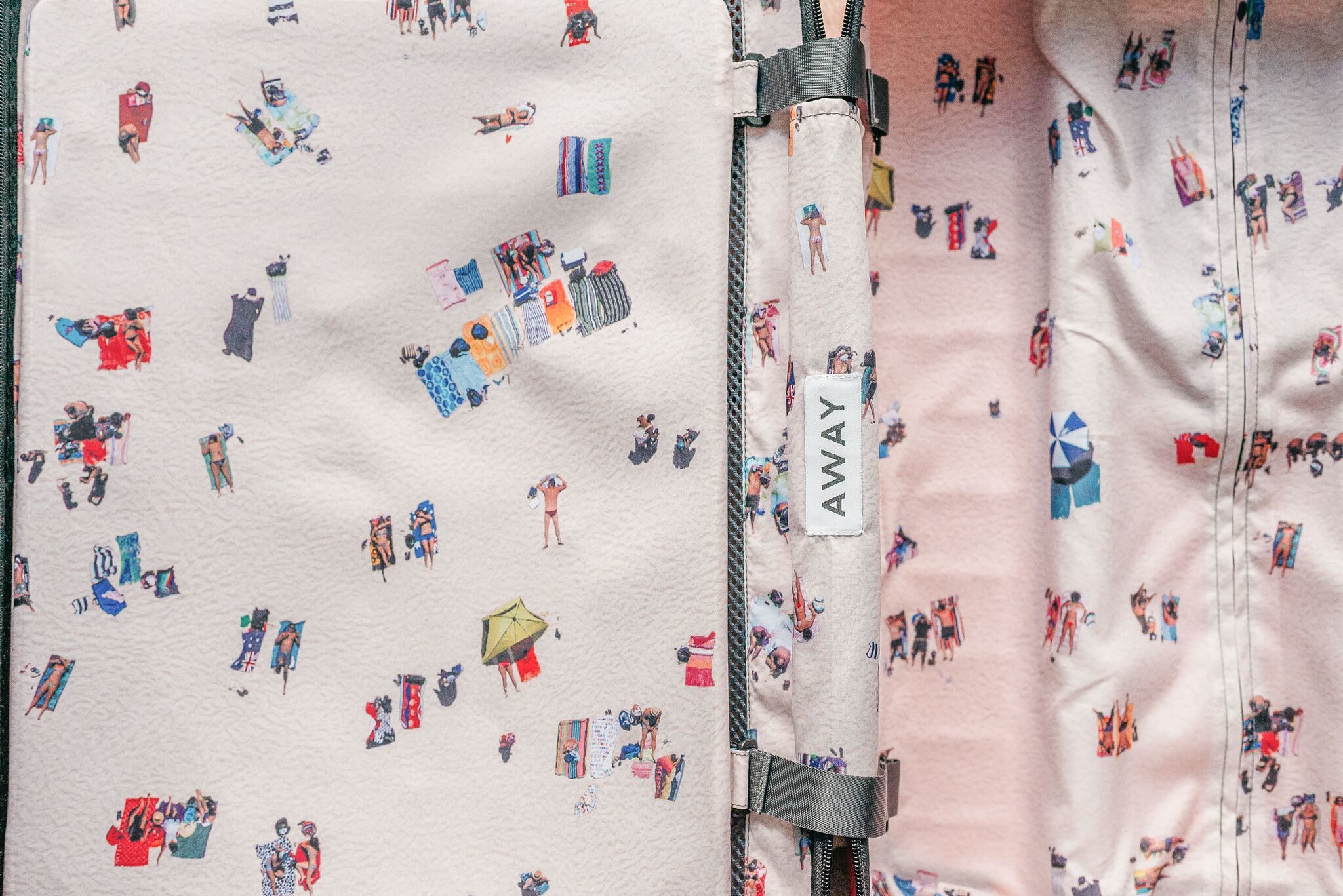 Assign Items to Their Own Compartments
Plenty of carry-ons feature separate compartments these days, but few travelers know how to use them to their full potential. Take a good look at your carry-on before you put a single item in, and try to evaluate what will fit best where. Instead of cramming everything in your bag wherever it will fit, start by packing each category of items individually. For example, assign one compartment to jeans and tops, another to delicates or workout clothes, and another to toiletries. Once you have a basic foundation set, then go in and fill in the gaps with whatever items you have left to pack.
Nest Items Together
One of the greatest space-saving tricks when packing is to nest different items together neatly in your suitcase. Instead of trying to cram your shoes in on top of everything and risk disfiguring them, pack them at the bottom of your suitcase and use them as a packing tool! Use them as a brand new compartment for small items that won't spill, such as deodorant, socks, underwear, or jewelry protected in a small box or dust bag. Repeat this trick wherever you can—the more nesting you do with your items, the more you'll be able to pack in your carry-on. At the end of the day, smart packing is really just a game of travel Tetris.
Opt for a Hard Case Carry-On
Just trust us on this one—try packing in hard case luggage one time, and you'll never turn back. There are benefits to both hard case and soft case luggage, but when it comes to packing the most in a carry-on, always opt for one with a hard case. If you try to pack too much in a soft case suitcase, then it will bow out and you'll risk it not fitting in the overhead compartment. Plus, hard case luggage tends to offer more interior compartments that make packing a breeze, and the tough outer shell will protect your belongings and help them hold their shape better than soft luggage. Oh, and the best part about this specific carry-on? The fact that it has a built in phone charger.
Pay Attention to Toiletries
Since carrying a bag on the plane requires you to downsize your toiletries and liquids, make sure you're careful not to pack anything too large. (There's nothing more disappointing than spending time packing a carry-on, only to get to the airport and be forced to throw away your expensive hair product or check your bag.) To make the process as smooth as possible, store your toiletries in a clear reusable travel bag that has some give, and bring only what is necessary for your time away.
Can you do without that extra face cream for a few days? Leave it at home. Do you really have to bring your special shampoo? Perhaps deal with the hotel-provided shampoo and conditioner while you're away. This is also the perfect time for all you ladies to evaluate what makeup products are absolutely necessary for your trip. Try paring down to only the essentials—mascara, concealer, foundation and blush. The bottom line: if you don't absolutely need it, don't bring it!
Make Your Wardrobe Versatile
One of the greatest ways to avoid over-packing in the first place is to choose your wardrobe wisely. Try to bring the most versatile items in your closet—that pair of jeans that goes with everything, slacks or a skirt that work well both dressed up and dressed down, and shoes that are dressy enough for a business meeting or a nice dinner, but comfortable enough for a night on the town. Since you generally won't be running into people you know when you're on vacation, you can easily repeat pieces and no one will ever know. If you won't have access to cleaning services on your trip, bring only one extra top or dress that doesn't take up too much space in your suitcase to wear in case you have a bad spill or any other unexpected accident.
Are you a pro at packing everything into a carry-on? What are your tried and true tips for packing smart?
It's safe to say that we're pretty in love with our new luggage, and it has changed the way we pack! Looks like all we need now is an excuse to get away… ;)
Shop the full AWAY x Gray Malin collab right here.
Xx Team GM