Gray Malin at the Parker has found its way into several nurseries and kids rooms over the years (here, here, and here just to name a few!) and we never tire of seeing this theme in a youthful environment. If you're currently expecting (or redecorating for your little one) we have a few tricks up our sleeve for you today. Designing a space drenched in pink or blue might seem like a no-brainer when you find out the gender of your little one, but don't go painting those walls just yet! If you've decided to forego finding out the gender (or you're simply preparing for Baby No. 2 and your littles will be sharing a room), you'll want to consider a few things before you get started. Here are our foolproof tips for designing a gender neutral nursery that will grow with your little human, featuring some sweet photos of our friend Ilana Saul's shared space for her little girl and boy…
Ground Your Design with Neutrals
First and foremost, make sure all of your major furniture pieces (i.e. crib, dresser, glider, etc.) are in gender-neutral hues. Whether you opt for clean white, natural wood, classic black, or something else, you'll thank yourself later for keeping your largest pieces neutral. You can always swap in pillows, sheets, and accessories if you decide you want to add a pop of pink or blue down the road, but keep in mind that furniture is more permanent.
Think Outside the Box with Themes
Instead of boxing yourself into a specific gender with themes like ballerinas or football, think outside the box and reach for themes that are fitting for any gender. Things like safari, forest, or farm animals, as well as beach or desert scenes are always a hit, and offer flexibility when designing for either a boy or a girl. Bottom line: gender neutral doesn't have to be boring! …Did we mention Gray Malin at the Parker is always a good choice? ;)
Yes, "Neutral" CAN Include Color
Just because you're designing a "gender neutral" nursery, doesn't mean you have to shy away from color or limit yourself to all neutrals. If you love color, add pops of bold, primary hues and colors that work well for any gender. In most cases, the pastels are usually what read too "boy" or "girl." However, even if you still love a color that gravitates more toward one gender, simply balance it out with other colors in your palette that complement one another and make things feel well rounded. (Taking cues from Gray's living room here! His blush pink couches balance perfectly with the deep navy ottoman and natural accents.)
Don't Lower Your Design Standards
The key to creating a gender-neutral nursery is to design the space with the same standards that you would design an adult room. Interior designers often don't feel too constrained by gender when selecting a color palette (hi again, Gray's living room!), so long as the space is thoughtfully designed overall and feels sophisticated. The lesson here is that—as long as you don't go too "baby-ish"—a well-designed room will work for any gender, no matter the color palette.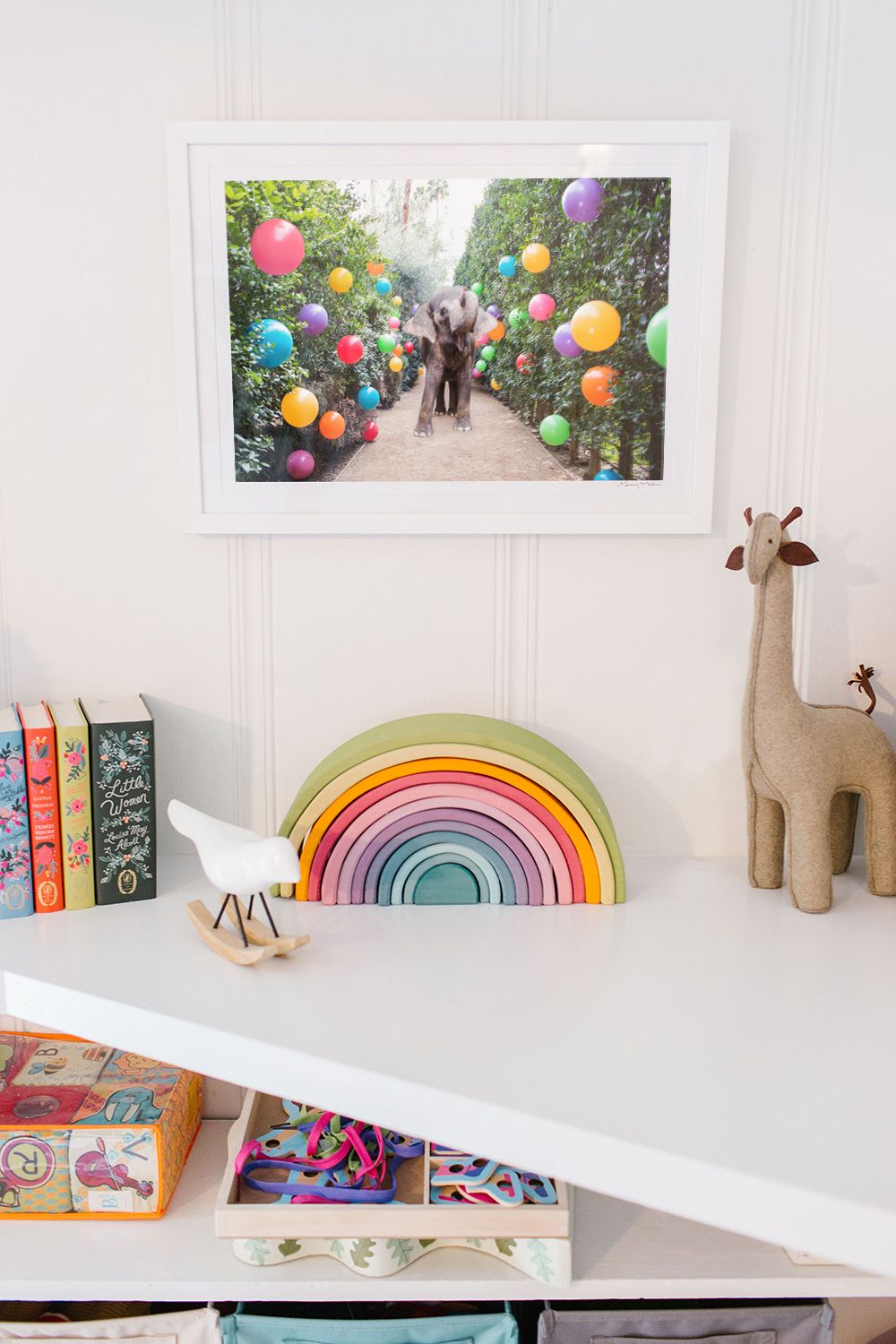 Tip the Scales with Texture
Where color lacks, make up for it with lots of texture! If you're keeping the bulk of your color palette on the neutral side, this means you can have fun playing with texture and pattern to add interest. Pom poms, a shaggy or textured rug, fab window coverings, and fun wallpaper are just a few of our favorite details to add to a gender-neutral nursery. Add even more depth to the space by layering artwork or creating a gallery wall to liven up those colder corners.
Did we miss any tips? How would you design a gender-neutral nursery?
We've said it before and we'll say it again—these Parker prints never disappoint, no matter where we hang, lean, or layer them, and we can't wait to see how you style them in your own space.
Share your snaps with us on social media by tagging us at @GrayMalin so we can get inspired.
Happy decorating!
Xx Team GM
P.S. Love all the woven baskets in the kids room photos? You can shop them at The Little Market.