When it comes to finding the perfect mix of timeless elegance and beachy relaxation, the Hamptons are our go-to source of inspiration. Think texture rather than bold designs, lots of soothing ocean blues, and pieces that are beautiful without being overly formal. If this sounds like your style, keep reading, because we're breaking down how to decorate your own home like the Hamptons… seaside views not included. And if you're in the market for a little extra touch of ocean glamour without changing your whole look, these brand-new Hamptons aerials will add a splash of the sea to your home. Our go-to look? Soft neutrals that will let the brightly colored beach umbrellas of these aerials do the talking.
Keep scrolling to see everything you need for a Hamptons makeover, plus some of our favorite new prints…
Hit the Beach
The first step to transforming your home into an East Coast-inspired ocean retreat? Find a perfectly beachy print to complement your décor style. Whether you gravitate towards bolder prints with punchy umbrellas or prefer a more neutral, sand focused shot, these brand-new aerials from the Hamptons are an essential part of your revamp.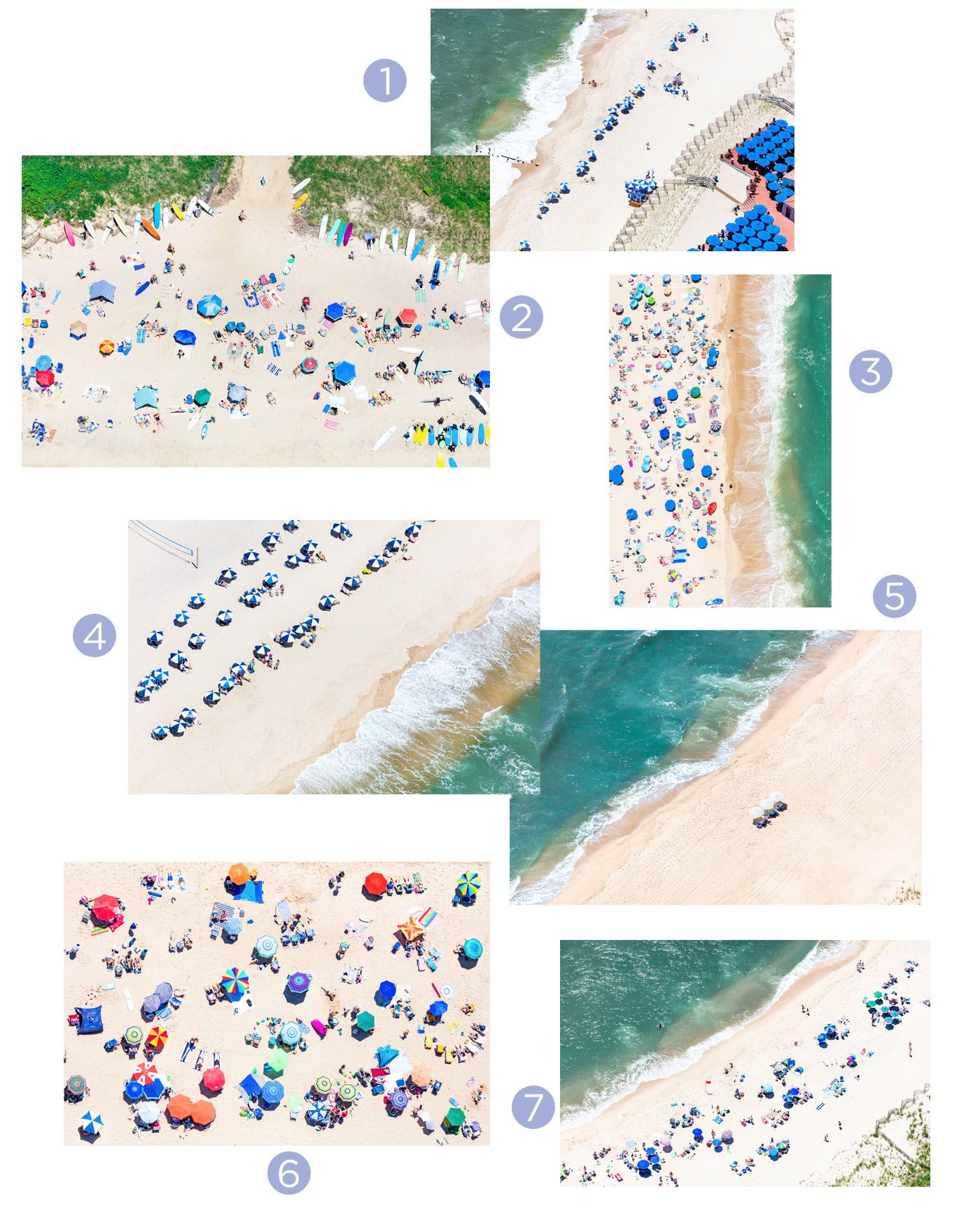 1. Southampton Bathing Club | 2. Ditch Plains Beach Umbrellas | 3. Cooper's Beach Vertical, Southampton | 4. Bridgehampton Tennis and Surf Club Diagonal | 5. Hamptons Beach Umbrellas | 6. Atlantic Avenue Beach Umbrellas, Amagansett | 7. Bridgehampton Beachgoers
Light and Breezy
To build the base of your room, look for pieces that scream summer, like rattan chairs and linen cushions. We especially love ones that allow for light and air to flow freely, like this pendant lamp below. Just be careful not to go overboard, and balance the woven pieces with sturdier basics.
1. Bed | 2. Rug | 3. Throw | 4. Pillow | 5. Pendant Lamp | 6. Nightstand | 7. Chair
Beachy Elegance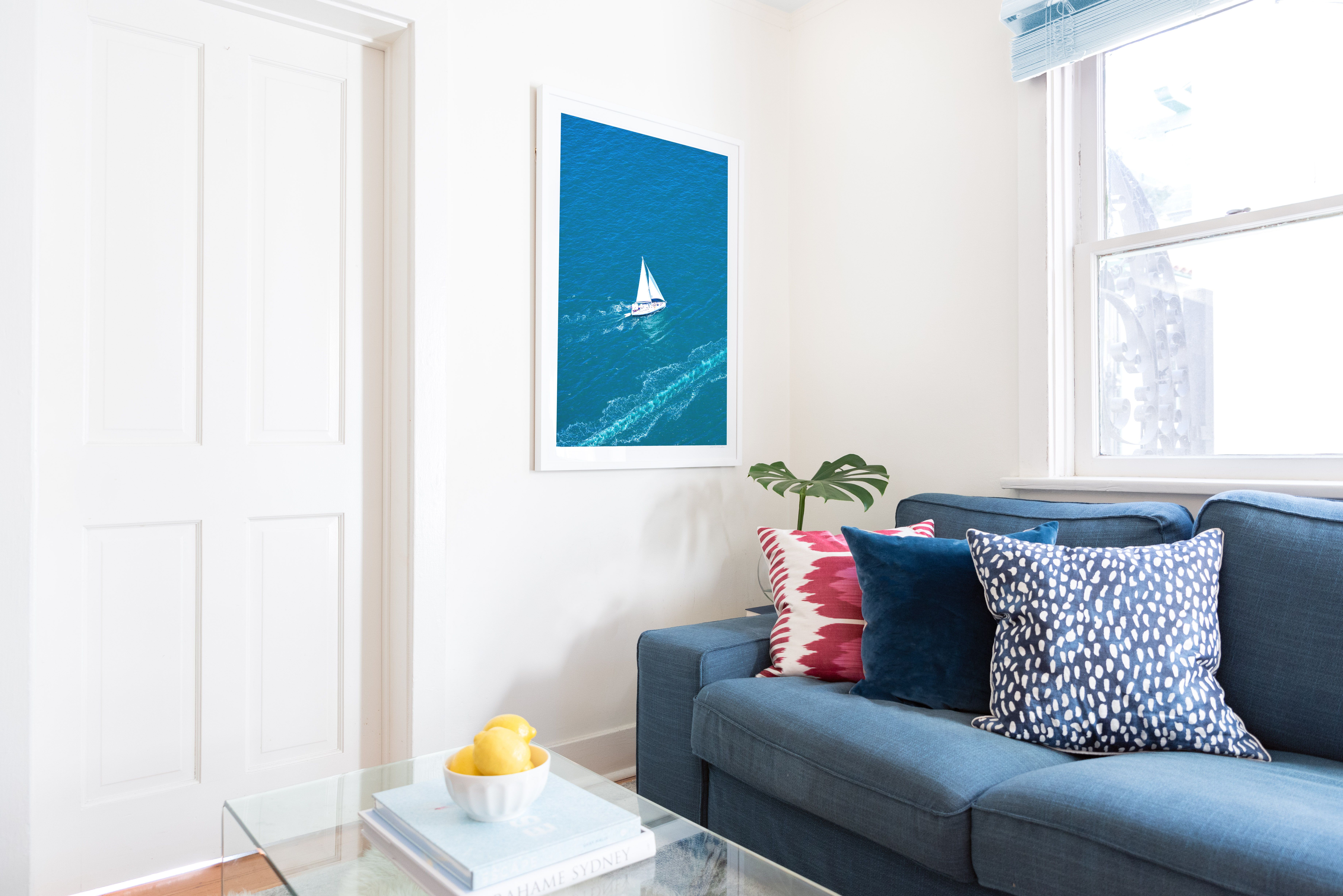 Whether you're an expert sailor or you've never set foot in anything bigger than a paddle boat, these nautical details will complement all styles. Go for a bold statement with a rustic wood oar or add a subtly ocean-inspired look with a collection of sea glass vases. The Hamptons are a summer escape, so keep things playful when translating this style into your own home.
1. Woven Pouf | 2. Chair | 3. Decorative Oar | 4. Dining Table | 5. Juju Hat Wall Decor | 6. Daybed | 7. Glass Bottle Vase
Classic Yet Comfortable
If the word "Hamptons" instantly makes you think "preppy," you're not far off. Styles that are clean, classic, and most importantly, comfortable, are the foundation of this style. Basics like a neutral sofa or a tufted bed are the building blocks for an effortlessly chic room. Add in beachy accent pieces and lightweight linens and your Hamptons-styled room is complete!
1. Nightstand | 2. Bed | 3. Coffee Table | 4. Pillow | 5. Lamp | 6. Sofa | 7. Rug
Which pieces would you add to your own home? See our Interiors page for more design tips, from our rattan roundup to how to make a formal dining room fun.
Xx Team GM
Photos: Gray Malin
{"slides":[{"label":"Gray's Favorite Inrooms Vol. 6","url":"/lifestyle/gray-s-favorite-inrooms-vol-6","image":"https://res.cloudinary.com/gray-malin/image/upload/c_scale,w_1000,q_50,f_auto/gray-malin/blog_posts/hero_images/000/001/885/original/2-Austin_Bean_OKC7635.jpg?updated=1617402512"},{"label":"Michelle Berdan's Laid Back Home by the Beach","url":"/lifestyle/michelle-berdan","image":"https://res.cloudinary.com/gray-malin/image/upload/c_scale,w_1000,q_50,f_auto/gray-malin/blog_posts/hero_images/000/001/884/original/0-Michelle_Madsen-10_copy.jpg?updated=1617066488"},{"label":"LoveShackFancy Founder Rebecca Cohen's Palm Beach Escape","url":"/lifestyle/loveshackfancy-founder-rebecca-cohen-s-palm-beach-escape","image":"https://res.cloudinary.com/gray-malin/image/upload/c_scale,w_1000,q_50,f_auto/gray-malin/blog_posts/hero_images/000/001/882/original/0-LoveShack-4.jpg?updated=1616633971"},{"label":"Gray's Favorite Inrooms Vol. 5","url":"/lifestyle/gray-s-favorite-inrooms-vol-5","image":"https://res.cloudinary.com/gray-malin/image/upload/c_scale,w_1000,q_50,f_auto/gray-malin/blog_posts/hero_images/000/001/881/original/3-IMG_0382.JPG?updated=1616175509"},{"label":"Our Favorite Places to Style City Prints at Home","url":"/lifestyle/our-favorite-places-to-style-city-prints-at-home","image":"https://res.cloudinary.com/gray-malin/image/upload/c_scale,w_1000,q_50,f_auto/gray-malin/blog_posts/hero_images/000/001/880/original/0-Boston-In-Room_4.jpg?updated=1616026718"},{"label":"Gray's Favorite Inrooms Vol. 4","url":"/lifestyle/gray-s-favorite-inrooms-vol-4","image":"https://res.cloudinary.com/gray-malin/image/upload/c_scale,w_1000,q_50,f_auto/gray-malin/blog_posts/hero_images/000/001/876/original/4-unnamed_(1)-Edit-Edit-Edit.jpg?updated=1614888819"},{"label":"Our Favorite Ways to Style Bon Voyage Prints","url":"/lifestyle/our-favorite-ways-to-style-bon-voyage-prints","image":"https://res.cloudinary.com/gray-malin/image/upload/c_scale,w_1000,q_50,f_auto/gray-malin/blog_posts/hero_images/000/001/874/original/0-ANTH_Gray_Malin_410_post_PD.jpg?updated=1614208369"},{"label":"Gray's Favorite Inrooms Vol. 3","url":"/lifestyle/gray-s-favorite-inrooms-vol-3","image":"https://res.cloudinary.com/gray-malin/image/upload/c_scale,w_1000,q_50,f_auto/gray-malin/blog_posts/hero_images/000/001/872/original/3-AG-20.JPG?updated=1613776972"}],"label":"Have You Seen?"}
{"id":null,"number":null,"item_total":"0.0","total":"0.0","ship_total":"0.0","state":"cart","adjustment_total":"0.0","user_id":null,"created_at":null,"updated_at":null,"completed_at":null,"payment_total":"0.0","shipment_state":null,"payment_state":null,"email":null,"special_instructions":null,"channel":"spree","included_tax_total":"0.0","additional_tax_total":"0.0","display_included_tax_total":"$0.00","display_additional_tax_total":"$0.00","tax_total":"0.0","currency":"USD","considered_risky":false,"canceler_id":null,"display_item_total":"$0.00","total_quantity":0,"display_total":"$0.00","display_ship_total":"$0.00","display_tax_total":"$0.00","display_adjustment_total":"$0.00","token":null,"checkout_steps":["address","delivery","complete"],"bill_address":null,"ship_address":null,"line_items":[],"payments":[],"shipments":[],"adjustments":[],"credit_cards":[],"promotions":[],"total_shipment_cost":"$0.00","permissions":{"can_update":false},"use_shipping_for_billing":true,"use_new_ship_address":true,"use_new_bill_address":false,"selected_ship_address":null,"selected_bill_address":null,"display_completed_at":null,"item_count":0,"subtotal_minus_promos":"$0.00","coupon_codes":[],"includes_framed_items":false,"contains_subscription":false}
This site uses cookies to allow better navigation. By closing this banner, scrolling this page or clicking any of its elements, you are giving consent to all cookies. To learn more and to change your preferences please see our Cookies Policy.