Now that fall has officially arrived, we're being drawn to all things warm and cozy when it comes to our interiors. And no, we're not talking about throws and pillows… While we do love those things (really, we do), it's this time of year we seem to especially gravitate toward warm metal finishes. We love a shiny chrome in the right setting, but as the weather cools, we prefer to ditch those cold finishes for their richer counterparts. We've touched on mixing metals briefly in the past (which we're still obsessed with, BTW), but today we're turning our attention to the star of the show—copper. (Taking a hint here from this stunning coffee table in our Drugs print from the Parker Palm Springs…)
We've compiled a few of our top tips on how to decorate with copper below, in hopes that you'll jump on this luxe metal bandwagon with us, so keep scrolling for the when, where, and how to use copper accents in the home…
First, a few tips…
1. Make sure your copper tones coordinate.
While it's not necessary to add copper accents everywhere in your home, if you do decide to add multiple pops of copper throughout your space, make sure your copper tones complement one another. Copper-finished accessories are available in so many variations from darker antique coppers to high-shine rose gold, and they can clash if the finishes are from two completely different worlds.
2. Add copper for a little industrial flair…
If you love the industrial look but aren't too fond of the "dingy factory" aesthetic, then copper is a great middle ground. The warm metal oozes that effortless but chic "French countryside" vibe—especially when used in the form of pipes, plumbing, and pots—and if done correctly, will add immediate charm to your space.
3. …Or go glam with rose gold.
On the flip side, adding pops of polished copper can bring an undeniably chic and high-end look to any space. Mix with materials like marble and brass for a look that is warm and cozy, yet clean-cut and elevated. Not to mention, for all you lovers of plush textiles like faux fur and velvet… copper will be your metallic best friend.
4. Don't be afraid to mix metals.
Like we mentioned above, we love the look of mixed metals now and always, and copper is the perfect partner for a wide array of metals. Copper finishes may be more scarce when it comes to commercially sold appliances, lighting, and hardware, so don't limit yourself to this metal when designing the rest of the details of your space. For example, copper works well as an accent piece, whether in the form of a pendant light, kitchen vent hood, accent wall, or even a bathtub, and always looks killer mixed with other finishes… See what we mean?
Image by Tessa Neustadt for Amber Interiors
Image via Daniela Benloulou Interiors
So now that you know the basics, here are a few specific ways we love to incorporate copper into our interior design…
Lighting
Copper lighting is quite possibly some of the chicest we've found, and always feels unique, whether we're hanging a minimalistic sconce or an eclectic pendant light. These are just a few of our favorites at the moment…
1. Weslyn Pendant, $473 | 2. Classic Metal Bell Pendant, $58.99 | 3. Suzie Pendant, $836 | 4. Printemps Pendant, $128-$248 | 5. Lourdes Floor Lamp, $448 | 6. Farmhouse Dot Pendant, $1,049 | 7. Carson 12" Wall Sconce, $249 | 8. Mitzi Ava High Polished Copper Wall Sconce, $90
Hardware + Fixtures
Hello, hardware! We're always surprised by the impact a little copper hardware can have on a piece of furniture or built-in cabinets, and whether you stick to small pops of copper in the form of drawer pulls or you go big with a stunning copper apron front sink, you can't go wrong. Oh, and let us add this: if you've never mixed copper pulls with navy cabinets and drawers, DO IT NOW. The warmth of copper brings a whole new life to paint colors you'd never expect, so get experimenting…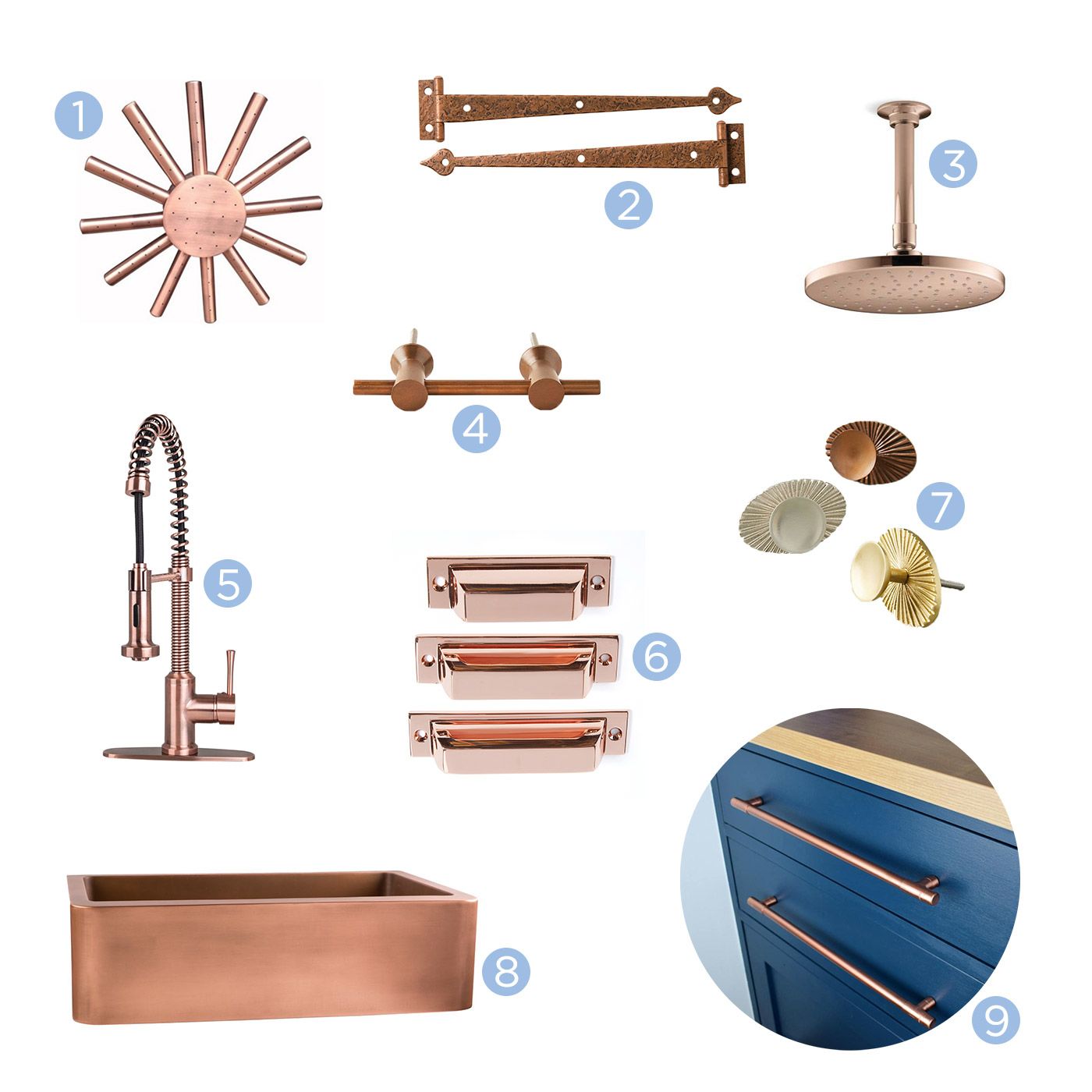 1. Antique Red Copper Rainfall Showerhead, $177.78 | 2. Pair of Copper Plated McKinney Strap Hinges, $75 | 3. Kohler Contemporary Showerhead, $506.78 | 4. Quinn Handle, $18-$32 | 5. Brienza by Italia Spring Pull Down Kitchen Faucet, $252 | 6. Copper Mission Bin Pull, $12 | 7. Alister Knob, $12 | 8. Apron Front Copper Sink, $2,499 | 9. Modern Copper T-Pull, $16+
Image via 100 Layer Cake + Crate and Barrel
Accessories
And of course, we couldn't forget about the accessories! Don't get us started on this copper pot rack below… we're swooning. But who are we kidding, that's not the only piece we love. We'll take it all—please and thanks!
1. Copper + Cane Tray, $49.99 | 2. Enclume Oval Copper Ceiling Pot Rack, $1,319 | 3. Copper Wire Kitchen Paper Towel Rack, $24 | 4. Copper Clad Coffee Table, $749.99 | 5. Modern Copper Watering Can, $69 | 6. Acrylic Tray Table, $79.95 | 7. Calphalon Tri-Ply Copper 10-Piece Cookware Set, $479.99 | 8. Beta Rose Chair, $179
What do you think about copper décor for fall?
If you ask us, it's copper accents all the way… But that's just the start of our fall décor inspiration. Make sure to stop by our interiors section of the blog for more where this came from.
Here's to a warm and cozy season,
Xx Team GM
Photos: Gray Malin, Tessa Neustadt for Amber Interiors, Daniela Benloulou Interiors, 100 Layer Cake via Crate and Barrel