Hi Everyone Fortoday's Home Decor post, I'm excited to showcase the home of a very talented interior designer, Amber Lancaster. I think it's especially funto highlight Amber's home asit's a rare chance to see how someone who's usually behind the scenes, decorates her own space, rather than her clients. Once I arrived to her home, I knew right away, it was sure to offer a lot of inspiration for all you looking to refresh with new artwork. Stepping in, we're immediately greeted with the sands of Rio de Janeiro..
Amber was actually the first person I shared my new Rio images with earlier this year. She was immediately drawn to Copacabana Beach, so much so that she decided toget a large framed in white to properly welcome her home on the daily. To back up a little bit, I'd love to share how Amber and I initially met. As I came to learn later, Amber often suggested my work to her clients (Thank You! xoxo), but it was with one client in particular that our paths crossed, Marianna Hewitt. It was Amber who suggested filling Marianna's wall with the Coogee Beach Triptych, whichconsequently created some of my favorite in-room photographs to this day.
"I had been a long time fan of Gray, so it was fantastic to finally connect personally! His artwork is usually included in my initial mood boards for my clients, as he has such a vast collection of work. Whether I'm going for a contemporary look, bohemian, or anything in between, I can almost always find a piece from Gray that works within my vision." Moving further into her home, I noticed right away all of the great lighting it has throughout, and I especially loved this little cozy nook. I wanted immediately to flip through one of her many art books, while enjoying the Amalfi view.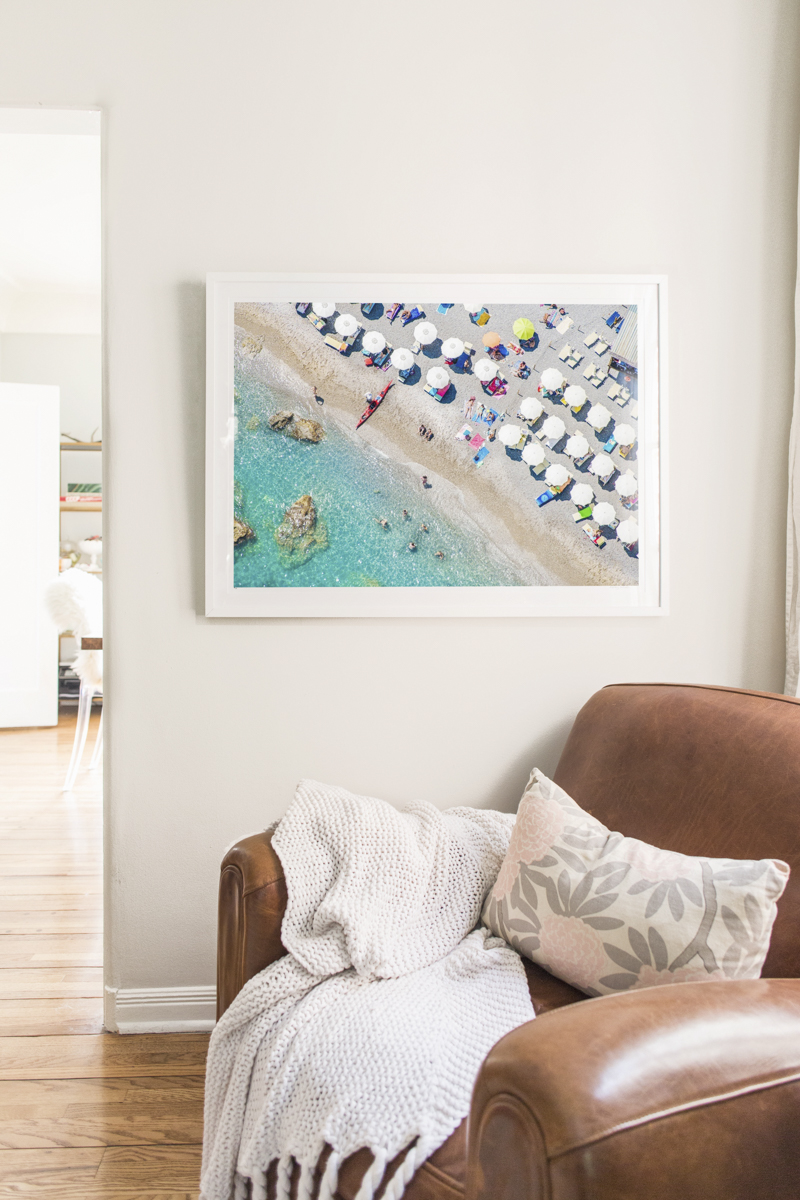 I love it in a vertical, as well.
Being a lover of coffee table books, too I asked Amber what some of her favorites were, and I definitely got some inspiration for a holiday gift of two.
"Some of my favorite coffee table books areCCCP: Cosmic Communist Construction Photographed. A great collection of Soviet Brutalist architecture. Something you won't see on every coffee table, but one that is intriguing and interesting for sure. Another great one isIn The Pink: Dorothy Draper - she was arguably America's first decorator who influenced the likes of modern designers such as Kelly Wearstler and Jonathan Adler. One of my all-time favorites, she was the original anti-minimalist who created modern Baroque style with her trademark cabbage rose chintz, wide pink and white stripes and black and white tiles. My favorite advice from her is "If it feels right, it is right!"

And of course Beaches by Gray Malin. I have it on my own coffee table and have yet to have someone pick it up and be able to put it down. The images really do draw you in and transport you to another place. The perfect conversation piece."
Chatting about how she likes to decorate, for both her residential and commercial clients, as well as herself, Amber quite logically said it's always a case by case basis with a client but when it comes to her own space..
"I would describe my style as very eclectic. I love feminine styles such as Hollywood regency paired unexpectedly with bohemian or mid-century modern.I love using Gray Malin prints in my own home as well as interior design projects because it can act as an abstract art piece, that works well in almost any aesthetic, but also provides a fun lighthearted element that draws the observer in and creates a feeling of unrefined elegance that doesn't take itself too seriously."
A woman after my own heart, I naturally loved Amber's_Hermès_tray, offering that great pop of orange and pairing beautifully with her medium framed print of The Porter II.
This lovely little vignette lives in Amber's dining room which also doubles as her home office.
Thanks to Amber for letting us explore her home! We'll let you get back to your work now, to learn more about Amber, though be sure to check out her work hereand following along on her day to day work here. Hope you've enjoyed seeing how this interior designer decorates her own home! Feeling inspired? Shop her favorite series here and here.
Cheers, GM
Have you seen?
Start with Art - Mary Beth Wagner Interiors
Valentine's Day Drink Stirrers
Valentine's Day Drink Stirrers