Hi Everyone,
It's been a very glamorous start to the year! First with the release of Gray Malin at the Coral Casino in January, alongwith this week's launch of my latest editionsto Bon Voyage. Then, come to think of it, the beginning of last year was trés glam too with the release of The Red Carpet. With all of this glamour around us, I thought it'd be fun to highlight the decor style known as Hollywood Regency. It dates back to the 1930's, also known as the "Golden Age" of Hollywood. Needless to say, gold is often a key element in this decor style along with lacquer finishes, rich textures and vibrant colors. To bring this style to life, I'm going to pair it with my three most glamorous series and decorate a few key rooms with them in the home.
The Living Room
Starring...Gray Malin at the Coral Casino. Considering this series was shot at the iconicCoral Casino Beach and Cabana Club,an exclusive social club that has played host to numerous society events attended by Hollywood elite,since opening its doors in 1937, it is a natural fit for a living room styled within the Hollywood Regency palette.

Sunbathing Beauties, $299 + l 2.Hollywood Regency-Style Round Coffee Table, $550 l 3. Klismos Star Scone, $949 l 4.Baila Navy Velvet Sofa, $1,186 l 5. Aprés Swim, Horizontal, $299 + l6. London Table Lamp, Brass, $469 l 7.Bevin Ottoman, $1,995 l 9. Havenhurst 71", $ 1,549 l 10.Randolph Flush Mount, $689+
The Formal Dining Room
Whether during the holidays or just because, I love to host dinner parties. It's especially fun when the evening calls for a bit more pizazz as it's the perfect time to actually spend some time in your formal dining room. For the special evenings spent in this room, it should always feel like your guests are walking along The Red Carpet, right? To help make that happen, you'll need a lavish dining table with sleek details and chicly paired dining chairs along with gold accents.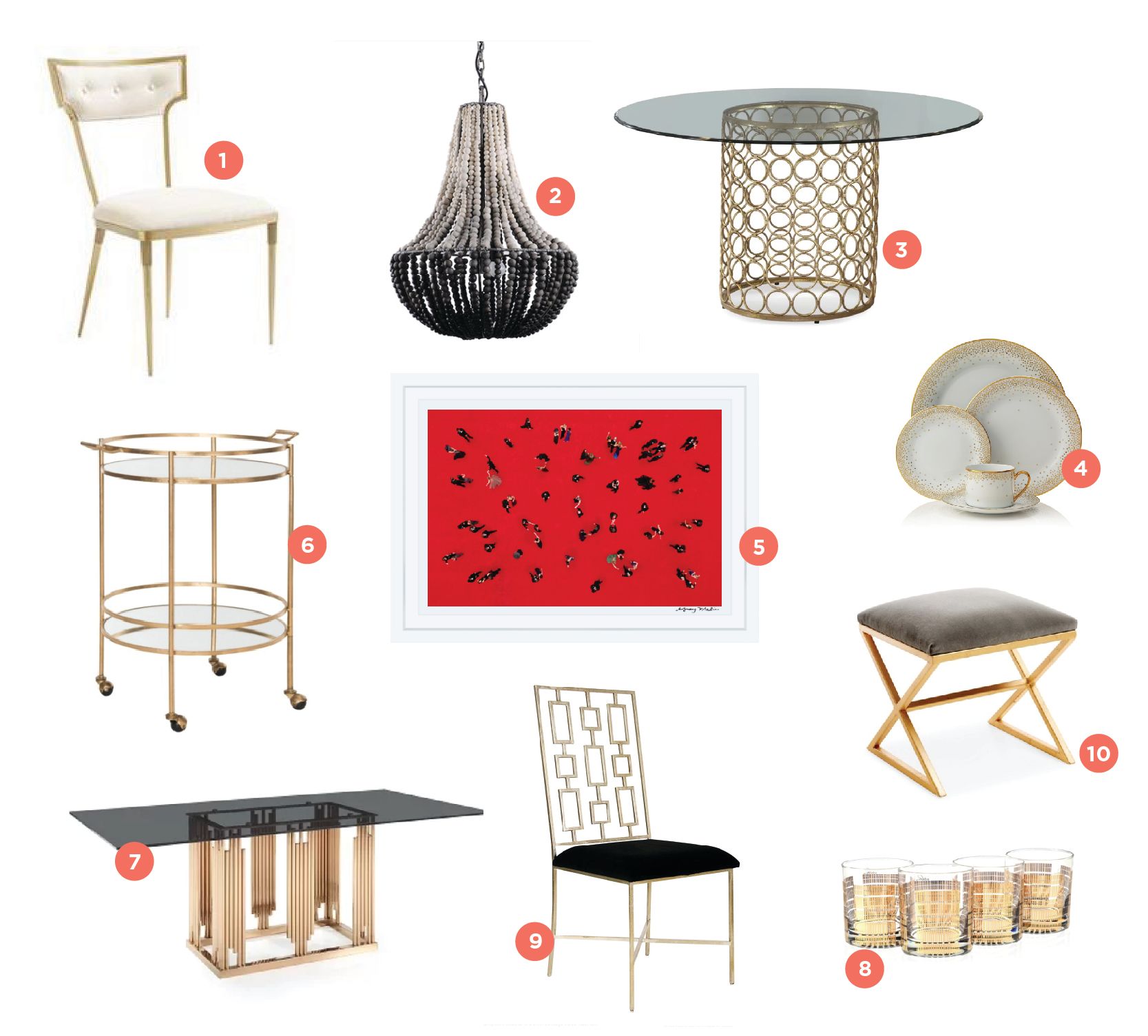 Marlene Hollywood Regency Gold Plated Chair, $3,160 l 2.Chandelier, $2,950 l 3.Rockhampton Dining Table, $598 l 4.Trousdale Gold 5-Piece Place Setting, $270 l 5. The Red Carpet Horizontal, $299 + l 6. Larisa Bar Cart, $335 l 7. Dining Table, $1,799 l 8.22K Gold Glasses,$52 l 9.Gold Black Velvet Dining Side Chair, $648 l 10. Velvet Ottoman, $879
The Bathroom aka The Boudoir
Ah yes, the room where vanity is a piece of furniture isperfectly suited for some Hollywood Glam style. As I mentioned in my Q & Awith Team GM on my latest installment of Bon Voyage, I really love the idea of decorating the part of the room where one truly gets ready.
1.Two Drawer Dressing Table, $292 l 2. The City Girl, $249 + l 3.Curly Rachel Stool, $1,295 l 4. Mirrored Tray, $225+ l 5.CHANEL N-5, $80 l 6.Lana Small Flush Mount, $ 629 l 7. Glass Canisters,120 l 8. Lillian Lace Trim Silk Robe, $495 l 9. Cheek Tint, $39 l 10.The Girl from Oz, $249 +
And, there you have it! Think the Hollywood Regency interior design style is one you'll try out? Or, perhaps you already decorate this way and are now motivated to incorporate new art into those rooms? Whichever it may be, I hope it's glam!
Cheers,
xx
GM