With great fame comes great expectations, and there's nowhere with higher vacation-bliss expectations than Hawaii. The soft, white sand beaches and clear turquoise waters have been endlessly promoted as the ultimate vacation destination, so it's only natural to come into a trip with pretty high standards. That said, we're heading over to Oahu today (figuratively, that is)… But are the popular tourist spots on Oahu worth the hype? We think so, and we're breaking down exactly why you should include them on your next visit. And if you can't make it all the way to Hawaii, or you just want a reminder of beachside relaxation in your home, you'll want to explore all of Gray's new prints from the Hawaiian island of Oahu right here. Keep scrolling to hear us out on why you should visit these popular Hawaiian tourist spots…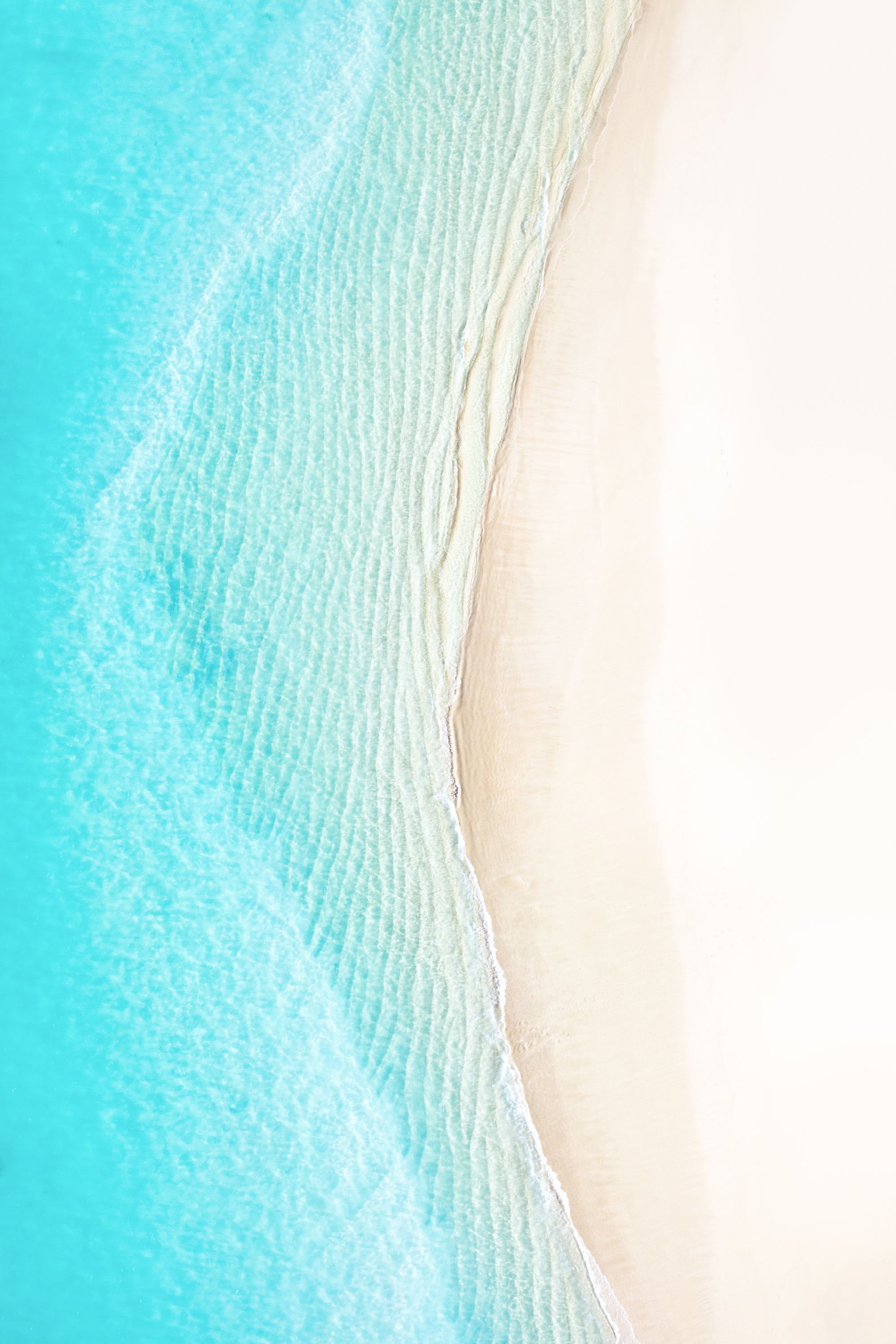 This beautiful stretch of sand often makes its way onto lists of the top beaches in the world, and attracts locals and tourists alike for a day of adventure. If you're an early riser, Lanikai beach is one of the best spots on the island to watch the sunrise. Get up early and hit the sand for a day of swimming, or hike the nearby Pillbox Trail and end with a dip in the water.
Waikiki is one of the most well-known beaches in the world, and for good reason. Its clear waters and soft sandy shores make it an ideal getaway, and while it might not be off the grid, it's definitely worth visiting. This is the perfect spot to test out a surf lesson… or relax on the shore with a mai tai in hand. Either way, a trip to Oahu wouldn't be complete without a day in the sun at Waikiki.
Whether you're a surfing pro or you've barely dipped a toe in the water, check out Waimea Bay for some of the biggest waves around. While the winter is the best time to see them, visitors in the summer will get some of the calmest, glassiest water around, which is perfect for floating in an innertube (bought from a nearby ABC store, of course).
It doesn't have to be Fourth of July to light up the skies above Waikiki beach. Every Friday night, the Hilton Hawaiian Village puts on a free fireworks show, and trust us when we say it is worth braving the crowds. Grab sunset drinks at the beach and wait until it gets dark for a spectacular fireworks display that will start your weekend off in the best way.
Paddleboarders of all levels will want to check out this gorgeous natural bay, which offers protection from strong waves and keeps waters calm. And after a few hours of paddling around, the beach itself makes the perfect place for an afternoon poke bowl and a drink.
Which popular spot would you visit?
Find even more of our travel recommendations on our Travel page to plan your next trip, and shop the rest of these stunning Hawaii prints right here.
Xx Team GM
Photos: Gray Malin
{"slides":[{"label":"Gray's Favorite Beaches in the USA","url":"/lifestyle/gray-s-favorite-beaches-in-the-usa","image":"https://res.cloudinary.com/gray-malin/image/upload/c_scale,w_1000,q_50/gray-malin/blog_posts/hero_images/000/001/680/original/9-surfside-beach-nantucket.jpg?updated=1593559394"},{"label":"Gray's Favorite Beaches Around the World","url":"/lifestyle/gray-s-favorite-beaches-around-the-world","image":"https://res.cloudinary.com/gray-malin/image/upload/c_scale,w_1000,q_50/gray-malin/blog_posts/hero_images/000/001/645/original/16-Second_Beach_Sunbathers__Newport.jpg?updated=1593041015"},{"label":"Gray's Guide to New Zealand","url":"/lifestyle/gray-s-guide-to-new-zealand","image":"https://res.cloudinary.com/gray-malin/image/upload/c_scale,w_1000,q_50/gray-malin/blog_posts/hero_images/000/001/633/original/0-IMG_0991_copy_2.jpg?updated=1591833993"},{"label":"Gray's Guide to Capri","url":"/lifestyle/city-guide-capri","image":"https://res.cloudinary.com/gray-malin/image/upload/c_scale,w_1000,q_50/gray-malin/blog_posts/hero_images/000/000/109/original/two-umbrellas-laa-fontalina-capri.jpg?updated=1493143453"},{"label":"Gray's Guide to Western Australia","url":"/lifestyle/gray-s-guide-to-western-australia","image":"https://res.cloudinary.com/gray-malin/image/upload/c_scale,w_1000,q_50/gray-malin/blog_posts/hero_images/000/001/576/original/0-IMG_0707.JPG?updated=1583879181"},{"label":"10 Destinations to Add to Your 2020 Bucket List","url":"/lifestyle/10-destinations-to-add-to-your-2020-bucket-list","image":"https://res.cloudinary.com/gray-malin/image/upload/c_scale,w_1000,q_50/gray-malin/blog_posts/hero_images/000/001/527/original/Header-Aspen-Mountain-Trek.jpg?updated=1580237684"},{"label":"The Best Places to Travel Solo ","url":"/lifestyle/the-best-places-to-travel-solo","image":"https://res.cloudinary.com/gray-malin/image/upload/c_scale,w_1000,q_50/gray-malin/blog_posts/hero_images/000/001/480/original/00-_Header-_new-man-in-red-bora-bora.jpg?updated=1573762547"},{"label":"How To Plan A Multi City Trip (And Where To Visit) ","url":"/lifestyle/how-to-plan-a-multi-city-trip-and-where-to-visit","image":"https://res.cloudinary.com/gray-malin/image/upload/c_scale,w_1000,q_50/gray-malin/blog_posts/hero_images/000/001/435/original/00_Header.jpg?updated=1571955506"}],"label":"Have You Seen?"}
{"id":null,"number":null,"item_total":"0.0","total":"0.0","ship_total":"0.0","state":"cart","adjustment_total":"0.0","user_id":null,"created_at":null,"updated_at":null,"completed_at":null,"payment_total":"0.0","shipment_state":null,"payment_state":null,"email":null,"special_instructions":null,"channel":"spree","included_tax_total":"0.0","additional_tax_total":"0.0","display_included_tax_total":"$0.00","display_additional_tax_total":"$0.00","tax_total":"0.0","currency":"USD","considered_risky":false,"canceler_id":null,"display_item_total":"$0.00","total_quantity":0,"display_total":"$0.00","display_ship_total":"$0.00","display_tax_total":"$0.00","display_adjustment_total":"$0.00","token":null,"checkout_steps":["address","delivery","complete"],"bill_address":null,"ship_address":null,"line_items":[],"payments":[],"shipments":[],"adjustments":[],"credit_cards":[],"promotions":[],"total_shipment_cost":"$0.00","permissions":{"can_update":false},"use_shipping_for_billing":true,"use_new_ship_address":true,"use_new_bill_address":false,"selected_ship_address":null,"selected_bill_address":null,"display_completed_at":null,"item_count":0,"subtotal_minus_promos":"$0.00","coupon_codes":[],"includes_framed_items":false}
This site uses cookies to allow better navigation. By closing this banner, scrolling this page or clicking any of its elements, you are giving consent to all cookies. To learn more and to change your preferences please see our Cookies Policy.