Hi Everyone,
Today, I'm really excited to introduce you all to Olivia Luko of Hats by Olivia. We were originally introduced on Instagram when Olivia sent me a note about herself and her brand, explaining that she had been an admirer of my photography and had in-fact started a line of hats inspired from my balloon series, Up & Away.
Impressed by her initiative and entrepreneurial spirit, I was excited to chat with Olivia and learn more about Hats by Olivia. Much to my delight, I learned that she lives in my hometown of Dallas, so we were able to schedule some time to meet in person during my last visit in September. As someone who started my own business, as well, I enjoy meeting fellow entrepreneurs— especially ones who have been inspired by my photography! It truly takes a lot of hard work, courage and belief in yourself to go after starting your own business, so I'm especially happy to share her story with you all today. Who knows, maybe it'll inspire one or two of you?! OH, and did I mention she also makes these adorable custom straws? She does— and I love them!
But, enough from me..please allow me to introduce you all to Olivia as well as take you behind the scenes of Hats by Olivia headquarters inside her home in Dallas. I also just want to note that you may have seen these hats trending across social media this summer atop the heads of famed bloggers and celebrities... and it was in-fact Olivia who started the whole hat trend!
Please tell us a little about yourself:
"Thanks for the lovely intro, Gray! Hi Everyone..I'm so happy to be here with you all today and introduce myself along with Hats by Olivia. By day, I'm a digital analytics consultant and at night I own Hats by Olivia. I live in Dallas, TX, and love walking around Highland Park to see the beautiful homes and amazing holiday decorations. I travel often for work but I also enjoy traveling for fun and usually head to the beach when I can."
When did you launch Hats by Olivia?
"I launched Hats by Olivia in August 2015."
What made you choose hats as your medium?
"Growing up I spent a lot of time in the sun between swim meets in Arizona and vacations in California, but as I entered my twenties, I became serious about protecting my face when I am in the sun. After a June bachelorette in Las Vegas with no hat, I was immediately on the hunt for a great hat but I didn't find anything that was fashionable and in my price range so I made one myself. I was wearing my hat at a pool in Dallas when someone asked me where I got it and if they could buy one from me, and just like that, Hats by Olivia was born."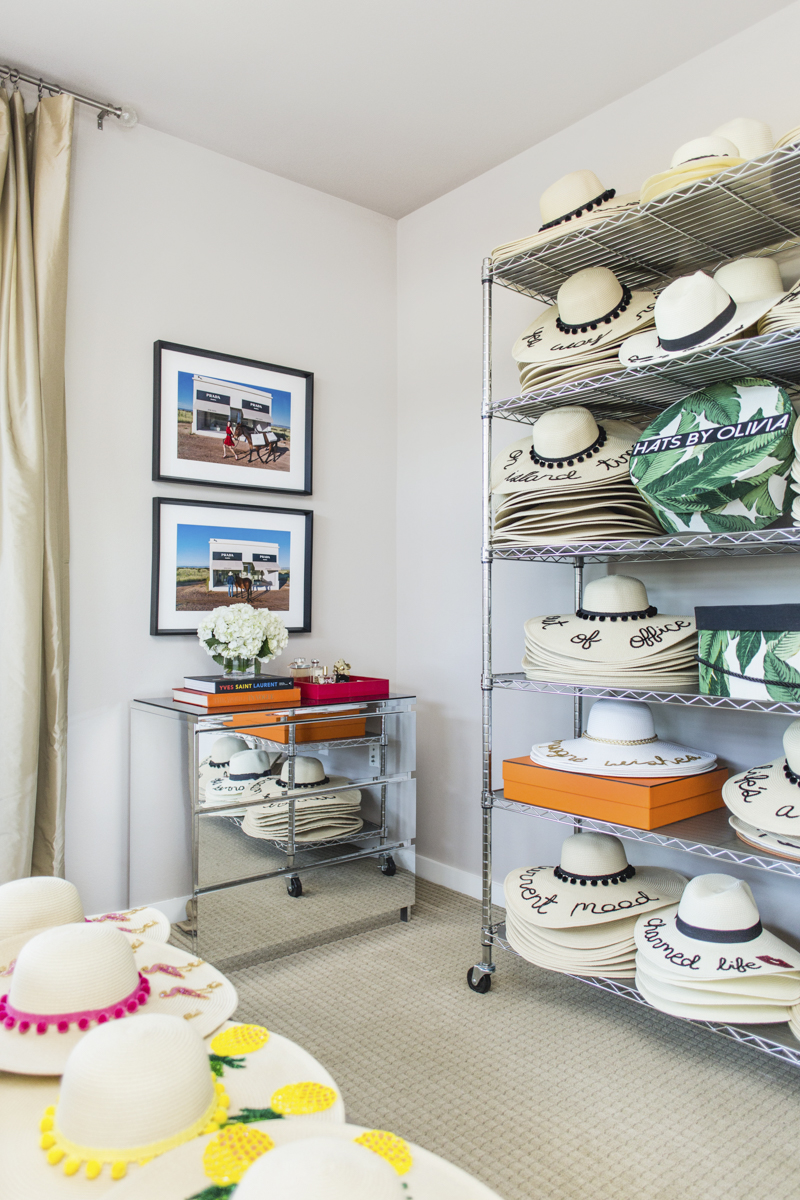 What has it been like starting your own company?
"Starting your own company is challenging because you have responsibilities ranging from making product, creating marketing content, and running a profitable company to keep the business moving forward. Even as Hats by Olivia has grown, I do a majority of the work myself and I have one part-time team member who helps and inspires me. I've been able to keep Hats by Olivia growing because I have been true to myself and the brand; it takes a very strong sense of self and a solid understanding of your brand and your customers to sustain a business. I am always thinking about my customers and how I can create products they will love. There have been opportunities to take short cuts or do something trendy, but in the end I always consider if it is going to benefit the brand in the long term. I feel very fortunate to have a great group of friends and family who support me to be true to myself and support the growth of Hats by Olivia."
I can certainly appreciate everything Olivia has been experiencing, as I started out of my garage with the help of one intern. It is a humbling yet extremely satisfying feeling to start from an idea that excites you and grow it into something for others to enjoy. It turns out that Olivia had been collecting my work for a while, so aside from seeing the operations side of her business it was also fun seeing how she decorates with her GM prints.
We would love to know more about your style when it comes to decorating your home/dream space..
"I wanted my home to have a southern California vibe with a mix of contemporary and mid-century pieces. I bought Gray Malin art while I was still in college and they were my first big purchases. Rather than spend on furniture, I knew the art would be an investment I would always love. A few moves later, I picked light and neutral furniture so that the art and accessories can stand out and add personality."
What inspired you to choose this Gray Malin prints?
"I love the Bondi Beach image because of the vivid aqua and gold colors from the sea and sand. Every time I walk by it, I notice a new person or color in the image. It reminds me of endless beach days and reminds me of my travels to Australia. I took a trip to Bondi Beach a few years after having the print in my home and it was such a cool feeling to almost be living in the art. I relate to the Prada Marfa prints because the shots are a mix of western and high fashion, which ties to my new roots in Dallas. Then, my latest addition, HOWDY, was a natural choice as I love the Up & Away series, and it also highlights my connection to Dallas."
What about the Gray Malin lifestyle brand do you connect with? (...How does it fit in with your lifestyle)
"I love the brand for its bright imagery and positive energy, something that Gray himself radiates and translates into all of his products. Gray continues to push boundaries and create new pieces that remind people of the beauty around them. I started following Gray almost 5 years ago and have been incredibly inspired by how he has grown his business and his aesthetic. Hats by Olivia also connects to the Gray Malin lifestyle brand's colorful and whimsical themes. My Spring/Summer 2016 line was inspired by Gray's balloon series of the pineapple and flamingo balloons. I love the imagery and wanted to create a hat that could be worn in the print."
Can you tell me a little bit about the custom straws, too?
"I launched the straws as a fun gift for my friends when we went to Cabo for my birthday weekend. They were such a hit I wanted to keep them going and I knew my customers would love another custom vacation accessory to help them celebrate on their trips. My hats are intended to be practical but also fun and playful and the straws continue that theme." I couldn't agree more! I love these straws, and for those of you out there that do too, and the hats...and the Gray Malin beach towel paired with them in this shot below, stay tuned on Instagram for a fun announcement!
Until then, though...one last question for you, Olivia.
Do people make the connection with Gray Malin when they see your product?
I hope so! When people hear the name Gray Malin, they think of his beach aerial shots and when they see my hats, they think of their next beach vacation. Both Gray and I love color and a bit of whimsy which come across in his photographs and my designs. Gray's images encourage people to travel and see the world, and I hope they bring a Hats by Olivia hat along with them on their journey. Thanks Olivia! And, I hope so, too! It was such a pleasure meeting you in Dallas and seeing the ins and outs of Hats by Olivia. And, thank you all for joining us! To celebrate the launch of Olivia's new website, we have dreamed up a fun Instagram giveaway. You're going to need to stay tuned until Saturday to learn more, though. In the meantime..you should read her first post here and then...
Follow
@HatsbyOlivia and @GrayMalin And keep a look out for our posts Saturday!
Cheers, xx GM