Hi Everyone,
Welcome back! It's Cyber Monday, so even we're back at work, I think it's safe to say that many of us are shopping, too. It's called multitasking, right? Last week, I shared a post of the best selling new prints of 2018, and it got me wondering about our best selling prints of all time. Well, as luck would have it, I shared a similar list back in 2016, so today's list is all about the best sellers, as of today. There are some that have held strong in the top 10, however, some new prints have also been knocked off.
1. I AM BUSY
Rising from 4th to 1st, it's I AM BUSY. I can't say...there are a lot of you out there who are very very busy.
2. TWO COWBOYS
Holding strong in second place, Two Cowboys has been a crowd pleaser, since day one. Interestingly enough, The Onlookers from my newest release to Prada Marfa doubles the fun with four cowboys.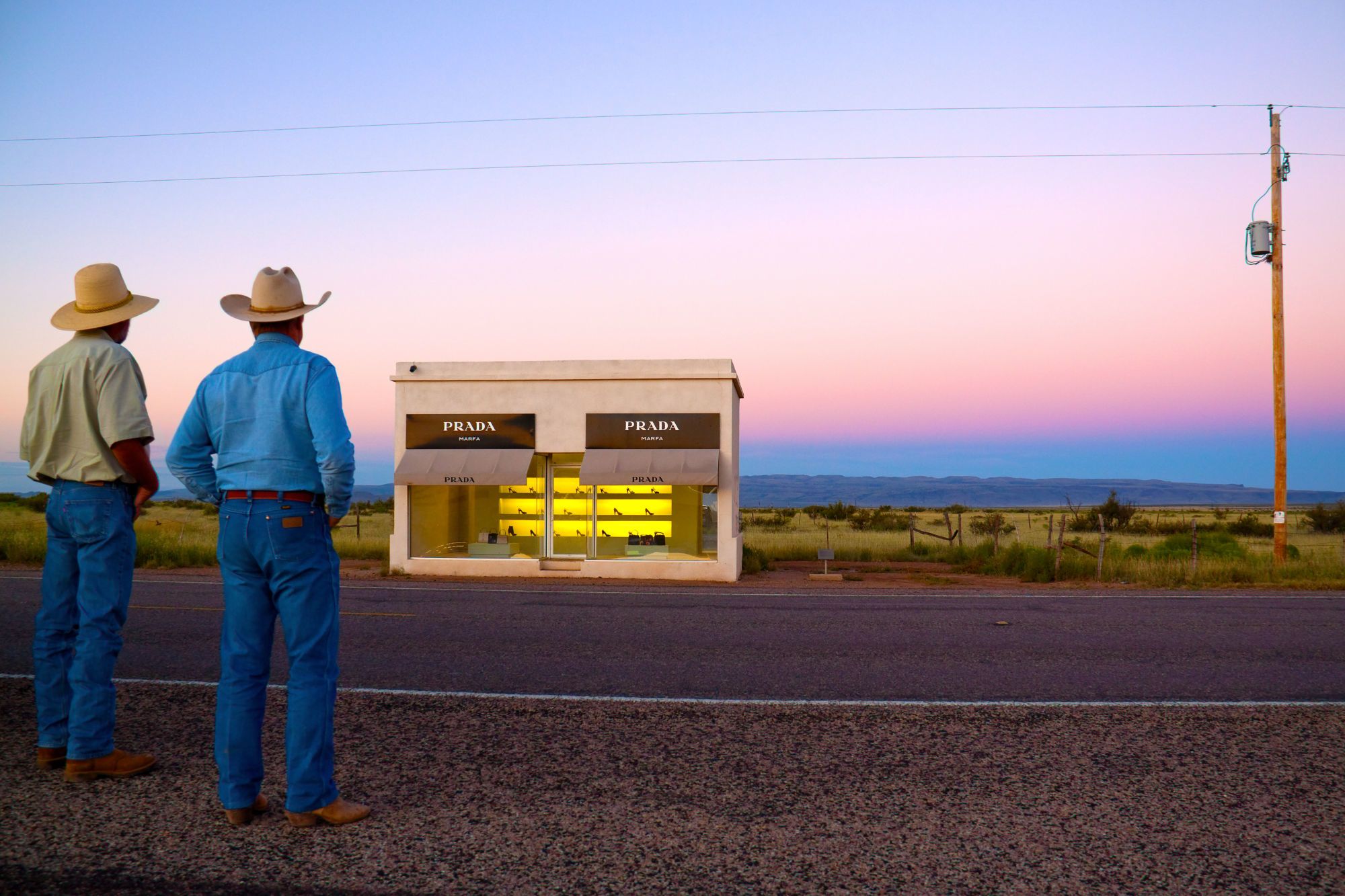 3. DAWN
Knocked down from the top spot, Dawn is now my third bestselling print.
4. PORTER I
Number four and five were released two years apart, but they are only marginally apart when it comes to the number each has sold overall. By the way, there is also Porter II & Porter III.
5. PARTY AT THE PARKER
Almost all of the prints featuring this gentle giant are some of the most sold prints in the Parker series. In fact, we released Party at the Parker II earlier this year, and it's well on its way to selling out.
6. GRAND SALINE BEACH, ST. BARTHS
Who wants to take a stroll along the sands of Grand Saline Beach? If you own this print, then you can any day of the week...
7. WAIKIKI BEACH
Out of all of the Hawaiin aerials, Waikiki Beach is not only the most popular print but also the most popular leather pouch.
8. THE REEF, BORA BORA (VERTICAL)
I absolutely love this print! It's especially nice framed in a large print. See what I mean?
NEON UMBRELLAS, BARCELONA
Neon Umbrellas, Horizontal and Vertical were shot soaring above Barcelona. This one has a cool story, too. It turns out that I photographed a movie set, which made perfect sense considering there was no one on the beach.
10. ALWAYS WELCOME AT THE PARKER
As I already mentioned in number five, a photo of an elephant is a crowd pleaser. I have such amazing memories of capturing this shot, so it really makes me happy that it's appreciated by so many of you.
What do you think? Are any of these a surprise? If any of these are your favorite, now is the time to make it yours! 30% OFF ALL PRINTS won't last forever...
Cheers,
xx
GM
{"slides":[{"label":"Beach Aerials from the Hamptons","url":"/lifestyle/beach-aerials-from-the-hamptons","image":"https://res.cloudinary.com/gray-malin/image/upload/c_scale,w_1000,q_50/gray-malin/blog_posts/hero_images/000/001/294/original/0-Cooper's_Beach_II__Southampton.jpg?updated=1560790161"},{"label":"The Best Fine Art Photography Prints for the Sports Fanatic ","url":"/lifestyle/the-best-fine-art-photography-prints-for-the-sports-fanatic","image":"https://res.cloudinary.com/gray-malin/image/upload/c_scale,w_1000,q_50/gray-malin/blog_posts/hero_images/000/001/289/original/00_Header.jpg?updated=1559692868"},{"label":"5 Fun Facts About Each of the Destinations That Inspired Our New Leather Pouches","url":"/lifestyle/5-fun-facts-about-each-of-the-destinations-that-inspired-our-new-leather-pouches","image":"https://res.cloudinary.com/gray-malin/image/upload/c_scale,w_1000,q_50/gray-malin/blog_posts/hero_images/000/001/285/original/00_Header.jpg?updated=1559604061"},{"label":"Our Favorite Ocean Prints for World Oceans Day","url":"/lifestyle/our-favorite-ocean-prints-for-world-oceans-day","image":"https://res.cloudinary.com/gray-malin/image/upload/c_scale,w_1000,q_50/gray-malin/blog_posts/hero_images/000/001/284/original/00_Header.jpg?updated=1559599001"},{"label":"Aerials from Pebble Beach and Big Sur","url":"/lifestyle/aerials-from-pebble-beach-and-big-sur","image":"https://res.cloudinary.com/gray-malin/image/upload/c_scale,w_1000,q_50/gray-malin/blog_posts/hero_images/000/001/282/original/McWay_Falls__Big_Sur.jpg?updated=1559592840"},{"label":"Summer Wallpaper","url":"/lifestyle/new-summer-wallpaper","image":"https://res.cloudinary.com/gray-malin/image/upload/c_scale,w_1000,q_50/gray-malin/blog_posts/hero_images/000/001/280/original/day-bed-mockup-1.jpg?updated=1559152136"},{"label":"Best of La Dolce Vita","url":"/lifestyle/best-of-la-dolce-vita","image":"https://res.cloudinary.com/gray-malin/image/upload/c_scale,w_1000,q_50/gray-malin/blog_posts/hero_images/000/001/279/original/Capri_Sunset.jpg?updated=1558559476"},{"label":"New Additions to La Dolce Vita","url":"/lifestyle/new-additions-to-la-dolce-vita","image":"https://res.cloudinary.com/gray-malin/image/upload/c_scale,w_1000,q_50/gray-malin/blog_posts/hero_images/000/001/269/original/Eden_Rock_Overlook__Monterosso.jpg?updated=1558380317"}],"label":"Have You Seen?"}
{"id":null,"number":null,"item_total":"0.0","total":"0.0","ship_total":"0.0","state":"cart","adjustment_total":"0.0","user_id":null,"created_at":null,"updated_at":null,"completed_at":null,"payment_total":"0.0","shipment_state":null,"payment_state":null,"email":null,"special_instructions":null,"channel":"spree","included_tax_total":"0.0","additional_tax_total":"0.0","display_included_tax_total":"$0.00","display_additional_tax_total":"$0.00","tax_total":"0.0","currency":"USD","considered_risky":false,"canceler_id":null,"display_item_total":"$0.00","total_quantity":0,"display_total":"$0.00","display_ship_total":"$0.00","display_tax_total":"$0.00","display_adjustment_total":"$0.00","token":null,"checkout_steps":["address","delivery","complete"],"bill_address":null,"ship_address":null,"line_items":[],"payments":[],"shipments":[],"adjustments":[],"credit_cards":[],"promotions":[],"total_shipment_cost":"$0.00","permissions":{"can_update":false},"use_shipping_for_billing":true,"use_new_ship_address":true,"use_new_bill_address":false,"selected_ship_address":null,"selected_bill_address":null,"display_completed_at":null,"item_count":0,"subtotal_minus_promos":"$0.00","coupon_codes":[]}
This site uses cookies to allow better navigation. By closing this banner, scrolling this page or clicking any of its elements, you are giving consent to all cookies. To learn more and to change your preferences please see our Cookies Policy.