Hi everyone,
Ready to see the twins' room in our Lake Michigan house? Peace and serenity are major themes for this home and our nursery design is no exception. This is most obvious in the color palette, which blends cool pastel tones that make the room feel like an oasis. The wallpaper from Farrow and Ball is just so sweet and made the perfect backdrop for the rest of the space. I also love how the light green curtains tie in the green from the leaves outside the window. Our choice to use images from my Poolside series in the kids' room was a nice nod to all the swimming we'll be doing during our summers here. The sisal area rug from All Modern really made the room feel extra cozy.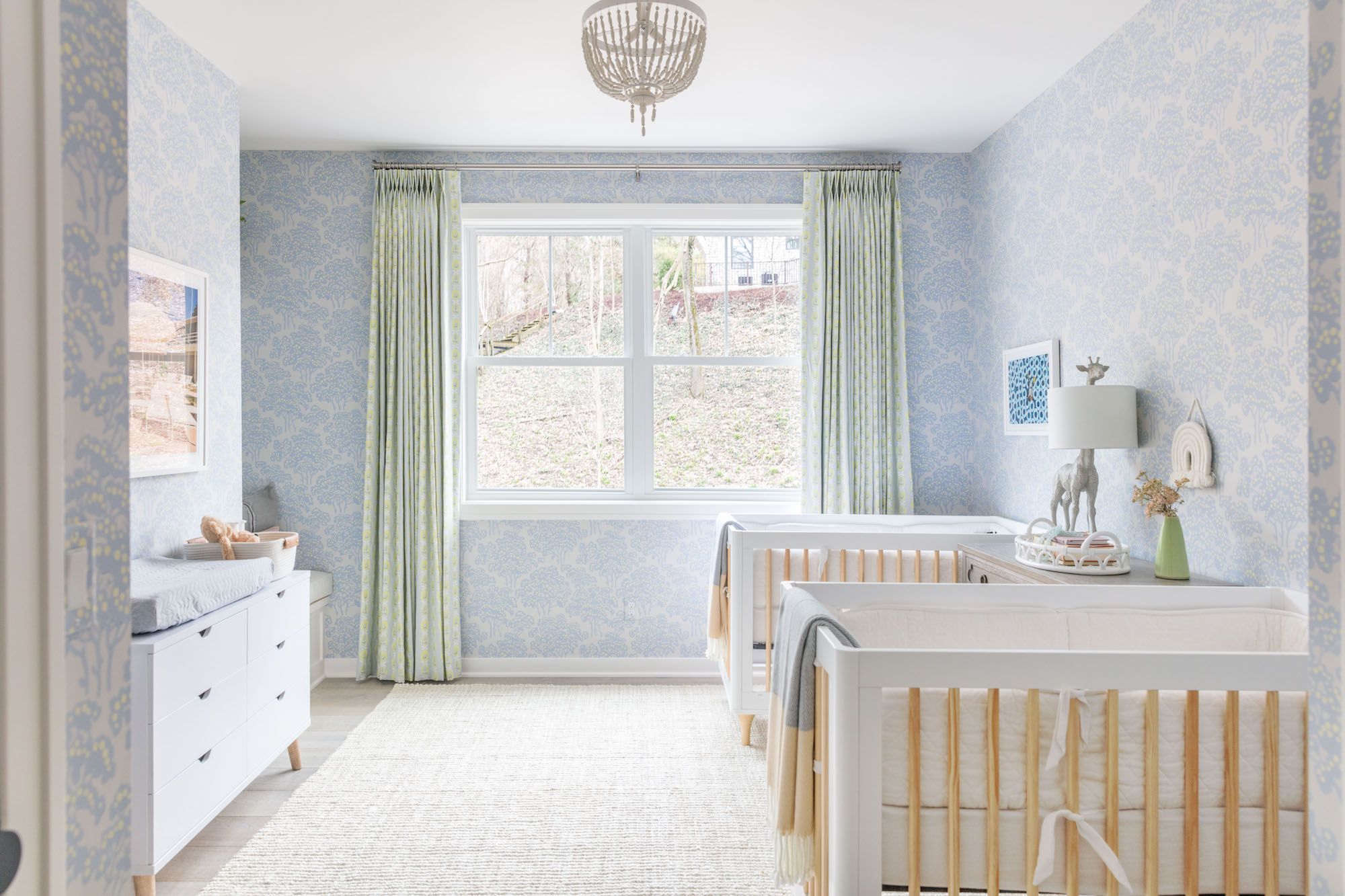 I love this little nook in the kid's room and can't wait to sit here and read books to the twins. This pillow from my collaboration with Cloth & Co. adds a playful touch to the room and ties in with some of the other animal accessories, like this giraffe lamp from All Modern on the dresser.
Designing a bathroom for the kids was particularly fun. We really tried to focus on creating a space that would grow with them over the years, which meant nothing too childish. We used a bold custom color tile pattern from Fireclay Tile for the floors to really make an impression right when you step inside. I also love the light fixtures from Kate Lester Interiors. The jumbo bulbs are unique and much more fun than boring old LED lights.
You can tour the rest of my Lake Michigan home in this blog post. If you're feeling inspired to bring some new art into your home, you can shop my whole Lake Home Renovation here.
Cheers!
Xx
Gray
Interior Designer: Kate Lester
{"slides":[{"label":"Gray's Favorite Inrooms Vol. 6","url":"/lifestyle/gray-s-favorite-inrooms-vol-6","image":"https://res.cloudinary.com/gray-malin/image/upload/c_scale,w_1000,q_50,f_auto/gray-malin/blog_posts/hero_images/000/001/885/original/2-Austin_Bean_OKC7635.jpg?updated=1617402512"},{"label":"Michelle Berdan's Laid Back Home by the Beach","url":"/lifestyle/michelle-berdan","image":"https://res.cloudinary.com/gray-malin/image/upload/c_scale,w_1000,q_50,f_auto/gray-malin/blog_posts/hero_images/000/001/884/original/0-Michelle_Madsen-10_copy.jpg?updated=1617066488"},{"label":"LoveShackFancy Founder Rebecca Cohen's Palm Beach Escape","url":"/lifestyle/loveshackfancy-founder-rebecca-cohen-s-palm-beach-escape","image":"https://res.cloudinary.com/gray-malin/image/upload/c_scale,w_1000,q_50,f_auto/gray-malin/blog_posts/hero_images/000/001/882/original/0-LoveShack-4.jpg?updated=1616633971"},{"label":"Gray's Favorite Inrooms Vol. 5","url":"/lifestyle/gray-s-favorite-inrooms-vol-5","image":"https://res.cloudinary.com/gray-malin/image/upload/c_scale,w_1000,q_50,f_auto/gray-malin/blog_posts/hero_images/000/001/881/original/3-IMG_0382.JPG?updated=1616175509"},{"label":"Our Favorite Places to Style City Prints at Home","url":"/lifestyle/our-favorite-places-to-style-city-prints-at-home","image":"https://res.cloudinary.com/gray-malin/image/upload/c_scale,w_1000,q_50,f_auto/gray-malin/blog_posts/hero_images/000/001/880/original/0-Boston-In-Room_4.jpg?updated=1616026718"},{"label":"Gray's Favorite Inrooms Vol. 4","url":"/lifestyle/gray-s-favorite-inrooms-vol-4","image":"https://res.cloudinary.com/gray-malin/image/upload/c_scale,w_1000,q_50,f_auto/gray-malin/blog_posts/hero_images/000/001/876/original/4-unnamed_(1)-Edit-Edit-Edit.jpg?updated=1614888819"},{"label":"Our Favorite Ways to Style Bon Voyage Prints","url":"/lifestyle/our-favorite-ways-to-style-bon-voyage-prints","image":"https://res.cloudinary.com/gray-malin/image/upload/c_scale,w_1000,q_50,f_auto/gray-malin/blog_posts/hero_images/000/001/874/original/0-ANTH_Gray_Malin_410_post_PD.jpg?updated=1614208369"},{"label":"Gray's Favorite Inrooms Vol. 3","url":"/lifestyle/gray-s-favorite-inrooms-vol-3","image":"https://res.cloudinary.com/gray-malin/image/upload/c_scale,w_1000,q_50,f_auto/gray-malin/blog_posts/hero_images/000/001/872/original/3-AG-20.JPG?updated=1613776972"}],"label":"Have You Seen?"}
{"id":null,"number":null,"item_total":"0.0","total":"0.0","ship_total":"0.0","state":"cart","adjustment_total":"0.0","user_id":null,"created_at":null,"updated_at":null,"completed_at":null,"payment_total":"0.0","shipment_state":null,"payment_state":null,"email":null,"special_instructions":null,"channel":"spree","included_tax_total":"0.0","additional_tax_total":"0.0","display_included_tax_total":"$0.00","display_additional_tax_total":"$0.00","tax_total":"0.0","currency":"USD","considered_risky":false,"canceler_id":null,"display_item_total":"$0.00","total_quantity":0,"display_total":"$0.00","display_ship_total":"$0.00","display_tax_total":"$0.00","display_adjustment_total":"$0.00","token":null,"checkout_steps":["address","delivery","complete"],"bill_address":null,"ship_address":null,"line_items":[],"payments":[],"shipments":[],"adjustments":[],"credit_cards":[],"promotions":[],"total_shipment_cost":"$0.00","permissions":{"can_update":false},"use_shipping_for_billing":true,"use_new_ship_address":true,"use_new_bill_address":false,"selected_ship_address":null,"selected_bill_address":null,"display_completed_at":null,"item_count":0,"subtotal_minus_promos":"$0.00","coupon_codes":[],"includes_framed_items":false,"contains_subscription":false}
This site uses cookies to allow better navigation. By closing this banner, scrolling this page or clicking any of its elements, you are giving consent to all cookies. To learn more and to change your preferences please see our Cookies Policy.