Hi everyone,
In true lake house style, our Lake Michigan house was built for lots of guests. We have two guest rooms that can sleep up to 5 people making the house the ultimate summer escape for our friends and family. The two rooms as very different, but they're unique personalities are what make them so fun.
The first guest room is what I like to call "summer camp chic" and is honestly one of my favorites in the house. It's so fun because it reminds me of the prettiest bunk room I could ever imagine. I just love how it turned out and there was a lot of thought and intention behind the details. For starters, The original space had one beam across the ceiling that was weight-bearing and the wallas we plain white cinder block. Would you believe me if I told you we removed 5,000 pounds of cinder block to transform this room into what it is today? Take a look at the before photo below to see what we were starting with.
Crazy, right? For symmetry's sake, we added a second beam to highlight the division of the room. The feather wallpaper was such a fun touch and I love how the warm tones of the beachy beds stand out against the cool blue. The benches from All Modern at the end of each bed tied nicely to the headboards while also being functional. This way each guest has a place to lay some of their belongings, sit down while putting on their shoes or getting ready.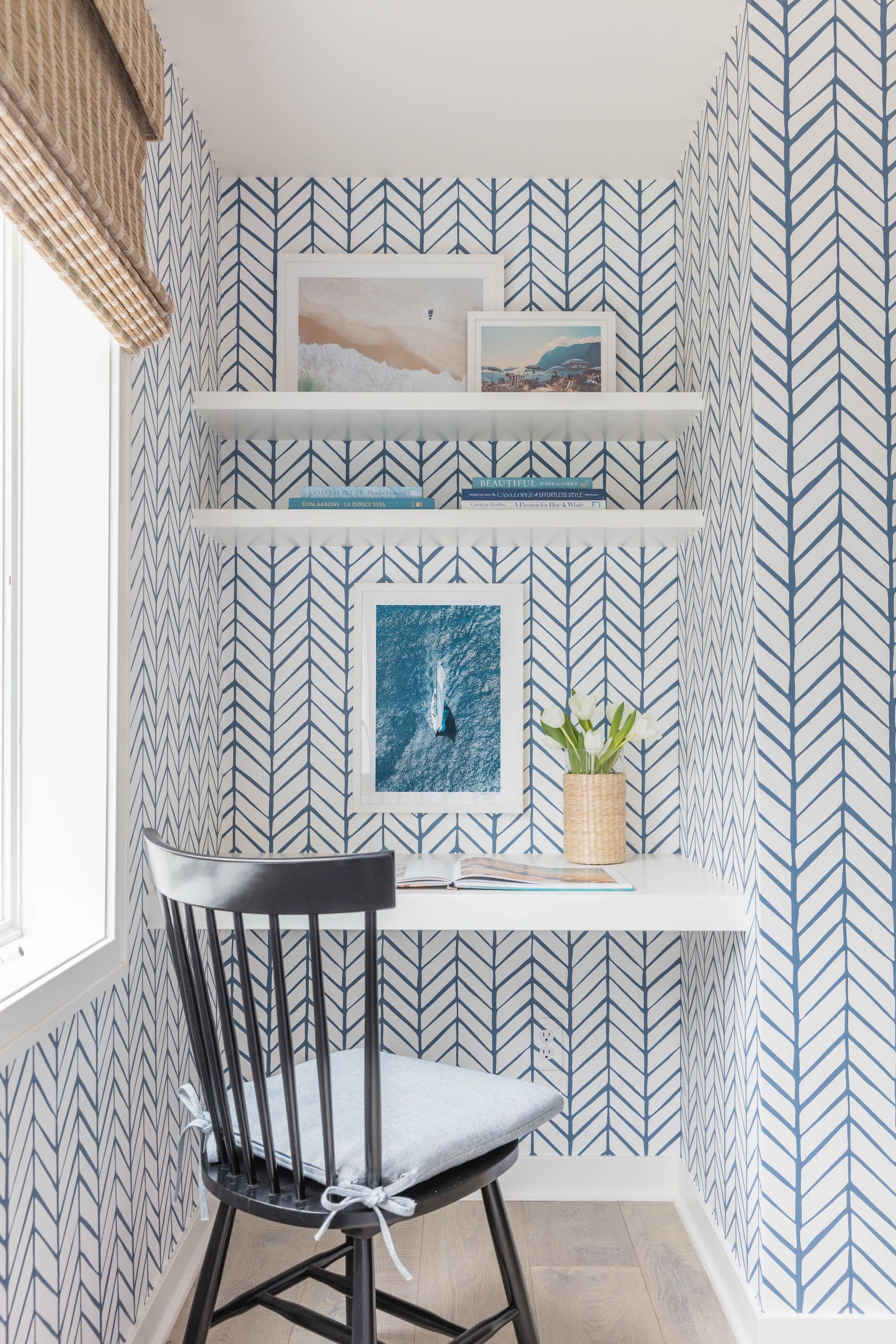 For the second guest bedroom, we chose a bold green paint that really makes a statement. We used a technique where the color only goes up the wall three-quarters of the way and then transitions to a white paint that matches the ceiling. This is supposed to make the room feel taller than it actually is. The beds in this room were left behind when we bought the house and we chose to keep them to help us honor the history of the home and the community. The light fixture from Schoolhouse has a retro vibe that complements the antique beds so perfectly. We tied in the black from the light with a beautiful black nightstand from All Modern.
I chose images from my Art of Living series to decorate this room because of its geometric style, striking colors, and nod to small spaces that feel larger than life. The series also has a somewhat geometric feel to it that worked well with the bedding and pillows we chose. I love the way this room turned out to be so different from the other guest room. Which one would you like to stay in?
You can tour the rest of my Lake Michigan home in this blog post. If you're feeling inspired to bring some new art into your home, you can shop my whole Lake Home Renovation here.
Cheers!
Xx
Gray
Interior Designer: Kate Lester
{"slides":[{"label":"Gray's Favorite Inrooms Vol. 6","url":"/lifestyle/gray-s-favorite-inrooms-vol-6","image":"https://res.cloudinary.com/gray-malin/image/upload/c_scale,w_1000,q_50,f_auto/gray-malin/blog_posts/hero_images/000/001/885/original/2-Austin_Bean_OKC7635.jpg?updated=1617402512"},{"label":"Michelle Berdan's Laid Back Home by the Beach","url":"/lifestyle/michelle-berdan","image":"https://res.cloudinary.com/gray-malin/image/upload/c_scale,w_1000,q_50,f_auto/gray-malin/blog_posts/hero_images/000/001/884/original/0-Michelle_Madsen-10_copy.jpg?updated=1617066488"},{"label":"LoveShackFancy Founder Rebecca Cohen's Palm Beach Escape","url":"/lifestyle/loveshackfancy-founder-rebecca-cohen-s-palm-beach-escape","image":"https://res.cloudinary.com/gray-malin/image/upload/c_scale,w_1000,q_50,f_auto/gray-malin/blog_posts/hero_images/000/001/882/original/0-LoveShack-4.jpg?updated=1616633971"},{"label":"Gray's Favorite Inrooms Vol. 5","url":"/lifestyle/gray-s-favorite-inrooms-vol-5","image":"https://res.cloudinary.com/gray-malin/image/upload/c_scale,w_1000,q_50,f_auto/gray-malin/blog_posts/hero_images/000/001/881/original/3-IMG_0382.JPG?updated=1616175509"},{"label":"Our Favorite Places to Style City Prints at Home","url":"/lifestyle/our-favorite-places-to-style-city-prints-at-home","image":"https://res.cloudinary.com/gray-malin/image/upload/c_scale,w_1000,q_50,f_auto/gray-malin/blog_posts/hero_images/000/001/880/original/0-Boston-In-Room_4.jpg?updated=1616026718"},{"label":"Gray's Favorite Inrooms Vol. 4","url":"/lifestyle/gray-s-favorite-inrooms-vol-4","image":"https://res.cloudinary.com/gray-malin/image/upload/c_scale,w_1000,q_50,f_auto/gray-malin/blog_posts/hero_images/000/001/876/original/4-unnamed_(1)-Edit-Edit-Edit.jpg?updated=1614888819"},{"label":"Our Favorite Ways to Style Bon Voyage Prints","url":"/lifestyle/our-favorite-ways-to-style-bon-voyage-prints","image":"https://res.cloudinary.com/gray-malin/image/upload/c_scale,w_1000,q_50,f_auto/gray-malin/blog_posts/hero_images/000/001/874/original/0-ANTH_Gray_Malin_410_post_PD.jpg?updated=1614208369"},{"label":"Gray's Favorite Inrooms Vol. 3","url":"/lifestyle/gray-s-favorite-inrooms-vol-3","image":"https://res.cloudinary.com/gray-malin/image/upload/c_scale,w_1000,q_50,f_auto/gray-malin/blog_posts/hero_images/000/001/872/original/3-AG-20.JPG?updated=1613776972"}],"label":"Have You Seen?"}
{"id":null,"number":null,"item_total":"0.0","total":"0.0","ship_total":"0.0","state":"cart","adjustment_total":"0.0","user_id":null,"created_at":null,"updated_at":null,"completed_at":null,"payment_total":"0.0","shipment_state":null,"payment_state":null,"email":null,"special_instructions":null,"channel":"spree","included_tax_total":"0.0","additional_tax_total":"0.0","display_included_tax_total":"$0.00","display_additional_tax_total":"$0.00","tax_total":"0.0","currency":"USD","considered_risky":false,"canceler_id":null,"display_item_total":"$0.00","total_quantity":0,"display_total":"$0.00","display_ship_total":"$0.00","display_tax_total":"$0.00","display_adjustment_total":"$0.00","token":null,"checkout_steps":["address","delivery","complete"],"bill_address":null,"ship_address":null,"line_items":[],"payments":[],"shipments":[],"adjustments":[],"credit_cards":[],"promotions":[],"total_shipment_cost":"$0.00","permissions":{"can_update":false},"use_shipping_for_billing":true,"use_new_ship_address":true,"use_new_bill_address":false,"selected_ship_address":null,"selected_bill_address":null,"display_completed_at":null,"item_count":0,"subtotal_minus_promos":"$0.00","coupon_codes":[],"includes_framed_items":false,"contains_subscription":false}
This site uses cookies to allow better navigation. By closing this banner, scrolling this page or clicking any of its elements, you are giving consent to all cookies. To learn more and to change your preferences please see our Cookies Policy.