Hi Everyone,
Welcome to my Holiday Home Tour! I'm so excited to be giving you all an inside peek at how I decorate my home for the most wonderful time of the year. From how I decorate my garland inside and my favorite florals, to my favorite mulled wine recipe and the Magic Christmas Wand, I'm sharing all the details on how I make my home feel festive for the holidays. Let's get merry!
Outside
When it comes to outdoor decor, I like to make sure that my house feels cheerful and welcoming. Typically, I like to hang garland on the bannister of our upstairs balcony and also use garland to decorate the front door. I like to make sure my garland is filled with lights so there's a beautiful glow once the sun begins to set. I adorned the garland with burlap ribbon, pine cones, and various fruit ornaments to make it feel extra special. I particularly love this avocado ornament!
Entryway
One of the things my mom taught me growing up is that every great home should have a beautiful welcoming entrance. I love changing out the decor on my front entryway table for the different seasons. For the holidays, I chose a new beautiful faux floral arrangement from Diane James Home. They do my absolute favorite faux florals because they look so real and the upkeep on them is so easy. This one really makes an impact. I also added a couple gold reindeer as well as these beautiful glass-blown Christmas trees from Juliska. I love these trees because they add just a subtle hint of holiday sparkle.
Formal Living Room
Our Formal living room is just off to the right when you walk in our front door, so I always make sure to decorate this space as well so there's an instant impact. In addition to garland on the mantle. Decorated a smaller tree with beautiful ginger jar ornaments. Another trick of mine for incorporating holiday decorations is with art. I love rotating in some of my holiday prints during this season because they're so festive.
Playroom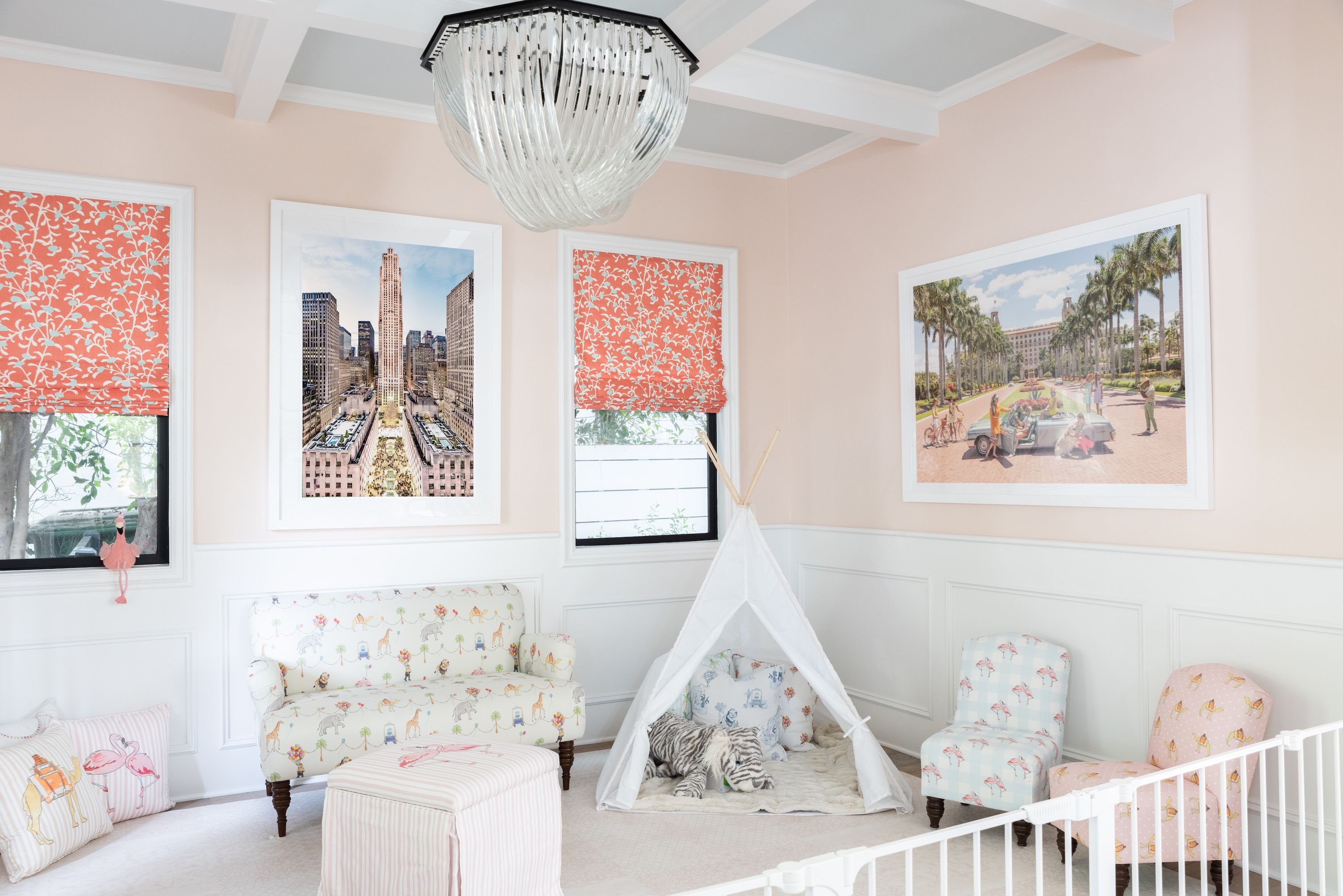 In the kid's playroom I have one of my special photographs hanging, Gray Malin x Rockefeller Tree. This print was such an accomplishment for me to create, so it's so special to have it hanging in my house. Whenever I look at it, it gives me wanderlust for Christmas time in NYC.
Staircase
Like I said, I like to make sure there's a touch of Christmas in every part of the house—including the stairs! I decked the bannister with a garland to give it a little Christmas magic.
Kitchen
I always keep a print behind the stove in my kitchen year round to make the space feel extra special. For the holidays this year, I swapped it out with one of my all time favorites, Poolside Holiday. I love how bright and cheerful this print is. One of my favorite holiday drinks is Mulled Wine. If you've never made it before, it's a festive warm wine drink that is perfect for the holiday season. It's so easy to make and I love how the scent fills the room while it's brewing. Check out my favorite recipe here. I also added some of the glass Juliska trees I mentioned earlier to the center island to add some extra sparkle.
Dining Table
Although we're not really entertaining much this Holiday season, one of my favorite parts of the holidays is creating a fun tablescape, so I set the table just to give you some inspiration. I used another faux floral arrangement from Diane James Home as the centerpiece and flocked it with candlesticks on either side. I love tall candlesticks for dinner parties because it makes it easy for guests to see across the table while they're eating. Whenever I host people for dinner, I always include some kind of fun accessory at each place setting for the guest to wear. I found these fun Christmas themed glasses at Paper Source that I know would add a fun twist to Christmas dinner.
Living Room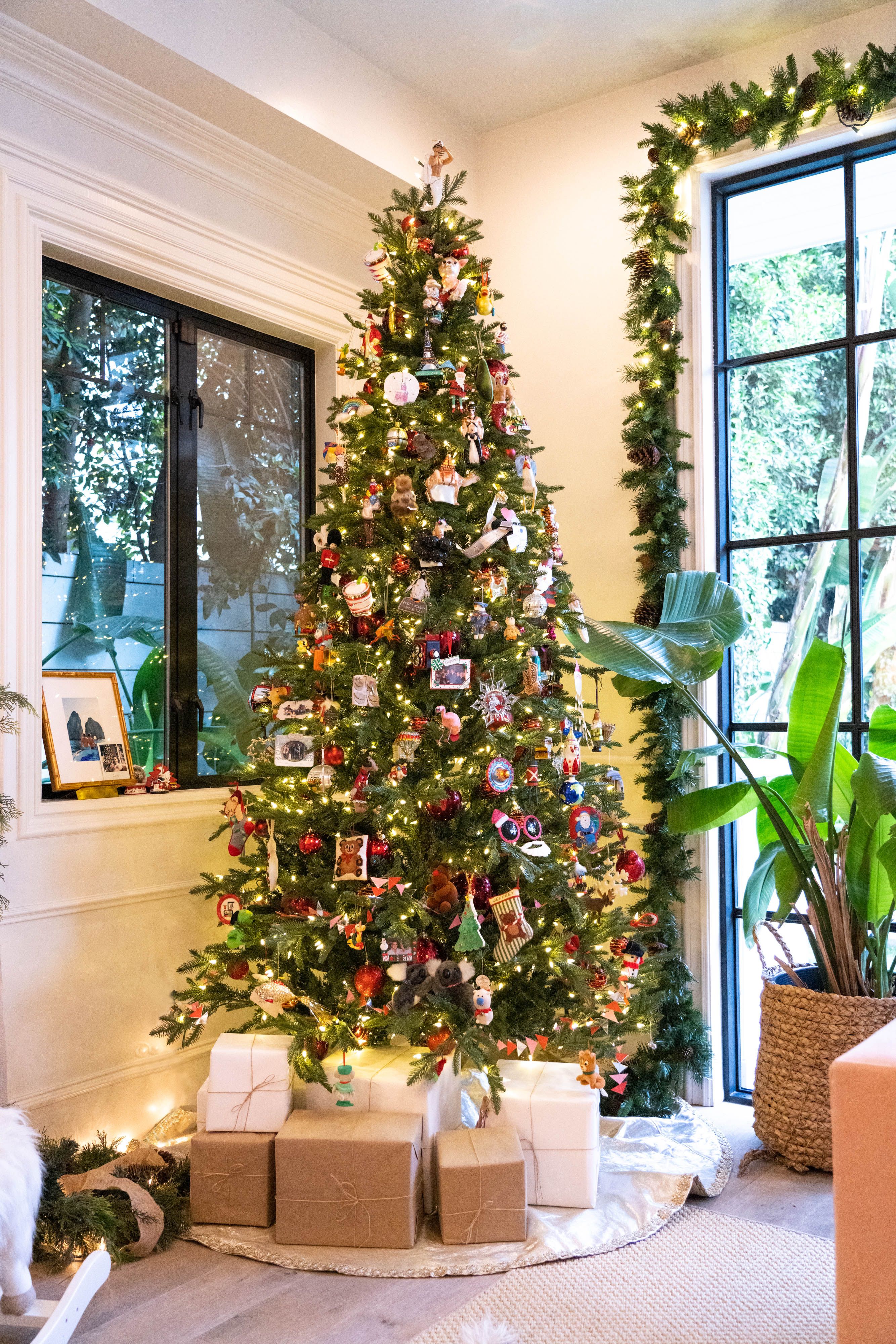 Our back living room is where we spend the majority of our time at home, so I go all out on decorations in here. Our Christmas tree is filled with ornaments that are fun and sentimental. One of my favorite ornaments on the tree is this one from my favorite restaurant in Dallas, Mi Cocina! My secret weapon in the living room is this Magic Christmas Wand. It wirelessly connects to the lights on your christmas tree and you can use it to turn the lights on and off from anywhere in the room. It's so fun and really does feel like magic. Above our fireplace are our stockings which were needlepointed by hand by my Aunt Debbie. They're so special to me. If you or a relative needlepoints, I highly recommend you try to make stockings! They're so beautiful and you'll cherish them for years and years.
I hope you all enjoyed this tour and that it helped put you in the holiday spirit. I created a fun Holiday Playlist on our Spotify for all of you to listen to throughout the season. We;ve had it on repeat in our house and I know you all will love it too. Be sure to check out the video tour on my Instagram to get a full walk-through of the house.
Happy Holidays!
Xx
Gray
{"slides":[{"label":"Gray's Favorite Inrooms Vol. 6","url":"/lifestyle/gray-s-favorite-inrooms-vol-6","image":"https://res.cloudinary.com/gray-malin/image/upload/c_scale,w_1000,q_50,f_auto/gray-malin/blog_posts/hero_images/000/001/885/original/2-Austin_Bean_OKC7635.jpg?updated=1617402512"},{"label":"Michelle Berdan's Laid Back Home by the Beach","url":"/lifestyle/michelle-berdan","image":"https://res.cloudinary.com/gray-malin/image/upload/c_scale,w_1000,q_50,f_auto/gray-malin/blog_posts/hero_images/000/001/884/original/0-Michelle_Madsen-10_copy.jpg?updated=1617066488"},{"label":"LoveShackFancy Founder Rebecca Cohen's Palm Beach Escape","url":"/lifestyle/loveshackfancy-founder-rebecca-cohen-s-palm-beach-escape","image":"https://res.cloudinary.com/gray-malin/image/upload/c_scale,w_1000,q_50,f_auto/gray-malin/blog_posts/hero_images/000/001/882/original/0-LoveShack-4.jpg?updated=1616633971"},{"label":"Gray's Favorite Inrooms Vol. 5","url":"/lifestyle/gray-s-favorite-inrooms-vol-5","image":"https://res.cloudinary.com/gray-malin/image/upload/c_scale,w_1000,q_50,f_auto/gray-malin/blog_posts/hero_images/000/001/881/original/3-IMG_0382.JPG?updated=1616175509"},{"label":"Our Favorite Places to Style City Prints at Home","url":"/lifestyle/our-favorite-places-to-style-city-prints-at-home","image":"https://res.cloudinary.com/gray-malin/image/upload/c_scale,w_1000,q_50,f_auto/gray-malin/blog_posts/hero_images/000/001/880/original/0-Boston-In-Room_4.jpg?updated=1616026718"},{"label":"Gray's Favorite Inrooms Vol. 4","url":"/lifestyle/gray-s-favorite-inrooms-vol-4","image":"https://res.cloudinary.com/gray-malin/image/upload/c_scale,w_1000,q_50,f_auto/gray-malin/blog_posts/hero_images/000/001/876/original/4-unnamed_(1)-Edit-Edit-Edit.jpg?updated=1614888819"},{"label":"Our Favorite Ways to Style Bon Voyage Prints","url":"/lifestyle/our-favorite-ways-to-style-bon-voyage-prints","image":"https://res.cloudinary.com/gray-malin/image/upload/c_scale,w_1000,q_50,f_auto/gray-malin/blog_posts/hero_images/000/001/874/original/0-ANTH_Gray_Malin_410_post_PD.jpg?updated=1614208369"},{"label":"Gray's Favorite Inrooms Vol. 3","url":"/lifestyle/gray-s-favorite-inrooms-vol-3","image":"https://res.cloudinary.com/gray-malin/image/upload/c_scale,w_1000,q_50,f_auto/gray-malin/blog_posts/hero_images/000/001/872/original/3-AG-20.JPG?updated=1613776972"}],"label":"Have You Seen?"}
{"id":null,"number":null,"item_total":"0.0","total":"0.0","ship_total":"0.0","state":"cart","adjustment_total":"0.0","user_id":null,"created_at":null,"updated_at":null,"completed_at":null,"payment_total":"0.0","shipment_state":null,"payment_state":null,"email":null,"special_instructions":null,"channel":"spree","included_tax_total":"0.0","additional_tax_total":"0.0","display_included_tax_total":"$0.00","display_additional_tax_total":"$0.00","tax_total":"0.0","currency":"USD","considered_risky":false,"canceler_id":null,"display_item_total":"$0.00","total_quantity":0,"display_total":"$0.00","display_ship_total":"$0.00","display_tax_total":"$0.00","display_adjustment_total":"$0.00","token":null,"checkout_steps":["address","delivery","complete"],"bill_address":null,"ship_address":null,"line_items":[],"payments":[],"shipments":[],"adjustments":[],"credit_cards":[],"promotions":[],"total_shipment_cost":"$0.00","permissions":{"can_update":false},"use_shipping_for_billing":true,"use_new_ship_address":true,"use_new_bill_address":false,"selected_ship_address":null,"selected_bill_address":null,"display_completed_at":null,"item_count":0,"subtotal_minus_promos":"$0.00","coupon_codes":[],"includes_framed_items":false,"contains_subscription":false}
This site uses cookies to allow better navigation. By closing this banner, scrolling this page or clicking any of its elements, you are giving consent to all cookies. To learn more and to change your preferences please see our Cookies Policy.